Abstract
Late-onset infection is known to increase the risk of neurodevelopmental impairment in infants born extremely preterm. However, little data is available regarding infants born moderately preterm. The aim of this study was to determine whether late-onset infection in moderately preterm infants (<35 weeks of gestation) was associated with a non-optimal neurodevelopmental outcome at 2 years of age. We analyzed a regional, population-based cohort of infants (LIFT cohort) between January 2003 and December 2009, and we used a propensity score method to reduce bias. Among the 4,618 preterm infants assessed at 2 years, 618 had acquired late-onset infection (13.4 %), and 764 had a non-optimal outcome (16.5 %). The rate of non-optimal outcomes was significantly higher in preterm infants with late-onset infection, irrespective of subgroups of gestational age and birth weight Z-score. After adjusting for the propensity score, the relationship between late-onset infection and non-optimal neurodevelopmental outcome at 2 years among infants born before 35 weeks of gestation remained significant (aOR = 1.3; 95 % CI 1.01–1.7; p = .04). Conclusion: Late-onset infection is associated with poor neurological outcome at 2 years of age among infants born moderately preterm before and after adjustment for the propensity score.
Access options
Buy single article
Instant access to the full article PDF.
USD 39.95
Price excludes VAT (USA)
Tax calculation will be finalised during checkout.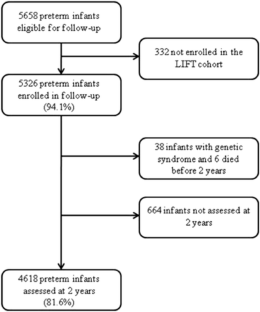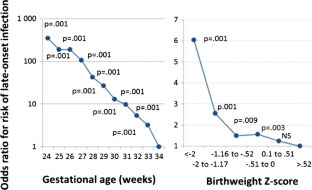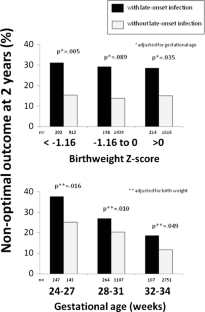 References
Adams-Chapman I, Stoll BJ (2006) Neonatal infection and long-term neurodevelopmental outcome in the preterm infant. Curr Opin Infect Dis 19:290–297

Back SA (2006) Perinatal white matter injury: the changing spectrum of pathology and emerging insights into pathogenetic mechanisms. Ment Retard Dev Disabil Res Rev 12:129–140

Bernstein IM, Horbar JD, Badger GJ, Ohlsson A, Golan A (2000) Morbidity and mortality among very-low-birth-weight neonates with intrauterine growth restriction. The Vermont Oxford Network. Am J Obstet Gynecol 182:198–206

Cadnapaphornchai M, Faix RG (1992) Increased nosocomial infection in neutropenic low birth weight (2000 g or less) infants of hypertensive mothers. J Pediatr 121:956–961

Carr R, Brocklehurst P, Dore CJ, Modi N (2009) Granulocyte-macrophage colony stimulating factor administered as prophylaxis for reduction of sepsis in extremely preterm, small for gestational age neonates (the PROGRAMS trial): a single-blind, multicentre, randomised controlled trial. Lancet 373:226–233

D'Agostino RB Jr (1998) Propensity score methods for bias reduction in the comparison of a treatment to a non-randomized control group. Stat Med 17:2265–2281

Ellison VJ, Mocatta TJ, Winterbourn CC, Darlow BA, Volpe JJ, Inder TE (2005) The relationship of CSF and plasma cytokine levels to cerebral white matter injury in the premature newborn. Pediatr Res 57:282–286

Gessler P, Luders R, Konig S, Haas N, Lasch P, Kachel W (1995) Neonatal neutropenia in low birthweight premature infants. Am J Perinatol 12:34–38

Hansen-Pupp I, Harling S, Berg AC, Cilio C, Hellstrom-Westas L, Ley D (2005) Circulating interferon-gamma and white matter brain damage in preterm infants. Pediatr Res 58:946–952

Haque KN (2005) Definitions of bloodstream infection in the newborn. Pediatr Crit Care Med 6:S45–S49

Harijan P, Boyle EM (2012) Health outcomes in infancy and childhood of moderate and late preterm infants. Semin Fetal Neonatal Med 17:159–162

Josse D (1997) Revised Brunet–Lezine scale of psychomotor development of first childhood [in French]. Etablissement d'Applications Psychotechniques, Paris

Levy O (2007) Innate immunity of the newborn: basic mechanisms and clinical correlates. Nat Rev Immunol 7:379–390

Ligi I, Millet V, Sartor C, Jouve E, Tardieu S, Sambuc R, Simeoni U (2010) Iatrogenic events in neonates: beneficial effects of prevention strategies and continuous monitoring. Pediatrics 126:e1461–e1468

Mazeiras G, Roze JC, Ancel PY, Caillaux G, Frondas-Chauty A, Denizot S, Flamant C (2012) Hyperbilirubinemia and neurodevelopmental outcome of very low birthweight infants: results from the LIFT cohort. PLoS One 7:e30900

Rubin DB (1997) Estimating causal effects from large data sets using propensity scores. Ann Intern Med 127:757–763

Schlapbach LJ, Aebischer M, Adams M, Natalucci G, Bonhoeffer J, Latzin P, Nelle M, Bucher HU, Latal B (2011) Impact of sepsis on neurodevelopmental outcome in a Swiss National Cohort of extremely premature infants. Pediatrics 128:e348–e357

Squires J, Bricker D, Potter L (1997) Revision of a parent-completed development screening tool: Ages and Stages Questionnaires. J Pediatr Psychol 22:313–328

Stoll BJ, Hansen N, Fanaroff AA, Wright LL, Carlo WA, Ehrenkranz RA, Lemons JA, Donovan EF, Stark AR, Tyson JE, Oh W, Bauer CR, Korones SB, Shankaran S, Laptook AR, Stevenson DK, Papile LA, Poole WK (2002) Late-onset sepsis in very low birth weight neonates: the experience of the NICHD Neonatal Research Network. Pediatrics 110:285–291

Stoll BJ, Hansen NI, Adams-Chapman I, Fanaroff AA, Hintz SR, Vohr B, Higgins RD (2004) Neurodevelopmental and growth impairment among extremely low-birth-weight infants with neonatal infection. JAMA 292:2357–2365

Strunk T, Currie A, Richmond P, Simmer K, Burgner D (2011) Innate immunity in human newborn infants: prematurity means more than immaturity. J Matern Fetal Neonatal Med 24:25–31

Tissieres P, Ochoda A, Dunn-Siegrist I, Drifte G, Morales M, Pfister R, Berner M, Pugin J (2012) Innate immune deficiency of extremely premature neonates can be reversed by interferon-gamma. PLoS One 7:e32863

Troger B, Gopel W, Faust K, Muller T, Jorch G, Felderhoff-Muser U, Gortner L, Heitmann F, Hoehn T, Kribs A, Laux R, Roll C, Emeis M, Mogel M, Siegel J, Vochem M, von der Wense A, Wieg C, Herting E, Hartel C (2013) Risk for late-onset blood-culture proven sepsis in very-low-birth weight infants born small for gestational age: a large multi-center study from the German Neonatal Network. Pediatr Infect Dis J 33:238–243

Troger B, Muller T, Faust K, Bendiks M, Bohlmann MK, Thonnissen S, Herting E, Gopel W, Hartel C (2013) Intrauterine growth restriction and the innate immune system in preterm infants of </=32 weeks gestation. Neonatology 103:199–204

Zeitlin J, El Ayoubi M, Jarreau PH, Draper ES, Blondel B, Kunzel W, Cuttini M, Kaminski M, Gortner L, Van Reempts P, Kollee L, Papiernik E (2010) Impact of fetal growth restriction on mortality and morbidity in a very preterm birth cohort. J Pediatr 157:733–739, e731
Acknowledgments
We thank Dr Sophie Minguet (Koonec, Scientific and Medical Translation, Barcelona, Spain) for editing the paper.
Conflict of interest
The authors have neither conflict of interest nor any financial relationship to disclose.
Additional information
Communicated by Beat Steinmann
About this article
Cite this article
Chenouard, A., Gascoin, G., Gras-Le Guen, C. et al. Neurodevelopmental impairment in preterm infants with late-onset infection: not only in extremely preterm infants. Eur J Pediatr 173, 1017–1023 (2014). https://doi.org/10.1007/s00431-014-2284-8
Received:

Revised:

Accepted:

Published:

Issue Date:

DOI: https://doi.org/10.1007/s00431-014-2284-8
Keywords