Abstract
Scorpion envenomation is a health problem in children in tropical and subtropical regions. The aim of this study was to evaluate demographic and clinical characteristics as well as outcomes in referred children to Assiut University Children Hospital during the year 2012 with a history of scorpion sting. The medical files of these patients were reviewed retrospectively for demographic data, time and site of biting, and clinical manifestations. Laboratory investigations of the patients were reviewed for complete blood count (CBC), liver function tests, creatinine phosphokinase (CPK), lactate dehydrogenase (LDH), arterial blood gases, and serum electrolytes. Results showed 111 children with a history of scorpion sting; 69 males and 42 females with a median age of 5 years. Out of the studied patients, 53.2 % were classified as class III of clinical severity with recorded pulmonary edema in 33.3 %, cardiogenic shock in 46.8 %, and severe neurological manifestations in 22.8 %. Twelve patients (10.8 %) were classified as class II with mild systemic manifestations, and 36 % of the patients were classified as class I with only local reaction. Outcomes of these patients were discharge without sequelae in 55.8 %, discharge with sequelae in 26.1 %, and death in 18.1 %. Conclusion: more than half of stung children had a severe clinical presentation and about one fifth died. Aggressive treatment regimens are recommended for such patients to improve the outcome.
Access options
Buy single article
Instant access to the full article PDF.
USD 39.95
Price excludes VAT (USA)
Tax calculation will be finalised during checkout.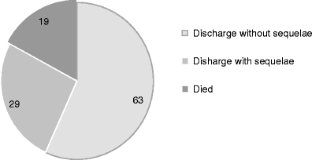 References
Abourazzak S, Achour S, El Arqam L, Atmani S, Chaouki S, Semlali I, Soulaymani Bencheikh R, Bouharrou A, Hida M (2009) Epidemiological and clinical characteristic of scorpion stings in children in Fez, Morocco. J Venom Anim Toxins incl Trop Dis 15(2):255–267

Abroug F, El-Atrous S, Nouira S, Haguig H, Touz N, Bouchouch S (1999) Serotherapy in scorpion envenomation: a randomized controlled trial. Lancet 354:906–909

Abroug F, Nouira S, Saguiga H (1994) Envenimations scorpioniques: avancees chimiques, physiopathologiques et therapeutiques (monograph): p 1–68

Adiguzel S, Ozkan O, Inceoglu B (2007) Epidemiological and clinical characteristics of scorpionism in children in Sanliurfa, Turkey. Toxicon 49(6):875–880

Bahloul M, Rekik N, Chabchoub I, Chaari A, Ksibi H, Kallel H, Damak H, Chaari A, Ben Hamida C, Chelly H, Bouaziz M (2005) Neurological manifestations secondary to severe scorpion envenomation. Med Sci Monit 11(4):CR196–CR202

Becceril B, Corona M, Garcia C, Bolivar F, Possani LD (1995) Cloning of genes encoding scorpion toxins: an interpretative review. J Toxicol Toxin Rev 14:339–357

Bosnak M, Ece A, Yolbas I, Bosnak V, Kaplan M, Gurkan F (2009) Scorpion sting envenomation in children in Southeast Turkey. Wildness Environ Med 20:118–124

Bouaziz M, Bahloul M, Kallel H, Samet M, Ksibi H, Dammak H, Ahmed MN, Chtara K, Chelly H, Hamida CB, Rekik N (2008) Epidemiological, clinical characteristics and outcome of severe scorpion envenomation in South Tunisia: multivariate analysis of 951 cases. Toxicon 52:918–926

Carvalho FF, Nencioni AL, Lebron I, Dorce VAC, Sandoval VAC (2000) Convulsive effects of some isolated venom fractions of the Tityus serrulatus scorpion: behavioural, electroencephalographic and neuropathological aspects. J Venom Anim Toxins 6(2):285–291

Chippaux JP, Goyffon M (2010) Epidemiology of scorpionism: a global appraisal. Acta Trop 107:71–79

de Roodt AR, Garci SI, Salomon OD, Segre L, Dolab JA, Funes RF, de Titto EH (2003) Epidemiological and clinical aspects of scorpionism by Tityus trivittatus in Argentina. Toxicon 41:971–977

Farghaly WM, Ali FA (1999) A clinical and neurophysiological study of scorpion envenomation in Assiut, Upper Egypt. Acta Paediatr 88(3):290–294

Farid W, Debrock C, Macharia W, Preux P (1998) Scorpion sting in Egypt. Afr J Neurosurg Sci 17(1):457–460

Goyffon M, Vachon M, Broglio N (1982) Epidemiological and clinical characteristics of the scorpion envenomation in Tunisia. Toxicon 20:337–344

Gueron M, Illia R, Margulia G (2000) Arthropod poisons and the cardiovascular system. Am J Emerg Med 18:608–714

Magalhaes M, Pereira M, Amaral C, Rezende NA, Campolina D, Bucaretchi F, Gazzinelli RT, Cunha-Melo JR (1999) Serum levels of cytokines in patients envenomed by Tityus serrulatus scorpion sting. Toxicon 37:1155–1164

Talebian A, Doroodgar A (2006) Epidemiologic study on scorpion sting in patients referring to Kashan medical centers during 1991–2002. Iran J Clin Infect Dis 1(4):191–194
Acknowledgments
None.
Funding source
There are no grants, honoraria, or other forms of payment that were given to the authors to produce this manuscript.
Financial disclosure
The authors have no financial relationships relevant to this article to disclose.
Conflict of interest
All authors do not have potential conflict of interest.
About this article
Cite this article
Mohamad, I.L., Elsayh, K.I., Mohammad, H.A. et al. Clinical characteristics and outcome of children stung by scorpion. Eur J Pediatr 173, 815–818 (2014). https://doi.org/10.1007/s00431-013-2244-8
Received:

Accepted:

Published:

Issue Date:

DOI: https://doi.org/10.1007/s00431-013-2244-8
Keywords
Scorpion sting

Clinical characteristics

Children

Outcome