Abstract
Hypovitaminosis D affects children and adolescents all around the world. Italian data on vitamin D status and risk factors for hypovitaminosis D during pediatric age are lacking. Six hundred fifty-two children and adolescents (range 2.0–21.0 years) living in the northwestern area of Tuscany were recruited at the Department of Pediatrics, University Hospital Pisa. None of them had received vitamin D supplementation in the previous 12 months. 25-hydroxyvitamin D (25-OH-D) and parathyroid hormone (PTH) levels were analyzed in all subjects. Severe vitamin D deficiency was defined as serum levels of 25-OH-D < 25.0 nmol/L (10.0 ng/mL) and vitamin D deficiency as < 50.0 nmol/L (20.0 ng/mL). Serum 25-OH-D levels of 50.0–74.9 nmol/L (20.0–29.9 ng/mL) indicated vitamin D insufficiency, whereas 25-OH-D levels ≥ 75.0 nmol/L (30.0 ng/mL) were considered sufficient. Hypovitaminosis D was defined as 25-OH-D levels < 75.0 nmol/L (30.0 ng/mL). The median serum 25-OH-D level was 51.8 nmol/L, range 6.7–174.7 (20.7 ng/mL, range 2.7–70.0), with a prevalence of vitamin D deficiency, insufficiency, and sufficiency of 45.9, 33.6, and 20.5 %, respectively. The prevalence of severe vitamin D deficiency was 9.5 %. Adolescents had lower median 25-OH-D levels (49.8 nmol/L, range 8.1–174.7; 20.0 ng/mL, range 3.2–70.0) than children (55.6 nmol/L, range 6.8–154.6; 22.3 ng/mL, range 2.7–61.9, p = 0.006). Non-white individuals (n = 37) had median serum 25-OH-D levels in the range of deficiency (28.2 nmol/L, range 8.1–86.2; 11.3 ng/mL, range 3.2–34.5), with 36/37 having hypovitaminosis D. Logistic regression showed significant increased risk of hypovitaminosis D in the following: blood samples taken in winter (odds ratio (OR) 27.20), spring (OR 26.44), and fall (OR 8.27) compared to summer; overweight (OR 5.02) and obese (OR 5.36) subjects compared to individuals with normal BMI; low sun exposure (OR 8.64) compared to good exposure, and regular use of sunscreens (OR 7.06) compared to non-regular use. Gender and place of residence were not associated with vitamin D status. The 25-OH-D levels were inversely related to the PTH levels (r = −0.395, p < 0.0001). Sixty-three out of the 652 (9.7 %) subjects showed secondary hyperparathyroidism. Conclusion Italian children and adolescents who were not receiving vitamin D supplementation had high prevalence of hypovitaminosis D. Careful identification of factors affecting vitamin D status is advisable to promptly start vitamin D supplementation in children and adolescents.
Access options
Buy single article
Instant access to the full article PDF.
USD 39.95
Price excludes VAT (USA)
Tax calculation will be finalised during checkout.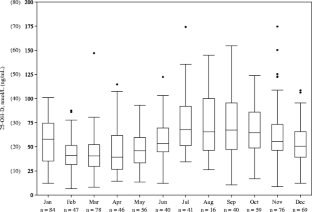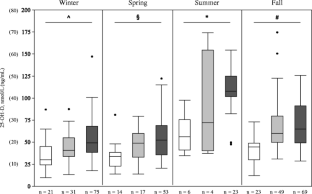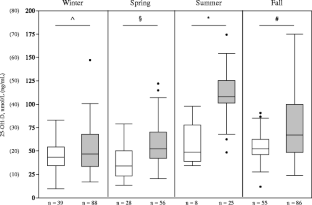 Abbreviations
25-OH-D:

25-hydroxyvitamin D

BMI:

body mass index

OR:

odds ratio

PTH:

parathyroid hormone

SPF:

sun protector factor

25-hydroxyvitamin D:

nmol/L = ng/mL × 2.496

Parathyroid hormone:

pg/mL = ng/L

Calcium:

mmol/L = mg/dL × 0.25

Phosphate:

mmol/L = mg/dL × 0.323
References
Absoud M, Cummins C, Lim MJ, Wassmer E, Shaw N (2011) Prevalence and predictors of vitamin D insufficiency in children: a Great Britain population based study. PLoS One 6:e22179

Ahmed SF, Franey C, McDevitt H, Somerville L, Butler S, Galloway P, Reynolds L, Shaikh MG, Wallace AM (2011) Recent trends and clinical features of childhood vitamin D deficiency presenting to a children's hospital in Glasgow. Arch Dis Child 96:694–696

Alemzadeh R, Kichler J, Babar G, Calhoun M (2008) Hypovitaminosis D in obese children and adolescents: relationship with adiposity, insulin sensitivity, ethnicity, and season. Metabolism 57:183–191

Al-Ghamdi MA, Lanham-New SA, Kahn JA (2012) Differences in vitamin D status and calcium metabolism in Saudi Arabian boys and girls aged 6 to 18 years: effects of age, gender, extent of veiling and physical activity with concomitant implications for bone health. Public Health Nutr 15:1845–1853

Al-Musharaf S, Al-Othman A, Al-Daghri NM, Krishnaswamy S, Yusuf DS, Alkharfy KM, Al-Saleh Y, Al-Attas OS, Alokail MS, Moharram O, Yakout S, Sabico S, Chrousos GP (2012) Vitamin D deficiency and calcium intake in reference to increased body mass index in children and adolescents. Eur J Pediatr 171:1081–1086

Andersen R, Brot C, Jakobsen J, Mejborn H, Mølgaard C, Skovgaard LT, Trolle E, Tetens I, Ovesen L (2013) Seasonal changes in vitamin D status among Danish adolescent girls and elderly women: the influence of sun exposure and vitamin D intake. Eur J Clin Nutr 67:270–274

Arabi A, El Rassi R, El-Hajj Fuleihan G (2010) Hypovitaminosis D in developing countries-prevalence, risk factors and outcomes. Nat Rev Endocrinol 6:550–561

Braegger C, Campoy C, Colomb V, Decsi T, Domellof M, Fewtrell M, Hojsak I, Mihatsch W, Molgaard C, Shamir R, Turck D, van Goudoever J, ESPGHAN Committee on Nutrition (2013) Vitamin D in the healthy paediatric population: a position paper by the ESPGHAN Committee on Nutrition. J Pediatr Gastroenterol Nutr 56(6):692–701

Cataldo F, Viviano E (2007) Health problems of internationally adopted children. Ital J Pediatr 33:92–99

Chinellato I, Piazza M, Sandri M, Peroni DG, Cardinale F, Piacentini GL, Boner AL (2011) Serum vitamin D levels and exercise-induced bronchoconstriction in children with asthma. Eur Respir J 37:1366–1370

Cole TJ, Bellizzi MC, Flegal KM, Dietz WH (2000) Establishing a standard definition for child overweight and obesity worldwide: international survey. BMJ 320:1240–1243

Cole TJ, Green PJ (1992) Smoothing reference centile curves: the LMS method and penalized likelihood. Stat Med 11:1305–1319

Council on Environmental Health, Section on Dermatology, Balk SJ (2011) Ultraviolet radiation: a hazard to children and adolescents. Pediatrics 127:588–597

Das G, Crocombe S, McGrath M, Berry JL, Mughal MZ (2006) Hypovitaminosis D among healthy adolescent girls attending an inner city school. Arch Dis Child 91:569–572

Dong Y, Pollock N, Stallmann-Jorgensen IS, Gutin B, Lan L, Chen TC, Keeton D, Petty K, Holick MF, Zhu H (2010) Low 25-hydroxyvitamin D levels in adolescents: race, season, adiposity, physical activity, and fitness. Pediatrics 125:1104–1111

Earthman CP, Beckman LM, Masodkar K, Sibley SD (2012) The link between obesity and low circulating 25-hydroxyvitamin D concentrations: considerations and implications. Int J Obes (Lond) 36:387–396

Flores M, Macias N, Lozada A, Sánchez LM, Díaz E, Barquera S (2013) Serum 25-hydroxyvitamin D levels among Mexican children ages 2 y to 12 y: a national survey. Nutrition 29:802–804

Garland FC, White MR, Garland CF, Shaw E, Gorham ED (1990) Occupational sunlight exposure and melanoma in the U.S. Navy. Arch Environ Health 45:261–267

Ghergherechi R, Hazhir N, Tabrizi A (2012) Comparison of vitamin D deficiency and secondary hyperparathyroidism in obese and non-obese children and adolescents. Pak J Biol Sci 15:147–151

Ginde AA, Wolfe P, Camargo CA Jr, Schwartz RS (2012) Defining vitamin D status by secondary hyperparathyroidism in the U.S. population. J Endocrinol Invest 35:42–48

Godar DE, Pope SJ, Grant WB, Holick MF (2012) Solar UV doses of young Americans and vitamin D3 production. Environ Health Perspect 120:139–143

González-Gross M, Valtueña J, Breidenassel C, Moreno LA, Ferrari M, Kersting M, De Henauw S, Gottrand F, Azzini E, Widhalm K, Kafatos A, Manios Y, Stehle P, HELENA Study Group (2012) Vitamin D status among adolescents in Europe: the Healthy Lifestyle in Europe by Nutrition in Adolescence study. Br J Nutr 107:755–764

Gordon CM, DePeter KC, Feldman HA, Grace E, Emans SJ (2004) Prevalence of vitamin D deficiency among healthy adolescents. Arch Pediatr Adolesc Med 158:531–537

Gordon CM, Feldman HA, Sinclair L, Williams AL, Kleinman PK, Perez-Rossello J, Cox JE (2008) Prevalence of vitamin D deficiency among healthy infants and toddlers. Arch Pediatr Adolesc Med 162:505–512

Guillemant J, Le HT, Maria A, Allemandou A, Pérès G, Guillemant S (2001) Wintertime vitamin D deficiency in male adolescents: effect on parathyroid function and response to vitamin D3 supplements. Osteoporos Int 12:875–879

Hill TR, Cotter AA, Mitchell S, Boreham CA, Dubitzky W, Murray L, Strain JJ, Flynn A, Robson PJ, Wallace JM, Kiely M, Cashman KD (2008) Vitamin D status and its determinants in adolescents from the Northern Ireland Young Hearts 2000 cohort. Br J Nutr 99:1061–1067

Holick MF (2007) Vitamin D deficiency. N Engl J Med 357:266–281

Holick MF (2008) Deficiency of sunlight and vitamin D. BMJ 336:1318–1319

Holick MF (2012) Evidence-based D-bate on health benefits of vitamin D revisited. Dermatoendocrinol 4:183–190

Holick MF (2012) The D-lightful vitamin D for child health. J Parenter Enteral Nutr 36(Suppl 1):9–19

Holick MF, Binkley NC, Bischoff-Ferrari HA, Gordon CM, Hanley DA, Heaney RP, Murad MH, Weaver CM, Endocrine Society (2011) Evaluation, treatment, and prevention of vitamin D deficiency: an Endocrine Society clinical practice guideline. J Clin Endocrinol Metab 96:1911–1930

Kennedy C, Bajdik CD, Willemze R, De Gruijl FR, Bouwes Bavinck JN, Leiden Skin Cancer Study (2003) The influence of painful sunburns and lifetime sun exposure on the risk of actinic keratoses, seborrheic warts, melanocytic nevi, atypical nevi, and skin cancer. J Invest Dermatol 120:1087–1093

Kim SH, Oh MK, Namgung R, Park MJ (2012) Prevalence of 25-hydroxyvitamin D deficiency in Korean adolescents: association with age, season and parental vitamin D status. Public Health Nutr 26:1–9

Kimlin MG (2008) Geographic location and vitamin D synthesis. Mol Aspects Med 29:453–461

Lippi G, Montagnana M, Meschi T, Borghi L (2012) Vitamin D concentration and deficiency across different ages and genders. Aging Clin Exp Res 24:548–551

Lippi G, Montagnana M, Targher G (2007) Vitamin D deficiency among Italian children. CMAJ 177:1529–1530

Marrone G, Rosso I, Moretti R, Valent F, Romanello C (2011) Is vitamin D status known among children living in Northern Italy? Eur J Nutr 51:143–149

Marwaha RK, Tandon N, Reddy DR, Aggarwal R, Singh R, Sawhney RC, Saluja B, Ganie MA, Singh S (2005) Vitamin D and bone mineral density status of healthy schoolchildren in northern India. Am J Clin Nutr 82:477–482

Mazzoleni S, Toderini D, Boscardin C (2012) The vitamin D grey areas in pediatric primary care. Very low serum 25-hydroxyvitamin D levels in asymptomatic children living in northeastern Italy. Int J Pediatr Endocrinol 2012:7

Olson ML, Maalouf NM, Oden JD, White PC, Hutchison MR (2012) Vitamin D deficiency in obese children and its relationship to glucose homeostasis. J Clin Endocrinol Metab 97:279–285

Rajah J, Thandrayen K, Pettifor JM (2011) Clinical practice: diagnostic approach to the rachitic child. Eur J Pediatr 170:1089–1096

Reinehr T, de Sousa G, Alexy U, Kersting M, Andler W (2007) Vitamin D status and parathyroid hormone in obese children before and after weight loss. Eur J Endocrinol 157:225–232

Saggese G, Baroncelli GI, Bertelloni S, Webb AR, Holick MF (1992) Effetto delle stagioni sulla sintesi della vitamina D3 a 43° latitudine nord. Riv Ital Pediatr 18:30–36

Saggese G, Vierucci F (2009) The phosphocalcic and osseous metabolism disorders. Minerva Pediatr 61:674–680

Saintonge S, Bang H, Gerber LM (2009) Implications of a new definition of vitamin D deficiency in a multiracial US adolescent population: The National Health and Nutrition Examination Survey III. Pediatrics 123:797–803

Santos BR, Mascarenhas LP, Satler F, Boguszewski MC, Spritzer PM (2012) Vitamin D deficiency in girls from South Brazil: a cross-sectional study on prevalence and association with vitamin D receptor gene variants. BMC Pediatr 12:62

Shaw NJ, Mughal MZ (2013) Vitamin D and child health Part 1 (skeletal aspects). Arch Dis Child 98:363–367

Shaw NJ, Mughal MZ (2013) Vitamin D and child health: part 2 (extraskeletal and other aspects). Arch Dis Child 98:368–372

Shin YH, Kim KE, Lee C, Shin HJ, Kang MS, Lee HR, Lee YJ (2012) High prevalence of vitamin D insufficiency or deficiency in young adolescents in Korea. Eur J Pediatr 171:1475–1480

Srivastava T, Garg U, Ruiz M, Dai H, Alon US (2013) Serum 25(OH)-vitamin D level in children: is there a need to change the reference range based on 2011 Institute of Medicine Report? Clin Pediatr (Phila) 52:178–182

Stellinga-Boelen AA, Wiegersma PA, Storm H, Bijleveld CM, Verkade HJ (2007) Vitamin D levels in children of asylum seekers in The Netherlands in relation to season and dietary intake. Eur J Pediatr 166:201–206

Tolppanen AM, Fraser A, Fraser WD, Lawlor DA (2012) Risk factors for variation in 25-hydroxyvitamin D3 and D2 concentrations and vitamin D deficiency in children. J Clin Endocrinol Metab 97:1202–1210

Turer CB, Lin H, Flores G (2013) Prevalence of vitamin D deficiency among overweight and obese US children. Pediatrics 131:e152–161

Van Schoor NM, Lips P (2011) Worldwide vitamin D status. Best Pract Res Clin Endocrinol Metab 25:671–680

Vidailhet M, Mallet E, Bocquet A, Bresson JL, Briend A, Chouraqui JP, Darmaun D, Dupont C, Frelut ML, Ghisolfi J, Girardet JP, Goulet O, Hankard R, Rieu D, Simeoni U, Turck D, Comité de nutrition de la Société Française de Pédiatrie (2012) Vitamin D: still a topical matter in children and adolescents. A position paper by the Committee on Nutrition of the French Society of Paediatrics. Arch Pediatr 19:316–328

Wagner CL, Greer FR (2008) Prevention of rickets and vitamin D deficiency in infants, children and adolescents. Pediatrics 122:1142–1152

Wortsman J, Matsuoka LY, Chen TC, Lu Z, Holick MF (2000) Decreased bioavailability of vitamin D in obesity. Am J Clin Nutr 72:690–693
Competing interests
The authors declare that they have no competing interests.
About this article
Cite this article
Vierucci, F., Del Pistoia, M., Fanos, M. et al. Vitamin D status and predictors of hypovitaminosis D in Italian children and adolescents: a cross-sectional study. Eur J Pediatr 172, 1607–1617 (2013). https://doi.org/10.1007/s00431-013-2119-z
Received:

Accepted:

Published:

Issue Date:

DOI: https://doi.org/10.1007/s00431-013-2119-z
Keywords
Vitamin D deficiency

Vitamin D insufficiency

25-hydroxivitamin D

Parathyroid hormone

Children

Adolescents