Abstract
We describe the case of a 6-year-old girl brought to the emergency department for the sudden onset of anticholinergic syndrome after the ingestion of a few home-made partially debittered lupine beans. She complained of blurry vision, headache, photophobia and nausea. No specific treatment was needed, and the symptoms resolved about 12 h after the exposure. Lupine beans are a popular and worldwide-diffused food. The bitter variety is rich in alkaloids harbouring anticholinergic activity and thus requires a debittering process before lupines can be eaten. Only four cases of acute toxicity, due to the ingestion of incompletely detoxified bitter lupines, have been reported in children so far; notwithstanding the small amount of lupines ingested, three of these cases were lethal. Conclusion: Acute anticholinergic syndrome can arise after the consumption of a wide range of exogenous substances including partially debittered lupine beans. Paediatricians should be aware of bitter lupine toxicity, recognize possible cases of intoxication, ensure a prompt and appropriate supportive treatment and provide appropriate information about their danger.
Access options
Buy single article
Instant access to the full article PDF.
US$ 39.95
Tax calculation will be finalised during checkout.
Subscribe to journal
Immediate online access to all issues from 2019. Subscription will auto renew annually.
US$ 119
Tax calculation will be finalised during checkout.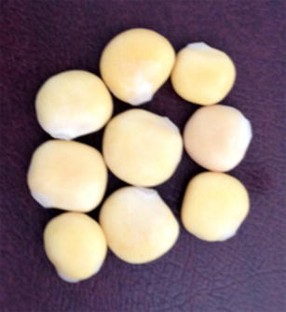 References
1.

Australia New Zealand Food Authority (2001) Lupin alkaloids in food. A toxicological review and risk assessment. Technical report series no. 3. Canberra: ANZFA, http://www.foodstandards.gov.au/publications/documents/TR3.pdf. Accessed 18 May 2013

2.

Bronstein AC, Spyker DA, Cantilena LR Jr et al (2009) Annual report of the American Association of Poison Control Centers' National Poison Data System (NPDS): 26th annual report. Clinical toxicology 47:911–1084

3.

Di Grande A, Paradiso R, Amico S, Fulco G, Fantuzza B, Notto P (2004) Anticholinergic toxicity associated with lupine seed ingestion: a case report. Eur J Emerg Med 11(2):119–120

4.

Jamali S (2011) Dilated pupils, dry mouth and dizziness. Aust Fam Physician 40:789–790

5.

Kurzbaum A, Safori G, Monir M, Simsolo C (2009) Anticholinergic syndrome in response to lupin seed toxicity. Isr J Emerg Med 8(2):20–22

6.

Litkey J, Dailey MW (2007) Anticholinergic toxicity associated with the ingestion of lupini beans. Am J Emerg Med 25:215–217

7.

Lowen RJ, Alam FK, Edgar JA (1995) Lupin bean toxicity. Med J Aust 162(5):256–257

8.

Luque Marquez R, Gutierrez-Rave M, Infante Miranda F (1991) Acute poisoning by lupine seed debittering water. Vet Hum Toxicol 33(3):265–267

9.

Pingault NM, Gibbs RA, Barclay AM, Monaghan M (2009) Two cases of anticholinergic syndrome associated with consumption of bitter lupin flour. Med J Aust 191(3):173–174

10.

Schmidlin Meszaros J (1973) A case of food poisoning from lupin seeds. Mit Geb Lebensmittelunters Hyg 64(2):194–205

11.

Smith RA (1987) Potential edible lupine poisonings in humans. Vet Hum Toxicol 29:444–445

12.

Tsiodras S, Shin RK, Christian M, Shaw LM, Saas DA (1999) Anticholinergic toxicity associated with lupine seeds as a remedy for diabetes mellitus. Ann Emerg Med 33:715–717
Conflict of interest
The authors declare that they have no conflict of interest.
About this article
Cite this article
Daverio, M., Cavicchiolo, M.E., Grotto, P. et al. Bitter lupine beans ingestion in a child: a disregarded cause of acute anticholinergic toxicity. Eur J Pediatr 173, 1549–1551 (2014). https://doi.org/10.1007/s00431-013-2088-2
Received:

Accepted:

Published:

Issue Date:
Keywords
Lupine

Toxicity

Poisoning

Anticholinergic syndrome

Children