Abstract
Fructose-1,6-bisphosphatase (FBP) deficiency is an autosomal-recessive disorder of gluconeogenesis resulting from mutations within the FBP1 gene. During periods of trivial illness, individuals with FBP deficiency may develop ketotic hypoglycemia, metabolic acidosis, lactic acidemia, and an increased anion gap. Although detection of urinary excretion of glycerol by urine organic acid analysis has been previously described, the presence of transient pseudo-hypertriglyceridemia in serum during metabolic decompensation has not been reported before. This study describes four consanguineous Pakistani families, in which four patients were diagnosed with FBP deficiency. All showed transient pseudo-hypertriglyceridemia during the acute phase of metabolic decompensation, which resolved in a metabolically stable phase. Mutations in the FBP1 gene have been described from various ethnicities, but there is very limited literature available for the Pakistani population. This study also describes one novel mutation in the FBP1 gene which seems to be prevalent in Pakistani–Indian patients. Conclusion: As a result of this study, transient pseudo-hypertriglyceridemia should be added to glyceroluria, ketotic hypoglycemia, metabolic acidosis, and lactic acidosis as a useful biochemical marker of FBP deficiency.
Access options
Buy single article
Instant access to the full article PDF.
US$ 39.95
Tax calculation will be finalised during checkout.
Subscribe to journal
Immediate online access to all issues from 2019. Subscription will auto renew annually.
US$ 119
Tax calculation will be finalised during checkout.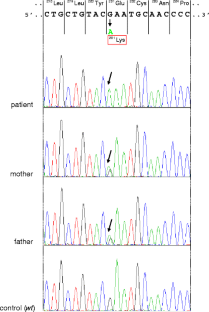 References
1.

Asberg C, Hjalmarson O, Alm J, Martinsson T, Waldenström J, Hellerud C (2010) Fructose 1,6-bisphosphatase deficiency: enzyme and mutation analysis performed on calcitriol-stimulated monocytes with a note on long-term prognosis. J Inherit Metab Dis 33:178

2.

Burlina AB, Poletto M, Shin YS, Zacchello F (1990) Clinical and biochemical observations on three cases of fructose-1,6-diphosphatase deficiency. J Inherit Metab Dis 13:263–266

3.

Emery JL, Howat AJ, Variend S, Vawter GF (1988) Investigation of inborn errors of metabolism in unexpected infant deaths. Lancet 2:29–31

4.

Faiyaz-Ul-Haque M, Al-Owain M, Al-Dayel F, Al-Hassnan Z, Al-Zaidan H, Hamad R, Rahbeeni Z, Al-Sayed M, Balobaid A, Cluntun A, Toulimat M, Abalkhail H, Peltekova I, Iskra Z, Syed H (2009) Novel FBP1 gene mutations in Arab patients with fructose-1,6-bisphosphatase deficiency. Eur J Pediatr 168:1467–1471

5.

Goodman SI, Markey SP (1981) Diagnosis of organic acidemias by gas chromatography–mass spectrometry. In: Liss AR (ed) Laboratory and research methods in biology and medicine, volume 6. University of Michigan, Michigan, pp 1–158

6.

Goussault Y, Turpin E, Neel D, Dreux C, Chanu B, Bakir R, Rouffy J (1982) 'Pseudohypertriglyceridemia' caused by hyperglycerolemia due to congenital enzyme deficiency. Clin Chim Acta 123:269–274

7.

Herzog B, Morris AAM, Saunders C, Eschrich K (2001) Mutation spectrum in patients with fructose-1,6-bisphosphatase deficiency. J Inherit Metab Dis 24:87–88

8.

Mancini F, Fiori J, Cavrini V, Andrisano V (2006) Separation and quantitation of fructose-6-phosphate and fructose-1,6-diphosphate by LC-ESI-MS for the evaluation of fructose-1,6-biphosphatase activity. J Sep Sci 29:2395–2400

9.

Richterich R (1969) Triglycerides: enzymatic determination as glycerol. In: Clinical chemistry. Karger: Basel, pp 274–278

10.

Sjarif DR, Ploos van Amstel JK, Duran M, Beemer FA, Poll-Thé BT (2000) Isolated and contiguous glycerol kinase gene disorders: a review. J Inherit Metab Dis 23:529–547

11.

Steinmann B, Santer R (2012) Disorders of fructose metabolism. In: Fernandes J, Saudubray JM, van den Berghe G, Walter JH (eds) Inborn metabolic diseases, 4th edn. Springer, Heidelberg, pp 101–112
Acknowledgments
The authors cordially acknowledge the technical assistance of Juliane Bergmann and Barbara Schröder in the Molecular Genetic Laboratory in Hamburg.
About this article
Cite this article
Afroze, B., Yunus, Z., Steinmann, B. et al. Transient pseudo-hypertriglyceridemia: a useful biochemical marker of fructose-1,6-bisphosphatase deficiency. Eur J Pediatr 172, 1249–1253 (2013). https://doi.org/10.1007/s00431-013-2084-6
Received:

Accepted:

Published:

Issue Date:
Keywords
Fructose-1,6-bisphosphatase deficiency

Glyceroluria

Hypertriglyceridemia