Abstract
Button battery ingestion in children is not a rare occurrence and may be unwitnessed and can be soon life-threatening or responsible for severe sequelae. We report herein an original history of previously healthy 16-month-old boy with an unwitnessed and misdiagnosis of lithium cell coin battery ingestion which leads to bilateral vocal palsy. The patient underwent a unilateral posterior cordotomy and was successfully extubated. Conclusion: Early recognition of a lithium cell coin battery for rapid removal, even if insufficient at first, is the main condition to limit complications. Unusual upper respiratory distress in a young child should alert practitioners in performing a chest and neck X-ray without undue delay.
Access options
Buy single article
Instant access to the full article PDF.
USD 39.95
Price excludes VAT (USA)
Tax calculation will be finalised during checkout.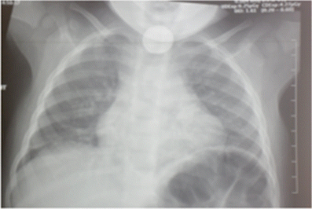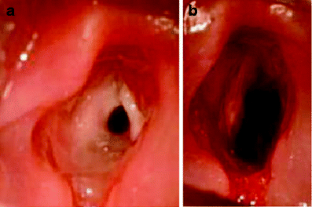 References
Bernstein JM, Burrows SA, Saunders MW (2007) Lodged oesophageal button battery masquerading as a coin: an unusual cause of bilateral vocal cord paralysis. Emerg Med J 24:e15

Blatnik DS, Toohill RJ, Lehman RH (1977) Fatal complication from an alkaline battery foreign body in the esophagus. Ann Otol Rhinol Laryngol 86:611–615

Chang YJ, Chao HC, Kong MS, Lai MW (2004) Clinical analysis of disc battery ingestion in children. Chang Gung Med J 27:673–677

Gordon AC, Gough MH (1993) Oesophageal perforation after button battery ingestion. Ann R Coll Surg Engl 75:362–364

Hamilton JM, Schraff SA, Notrica DM (2009) Severe injuries from coin cell battery ingestions: 2 case reports. J Pediatr Surg 44:644–647

Litovitz T, Whitaker N, Clark L, White NC, Marsolek M (2010) Emerging battery-ingestion hazard: clinical implications. Pediatrics 125:1168–1177

Maves MD, Carithers JS, Birck HG (1984) Esophageal burns secondary to disc battery ingestion. Ann Otol Rhinol Laryngol 93:364

Nagao N, Kaneko T, Hikawa Y, Yanagihara S (2007) Laryngeal edema and vocal cord paralysis due to lithium battery ingestion; a case report. Masui 56:956–958

Votteler TP, Nash JC, Rutledge JC (1983) The hazard of ingested alkaline disk batteries in children. JAMA 249:2504
About this article
Cite this article
Simonin, M., D'Agostino, I., Lebreton, M. et al. Bilateral vocal palsy following coin cell lithium battery ingestion: a case report and review. Eur J Pediatr 172, 991–993 (2013). https://doi.org/10.1007/s00431-012-1899-x
Received:

Accepted:

Published:

Issue Date:

DOI: https://doi.org/10.1007/s00431-012-1899-x
Keywords