Abstract
Persistent itching subcutaneous nodules and aluminium (Al) allergy have been described after vaccination with Al-adsorbed vaccines but are considered rare. Little is known about the prognosis. Sixty-four children with itching nodules following vaccination with diphtheria–tetanus–pertussis (DTP) vaccines currently used in Sweden (Infanrix® and Pentavac®) were spontaneously reported to the authors from 1999 and followed for up to 12 years. The median duration of itching was 5 years in the 44 children who were free or almost free from symptoms at the latest follow-up. Typical findings were a long interval between vaccination and onset of symptoms (months or years) and intensified itching during intercurrent infections. Contact allergy to aluminium was demonstrated in 60/63 children (95 %). Neither the incidence nor differences between the two vaccines can be estimated from this study, but vaccine-induced itching nodules are probably more common than hitherto realised. The median interval between onset of symptoms and diagnosis was 8 months in a region where nurses were educated to recognise the condition compared to 2 years in other regions. Booster vaccination with DTP-polio was postponed or declined by 15/40 families in fear for new problems. Out of 25 children who received a booster dose, only two had new itching nodules. Conclusion: Intensely itching subcutaneous nodules (vaccination granulomas) and contact allergy to aluminium may occur after primary vaccination with the two most commonly used DTP vaccines in Europe. The condition is probably underreported. Symptoms may last for at least 4–5 years but eventually seem to subside.
Access options
Buy single article
Instant access to the full article PDF.
USD 39.95
Price excludes VAT (USA)
Tax calculation will be finalised during checkout.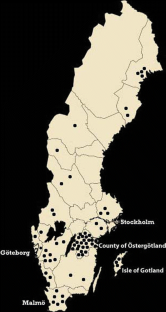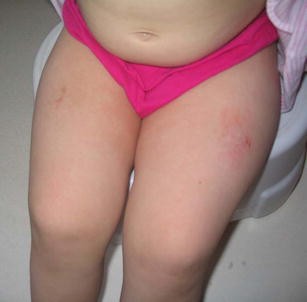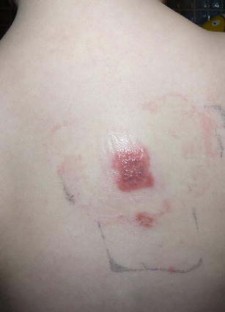 References
Al-Suliman NN, Grabau DA, Kiaer H, Rasmussen M, Bak M (1999) A tumour in the breast: vaccination granuloma as a differential diagnosis. Eur J Surg Oncol 25:34–37

Beck MH, Wilkinson SM (2004) Contact dermatitis: allergic contact dermatitis to specific allergens. In: Burns T, Breathnach S, Cox N, Griffiths C (eds) Rook's textbook of dermatology, 7th edn. Blackwell Science, Oxford. Vol. 1, Chapter 20, p. 47

Bergfors E, Trollfors B, Inerot A (2003) Unexpectedly high incidence of persistent itching nodules and delayed hypersensitivity to aluminium in children after the use of adsorbed vaccines from a single manufacturer. Vaccine 22:64–69

Bergfors E, Björkelund C, Trollfors B (2005) Nineteen cases of persistent pruritic nodules and contact allergy to aluminium after injection of commonly used aluminium-adsorbed vaccines. Eur J Pediatr 164:691–697

Beveridge MG, Polcari IC, Burns JL, Adler A, Hendrickson B, Stein SL (2012) Local vaccine site reactions and contact allergy to aluminum. Pediatr Dermatol 29(1):68–72

Bordet AL, Michenet P, Cohen C et al (2001) Post-vaccination granuloma due to aluminium hydroxide. Ann Pathol 21:149–152

Castelain PY, Castelain M, Vervloet D, Garbe L, Mallet B (1988) Sensitization to aluminium by aluminium-precipitated dust and pollen extracts. Contact Dermatitis 19(1):58–60

Clemmensen O, Knudsen HE (1980) Contact sensitivity to aluminium in a patient hyposensitized with aluminium precipitated grass pollen. Contact Dermatitis 6(5):305–308

Cosnes A, Flechet ML, Revuz J (1990) Inflammatory nodular reactions after hepatitis B vaccination due to Al sensitization. Contact Dermatitis 23:65–67

Cox NH, Moss C, Forsyth A (1988) Cutaneous reactions to Al in vaccines: an avoidable problem. Lancet 2:43

Croce S, Lhermitte B, Tomasetto C et al (2008) Late-onset vaccination-induced subcutaneous pseudolymphoma. Ann Pathol 28:146–149

Elston DM, Bergfeld WF, McMahon JT (1993) Aluminum tattoo: a phenomenon that can resemble parasitized histiocytes. J Cutan Pathol 20(4):326–329

Fawcett HA, Smith NP (1984) Injection-site granuloma due to aluminum. Arch Dermatol 120:1318–1322

Fawcett HA (1985) Persistent vaccination granuloma due to aluminium hypersensitivity. Brit Jour Dermatol 113:101–102

Frederiksen MS, Tofte H (2004) Immunisation with aluminium-containing vaccine of a child with itching nodule following previous vaccination. Vaccine 23:1–2

Garg S, Loghdey S, Gawkrodger DJ (2010) Allergic contact dermatitis from aluminium in deodorants. Contact Dermatitis 62:57–58

Hutteroth TH, Quast U (1990) Aluminum hydroxide granuloma following hepatitis B vaccination. Dtsch Med Wochenschr 115:476

Jefferson T, Rudin M, Di Pietrantonj C (2004) Adverse events after immunisation with aluminium-containing DTP vaccines: systematic review of the evidence. Lancet Infect Dis 4:84–90

Kaaber K, Nielsen AO, Veien NK (1992) Vaccination granulomas and aluminium allergy: course and prognostic factors. Contact Dermatitis 26:304–306

Kohl KS, Walop W, Gidudu J et al (2007) Induration at or near injection site: case definition and guidelines for collection, analysis, and presentation of immunization safety data. Vaccine 25(31):5839–5857

Lafaye S, Authier FJ, Fraitag S et al (2004) Granuloma with lymphocytic hyperplasia following vaccination: 10 cases. Presence of aluminium in the biopsies. Ann Dermatol Venereol 8–9:769–772

Lehman HK, Faden HS, Fang YV, Ballow M (2008) A case of recurrent sterile abscesses following vaccination: delayed hypersensitivity to aluminum. J Pediatr 152(1):133–135

Lopez S, Pelaez A, Navarro LA et al (1994) Aluminium allergy in patients hyposensitized with aluminium-precipitated antigen extracts. Contact Dermatitis 31(1):37–40

Marsee DK, Williams JM, Velazquez EF (2008) Aluminum granuloma after administration of the quadrivalent human papillomavirus vaccine. Report of a case. Am J Dermatopathol 30:622–624

Maubec E, Pinquier L, Viguier M et al (2005) Vaccination-induced cutaneous pseudolymphoma. J Am Acad Dermatol 52(4):623–629

McFadden N, Lyberg T, Hensten-Pettersen A (1989) Aluminum-induced granulomas in a tattoo. J Am Acad Dermatol 20:903–908

Miliauskas JR, Mukherjee T, Dixon B (1993) Postimmunization (vaccination) injection-site reactions. A report of four cases and review of the literature. Am J Surg Pathol 17:516–524

Netterlid E, Hindsén M, Björk J et al (2009) There is an association between contact allergy to aluminium and persistent subcutaneous nodules in children undergoing hyposensitization therapy. Contact Dermatitis 60:41–49

Nielsen AO, Kaaber K, Veien NK (1992) Aluminum allergy caused by DTP vaccine. Ugeskr Laeger 154(27):1900–1901

Pembroke AC, Marten RH (1979) Unusual cutaneous reactions following diphtheria and tetanus immunization. Clin Exp Dermatol 4:345–348

Rothstein E, Kohl KS, Ball L et al (2004) Nodule at injection site as an adverse event following immunization: case definition and guidelines for data collection, analysis, and presentation. Vaccine 22(5–6):575–585

Schwarze HP, Giordano-Labadie F, Loche F, Gorguet MB, Bazex J (2000) Delayed-hypersensitivity granulomatous reaction induced by blepharopigmentation with aluminum-silicate. J Am Acad Dermatol 42:888–891

Skowron F, Grezard P, Berard F, Balme B, Perrot H (1998) Persistent nodules at sites of hepatitis B vaccination due to aluminium sensitization. Contact Dermatitis 39:135–136

Slater DN, Underwood JC, Durrant TE, Gray T, Hopper JP (1982) Aluminium hydroxide granulomas: light and electron microscopic studies and X-ray microanalysis. Br J Dermatol 107:103–108

Stringfellow HF, Howat AJ (1994) Postimmunization (vaccination) injection-site reactions. Am J Surg Pathol 18:1179–1180

Veien NK, Hattel T, Justesen O, Norholm A (1986) Aluminium allergy. Contact Dermat 15:295–297

Wahlberg JE (1991) Patch testing. In: Rycroft RJG, Menné T, Frosch PJ, Benezra C (eds) Textbook of contact dermatitis. Springer, Berlin, pp 241–264
Acknowledgments
We thank Ulla Nyström-Kronander, MD, Allergy Center, University Hospital, Linköping and Lars Falk, PhD, Department of Dermatology and Venerology, Vrinnevisjukhuset, Norrköping for patch testing children in Östergötland and for valuable contribution to the manuscript. Financial support was obtained from the The Research and Development Units in Local Health Care in Södra Älvsborg and in Östergötland, The Research Board of Local Care Eastern Östergötland and by ALF grants from the County Council of Östergötland.
Conflict of interest
The authors declare that they have no financial relationship with the organisations which sponsored the research.
About this article
Cite this article
Bergfors, E., Trollfors, B. Sixty-four children with persistent itching nodules and contact allergy to aluminium after vaccination with aluminium-adsorbed vaccines—prognosis and outcome after booster vaccination. Eur J Pediatr 172, 171–177 (2013). https://doi.org/10.1007/s00431-012-1841-2
Received:

Accepted:

Published:

Issue Date:

DOI: https://doi.org/10.1007/s00431-012-1841-2
Keywords
Itching nodule

Granuloma

Contact allergy

Aluminium

Adjuvant

Vaccines