Abstract
Griscelli syndrome (GS) is a rare autosomal recessive disorder characterized by partial albinism. Three different types are caused by defects in three different genes. Patients with GS type 1 have primary central nervous system dysfunction, type 2 patients commonly develop hemophagocytic lymphohistiocytosis, and type 3 patients have only partial albinism. While hematopoietic stem cell transplantation is life saving in type 2, no specific therapy is required for types 1 and 3. Patients with GS types 1 and 3 are very rare. To date, only 2 patients with type 3 and about 20 GS type 1 patients, including the patients described as Elejalde syndrome, have been reported. The neurological deficits in Elejalde syndrome were reported as severe neurodevelopmental delay, seizures, hypotonia, and ophthalmological problems including nystagmus, diplopia, and retinal problems. However, none of these patients' clinical progresses were reported. We described here our two new type 1 and two type 3 patients along with the progresses of our previously diagnosed patients with GS types 1 and 3. Our previous patient with GS type I is alive at age 21 without any other problems except severe mental and motor retardation, patients with type 3 are healthy at ages 21 and 24 years having only pigmentary dilution; silvery gray hair, eye brows, and eyelashes. Since prognosis, treatment options, and genetic counseling markedly differ among different types, molecular characterization has utmost importance in GS.
Access options
Buy single article
Instant access to the full article PDF.
US$ 39.95
Tax calculation will be finalised during checkout.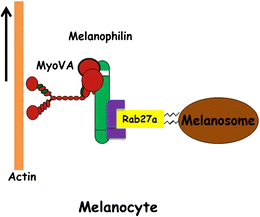 References
1.

Arico M, Zecca M, Santoro N, Caselli D, Maccario R, Danesino G, de Saint BG, Locatelli F (2002) Successful treatment of Griscelli syndrome with unrelated donor allogeneic hematopoietic stem cell transplantation. Bone Marrow Transplant 29:995–998

2.

Desnos C, Huet S, Darchen F (2007) 'Should I stay or should I go?': myosin V function in organelle trafficking. Biol Cell 99:411–423

3.

Dessinioti C, Stratigos AJ, Rigopoulos D, Katsambas AD (2009) A review of genetic disorders of hypopigmentation: lessons learned from the biology of melanocytes. Exp Dermatol 18:741–749

4.

Fukuda M, Kuroda TS, Mikoshiba K (2002) Slac2-a ⁄ melanophilin, the missing link between Rab27 and myosin Va: implications of a tripartite protein complex for melanosome transport. J Biol Chem 277:12432–12436

5.

Griscelli C, Durandi A, Guy-Grand D, Daguillard F, Herzog C, Prunieras M (1978) A syndrome associating partial albinism and immunodeficiency. Am J Med 65:691–702

6.

Hara M, Yaar M, Byers HR, Goukassian D, Fine RE, Gonsalves J, Gilchrest BA (2000) Kinesin participates in melanosomal movement along melanocyte dendrites. J Invest Dermatol 114:438–443

7.

Huizing M, Helip-Wooley A, Westbroek W, Gunay-Aygun M, Gahl WA (2008) Disorders of lysosome-related organelle biogenesis: clinical and molecular genetics. Annu Rev Genomics Hum Genet 9:359–386

8.

Menasche G, Ho CH, Sanal O, Feldmann J, Tezcan I, Ersoy F, Houdusse A, Fischer A, De Saint BG (2003) Griscelli syndrome restricted to hypopigmentation results from a melanophilin defect (GS3) or a MYO5A F-exon deletion (GS1). J Clin Invest 112:450–456

9.

Menasche G, Pastural E, Feldmann J, Certain S, Ersoy F, Dupuis S, Wulffraat N, Bianchi D, Fischer A, Le Deist F, de Saint BG (2000) Mutations in RAB27A cause Griscelli syndrome associated with haemophagocytic syndrome. Nat Genet 25:173–176

10.

Nascimento AA, Roland JT, Gelfand VI (2003) Pigment cells: a model for the study of organelle transport. Annu Rev Cell Dev Biol 19:469–491

11.

Raposo G, Mark MS (2007) Melanosomes—dark organelles enlighten endosomal membrane transport. Nat Rev Mol Cell Biol 8:786–797

12.

Sanal O, Ersoy F, Tezcan I, Metin A, Yel L, Ménasché G, Gürgey A, Berkel I, de Saint BG (2002) Griscelli disease: genotype–phenotype correlation in an array of clinical heterogeneity. J Clin Immunol 22:237–243

13.

Sanal O, Yel L, Kucukali T, Gilbert-Barnes E, Tardieu M, Tezcan I, Ersoy F, Metin A, de Saint BG (2000) An allelic variant of Griscelli disease: presentation with severe hypotonia, mental-motor retardation, and hypopigmentation consistent with Elejalde syndrome (neuroectodermal melanolysosomal disorder). J Neurol 247:570–572

14.

Strom M, Hume AN, Tarafder AK, Barkagianni E, Seabra MC (2002) A family of Rab27-binding proteins. Melanophilin links Rab27a and myosin Va function in melanosome transport. J Biol Chem 277:25423–25430

15.

Tezcan I, Sanal O, Ersoy F, Uckan D, Kiliç S, Metin A, Cetin M, Akin R, Oner C, Tuncer A (1999) Successful bone marrow transplantation in a case of Griscelli disease which presented in accelerated phase with neurological involvement. Bone Marrow Transplant 24:931–933

16.

Thomas ER, Walker LJ, Pullaperuma S, Cooper B, Brueton LA, de Saint BG, Suri M, Brady AF (2009) Griscelli syndrome type 1: a report of two cases and review of the literature. Clin Dysmorphol 18:145–148

17.

Van Gele M, Dynoodt P, Lambert J (2009) Griscelli syndrome: a model system to study vesicular trafficking. Pigment Cell Melanoma Res 22:268–282

18.

Vancoillie G, Lambert J, Mulder A, Koerten HK, Mommaas AM, Van Oostveldt P, Naeyaert JM (2000) Cytoplasmic dynein colocalizes with melanosomes in normal human melanocytes. Br J Dermatol 143:298–306

19.

Vancoillie G, Lambert J, Mulder A, Koerten HK, Mommaas AM, Van Oostveldt P, Naeyaert JM (2000) Kinesin and kinectin can associate with the melanosomal surface and form a link with microtubules in normal human melanocytes. J Invest Dermatol 114:421–429
Conflict of interest
The authors have no conflict of interest.
About this article
Cite this article
Çağdaş, D., Özgür, T.T., Asal, G.T. et al. Griscelli syndrome types 1 and 3: analysis of four new cases and long-term evaluation of previously diagnosed patients. Eur J Pediatr 171, 1527–1531 (2012). https://doi.org/10.1007/s00431-012-1765-x
Received:

Accepted:

Published:

Issue Date:
Keywords
Griscelli syndrome

Myo5a

Rab27a

Melanophilin