Abstract
Melatonin is secreted during the night in adults but not in infants. It has a hypnotic effect as well as a relaxing effect on the smooth muscle of the gastrointestinal tract. It is plausible that breast milk, which consists of melatonin, may have an effect on improving infants' sleep and reducing infantile colic. Our first goal was to assess the differences in the prevalence and severity of infantile colic and nocturnal sleep between breast-fed infants and supplement-fed infants. The second was to characterize the profile of melatonin secretion in human breast milk compared to artificial formulas. Ninety-four mothers of healthy 2 to 4-month-old infants filled a questionnaire regarding irritability/potential infantile colic and sleep characteristics. For the second part, we measured melatonin levels in breast milk of five women every 2 h during 24 h and in three samples of commonly used artificial formulas. Exclusively breast-fed infants had a significantly lower incidence of colic attacks (p = 0.04), lower severity of irritability attacks (p = 0.03), and a trend for longer nocturnal sleep duration (p = 0.06). Melatonin in human milk showed a clear circadian curve and was unmeasurable in all artificial milks. Conclusions. Exclusive breastfeeding is associated with reduced irritability/colic and a tendency toward longer nocturnal sleep. Breast milk (nocturnal) consists of substantial melatonin levels, whereas artificial formulas do not. We speculate that melatonin which is supplied to the infant via breast milk plays a role in improving sleep and reducing colic in breast-fed infants compared to formula-fed ones.
Access options
Buy single article
Instant access to the full article PDF.
US$ 39.95
Tax calculation will be finalised during checkout.
Subscribe to journal
Immediate online access to all issues from 2019. Subscription will auto renew annually.
US$ 119
Tax calculation will be finalised during checkout.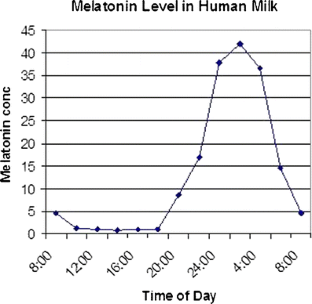 References
1.

Aparicio S, Garau C, Esteban S, Nicolau MC, Rivero M, Rial RV (2007) Chrononutrition: use of dissociated day/night infant milk formulas to improve the development of the wake–sleep rhythms. Effects of tryptophan. Nutr Neurosci 10:137–143

2.

Arendt J (1998) Melatonin and the pineal gland: influence on mammalian seasonal and circadian physiology. Rev Reprod 3:13–22

3.

Cajochen C, Kräuchi K, Wirz-Justice A (2003) Role of melatonin in the regulation of human circadian rhythms and sleep. J Neuroendocrinol 15:432–437

4.

Chen CQ, Fichna J, Bashashati M, Li YY, Storr M (2011) Distribution, function and physiological role of melatonin in the lower gut. World J Gastroenterol 17:3888–3898

5.

Crowcroft NS, Strachan DP (1997) The social origins of infantile colic: questionnaire study covering 76,747 infants. BMJ 314:1325–1328

6.

Cubero J, Valero V, Sanches J, Rivero M, Parvez H, Rodriguez AB, Barriga C (2005) The circadian rhythm of tryptophan in breast milk affects the rhythm of 6-sulfatoxymelatonin and sleep in newborn. Neuro Endocrinol Lett 26:657–661

7.

Kennaway DJ, Goble FC, Stamp GE (1996) Factors influencing the development of melatonin rhythmicity in humans. J Clin Endocrinol Metab 81:1525–1532

8.

Rosen LA (2008) Infant sleep and feeding. J Obstet Gynecol Neonatal Nurs 37:706–714

9.

Rzehak P, Sausenthaler S, Koletzko S, Bauer CP, Schaaf B, Von Berg A, Berdel D, Borte M, Herbarth O, Kramer U, Fenske N, Wichmann HE, Heinrich J (2009) Period-specific growth, overweight and modification by breastfeeding in the GINI and LISA birth cohorts up to age 6 years. Eur J Epidemiol 24:449–467

10.

Saavedra MA, da Costa JS, Garcias G, Horta BL, Tomasi E, Mendonça R (2003) Infantile colic incidence and associated risk factors: a cohort study. J Pediatr (Rio J) 79:115–122

11.

Savino F (2007) Focus on infantile colic. Acta Paediatr 96:1259–1264

12.

Tikotzky L, DE Marcas G, Har-Toov J, Dollberg S, Bar-Haim Y, Sadeh A (2010) Sleep and physical growth in infants during the first 6 months. J Sleep Res 19:103–110
Conflict of interest
None of the authors has any conflict of interest in this study, and there is no any commercial company involved in the current study.
About this article
Cite this article
Cohen Engler, A., Hadash, A., Shehadeh, N. et al. Breastfeeding may improve nocturnal sleep and reduce infantile colic: Potential role of breast milk melatonin. Eur J Pediatr 171, 729–732 (2012). https://doi.org/10.1007/s00431-011-1659-3
Received:

Accepted:

Published:

Issue Date:
Keywords
Infants

Sleepm

Melatonin

Infantile colic