Abstract
The aims of this study were to evaluate the implication of food allergy as a cause of paediatric constipation and to determine the diet period needed to tolerate the constipation-causing foods. Fifty-four children aged 6 months to 14 years (median, 42 months) suffering from chronic constipation (without anatomic abnormalities, cοeliac disease or hypothyroidism), unresponsive to a 3-month laxative therapy, were prospectively evaluated. All participants were evaluated for allergy to cow's milk, egg, wheat, rice, corn, potato, chicken, beef and soy, using skin tests (SPT), serum specific IgE and atopy patch test (APT). A withdrawal of the APT-positive foods was instructed. Thirty-two children had positive APT; 15 were positive to one; six, to two and 11, to three or more food allergens, wheat and egg being the commonest. After withdrawing the APT-positive foods for an 8-week period, constipation had improved in 28/32 children, but a relapse of constipation was noticed after an oral food challenge, so they continued the elimination diet. Tolerance to food allergens was achieved in only 6/28 after 6 months, compared to 25/28 after 12 months and to all after a 2-year-long elimination. Food allergy seems to be a significant etiologic factor for chronic constipation not responding to treatment, in infants and young children. APT was found to be useful in evaluating non-IgE allergy-mediated constipation, and there was no correlation of APT with IgE detection. Tolerance was adequately achieved after 12 months of strict food allergen elimination.
Access options
Buy single article
Instant access to the full article PDF.
US$ 39.95
Tax calculation will be finalised during checkout.
Subscribe to journal
Immediate online access to all issues from 2019. Subscription will auto renew annually.
US$ 119
Tax calculation will be finalised during checkout.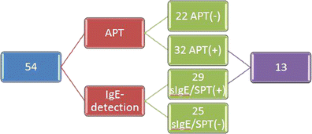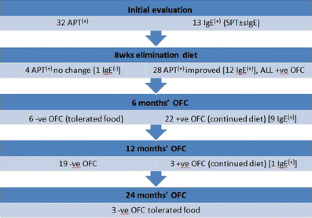 References
1.

Baker SS, Liptak GS, Colletti RB et al (1999) Constipation in infants and children evaluation and treatment. J Pediatr Gastroenterol Nutr 29:612–626

2.

Caffarelli C, Coscia A, Baldi F et al (2007) Characterization of irritable bowel syndrome and constipation in children with allergic diseases. Eur J Pediatr 166:1245–1252

3.

Carroccio A, Scalici C, Maresi E et al (2005) Chronic constipation and food intolerance: a model of proctitis causing constipation. Scand J Gastroenterol 40:33–42

4.

Daher S, Tahan S, Solé D et al (2001) Cow's milk protein intolerance and chronic constipation in children. Pediatr Allergy Immunol 12:339–342

5.

De Boissieu D, Waguet JC, Dupont C (2003) The atopy patch tests for detection of cow's milk allergy with digestive symptoms. J Pediatr 142:203–205

6.

Heine RG, Verstege A, Mehl A et al (2006) Proposal for a standardized interpretation of the atopy patch test in children with atopic dermatitis and suspected food allergy. Pediatr Allergy Clin Immunol 17:213–217

7.

Hyman PE, Milla PJ, Benninga MA et al (2006) Childhood functional gastrointestinal disorders: neonate/toddler. Gastroenterology 130:1519–1526

8.

Iacono G, Carroccio A, Cavataio F et al (1995) Chronic constipation as a symptom of cow milk allergy. J Pediatr 126:34–39

9.

Iacono G, Cavataio F, Montalto G et al (1998) Intolerance of cow's milk and chronic constipation in children. N Engl J Med 339:1100–1104

10.

Loening-Baucke V (2005) Prevalence, symptoms and outcome of constipation in infants and toddlers. J Pediatr 146:359–363

11.

Mehl A, Rolinck-Werninghaus C, Staden U et al (2006) The atopy patch test in the diagnostic workup of suspected food-related symptoms in children. J Allergy Clin Immunol 118:923–929

12.

Perackis K, Celik-Bilgili S, Staden U et al (2003) Influence of age on the outcome of the atopy patch test with food in children with atopic dermatitis. J Allergy Clin Immunol 112:625–627

13.

Rasquin A, Di Lorenzo C, Forbes D et al (2006) Childhood functional gastrointestinal disorders: child/adolescent. Gastroenterology 130:1527–1537

14.

Roma-Giannikou E, Adamidis D, Gianniou M et al (1999) Epidemiology of chronic constipation in Greek children. Hell J Gastroenterol 12:58–62

15.

Sicherer SH (2003) Clinical aspects of gastrointestinal food allergy in childhood. Pediatrics 111:1609–1616

16.

Spergel JM, Brown-Whitehorn T, Beausoleil JL et al (2007) Predictive values for skin prick test and atopy patch test for eosinophilic esophagitis. J Allergy Clin Immunol 119:509–511

17.

Sub-Committee on Skin Tests of the European Academy of Allergology and Clinical Immunology (1989) Skin tests used in type I allergy testing Position paper. Allergy 44:1–59

18.

Turjanmma K, Darsow U, Niggemann B et al (2006) EAACI/GA2LEN position paper: present status of the atopy patch test. Allergy 61:1377–1384

19.

Turunen S, Karttunen TJ, Kokkonen J (2004) Lymphoid nodular hyperplasia and cow's milk hypersensitivity in children with chronic constipation. J Pediatr 145:606–611

20.

Wistokat-Wülfing A, Schmidt D, Darsow U et al (1999) Atopy patch test reactions are associated with T lymphocyte-mediated allergen-specific immune responses in atopic dermatitis. Clin Exp Allergy 29:513–521
Conflict of interest
No financial sponsorship was used for the research. The authors do not have any conflict of interest.
About this article
Cite this article
Syrigou, E.I., Pitsios, C., Panagiotou, I. et al. Food allergy-related paediatric constipation: the usefulness of atopy patch test. Eur J Pediatr 170, 1173–1178 (2011). https://doi.org/10.1007/s00431-011-1417-6
Received:

Accepted:

Published:

Issue Date:
Keywords
Constipation

Allergy

Atopy patch test

Diet

Child