Abstract
Brachyphalangy, polydactyly and tibial aplasia/hypoplasia syndrome (OMIM 609945) is a rare congenital disorder. Only seven patients have been reported to date, and the etiology of this syndrome is unknown. Autosomal dominant inheritance with variable expression has been suggested based on the presence of minor features in some parents and the fact that neither parental consanguinity nor pairs of affected siblings were observed. We report on the first patient with this syndrome who was born to consanguineous parents. Neither the mother nor the father, who were first cousins, had clinical features suggestive of a manifestation of brachyphalangy, polydactyly and tibial aplasia/hypoplasia syndrome. The patient had no siblings, and the family history was unremarkable. Clinical problems included brachydactyly of hands and feet, splaying of fingers and toes, preaxial polydactyly of feet, bilateral tibial aplasia, shortened radius and ulna, and characteristic facial dysmorphic signs. The detailed description of this patient adds to our knowledge of the clinical manifestations of brachyphalangy, polydactyly and tibial aplasia/hypoplasia syndrome and will eventually also contribute to the elucidation of the underlying gene defects.
Access options
Buy single article
Instant access to the full article PDF.
US$ 39.95
Tax calculation will be finalised during checkout.
Subscribe to journal
Immediate online access to all issues from 2019. Subscription will auto renew annually.
US$ 119
Tax calculation will be finalised during checkout.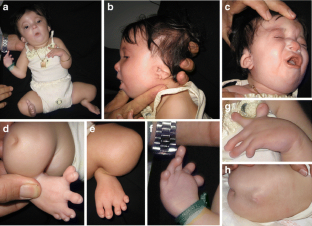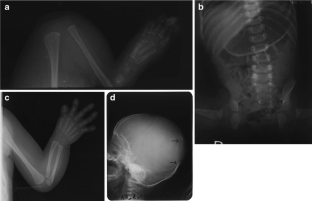 References
1.

Baraitser M, Stewart F, Winter RM, Hall CM, Herman S, Nevin NC (1997) A syndrome of brachyphalangy, polydactyly and absent tibiae. Clin Dysmorphol 6:111–121

2.

Bernardi P, Graziadio C, Rosa RF, Dall'Agnol L, Zen PR, Paskulin GA (2009) Additional features in a new case of a girl presenting brachyphalangy, polydactyly and tibial aplasia/hypoplasia. Am J Med Genet A 149A:1532–1538

3.

Faravelli F, Di Rocco M, Stella G, Selicorni A, Camera G (2001) Brachyphalangy, feet polydactyly, absent/hypoplastic tibiae: a further case and review of main diagnostic findings. Clin Dysmorphol 10:101–103

4.

Olney RS, Hoyme HE, Roche F, Ferguson K, Hintz S, Madan A (2001) Limb/pelvis hypoplasia/aplasia with skull defect (Schinzel phocomelia): distinctive features and prenatal detection. Am J Med Genet 103:295–301

5.

Pierson DM, Taboada EM, Lofland GK, Begleiter ML, Smith GS, Hall F, Butler MG (2001) Total anomalous pulmonary venous connection and a constellation of craniofacial, skeletal, and urogenital anomalies in a newborn and similar features in his 36-year-old father. Clin Dysmorphol 10:95–99

6.

Wechsler SB, Lehoczky JA, Hall JG, Innis JW (2004) Tibial aplasia, lower extremity mirror image polydactyly, brachyphalangy, craniofacial dysmorphism and genital hypoplasia: further delineation and mutational analysis. Clin Dysmorphol 13:63–69
Acknowledgments
We thank the parents of the patient for their support and their consent to publish clinical photographs.
Conflict of interest
The authors declare that they have no conflict of interest.
About this article
Cite this article
Shafeghati, Y., Kahrizi, K., Najmabadi, H. et al. Brachyphalangy, polydactyly and tibial aplasia/hypoplasia syndrome (OMIM 609945): case report and review of the literature. Eur J Pediatr 169, 1535–1539 (2010). https://doi.org/10.1007/s00431-010-1267-7
Received:

Accepted:

Published:

Issue Date:
Keywords
Brachyphalangy, polydactyly and tibial aplasia/hypoplasia syndrome

Consanguinity

Polydactyly

Tibial aplasia