Abstract
The objective of this study was to determine the outcomes of Croatian children with biliary atresia. Health records of infants born in Croatia between January 1, 1992 and December 31, 2006 who were diagnosed with biliary atresia and treated at a single university center were reviewed. Survival rates were calculated with the Kaplan–Meier method. Twenty-nine patients with biliary atresia were identified. Incidence was one in 23,600 live births (95% confidence interval 1/17,400–1/27,200). The median age at Kasai operation was 66 days (range 22–192). Median follow-up was 2.65 years (range 0.2–14.3). Overall survival rates for the patients who underwent Kasai portoenterostomy, including those six (20%) who subsequently underwent liver transplantation, were 75.6%. Five and 10-year native liver survival rates were 51.7% and 38.8%, respectively (median survival time was 7.88 years). Survival rate curves in two groups of patients according to the biliary atresia phenotype (fetal or perinatal form) were divergent. Survival was 87.7% in perinatal form and 43.8% in fetal form (Breslow chi-square 8.082, p < 0.01). Overall survival rates of patients with biliary atresia in Croatia compared unfavorably with current international standards; this could be improved with earlier referral for liver transplantation. Results of Kasai operation (native liver survival rates) compared favorably with results reported elsewhere.
Access options
Buy single article
Instant access to the full article PDF.
USD 39.95
Price includes VAT (USA)
Tax calculation will be finalised during checkout.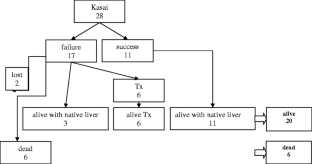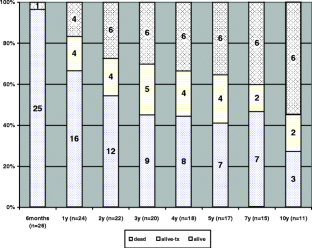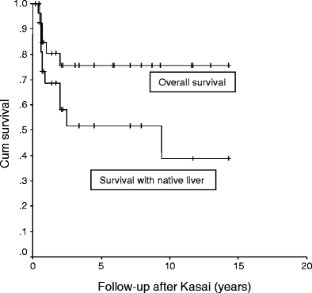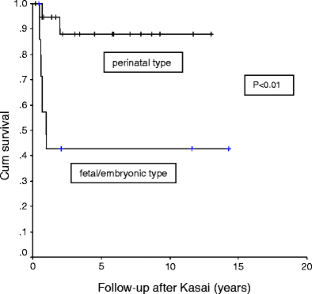 References
1.

Altman P, Lilly JR, Greenfeld J et al (1997) A multivariate risk factor analysis of the portoenterostomy procedure for biliary atresia: twenty-five years of experience from two centers. Ann Surg 226:348–355

2.

Balistreri WF, Grand R, Hoofnagle JH et al (1996) Biliary atresia: current concepts and research directions. Summary of a symposium. Hepatology 23:1682–1692

3.

Caton AR, Druschel CM, McNutt LA (2004) The epidemiology of extrahepatic biliary atresia in New York State, 1983–98. Paediatr Perinat Epidemiol 18:97–105

4.

Chardot C, Carton M, Spire-Bendelac N et al (1999) Epidemiology of biliary atresia in France: a national study 1986–96. J Hepatol 31:1006–1013

5.

Davenport M (2005) A challenge on the use of the words embryonic and perinatal in the context of biliary atresia. Hepatology 41:403–404

6.

Davenport M, Tizzard SA, Underhill J et al (2006) The biliary atresia splenic malformation syndrome: a 28-year single-center retrospective study. J Pediatr 149:393–400

7.

Fischler B, Haglund B, Hjern A (2002) A population-based study on the incidence and possible pre- and perinatal etiologic risk factors of biliary atresia. J Pediatr 141:217–222

8.

Henriksen NT, Drablos PA, Aagenaes O (1981) Cholestatic jaundice in infancy. The importance of familial and genetic factors in aetiology and prognosis. Arch Dis Child 56:622–627

9.

Houwen RH, Kerremans II, van Steensel-Moll HA et al (1988) Time-space distribution of extrahepatic biliary atresia in The Netherlands and West Germany. Z Kinderchir 43:68–71

10.

Mack C, Sokol RJ (2005) Unraveling the pathogenesis and etiology of biliary atresia. Pediatr Res 57(No 5, Pt 2):87R–94R

11.

McKiernan PJ, Baker AJ, Kelly DA (2000) The frequency and outcome of biliary atresia in the UK and Ireland. Lancet 355:25–29

12.

Nio M, Ohi R (2000) Biliary atresia. Semin Pediatr Surg 9:177–186

13.

Nio M, Ohi R, Miyano T et al (2003) Five- and 10-year survival rates after surgery for biliary atresia: a report from the Japanese Biliary Atresia Registry. J Pediatr Surg 38:997–1000

14.

Petersen C, Harder D, Abola Z et al (2008) European biliary atresia registries: summary of a symposium. Eur J Ped Surg 18:111–116

15.

Schreiber BA, Barker CC, Roberts EA et al (2007) Biliary atresia: the Canadian experience. J Pediatr 151:659–665

16.

Serinet MO, Broue P, Jacquemin E et al (2006) Management of patients with biliary atresia in France: results of a decentralized policy 1986–2002. Hepatology 44:75–84

17.

Serinet M-O, Wildhaber BE, Broue P et al (2009) Impact of age at Kasai operation on its results in late childhood and adolescence: a rational basis for biliary atresia screening. Pediatrics 123:1280–1286

18.

Shneider BL, Brown MB, Haber B et al (2006) A multicenter study of the outcome of biliary atresia in United States, 1997 to 2000. J Pediatr 148:467–474

19.

Sokol RJ, Mack C, Narkewicz MR et al (2003) Pathogenesis and outcome of biliary atresia: current concepts. J Pediatr Gastroenterol Nutr 37:4–21

20.

Sokol RJ, Shepherd RW, Superina R et al (2007) Screening and outcomes in biliary atresia: summary of National Institutes of Health workshop. Hepatology 46(2):566–581

21.

Strickland AD, Shannon K (1982) Studies in the etiology of extrahepatic biliary atresia: time-space clustering. J Pediatr 100:749–753

22.

Tiao MM, Tsai SS, Kuo HW et al (2008) Epidemiological features of biliary atresia in Taiwan, a national study 1996–2003. J Gastroenterol Hepatol 23:62–66

23.

Vazquez J, Lopez Gutierrez JC, Gamez M et al (1995) Biliary atresia and the polysplenia syndrome: its impact on final outcome. J Pediatr Surg 30:485–7

24.

Wildhaber BE, Majno P, Mayr J et al (2008) Biliary atresia: swiss national study 1994–2004. J Pediatr Gastroenterol Nutr 46:299–307

25.

Yoon PW, Bresee JS, Olney RS et al (1997) Epidemiology of biliary atresia: a population-based study. Pediatrics 99:376–382
About this article
Cite this article
Grizelj, R., Vuković, J., Novak, M. et al. Biliary atresia: the Croatian experience 1992–2006. Eur J Pediatr 169, 1529–1534 (2010). https://doi.org/10.1007/s00431-010-1266-8
Received:

Accepted:

Published:

Issue Date:
Keywords
Biliary atresia

Children

Incidence

Kasai portoenterostomy