Abstract
Acute necrotising encephalopathy (ANE) is a rare encephalitis-like syndrome usually reported in East Asia. This clinical syndrome tends to be triggered by viral febrile illness with rapid deterioration to seizures, coma and a generally poor outcome. Diagnosis is usually made on Magnetic Resonance Imaging (MRI). Its epidemiology is unknown largely due to under-recognition. Recurrent ANE has recently been associated with a newly discovered autosomal dominant mutation RAN-binding protein 2 now termed ANE1. There had been reports encouraging the use of empirical corticosteroids as treatment for this condition. However, there have not been any clinical trials to date. Here we report an unusual case of a Caucasian toddler who had suffered two episodes of ANE, but did not receive any specific treatment and has normal physical and cognitive outcome at 1 year follow up. He has this missense mutation in the gene of the RAN-binding protein 2 as have his mother and brother who are both well. This case adds to the worldwide literature and expands on the spectrum of outcomes in order to bring about better recognition in the Caucasian population.
Access options
Buy single article
Instant access to the full article PDF.
US$ 39.95
Tax calculation will be finalised during checkout.
Subscribe to journal
Immediate online access to all issues from 2019. Subscription will auto renew annually.
US$ 119
Tax calculation will be finalised during checkout.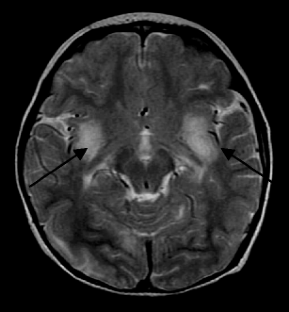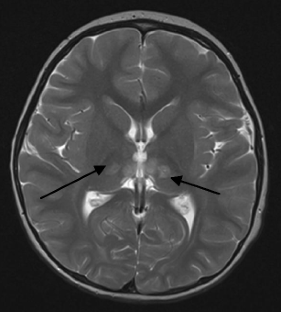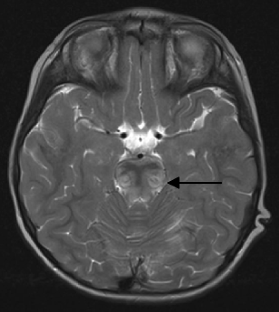 References
1.

Gika AD, Rich P, Gupta S et al (2010) Recurrent acute necrotizing encephalopathy following influenza A in a genetically predisposed family. Dev Med Child Neurol 52(1):99–102

2.

Kim JH, Kim I, Lim MK et al (2004) Acute necrotizing encephalopathy in Korean infants and children: imaging findings and diverse clinical outcome. Korean J Radiol 5:171–177

3.

Kirton A, Busche K, Ross C, Wirrell E (2005) Acute necrotizing encephalopathy in Caucasian children: two cases and review of the literature. J Child Neurol 20:527

4.

Manara R, Franzoi M, Cogo P, Battistella PA (2006) Acute necrotizing encephalopathy: combined therapy and favorable outcome in a new case. Childs Nerv Syst 22:1231–1236

5.

Mastroyianni SD, Gionnis D, Konstantinos V, Skardoutsou A et al (2006) Acute necrotizing encephalopathy of childhood in non-Asian patients: report of three cases and literature review. J Child Neurol 21:872

6.

Mizuguchi M (1997) Acute necrotizing encephalopathy of childhood: a novel form of acute encephalopathy prevalent in Japan and Taiwan. Brain Dev 19(2):81–92

7.

Mizuguchi M, Abe J, Mikkaichi K et al (1995) Acute necrotising encephalopathy of childhood: a new syndrome presenting with multifocal, symmetric brain lesions. J Neurol Neurosurg Psychiatry 58(5):555–561

8.

Neilson DE, Adams MD, Orr C et al (2009) Infection-triggered familial or recurrent cases of acute necrotizing encephalopathy caused by mutations in a component of the nuclear pore, RANBP2. Am J Hum Genet 84(1):44–51

9.

Neilson DE, Feiler HS, Wilhelmsen KC et al (2003) Autosomal dominant acute necrotizing encephalopathy. Neurology 22(61(2)):226–230

10.

Okumura A, Mizuguchi M, Kidokoro H et al (2009) Outcome of acute necrotizing encephalopathy in relation to treatment with corticosteroids and gammaglobulin. Brain & Dev 31(3):221–7

11.

Troedson C, Gill D, Dale R (2008) Emergence of acute necrotising encephalopathy in Australia. J Paediatr Child Health 44(10):599–601
Acknowledgement
Derek Neilson, Division of Human Genetics, Cincinnati Children's Hospital Medical Centre, Cincinnati, OH, USA for performing the genetic testing.
Conflicts of interest
All authors declare there are no financial disclosures and no conflict of interest.
About this article
Cite this article
Loh, NR., Appleton, D.B. Untreated recurrent acute necrotising encephalopathy associated with RANBP2 mutation, and normal outcome in a Caucasian boy. Eur J Pediatr 169, 1299–1302 (2010). https://doi.org/10.1007/s00431-010-1213-8
Received:

Accepted:

Published:

Issue Date:
Keywords
Acute necrotising encephalopathy

RANBP2

Untreated

Encephalitis

Caucasian

Influenza A

Seizures

Bilateral thalami

Putamen

Pons

Chromosome 2q 11–13 (OMIM 601181)

ANE1