Abstract
The primary purpose of this study was to examine whether grip strength is related to total muscle strength in children, adolescents, and young adults. The second purpose was to provide reference charts for grip strength, which could be used in the clinical and research setting. This cross-sectional study was performed at primary and secondary schools and the University of Applied Sciences. Three hundred and eighty-four healthy Dutch children, adolescents, and young adults at the age of 8 to 20 years participated. Isometric muscle strength was measured with a handheld dynamometer of four muscle groups (shoulder abductors, grip strength, hip flexors, and ankle dorsiflexors). Total muscle strength was a summing up of shoulder abductors, hip flexors, and ankle dorsiflexors. All physical therapists participated in a reliability study. The study was started when intratester and intertester reliability was high (Pearson correlation coefficient >0.8). Grip strength was strongly correlated with total muscle strength, with correlation coefficients between 0.736 and 0.890 (p < 0.01). However, the correlation was weaker when controlled for weight (0.485–0.564, p < 0.01). Grip strength is related to total muscle strength. This indicates, in the clinical setting, that grip strength can be used as a tool to have a rapid indication of someone's general muscle strength. The developed reference charts are suitable for evaluating muscle strength in children, adolescents, and young adults in clinical and research settings.
This is a preview of subscription content,
to check access.
Access this article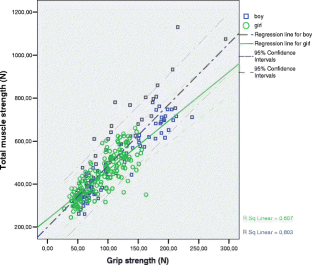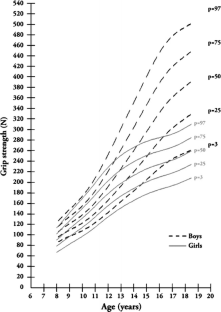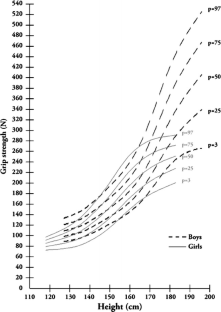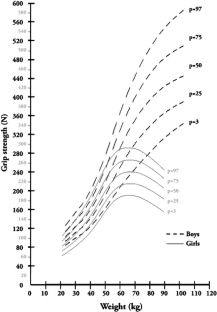 References
Alvares-da-Silva MR, da Reverbel ST (2005) Comparison between handgrip strength, subjective global assessment, and prognostic nutritional index in assessing malnutrition and predicting clinical outcome in cirrhotic outpatients. Nutrition 21(2):113–117

Backman E, Odenrick P, Henriksson KG, Ledin T (1989) Isometric muscle force and anthropometric values in normal children aged between 3.5 and 15 years. Scand J Rehabil Med 21(2):105–114

Beenakker EA, van der Hoeven JH, Fock JM, Maurits NM (2001) Reference values of maximum isometric muscle force obtained in 270 children aged 4–16 years by hand-held dynamometry. Neuromuscul Disord 11(5):441–446

Bohannon RW (1997) Reference values for extremity muscle strength obtained by hand-held dynamometry from adults aged 20 to 79 years. Arch Phys Med Rehabil 78(1):26–32

Bohannon RW (1999) Intertester reliability of hand-held dynamometry: a concise summary of published research. Percept Mot Skills 88:899–902

Bohannon RW (2008) Is it legitimate to characterize muscle strength using a limited number of measures? J Strength Cond Res 22(1):166–173

Bohannon RW (2008) Hand-grip dynamometry predicts future outcomes in aging adults. J Geriatr Phys Ther 31(1):3–10

Cole TJ, Bellizzi MC, Flegal KM, Dietz WH (2000) Establishing a standard definition for child overweight and obesity worldwide: international survey. BMJ 320(7244):1240–1243

Davies BN, Greenwood EJ, Jones SR (1988) Gender difference in the relationship of performance in the handgrip and standing long jump tests to lean limb volume in young adults. Eur J Appl Physiol Occup Physiol 58(3):315–320

Dore E, Martin R, Ratel S, Duche P, Bedu M, Van PE (2005) Gender differences in peak muscle performance during growth. Int J Sports Med 26(4):274–280

Eek MN, Kroksmark AK, Beckung E (2006) Isometric muscle torque in children 5 to 15 years of age: normative data. Arch Phys Med Rehabil 87(8):1091–1099

Engelbert RH, Bank RA, Sakkers RJ, Helders PJ, Beemer FA, Uiterwaal CS (2003) Pediatric generalized joint hypermobility with and without musculoskeletal complaints: a localized or systemic disorder? Pediatrics 111(3):e248–e254

Engelbert RH, Uiterwaal CS, van de Putte E, Helders PJ, Sakkers RJ, van Tintelen E, Bank R (2004) Pediatric generalized joint hypomobility and musculoskeletal complaints: a new entity? Clinical, biochemical, and osseal characteristics. Pediatrics 113(4):714–719

Engelbert RH, van Bergen M, Henneken T, Helders PJ, Takken T (2006) Exercise tolerance in children and adolescents with musculoskeletal pain in joint hypermobility and joint hypomobility syndrome. Pediatrics 118(3):e690–e696

Fraser A, Vallow J, Preston A, Cooper RG (1999) Predicting 'normal' grip strength for rheumatoid arthritis patients. Rheumatology (Oxford) 38(6):521–528

Fricke O, Schoenau E (2005) Examining the developing skeletal muscle: why, what and how? J Musculoskelet Neuronal Interact 5(3):225–231

Gerver W, De Bruin R (1996) Paediatric morphometrics, a reference manual. Wetenschappelijke uitgeverij Bunge, Utrecht, The Netherlands

Hager-Ross C, Rosblad B (2002) Norms for grip strength in children aged 4–16 years. Acta Paediatr 91(6):617–625

He Q, Albertsson-Wikland K, Karlberg J (2000) Population-based body mass index reference values from Goteborg, Sweden: birth to 18 years of age. Acta Paediatr 89(5):582–592

Holm I, Fredriksen P, Fosdahl M, Vollestad N (2008) A normative sample of isotonic and isokinetic muscle strength measurements in children 7 to 12 years of age. Acta Paediatr 97(5):602–607

Jaric S (2002) Muscle strength testing: use of normalisation for body size. Sports Med 32(10):615–631

Kerr A, Syddall HE, Cooper C, Turner GF, Briggs RS, Sayer AA (2006) Does admission grip strength predict length of stay in hospitalised older patients? Age Ageing 35(1):82–84

Kolber MJ, Cleland JA (2005) Strength testing using hand-held dynamometry. Phys Ther Rev 10:99–112

Macfarlane TS, Larson CA, Stiller C (2008) Lower extremity muscle strength in 6- to 8-year-old children using hand-held dynamometry. Pediatr Phys Ther 20(2):128–136

Markovic G, Jaric S (2004) Movement performance and body size: the relationship for different groups of tests. Eur J Appl Physiol 92(1–2):139–149

Massy-Westropp N, Rankin W, Ahern M, Krishnan J, Hearn TC (2004) Measuring grip strength in normal adults: reference ranges and a comparison of electronic and hydraulic instruments. J Hand Surg Am 29(3):514–519

Morey MC, Pieper CF, Cornoni-Huntley J (1998) Physical fitness and functional limitations in community-dwelling older adults. Med Sci Sports Exerc 30(5):715–723

Nicolay CW, Walker AL (2005) Grip strength and endurance: influences of anthropometric variation, hand dominance and gender. Int J Ind Ergon 35:605–618

Phillips BA, Lo SK, Mastaglia FL (2000) Muscle force measured using "break" testing with a hand-held myometer in normal subjects aged 20 to 69 years. Arch Phys Med Rehabil 81(5):653–661

Rantanen T, Harris T, Leveille SG, Visser M, Foley D, Masaki K (2000) Muscle strength and body mass index as long-term predictors of mortality in initially healthy men. J Gerontol A Biol Sci Med Sci 55(3):M168–M173

Rauch F, Neu CM, Wassmer G, Beck B, Rieger-Wettengl G, Rietschel E (2002) Muscle analysis by measurement of maximal isometric grip force: new reference data and clinical applications in pediatrics. Pediatr Res 51(4):505–510

Round JM, Jones DA, Honour JW, Nevill AM (1999) Hormonal factors in the development of differences in strength between boys and girls during adolescence: a longitudinal study. Ann Hum Biol 26(1):49–62

Sheffield-Moore M, Urban RJ (2004) An overview of the endocrinology of skeletal muscle. Trends Endocrinol Metab 15(3):110–115

Sloan C (2002) Review of the reliability and validity of myometry with children. Phys Occup Ther Pediatr 22(2):79–93

Takken T, Elst E, Spermon N, Helders PJ, Prakken AB, van der Net J (2003) The physiological and physical determinants of functional ability measures in children with juvenile dermatomyositis. Rheumatology (Oxford) 42(4):591–595

Thyberg I, Hass UA, Nordenskiold U, Gerdle B, Skogh T (2005) Activity limitation in rheumatoid arthritis correlates with reduced grip force regardless of sex: the Swedish TIRA project. Arthritis Rheum 53(6):886–896

Uiterwaal CS, Grobbee DE, Sakkers RJ, Helders PJ, Bank RA, Engelbert RH (2003) A relation between blood pressure and stiffness of joints and skin. Epidemiology 14(2):223–227

van Buuren S (2006) Afkapwaarden van de 'body-mass-index' (BMI) voor ondergewicht van Nederlandse kinderen. Ned Tijdschr Geneeskd 148(40):1967–1971

Wang M, Leger AB, Dumas GA (2005) Prediction of back strength using anthropometric and strength measurements in healthy females. Clin Biomech (Bristol, Avon) 20(7):685–692

Wessel J, Kaup C, Fan J, Ehalt R, Ellsworth J, Speer C (1999) Isometric strength measurements in children with arthritis: reliability and relation to function. Arthritis Care Res 12(4):238–246

Wren TA, Engsberg JR (2007) Normalizing lower-extremity strength data for children without disability using allometric scaling. Arch Phys Med Rehabil 88(11):1446–1451
Additional information
RHH Engelbert worked at the Department of Pediatric Physical Therapy and Exercise Physiology, University Hospital for Children and Youth 'Wilhelmina Children's Hospital', University Medical Center Utrecht till January 2008.
About this article
Cite this article
Wind, A.E., Takken, T., Helders, P.J.M. et al. Is grip strength a predictor for total muscle strength in healthy children, adolescents, and young adults?. Eur J Pediatr 169, 281–287 (2010). https://doi.org/10.1007/s00431-009-1010-4
Received:

Accepted:

Published:

Issue Date:

DOI: https://doi.org/10.1007/s00431-009-1010-4
Keywords