Abstract
We report the case of an 11-year-old boy who presented with fresh blood in his mouth and a history of sore throat during the past 2 weeks that was unresponsive to antibiotic therapy. Inspection of the oral cavity revealed a black circular mass attached to the posterior wall of the oropharynx. This mass was determined to be a live engorged leech. Leech endoparasitism is caused by aquatic leeches that attach themselves to mucus membranes of body cavities after the host has swum in bodies of fresh water or drunk from unsafe water sources. Pharyngeal hirudiniasis may present in different forms depending on the exact location of the parasite in the body and must be included in the list of differential diagnosis for common conditions such as pharyngitis, hemoptysis or anemia in pediatric patients living in endemic areas.
Access options
Buy single article
Instant access to the full article PDF.
USD 39.95
Price includes VAT (USA)
Tax calculation will be finalised during checkout.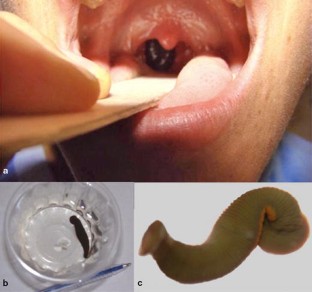 References
1.

Al-Hadrani A, Debry C, Faucon F, Fingerhut A (2000) Hoarseness due to leech ingestion. J Laryngol Otol 114:145–146

2.

Ardehali B, Hand K, Nduka C, Holmes A, Wood S (2006) Delayed leech-borne infection with Aeromonas hydrophilia in escharotic flap wound. J Plast Reconstr Aesthet Surg 59(1):94–95

3.

Bilgen C, Karci B, Uluoz U (2002) A nasopharyngeal mass: leech in the nasopharynx. Int J Pediatr Otorhinolaryngol 64(1):73–76

4.

Connor NP, Conforti ML, Heisey DM, Vanderby R, Kunz D, Hartig GK (2002) Augmented blood removal after medicinal leech feeding in congested tissue flaps. J Rehabil Res Dev 39(4):505–512

5.

Cundall DB, Whitehead SM, Hechtel FO (1986) Severe anaemia and death due to the pharyngeal leech Myxobdella africana. Trans R Soc Trop Med Hyg 80(6):940–944

6.

Demiroren K, Caliskan U (2003) Unexpected result in the etiological approaching to an anemic case: a leech infestation. Pediatr Hematol Oncol 20(7):547–550

7.

Gupta SC (1980) Nasal hirudiniasis in Kumaon Hills, India. Trop Geogr Med 32(4):303–305

8.

Hernández M, Ramírez Gutierrez RE (1998) Internal hirudiniasis: vaginal bleeding resulting from leech bite. Ginecol Obstet Mex 66:284–286

9.

Litch JA, Bishop RA (2000) Saturated aqueous sodium chloride solution for the removal of leeches. Trop Doct 30:102

10.

Makiya K, Tsukamoto M, Horio M, Kuroda Y (1988) A case report of nasal infestation by the leech, Dinobdella ferox. J UOEH 10(2):203–209

11.

Mohammad Y, Rostum M, Dubaybo BA (2002) Laryngeal hirudiniasis: an unusual cause of airway obstruction and hemoptysis. Pediatr Pulmonol 33(3):224–226

12.

Paul AK, Islam N (2005) Vesical hirudiniasis: an unusual cause of bleeding from the urethra. J Ultrasound Med 24(12):1731–1733

13.

Raj SM, Radzi M, Tee MH (2000) Severe rectal bleeding due to leech bite. Am J Gastroenterol 95:1607

14.

Rao KP, Grover YK, Mitra AK (1986) Nasal hirudiniasis. J Indian Med Assoc 84(2):55–56

15.

Raza SN, Shabbir SMA, Haq A (2006) Leech infestation and its association with water drinking habits. J Coll Physicians Surg Pak 16(3):175–178

16.

Saba R, Korkmaz M, Inan D, Mamikoglu L, Turhan O, Gunseren F, Cevikol C, Kabaalioglu A (2004) Human fascioliasis. Clin Microbiol Infect 10(5):385–387

17.

Siavashi MR, Assmar M, Vatankhah A (2002) Nasopharyngeal pentastomiasis [Halzoun]: report of 3 cases. Iran J Med Sci 27(4):191–192

18.

Stephen L (1988) The medicinal leech. A page from the annelids of internal medicine. Ann Intern Med 109:399–405

19.

White GB (1998) Leeches and leech infestation. In: Cook GC (ed) Manson's tropical diseases, 20th edn. Saunders, London, pp 1523–1525

20.

White TC, Berny MA, Robinson DK, Yin H, DeGrado WF, Hanson SR, McCarty OJ (2007) The leech product saratin is a potent inhibitor of platelet integrin alpha2beta1 and von Willebrand factor binding to collagen. FEBS J 274(6):1481–1491
Acknowledgments
Financial support for this study was provided by the corresponding author.
Conflict of interest statement
The authors of this article have no conflict or competing interests. All of the authors approved the final version of the manuscript.
About this article
Cite this article
Montazeri, F., Bedayat, A., Jamali, L. et al. Leech endoparasitism: report of a case and review of the literature. Eur J Pediatr 168, 39–42 (2009). https://doi.org/10.1007/s00431-008-0706-1
Received:

Accepted:

Published:

Issue Date:
Keywords
Airway obstruction

Anemia

Hematemesis

Leeches

Pharyngitis