Abstract
Isolated tracheoesophageal fistula (H-TOF) is a rare type of tracheoesophageal anomaly and is in most cases diagnosed in the neonatal period because of choking and cyanosis during feeding. Diagnosis may be delayed even until adulthood because of nonspecific and sometimes intermittent symptoms, and because false-negative results of all diagnostic tools are not uncommon. We report a 10-year-old child with H-TOF, whose symptoms had nearly disappeared completely between the ages of 4 and 10 years. Diagnosis was only possible after the recurrence of the symptoms at the time of an episode of bronchitis, profound interrogation of the child's medical history, and questioning of the results of a former diagnostic work-up. In this article, we discuss the potential pitfalls in both clinical diagnosis and diagnostic work-up.
Access options
Buy single article
Instant access to the full article PDF.
US$ 39.95
Tax calculation will be finalised during checkout.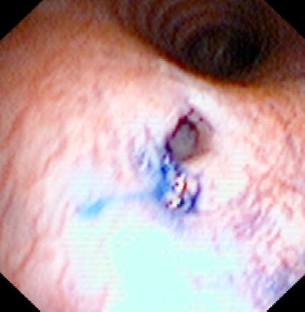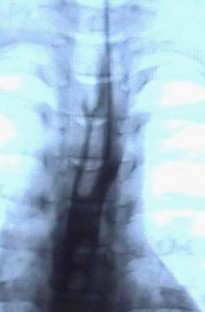 References
1.

Aziz G, Schier F (2005) Thoracoscopic ligation of a tracheoesophageal H-type fistula in a newborn. J Pediatr Surg 40:E35–E36

2.

Beasly S, Myers N (1988) The diagnosis of congenital tracheo-oesophageal fistula. J Pediatr Surg 23:415–417

3.

Butterworth S, Webber E, Jamieson D (2001) H-type tracheoesophageal fistula. J Pediatr Surg 36(6):958–959

4.

Crabbe D (2003) Isolated tracheo-oesophageal fistula. Paediatr Respir Rev 4:74–78

5.

Crabbe D, Kiely E, Drake D, Spitz L (1996) Management of the isolated congenital tracheo-oesophageal fistula. Eur J Pediatr Surg 6(2):67–69

6.

Frates M, terMeulen D, Yee W (1991) Congenital tracheoesophageal fistula (H-type) in a six-year-old. Clin Pediatr (Phila) 29(2):117–119

7.

Genty E, Attal P, Nicollas R, Roger G, Triglia J-M, Garabedian E-N, Bobin S (1999) Congenital tracheoesophageal fistula without esophageal atresia. Int J Pediatr Otorhinolaryngol 48:231–238

8.

Goyal A, Potter F, Losty P (2005) Transillumination of H-type tracheoesophageal fistula using flexible miniature bronchoscopy: an innovative technique for operative localization. J Pediatr Surg 40:E33–E34

9.

Griscom N, Wohl M (1986) Dimensions of the growing trachea related to age and gender. Am J Roentgenol 146(2):233–237

10.

Holman W, Vaezy A, Postlethwait R, Bridgman A (1986) Surgical treatment of H-type tracheoesophageal fistula diagnosed in an adult. Ann Thorac Surg 41(4):453–454

11.

Karnak I, Şenocak M, Hiçsönmez A, Büyükpamukçu N (1997) The diagnosis and treatment of H-type tracheoesophageal fistula. J Pediatr Surg 32(12):1670–1674

12.

Kirk J, Dicks-Mireaux C (1989) Difficulties in diagnosis of congenital H-type tracheo-oesphageal fistulae. Clin Radiol 40 (2):150–153

13.

Ng J, Bartram J, Antao B, Everard M, Shawis R (2006) H-type tracheoesophageal fistula masquerading as achalasia cardia in a 13-year-old child. J Paediatr Child Health 42(4):215–216

14.

Vantansever U, Acunas B, Salman T, Altun G, Duran R (2006) A premature infant with h-type tracheoesophageal fistula demonstrated by scintigraphic technique. Clin Nucl Med 31(8):451–453

15.

Zacharias J, Genc O, Goldstraw P (2004) Congenital tracheoesophageal fistulas presenting in adults: presentation of two cases and a synopsis of the literature. J Thorac Cardiovasc Surg 128(2):316–318
About this article
Cite this article
De Schutter, I., Vermeulen, F., De Wachter, E. et al. Isolated tracheoesophageal fistula in a 10-year-old girl. Eur J Pediatr 166, 911–914 (2007). https://doi.org/10.1007/s00431-006-0336-4
Received:

Accepted:

Published:

Issue Date:
Keywords
Isolated tracheoesophageal fistula

H-TOF

Delayed diagnosis

Neonatal diagnosis