Abstract
The objective of the present study was to evaluate the presence of pain and musculoskeletal pain syndromes in adolescents and associate them to computer and video game use. A cross-sectional study was performed on the entire adolescent population (n=833) of a private situated in the city of São Paulo. The research included a questionnaire and physical examination of the musculoskeletal system. Statistical analysis was carried out with Fisher, chi-square, Mann Whitney tests and logistic regression. A total of 791 adolescent was evaluated. A computer was used by 99% and video games by 58%. Pain was reported by 312 (39.4%) students: 23% complained of back pain, 9% of upper limb pain, 4% of diffuse pain and 4% of pain in the trapezium muscle. A clinical examination was carried out in 359 students, and one or more musculoskeletal pain syndromes were present in 56 students (15.6%): benign joint hypermobility syndrome in 10%, myofascial syndrome in 5%, tendonitis in 2% and fibromyalgia in 1%. In the multivariate analysis, the logistical regression showed that the independent variables in the prediction of pain were sex [odds ratio (OR): 2.19, 95% confidence interval (95% CI): 1.33–3.61] and age (OR: 1.17, 95% CI: 1.07–1.28) and that the prediction of musculoskeletal pain syndromes were sex (OR: 3.17, 95% CI: 1.69–6.22) and number of days a week using the computer (OR: 1.22, 95% CI: 1.05–1.42). However, the variations in the dependent variables by the mathematical regression models were low. Despite the frequent use of computer and video games among adolescents, this was not associated with the presence of pain and musculoskeletal pain syndromes.
Access options
Buy single article
Instant access to the full article PDF.
US$ 39.95
Tax calculation will be finalised during checkout.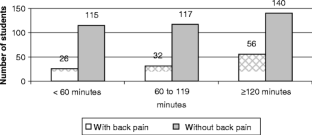 References
1.

Aftimos S (1989) Myofascial pain in children. N Z Med J 102:440–441

2.

Arroyo I, Brewer EJ, Giannini EH (1998) Arthritis, artralgia and hipermobility of the joints in schoolchildren. J Rheumatol 15:978–980

3.

Bates T, Grunwaldt E (1958) Myofascial pain in childhood. J Pediatr 53:198–209

4.

Beighton P, Solomon L, Soskolne CL (1973) Articular mobility in an African population. Ann Rheum Dis 32:413–418

5.

Burke A, Peper E (2002) Cumulative trauma disorder risk for children using computer products: results of a pilot investigation with a student convenience sample. Public Health Rep 117:350–357

6.

Clark P, Burgos-Vargas R, Medina-Palma C, Lavielle P, Marina FF (1998) Prevalence of fibromialgia in children: a clinical study of Mexican children. J Rheumatol 25:2009–2014

7.

Cleary AG, McKendrick H, Sills JA (2002) Hand-arm vibration syndrome may be associated with prolonged use of vibrating computer games. BMJ 324:301

8.

Ehrmann Feldman D, Shier I, Rossignol M (2002) Risk factors for the development of neck and upper limb pain in adolescents. Spine 27:523–528

9.

Fine PG (1987) Myofascial trigger point pain in children. J Pediatr 111:547–548

10.

Gerr F, Marcus M, Monteilh C (2004) Epidemiology of musculoskeletal disorders among computer users: lesson learned from the role of posture and keyboard use. J Electromyogr Kinesiol 14:25–31

11.

Hagberg M (1996) ABC of work related disorders: neck and arm disorders. BMJ 313:419–422

12.

Hair JF, Anderson RE, Tatham RL (1995) Multivariate data analysis with readings. 4nd edn. Prentice-Hall, New York

13.

Hennekens CH, Buring JE (1987) Epidemiology in medicine. Lippincott Williams & Wilkins, Philadelphia

14.

Hulley SB, Cummings SR, Browner WS, Grady D, Hearst N, Newman TB (2001) Designing clinical research. 2nd edn. Lippincott Williams & Wilkins, Philadelphia

15.

Ho SM, Lee TM (2001) Computer usage and its relationship with adolescent lifestyle in Hong Kong. J Adolesc Health 29:258–266

16.

Jacobs K, Baker NA (2002) The association between children's computer use and musculoskeletal discomfort. Work 18:221–226

17.

Jirasatmathakul P, Poovorawam Y (2000) Prevalence of video games among Thai children: impact evaluation. J Med Assoc Thai 83:1509–1513

18.

Johnsson-Smaragdi U, d'Haenens L, Krotz F (1998) Patterns of old and new media use among young people in Flanders, Germany and Sweden. Eur J Commun 13:479–501

19.

Katz JN, Amick BC, Carroll BB, Hollis C, Fossel AH, Coley CM (2000) Prevalence of upper extremity musculoskeletal disorders in college students. Am J Med 109:586–588

20.

Koh TH (2000) Ulcerative "nintendinitis": a new kind of repetitive strain injury. MJA 173:671

21.

Kristjánsdóttir G (1996) Prevalence of self-reported back pain in school children: a study of sociodemographic differences. Eur J Pediatr 155:984–986

22.

Kujala UM, Taimela S, Viljanen T (1999) Leisure physical activity and various pain symptoms among adolescents. Br J Sports Med 33:325–328

23.

Luckstead EF Sr, Satran AL, Patel DR (2002) Sport injury profiles, training and rehabilitation issues in American sports. Pediatr Clin North Am 49:753–767

24.

MacGregor DM (2000) Nintendinitis? A case report of repetitive strain injury in a child as a result of playing computers games. Scot Med J 45:150

25.

Malleson P, Clinch J (2003) Pain syndromes in children. Curr Opin Rheumatol 15:572–580

26.

McBeth J, Harkness EF, Hunt IM (2001) Is work-related mechanical injury a risk for the onset of chronic widespread pain? A prospective population based study. Arthritis Rheum 44:S68

27.

Mensel S, Simons DG, Russell IJ (2001) Muscle pain: understanding its nature, diagnosis and treatment. Lippincott Williams & Wilkins, Baltimore

28.

Mikkelsson M, Salminen JJ, Kautiainen H (1997) Non-specific musculoskeletal pain in preadolescents: prevalence and 1-year persistence. Pain 73:29–35

29.

Osterman AL, Weinberg P, Miller G (1987) Joystick digit. JAMA 257:782

30.

Prochaska JJ, Sallis JF, Long B (2001) A physical activity screening measure for use with adolescents in primary care. Arch Pediatr Adolesc Med 155:554–559

31.

Roberts DF (2000) Media and youth: access, exposure and privatization. J Adolesc Health 27[Suppl]:8–14

32.

Roberts DF, Foehr UG, Rideout VJ (2003) Kids & media @ the new millennium [Online]. Available at: http://www.kff.org/entmedia/1535-index.cfm

33.

Sherry DD, Malleson PN (2001) Idiopatic musculoskeletal pain syndromes. In: Cassidy JT, Petty RE (eds) Textbook of Pediatric Rheumatology, 4th edn. WB Saunders, Philadelphia, pp 381–394

34.

Simons DG (2001) Dolor y disfunción miofascial: um manual de los puntos gatillo. 2nd edn. Médica Panamericana, Madrid

35.

Tazawa Y, Okada K (2001) Physical signs associated with excessive television-game playing and sleep deprivation. Pediatr Int 43:647–650

36.

Van der Voort T, Beentjes WWJ, Bovill Ml Y (1998) Young people's ownership and uses of new and old forms of media in Britain and The Netherlands. Eur J Commun 13:457–477

37.

Wolfe F, Smythe HA, Yunus MB, Bennett RM, Bombardier C, Goldenberg DL, Tugwell P, Campbell SM, Abeles M, Clark P (1990) The American College of Rheumatology 1990 criteria for the classification of fibromyalgia. Report of multicentre criteria committee. Arthritis Rheum 33:160–172

38.

Wood J (2001) The "how!" sign central palmar blister induced by overplaying on a Nintendo console. Arch Dis Child 84:288
About this article
Cite this article
Zapata, A.L., Pantoja Moraes, A.J., Leone, C. et al. Pain and musculoskeletal pain syndromes related to computer and video game use in adolescents. Eur J Pediatr 165, 408–414 (2006). https://doi.org/10.1007/s00431-005-0018-7
Received:

Accepted:

Published:

Issue Date:
Keywords
Adolescent

Pain

Fibromyalgia

Hypermobility

Computer

Video game