Abstract
The basal cell naevus syndrome is an autosomal dominant syndrome characterised by major manifestations such as basal cell carcinomas, jaw cysts, palmar or plantar pits, and intracranial calcifications. Early recognition is important in order to reduce morbidity due to cutaneous and cerebral malignancy and oromaxillofacial deformation and destruction, although diagnosis in infancy is rare. We describe three unrelated children with basal cell naevus syndrome who appeared to be the first patient in each family. Conclusion: Our observations lead us to recommend looking for other manifestations of this disease in patients who present with cardiac fibroma, cleft lip/palate, polydactyly or macrocephaly. Bifid, fused or splayed ribs should be considered a major criterion of great help in establishing a diagnosis, particularly in young children.
Access options
Buy single article
Instant access to the full article PDF.
USD 39.95
Price excludes VAT (USA)
Tax calculation will be finalised during checkout.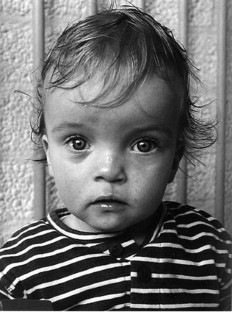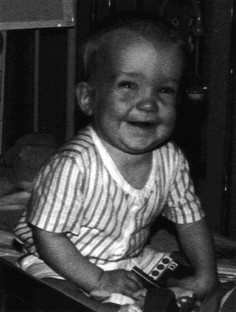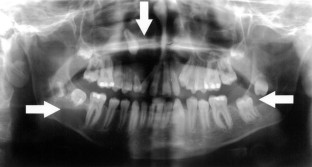 Abbreviations
BCNS :

basal cell naevus syndrome
References
Bale AE, Yu K (2001) The hedgehog pathway and basal cell carcinomas. Hum Mol Genet 10: 757–762

Bitar GJ, Herman CK, Dahman M, Horad MA (2002) Basal cell nevus syndrome: guidelines for early detection. Am Fam Physician 65: 2501–2504

Boutet N, Bignon YB, Drouin-Garraud V, Sarda P, Longy M, Lacombe D, Gorry P (2003) Spectrum of PTCH1 mutations in French patients with Gorlin syndrome. J Invest Dermatol 121: 478–481

Evans DGR, Ladusans EJ, Rimmer S, Burnell LD, Thakker N, Farndon PA (1993) Complications of the naevoid basal cell carcinoma syndrome: results of a population based study. J Med Genet 30: 460–464

Gorlin RJ (1987) Nevoid basal-cell carcinoma syndrome. Medicine 66: 98–113

Gorlin RJ (1995) Nevoid basal cell carcinoma syndrome. Dermatol Clinics 13: 113–125

Hahn H, Wicking C, Zaphiropoulos PG, Gailani MR, Shanley S, Chidambaram A, Vorechovsky I, Holmberg E, Unden AB, Gillies S, Negus K, Smyth I, Pressman C, Leffell DJ, Gerrard B, Goldstein AM, Dean M, Toftgard R, Chenevix-Trench G, Wainwright B, Bale AE (1996) Mutations of the human homolog of Drosophila patched in the nevoid basal cell carcinoma syndrome. Cell 85: 841–851

Johnson RL, Rothman AL, Xie J, Goodrich LV, Bare JW, Bonifas JM, Quinn AG, Myers RM, Cox DR, Epstein EH, Scott MP (1996) Human homolog of patched, a candidate gene for the basal cell nevus carcinoma syndrome. Science 272: 1668–1671

Kimonis VE, Goldstein AM, Pastakia B, Yang ML, Kase R, DiGiovanna JJ, Bale AE, Bale SJ (1997) Clinical manifestations in 105 persons with nevoid basal cell carcinoma syndrome. Am J Med Genet 69: 299–308

Manfredi M, Vescovi P, Bonanini M, Porter S (2004) Nevoid basal cell carcinoma syndrome: a review of the literature. Int J Oral Maxillofac Surg 33: 117–124

Shanley S, Ratcliffe J, Hockey A, Haan E, Oley C, Ravine D, Martin N, Wicking C, Chenevix-Trench G (1994) Nevoid basal cell carcinoma syndrome: review of 118 affected individuals. Am J Med Genet 50: 282–290

Wicking C, Gillies S, Smyth I, Shanley S, Fowles L, Ratcliffe J, Wainwright B, Chenevix-Trench G (1997) De novo mutations of the patched gene in nevoid basal cell carcinoma syndrome help to define the clinical phenotype. Am J Med Genet 73: 304–307
Acknowledgements
The authors thank Dr. A. E. Bale, Department of Genetics, Yale University School of Medicine, New Haven, USA, for performing DNA studies in case 1 and Dr. J. J. P. Gille, Department of Clinical Genetics, Free University, Amsterdam, The Netherlands for the DNA studies in cases 2 and 3. The authors also thank Jackie Senior for her help in preparing the manuscript.
About this article
Cite this article
Veenstra-Knol, H.E., Scheewe, J.H., van der Vlist, G.J. et al. Early recognition of basal cell naevus syndrome. Eur J Pediatr 164, 126–130 (2005). https://doi.org/10.1007/s00431-004-1597-4
Received:

Accepted:

Published:

Issue Date:

DOI: https://doi.org/10.1007/s00431-004-1597-4
Keywords