Abstract
The purpose of this study was to describe changes in fat mass (FM), fat-free mass (FFM) and aerobic fitness in severely obese children and adolescents during residential treatment in the Medical Paediatric Centre Zeepreventorium. Treatment consisted of moderate dietary restriction, physical activity and psychological support. This study was a clinical observation of 20 severely obese children and adolescents (8 boys and 12 girls, aged 15.4±1.8 years) who completed the 10-month residential programme. Height, weight, FM, FFM and aerobic fitness was measured four times during the intervention: at baseline, 11 weeks, 24 weeks and at 33 weeks (at the end of the programme ). The mean decrease in level of overweight was 46% ( P <0.001), with a mean loss of 8.9% FM ( P <0.001). Submaximal performance (PWC150) improved from 123±35 Watt to 152±37 Watt ( P <0.001). Maximal performance levels increased (performance time: from 14±2.9 min to 15.3±3.5 min, peak power: from 186±38 Watt to 205±45 Watt, P <0.01) without an improvement in absolute V̇O2 peak. Conclusion: a moderate dietary restriction in combination with physical activity and psychological support in severely obese children and adolescents is effective in decreasing body fat and improving physical performance. Further research is needed to evaluate the longer-term effects of such a programme.
Access options
Buy single article
Instant access to the full article PDF.
USD 39.95
Price excludes VAT (USA)
Tax calculation will be finalised during checkout.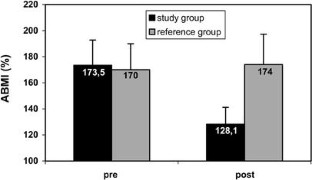 Abbreviations
ABMI :

adjusted body mass index

BIA :

bioelectrical impedance

BMI :

body mass index

FFM :

fat-free mass

FM :

fat mass

PWC 150 :

physical work capacity at a heart rate of 150 beats/min

RER :

respiratory exchange ratio

TBW :

total body water

V̇O 2peak :

peak oxygen uptake
References
Aelvoet W, Foruin M, Hooft P, Vanoverloop, J (2000) Kunnen de lengte en het gewicht gemeten bij schoolgaande kinderen en adolescenten van 3 tot 19 jaar, gebruikt worden voor het aanmaken van referentiewaarden? Registratiegegevens van het Medisch Schooltoezicht (MST), 1996–1997. In: Ministerie van de Vlaamse Gemeenschap, Adm. Gezondheidszorg, Entiteit beleidsondersteuning, Gezondheidsindicatoren 1998. Brussel, pp 64–81

Aronne LJ, Mackintosh R, Rosenbaum M, Leibel RL, Hirsch J (1995) Autonomic nervous system activity in weight gain and weight loss. Am J Physiol 269: R222–R225

Barbeau P, Gutin B, Litaker M, Owens S, Riggs S, Okuyama T (1999) Correlates of individual differences in body-composition changes resulting from physical training in obese children. Am J Clin Nutr 69: 705–711

Bar-Or O, Foreyt J, Bouchard C, Brownell KD, Dietz WH, Ravussin E, Salbe AD, Schwenger S, St Jeor S, Torun B (1998) Physical activity, genetic, and nutritional considerations in childhood weight management. Med Sci Sports Exerc 30: 2–10

Barth N, Ziegler A, Himmelmann GW, Coners H, Wabitsch M, Hennighausen K, Mayer H, Remschmidt H, Schäfer H, Helebrand J (1997) Significant weight gains in a clinical sample of obese children and adolescents between 1985 and 1995. Int J Obes Relat Metab Disord 21: 122–126

Battistini N, Brambilla P, Virgilli F, Simone P, Bedogni G, Morini P, Chiumello G (1992) The prediction of total body water from body impedance in young obese subjects. Int J Obes Relat Metab Disord 16: 207–212

Blaak EE, Westerterp KR, Bar-Or O, Wouters LJM, Saris WHM (1992) Total energy expenditure and spontaneous activity in relation to training in obese boys. Am J Clin Nutr 55: 777–782

Braet C, Van Winckel M, Tanghe A, De Bode P, Franckx H (2003) Inpatient treatment of obese children: a multicomponent program without stringent calorie restriction. Eur J Pediatr 162: 391–396

Chaloupka J, Hlubik P, Opltova L, Mala H (1998) Changes in autonomic nervous system activity in obese individuals during weight reduction. Sb Lek 99: 251–254

Cole TJ, Bellizzi MC, Flegal KM, Dietz WH (2000) Establishing a standard definition for child overweight and obesity worldwide: international survey. BMJ 320: 1-6

Daee A, Robinson P, Lawson M, Turpin JA, Gregory B, Tobias JD (2002) Psychologic and physiologic effects of dieting in adolescents. South Med J 95: 1032–1041

Davies CTM (1971) Body composition in children: a reference standard for maximum aerobic power output on a stationary bicycle ergometer. Acta Paediatr Scand Suppl 217: 136–137

Deforche B, De Bourdeaudhuij I, Braet C, Hardyns L, Vermaut S, Bouckaert J (2001) Evolutie van overgewicht en fitheid bij obese kinderen tijdens een residentiële behandeling (Evolution of overweight and fitness in obese children during residential treatment). Gedrag en Gezondheid: Themanummer eetstoornissen II 29: 98–108

Dietz WH (1998) Health consequences of obesity in youth: childhood predictors of adult disease. Pediatrics 101: 518–525

Dietz WH, Bellizi, MC (1999) Introduction: the use of body mass index to assess obesity in children. Am J Clin Nutr 70[Suppl]: 123S–125S

Duncan GE, Mahon AD, Gay JA, Sherwood JJ (1996) Physiological and perceptual responses to graded treadmill and cycle exercise in male children. Pediatr Exerc Sci 8: 251–258

Eisenköbl J, Kartasurya M, Widhalm K (2001) Underestimation of percentage fat mass measured by bioelectrical impedance analysis compared to dual energy X-ray absorptiometry method in obese children. Eur J Clin Nutr 55: 423–429

Elliot DL, Goldberg L, Kuehl KS, Hanna C (1989) Metabolic evaluation of obese and non-obese siblings. J Pediatr 114: 957–962

Epstein LH, Wing RR, Koeske R, Valoski A (1985) A comparison of lifestyle exercise, aerobic exercise, and calisthenics on weight loss in obese children. Behav Ther 16: 345–356

Epstein LH, Wing RR, Penner BC, Kress MJ (1985) Effect of diet and controlled exercise on weight loss in obese children. J Pediatr 107: 358–361

Ferguson MA, Gutin B, Owens S, Barbeau P, Tracy RP, Litaker M (1999) Effects of physical training and its cessation on the hemostatic system in obese children. Am J Clin Nutr 69: 1130–1134

Goran M, Fields DA, Hunter GR, Herd SL, Weinsier RL (2000) Total body fat does not influence maximal aerobic capacity. Int J Obes Relat Metab Disord 24: 841–848

Grilo CM (1994) Physical activity and obesity. Biomed and Pharmacother 48: 127–136

Gutin B, Cucuzzo N, Islam S, Smith C, Stachura ME (1996) Physical training, lifestyle edcuation, and coronary risk factor in obese girls. Med Sci Sports Exerc 28: 19–23

Gutin B, Riggs S, Ferguson M, Owens S (1999) Description and process evaluation of a physical training program for obese children. Res Q Exerc Sport 70: 65–69

Hulens M, Beunen G, Claessens AL, Lefevre J, Thomis M, Philippaerts R, Borms J, Vrijens J, Lysens R, Vansant G (2001) Trends in BMI among Belgian children, adolescents and adults from 1969 to 1996. Int J Obes Relat Metab Disord 25: 395–399

Huttunen NP, Knip M, Paavilainen T (1986) Physical activity and fitness in obese children. Int J Obesity 10: 519–525

Katch V, Becque D, Marks C, Moorehead C, Rocchini A (1988) Basal metabolism of obese adolescents: inconsistent diet and exercise effects. Am J Clin Nutr 48: 565–569

Maffeis C, Schena F, Zaffanello M, Zoccante L, Schutz Y, Pinelli L (1994) Maximal aerobic power during running and cycling in obese and non-obese children. Acta Paediatr 83: 113–116

Mahon AD (2000) Exercise training. In: Armstrong N, van Mechelen W (eds) Paediatric exercise science and medicine. Oxford University Press, New York, pp 201–222

Must A, Strauss RS (1999) Risk and consequences of childhood and adolescent obesity. Int J Obes Relat Metab Disord 23[Suppl 2]: S2–S11

Okasora K, Takaya R, Tokuda M, Fukunaga Y, Oguni T, Tanaka H, Konishi K, Tamai H (1999) Comparison of bioelectrical analysis and dual energy X-ray absorptiometry for assessment of body composition in children. Pediatrics Int 41: 121–125

Owens S, Gutin B, Allison J, Riggs S, Ferguson M, Litaker M, Thompson W (1999) Effect of physical training on total and visceral fat in obese children. Med Sci Sports Exerc 31: 143–148

Parizkova J, Hills A (2001) Childhood obesity: prevention and management. CRC Press, Boca Rotan

Parizkova J, Vaneckova M, Sprynarova S, Vamberova M (1971) Body composition and fitness in obese children before and after special treatment. Acta Paediatr Scand Suppl 271: 80–85

Pavlou KN, Krey S, Steffee WP (1989) Exercise as an adjunct to weight loss and maintenance in moderately obese subjects. Am J Clin Nutr 49[Suppl]: 1115–11123

Pekkarinen T, Takala I, Mustajoki P (1996) Two year maintenance of weight loss after a VLCD and behavioural therapy for obesity: correlation to the scores of questionnaires measuring eating behaviour. Int J Obes Relat Metab Disord 20: 332–337

Pietrobelli A, Faith MS, Allison DB, Gallagher D, Chiumello G, Heymsfield SB (1998) Body mass index as a measure of adiposity among children and adolescents. J Pediatr 132: 204–210

Poskitt EME (1995) Defining childhood obesity: the relative body mass index (BMI). Acta Paediatr 84: 961–963

Quadri R, Maule S, Flecchia D, Veglio M, Rovera L, Rosa C, Zanone M, Fonzo D (1990) Autonomic nervous activity in obese subjects before and after caloric restriction. Funct Neurol 5: 273–276

Rocchini AP, Katch V, Anderson J, Hinderliter J, Becque D, Martin M, Markes C (1988) Blood pressure in obese adolescents: effect of weight loss. Pediatrics 82: 16–23

Saris WH (2001) Very-low-calorie diets and sustained weight loss. Obes Res 9[Suppl 4]: 295S–301S

Schmidinger H, Weber H, Zwiauer K, Weidinger F, Widhalm K (1987) Potential life-threatening cardiac arrythmias associated with hypocaloric diet. Int J Cardiol 14: 55–63

Schwingshandl J, Borkenstein M (1995) Changes in lean body mass in obese children during a weight reduction program: effect on short term and long term outcome. Int J Obes Relat Metab Disord 19: 752–755

Schwingshandl J, Sudi K, Eibl B, Whallner S, Borkenstein M (1999) Effect of an individualised training programme during weight reduction on body composition: a randomised trial. Arch Dis Child 81: 426–428

Sothern, MS, Loftin JM, Udall JN, Suskind RM, Ewing TL, Tang SC, Blecker U (1999) Inclusion of resistence exercise in a multidisciplinary outpatient treatment program for preadolescent obese children. South Med J 92: 585–592

Sothern MS, Loftin M, Blecker U, Udall JN Jr (2000) Impact of significant weight loss on maximal oxygen uptake in obese children and adolescents. J Invest Med 48: 411–416

Stark O, Atkins E, Wolff OH, Douglas JWB (1981) Longitudinal study of obesity in the National Survey of Health and Development. BMJ 283: 13–17

Tanner JM (1962) Growth at adolescence. Blackwell Scientific Publications, Oxford

Tounian P, Frelut M-L, Parlier G, Abounaufal C, Aymard N, Veinberg F, Fontaine J-L, Girardet J-P (1999) Weight loss and changes in energy metabolism in massively obese adolescents. Int J Obes Relat Metab Disord 23: 830–837

Tremblay A, Doucet E, Imbeault P (1999) Physical activity and weight maintenance. Int J Obes Relat Metab Disord 23[Suppl 3]: S50–S54

Treuth MS, Hunter GR, Pichon C, Figueroa-Colon R, Goran MI (1998) Fitness and energy expenditure after strength training in obese prepubertal girls. Med Sci Sports Exerc 30: 1130–1136

Troiano RP, Flegal KM, Kuczmarski RJ, Campell SM, Johnson CL (1995) Overweight prevalence and trends for children and adolescents. Arch Pediatr Adolesc Med 149: 1085–1091

Turley KR, Rogers DM, Harper KM, Kujawa KI, Wilmore JH (1995) Maximal treadmill versus cycle ergometry testing in children: differences, reliability, and variability to responses. Pediatr Exerc Sci 7: 49–60

Valverde MA, Patin RV, Oliveira FLC, Lopez FA, Vitolo MR (1998) Outcomes of obese children and adolescents enrolled in a multidisciplinary health program. Int J Obes Relat Metab Disord 22: 513–519

Van Wieringen JC, Roede MJ (1985) Growth diagrams 1980. Netherlands third nation-wide survey. Tijdschrift voor Sociale Gezondheidszorg 63[Suppl]: 1–34

Wabitsch M, Braun U, Heinze E, Muche R, Mayer H, Teller W, Fusch C (1996) Body composition in 5–18-year-old obese children and adolescents before and after weight reduction as assessed by deuterium dilution and bioelectrical impedance analysis. Am J Clin Nutr 6: 41–61

Waki M, Kral JG, Mazariegos M, Wang J, Pierson RN, Heymsfield SB (1991) Relative expansion of extra cellular water in obese versus non-obese women. Am J Physiol Endocrinol Metab 261: E199–E203

Woringer W, Schutz Y (1998) What is the evolution of the body mass index (BMI) in Swiss children from five to sixteen years, measured one decade apart? Int J Obes Relat Metab Disord 22[Suppl 3]: S209

Yamamoto R, Inoue S, Saito M, Okamoto M, Okamura A, Takamura Y (1992) Very-low-calorie-diet therapy in severe obesity. Am J Clin Nutr 56[Suppl 1]: 299S–302S

Zwiauer K, Schmidinger H, Klicpera M, Mayr H, Widhalm K (1989) 24 hours electrographic monitoring in obese children and adolescents during 3 weeks of low calorie diet (500 kcal). Int J Obesity 13[Suppl 2]: 101–105

Zwiren LD (1989) Anaerobic and aerobic capacities of children. Pediatr Exerc Sci 1: 31–44
Acknowledgements
The authors are grateful to Dr Franckx for supporting this study and to Trui Calleeuw for her technical assistance in collecting the data.
About this article
Cite this article
Deforche, B., De Bourdeaudhuij, I., Debode, P. et al. Changes in fat mass, fat-free mass and aerobic fitness in severely obese children and adolescents following a residential treatment programme. Eur J Pediatr 162, 616–622 (2003). https://doi.org/10.1007/s00431-003-1247-2
Received:

Accepted:

Published:

Issue Date:

DOI: https://doi.org/10.1007/s00431-003-1247-2
Keywords