Abstract
We studied the possibility and safety of a new approach to breast-feeding infants with phenylketonuria (PKU). We compared a group of PKU infants being breast-fed according to our new protocol with a group of PKU infants receiving formula only. The breast-fed group consisted of nine infants born between 1994 and 1999 being breast-fed at the time of diagnosis. The formula-fed group consisted of nine PKU infants, born between 1988 and 1997. In the breast-fed group, feedings alternated between breast-feeding and phenylalanine (Phe)-free bottle-feeding. The numbers of breast-feedings were adapted to the plasma Phe concentrations. At each feeding, either bottle- or breast-feeding, the child was allowed to drink until satiety. Data on metabolic control and growth during the first 6 months showed no statistically different results. The mean Phe concentration in the breast- fed group was 170 µmol/l (range 137–243 µmol/l) and in the formula- fed group 181 µmol/l (range 114–257 µmol/l). Compared to a routine where both bottle and breast are offered at each feeding, this new approach is more convenient for the parents and the child will be able to empty the breast, therefore drinking not only foremilk but also hindmilk. Conclusion: the results suggest that this feeding protocol is safe in the strict treatment of otherwise healthy infants with phenylketonuria.
Access options
Buy single article
Instant access to the full article PDF.
USD 39.95
Price excludes VAT (USA)
Tax calculation will be finalised during checkout.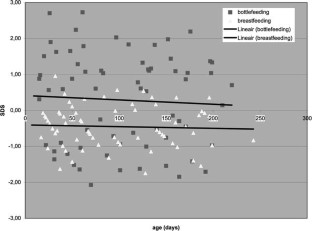 Abbreviations
Phe:

phenylalanine

PKU:

phenylketonuria
References
Acosta PB, Yannicelli S (1997) The Ross metabolic formula system, nutrition support protocols, 3rd edn. Ross Laboratories, Library of Congress, Columbus, pp 1–49

Brugman E, Reijneveld SA, den Hollander-Gijsman ME, Burgmeijer RJF, Radder JJ (1999) PGO-Pilots in youth health care 1997/1998 (in Dutch). TNO Prevention and Health

Donkers ECMM, Douwes AC, Hammink J(1999) Food–recommendations for young children (in Dutch), 1st edn. Van Gorcum, Assen, pp 5--9

Francis D (1987) Diets for sick children, 4th edn. Blackwell, London, pp 224--262

Gerdes AM, Nielsen JB, Lou H, Güttler F (1990) Plasma amino acids in phenylketonuric children treated either with phenylalanine-free amino acids or a protein hydrolysate. Acta Paediatr Scand 79: 69--72

Greve LC, Wheeler MD, Green-Burgeson DK, Zorn EM (1994) Breast-feeding in the management of the newborn with phenylketonuria: a practical approach to dietary therapy. J Am Diet Assoc 94: 305–309

Macdonald A, Rylance G, Asplin D, Hall SK, Booth IW (1996) Factors affecting the variation in plasma phenylalanine in patients with phenylketonuria on diet. Arch Dis Child 74: 412–417

Macdonald A, Rylance G, Asplin D, Hall SK, Booth IW (1998) Does a single plasma phenylalanine predict quality of control in phenylketonuria? Arch Dis Child 78: 122–126

McCabe ERB, McCabe L (1999) Issues in the dietary management of phenylketonuria: breast-feeding and trace-metal nutriture. Ann NY Acad Sci 477: 215–222

Motzfieldt K, Lilje R, Nylander G (1999) Breastfeeding in phenylketonuria. Acta Paediatr Suppl 432: 25–27

Shaw V, Lawson M (1995) Clinical paediatric dietetics,1st edn. Blackwell, London, pp 178–185

Van Spronsen FJ, van Rijn M, van Dijk T, Smit GPA, Reijngoud DJ, Berger R, Heymans HAS (1993) Plasma phenylalanine and tyrosine responses to different nutritional conditions (fasting/postprandial) in patients with phenylketonuria: effect of sample timing. Pediatrics 92: 570–573

Van Spronsen FJ, van Dijk T, Smit GPA, van Rijn M, Reijngoud DJ, Berger R, Heymans HSA (1996) Large daily fluctuations in plasma tyrosine in treated patients with phenylketonuria. Am J Clin Nutr 64: 916–921

TNO-Prevention and Health/ Leiden University Medical Centre (1998) Growth diagrams 1997. Bohn Stafleu Van Loghum, Houten

Vallenas C (1998) Evidence for the ten steps to successful breastfeeding. WHO/CHD, Geneva

Verkerk PH (2000) Report of the screening for phenylketonuria of infants born in 1998 (in Dutch). TNO Prevention and Health

Verkerk PH, van Spronsen FJ, Smit GPA, Sengers RCA (1994) Impaired prenatal and postnatal growth in Dutch patients with phenylketonuria. Arch Dis Child 71: 114–118

Willatts P, Forsyth JS, DiModugno MK, Varma S, Colvin M (1998) Effect of long-chain polyunsaturated fatty acids in infant formula on problem solving at 10 months of age. Lancet 352: 688–691
Additional information
Parts of this article have been previously published in the "Tijdschrift voor Kindergeneeskunde" 70: 195-199 (2002)
About this article
Cite this article
van Rijn, M., Bekhof, J., Dijkstra, T. et al. A different approach to breast-feeding of the infant with phenylketonuria. Eur J Pediatr 162, 323–326 (2003). https://doi.org/10.1007/s00431-003-1182-2
Received:

Accepted:

Published:

Issue Date:

DOI: https://doi.org/10.1007/s00431-003-1182-2
Keywords
Breast feeding

Diet

Phenylketonuria