Abstract
The 2014 Zaire Ebola virus (ZEBOV) outbreak in West Africa represents an international public health concern. Highly sensitive and precise diagnostic tools are needed. In the present study, we developed a ZEBOV-specific enzyme-linked immunosorbent assay (ELISA) using inactivated ZEBOV isolate Makona from March 2014. Mock antigen was used to address nonspecific binding. Specificity, reproducibility and precision were determined to measure assay performance. The ZEBOV ELISA proved to be specific (96 %), reproducible and precise (Intra-assay CV 8 %, Inter-assay CV 18 %). Using the human monoclonal antibody KZ52, we showed that the ELISA was able to detect conformation-specific antibodies. Monitoring antibody development in 29 PCR-positive EBOV disease (EVD) patients revealed seroconversion in all cases. In addition, the ELISA was used to detect ZEBOV glycoprotein (GP)-specific antibodies in a vaccinated volunteer from day 14 until 5 years post-vaccination with a VSV-ZEBOV candidate vaccine. The results demonstrate the high reproducibility, specificity and sensitivity of this newly developed ELISA, which is suitable for the detection of specific antibody responses directed against different ZEBOV proteins in EVD patients and against the ZEBOV surface glycoprotein GP in vaccinated individuals.
Access options
Buy single article
Instant access to the full article PDF.
US$ 39.95
Tax calculation will be finalised during checkout.
Subscribe to journal
Immediate online access to all issues from 2019. Subscription will auto renew annually.
US$ 119
Tax calculation will be finalised during checkout.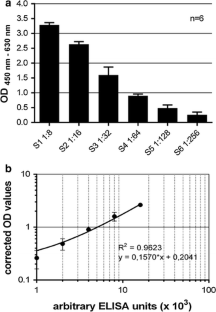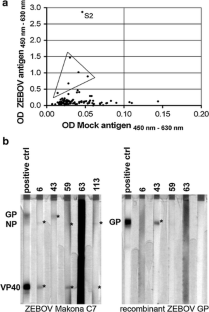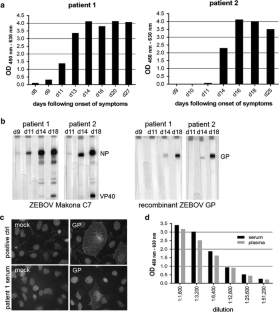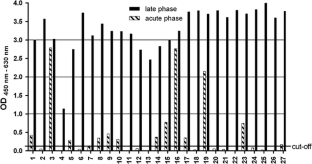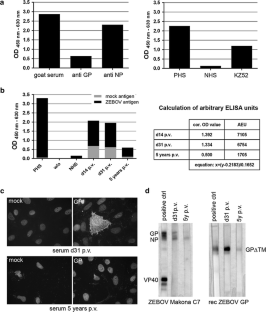 References
1.

Kiley MP, Bowen ET, Eddy GA et al (1982) Filoviridae: a taxonomic home for Marburg and Ebola viruses? Intervirology 18:24–32

2.

Mahanty S, Bray M (2004) Pathogenesis of filoviral haemorrhagic fevers. Lancet Infect Dis 4:487–498

3.

Sanchez A, Geisbert TW (2006) Feldmann H. Marburg and Ebola viruses. Fields virology, Filoviridae, pp 1409–1448

4.

Towner JS, Sealy TK, Khristova ML et al (2008) Newly discovered Ebola virus associated with hemorrhagic fever outbreak in Uganda. PLoS Pathog 4:e1000212

5.

Falzarano D, Feldmann F, Grolla A et al (2011) Single immunization with a monovalent vesicular stomatitis virus-based vaccine protects nonhuman primates against heterologous challenge with Bundibugyo ebolavirus. J Infect Dis 204(Suppl 3):S1082–S1089

6.

Wong G, Audet J, Fernando L et al (2014) Immunization with vesicular stomatitis virus vaccine expressing the Ebola glycoprotein provides sustained long-term protection in rodents. Vaccine 32:5722–5729

7.

Wong G, Richardson JS, Cutts T, Qiu X, Kobinger GP (2015) Intranasal immunization with an adenovirus vaccine protects guinea pigs from Ebola virus transmission by infected animals. Antiviral Res 116:17–19. doi:10.1016/j.antiviral.2015.01.001

8.

Kanapathipillai R, Henao Restrepo AM, Fast P et al (2014) Ebola vaccine—an urgent international priority. N Engl J Med 371:2249–2251

9.

Ledgerwood JE, DeZure AD, Stanley DA, Novik L, Enama ME, Berkowitz NM, Hu Z, Joshi G, Ploquin A, Sitar S, Gordon IJ, Plummer SA, Holman LA, Hendel CS, Yamshchikov G, Roman F, Nicosia A, Colloca S, Cortese R, Bailer RT, Schwartz RM, Roederer M, Mascola JR, Koup RA, Sullivan NJ, Graham BS; the VRC 207 Study Team (2014) Chimpanzee adenovirus vector ebola vaccine—preliminary report. N Engl J Med. doi:10.1056/NEJMoa1410863

10.

Rampling T, Ewer K, Bowyer G, Wright D, Imoukhuede EB, Payne R, Hartnell F, Gibani M, Bliss C, Minhinnick A, Wilkie M, Venkatraman N, Poulton I, Lella N, Roberts R, Sierra-Davidson K, Krähling V, Berrie E, Roman F, De Ryck I, Nicosia A, Sullivan NJ, Stanley DA, Ledgerwood JE, Schwartz RM, Siani L, Colloca S, Folgori A, Di Marco S, Cortese R, Becker S, Graham BS, Koup RA, Levine MM, Moorthy V, Pollard AJ, Draper SJ, Ballou WR, Lawrie A, Gilbert SC, Hill AV (2015) A monovalent chimpanzee adenovirus ebola vaccine—preliminary report. N Engl J Med. doi:10.1056/NEJMoa1411627

11.

Agnandji ST, Huttner A, Zinser ME, Njuguna P, Dahlke C, Fernandes JF, Yerly S, Dayer JA, Kraehling V, Kasonta R, Adegnika AA, Altfeld M, Auderset F, Bache EB, Biedenkopf N, Borregaard S, Brosnahan JS, Burrow R, Combescure C, Desmeules J, Eickmann M, Fehling SK, Finckh A, Goncalves AR, Grobusch MP, Hooper J, Jambrecina A, Kabwende AL, Kaya G, Kimani D, Lell B, Lemaître B, Lohse AW, Massinga-Loembe M, Matthey A, Mordmüller B, Nolting A, Ogwang C, Ramharter M, Schmidt-Chanasit J, Schmiedel S, Silvera P, Stahl FR, Staines HM, Strecker T, Stubbe HC, Tsofa B, Zaki S, Fast P, Moorthy V, Kaiser L, Krishna S, Becker S, Kieny MP, Bejon P, Kremsner PG, Addo MM, Siegrist CA (2015) Phase 1 trials of rVSV Ebola vaccine in Africa and Europe—preliminary report. N Engl J Med. doi:10.1056/NEJMoa1502924

12.

WHO (2015) Ebola vaccines, therapies, and diagnostics. http://www.who.int/medicines/emp_ebola_q_as/en/. Accessed 06 July 2015

13.

Huang Y, Zhu Y, Yang M, Zhang Z, Song D, Yuan Z (2014) Nucleoprotein-based indirect enzyme-linked immunosorbent assay (indirect ELISA) for detecting antibodies specific to Ebola virus and Marbug virus. Virol Sin 29:372–380

14.

Ikegami T, Saijo M, Niikura M et al (2003) Immunoglobulin G enzyme-linked immunosorbent assay using truncated nucleoproteins of Reston Ebola virus. Epidemiol Infect 130:533–539

15.

Ksiazek TG, West CP, Rollin PE, Jahrling PB, Peters CJ (1999) ELISA for the detection of antibodies to Ebola viruses. J Infect Dis 179(Suppl 1):S192–S198

16.

Macneil A, Reed Z, Rollin PE (2011) Serologic cross-reactivity of human IgM and IgG antibodies to five species of Ebola virus. PLoS Negl Trop Dis 5:e1175

17.

Nakayama E, Yokoyama A, Miyamoto H et al (2010) Enzyme-linked immunosorbent assay for detection of filovirus species-specific antibodies. Clin Vaccine Immunol 17:1723–1728

18.

Saijo M, Niikura M, Morikawa S et al (2001) Enzyme-linked immunosorbent assays for detection of antibodies to Ebola and Marburg viruses using recombinant nucleoproteins. J Clin Microbiol 39:1–7

19.

Sobarzo A, Perelman E, Groseth A et al (2012) Profiling the native specific human humoral immune response to Sudan Ebola virus strain Gulu by chemiluminescence enzyme-linked immunosorbent assay. Clin Vaccine Immunol 19:1844–1852

20.

Wolf T, Kann G, Becker S et al (2015) Severe Ebola virus disease with vascular leakage and multiorgan failure: treatment of a patient in intensive care. Lancet 385:1428–1435

21.

Lucht A, Grunow R, Otterbein C, Möller P, Feldmann H, Becker S (2004) Production of monoclonal antibodies and development of an antigen capture ELISA directed against the envelope glycoprotein GP of Ebola virus. Med Microbiol Immunol 193:181–187

22.

Pauly D, Chacana PA, Calzado EG, Brembs B, Schade R (2011) IgY technology: extraction of chicken antibodies from egg yolk by polyethylene glycol (PEG) precipitation. J Vis Exp 51:e3084. doi: 10.3791/3084

23.

Lee JE, Fusco ML, Hessell AJ, Oswald WB, Burton DR, Saphire EO (2008) Structure of the Ebola virus glycoprotein bound to an antibody from a human survivor. Nature 454:177–182

24.

Baize S, Pannetier D, Oestereich L et al (2014) Emergence of Zaire Ebola virus disease in Guinea. N Engl J Med 371:1418–1425

25.

Kreuels B, Wichmann D, Emmerich P et al (2014) A case of severe Ebola virus infection complicated by gram-negative septicemia. N Engl J Med 371:2394–2401

26.

Günther S, Feldmann H, Geisbert TW et al (2011) Management of accidental exposure to Ebola virus in the biosafety level 4 laboratory, Hamburg, Germany. J Infect Dis 204(Suppl 3):S785–S790

27.

Kolesnikova L, Mittler E, Schudt G, Shams-Eldin H, Becker S (2012) Phosphorylation of Marburg virus matrix protein VP40 triggers assembly of nucleocapsids with the viral envelope at the plasma membrane. Cell Microbiol 14:182–197

28.

Becker S, Feldmann H, Will C, Slenczka W (1992) Evidence for occurrence of filovirus antibodies in humans and imported monkeys: Do subclinical filovirus infections occur worldwide? Med Microbiol Immunol 181:43–55

29.

Becquart P, Wauquier N, Mahlakõiv T et al (2010) High prevalence of both humoral and cellular immunity to Zaire ebolavirus among rural populations in Gabon. PLoS ONE 5:e9126

30.

Boisen ML, Schieffelin JS, Goba A et al (2015) Multiple circulating infections can mimic the early stages of viral hemorrhagic fevers and possible human exposure to filoviruses in Sierra Leone prior to the 2014 outbreak. Viral Immunol 28:19–31

31.

Heffernan RT, Pambo B, Hatchett RJ, Leman PA, Swanepoel R, Ryder RW (2005) Low seroprevalence of IgG antibodies to Ebola virus in an epidemic zone: Ogooué–Ivindo region, Northeastern Gabon, 1997. J Infect Dis 191:964–968

32.

Jacobson RH (1998) Validation of serological assays for diagnosis of infectious diseases. Rev Sci Tech 17:469–526

33.

Mire CE, Geisbert JB, Agans KN et al (2014) Durability of a vesicular stomatitis virus-based marburg virus vaccine in nonhuman primates. PLoS ONE 9:e94355

34.

Feldmann H, Klenk HD, Sanchez A (1993) Molecular biology and evolution of filoviruses. Arch Virol Suppl 7:81–100

35.

Dornmair K, Kiefer H, Jähnig F (1990) Refolding of an integral membrane protein. OmpA of Escherichia coli. J Biol Chem 265:18907–18911
Acknowledgments
This work was supported by the German Center for Infection Research (DZIF), the Wellcome Trust Foundation through the World Health Organization: "Immunogenicity of Ebola Virus vaccine" (Grant Number: SPHQ14-LOA-296), the Federal Ministry of Education and Research (EBOKON), the European Union: EVIDENT "Ebola Virus Disease—correlates of protection, determinants of outcome, and clinical management" (Horizon 2020 Grant Agreement No.: 666100 and service contract IFS/2011/272-372), as well as the Jürgen-Manchot-Foundation through a stipend to CR and the German Research Foundation (DFG, SPP1596). We especially thank Gotthard Ludwig and Michael Schmidt for their expert technical support with the BSL4 procedures at Philipps University of Marburg. We thank Carsten van Hammel, Ronny Kohlhoff, and Jörg Schmidt for the technical and administrative support. We also thank all of the voluntary donors for generously providing serum samples for scientific analyses as well as Petra Emmerich, Timo Wolf, and Marylyn M. Addo for providing some of the samples. We thank Stephanie Wurr und Elisa Pallasch for excellent assistance with biobanking in the BSL-4 laboratory at BNITM. The European Mobile Lab consortium: Miles W. Carroll, Roger Hewson, Joseph Akoi Bore, Raymond Koundouno, Saïd Abdellati, Babak Afrough, John Aiyepada, Patience Akhilomen, Danny Asogun, Barry Atkinson, Marlis Badusche, Amadou Bah, Simon Bate, Jan Baumann, Dirk Becker, Beate Becker-Ziaja, Anne Bocquin, Benny Borremans, Andrew Bosworth, Jan Peter Boettcher, Angela Cannas, Fabrizio Carletti, Concetta Castilletti, Simon Clark, Francesca Colavita, Sandra Diederich, Adomeh Donatus, Sophie Duraffour, Deborah Ehichioya, Heinz Ellerbrok, Maria Dolores Fenandez-Garcia, Alexandra Fizet, Erna Fleischmann, Sophie Gryseels, Antje Hermelink, Julia Hinzmann, Ute Hopf-Guevara, Yemisi Ighodalo, Lisa Jameson, Anne Kelterbaum, Zoltan Kis, Stefan Kloth, Claudia Kohl, Miša Korva, Annette Kraus, Eeva Kuisma, Andreas Kurth, Britta Liedigk, Christopher H. Logue, Anja Lüdtke, Piet Maes, James McCowen, Stéphane Mély, Marc Mertens, Silvia Meschi, Benjamin Meyer, Janine Michel, Peter Molkenthin, César Muñoz-Fontela, Doreen Muth, Edmund N. C. Newman, Didier Ngabo, Lisa Oestereich, Jennifer Okosun, Thomas Olokor, Racheal Omiunu, Emmanuel Omomoh, Elisa Pallasch, Bernadett Pályi, Jasmine Portmann, Thomas Pottage, Catherine Pratt, Simone Priesnitz, Serena Quartu, Julie Rappe, Johanna Repits, Martin Richter, Martin Rudolf, Andreas Sachse, Kristina Maria Schmidt, Gordian Schudt, Thomas Strecker, Ruth Thom, Stephen Thomas, Ekaete Tobin, Howard Tolley, Jochen Trautner, Tine Vermoesen, Inês Vitoriano, Matthias Wagner, Svenja Wolff, Constanze Yue, Maria Rosaria Capobianchi, Romy Kerber, Tatjana Avšič-Županc, Andreas Nitsche, Marc Strasser, Giuseppe Ippolito, Stephan Becker, Kilian Stoecker, Martin Gabriel, Hervé Raoul, Antonino Di Caro (executive board), Roman Wölfel (executive board) and Stephan Günther (executive board).
About this article
Cite this article
Krähling, V., Becker, D., Rohde, C. et al. Development of an antibody capture ELISA using inactivated Ebola Zaire Makona virus. Med Microbiol Immunol 205, 173–183 (2016). https://doi.org/10.1007/s00430-015-0438-6
Received:

Accepted:

Published:

Issue Date:
Keywords
Ebola virus

ELISA

Clinical diagnostics

Ebola virus vaccination

Seroconversion