Abstract
Whereas sex differences in the brain's response to stress have been reported in both humans and animals, it is unknown whether they 'add up' consistently within individual brains. Here, we studied this question in a unique data set of magnetic resonance imaging (MRI) scans obtained before and after exposure to extreme real-life stress in the form of combative military service in 34 (15 women) young (18–19 years old) healthy soldiers. Across two data sets, one of regional volume and one of cortical thickness, only a few regions (seven and three, respectively) showed sex/gender-specific changes (i.e., the most common structural change in women and men was different). The number of internally consistent brains (a male-typical or a female-typical response in all regions) was not different from the number expected by chance nor from that observed in regions showing a sex-similar response, and was lower than the number of mosaic brains (at least one region with a male-typical response and one with a female-typical response). Although these findings do not reveal the source of sex/gender differences in response to stress and of within-brain variability in this response, they demonstrate that these differences do not consistently add up to create a female-typical and a male-typical neural response to stress.
Access options
Buy single article
Instant access to the full article PDF.
USD 39.95
Price excludes VAT (USA)
Tax calculation will be finalised during checkout.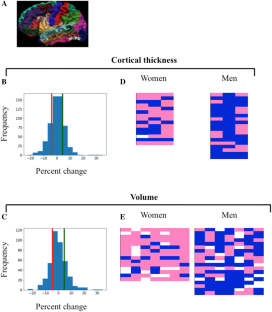 References
Admon R, Lubin G, Stern O, Rosenberg K, Sela L, Ben-Ami H, Hendler T (2009) Human vulnerability to stress depends on amygdala's predisposition and hippocampal plasticity. Proc Natl Acad Sci USA 106:14120–14125

Admon R, Leykin D, Lubin G, Engert V, Andrews J, Pruessner J, Hendler T (2013a) Stress-induced reduction in hippocampal volume and connectivity with the ventromedial prefrontal cortex are related to maladaptive responses to stressful military service. Hum Brain Mapp 34:2808–2816

Admon R, Milad MR, Hendler T (2013b) A causal model of post-traumatic stress disorder: disentangling predisposed from acquired neural abnormalities. Trends Cogn Sci (Regul Ed) 17:337–347

Admon R, Lubin G, Rosenblatt JD, Stern O, Kahn I, Assaf M, Hendler T (2013c) Imbalanced neural responsivity to risk and reward indicates stress vulnerability in humans. Cereb Cortex 23:28–35

Bremner JD (2006) Traumatic stress: effects on the brain. Dialogues Clin Neurosci 8:445–461

Cheng B, Huang X, Li S, Hu X, Luo Y, Wang X, Yang X, Qiu C, Yang Y, Zhang W (2015) gray matter alterations in post-traumatic stress disorder, obsessive–compulsive disorder, and social anxiety disorder. Front Behav Neurosci 9:219

Desikan RS, Ségonne F, Fischl B, Quinn BT, Dickerson BC, Blacker D, Buckner RL, Dale AM, Maguire RP, Hyman BT (2006) An automated labeling system for subdividing the human cerebral cortex on MRI scans into gyral based regions of interest. Neuroimage 31:968–980

Fischl B, Van Der Kouwe A, Destrieux C, Halgren E, Ségonne F, Salat DH, Busa E, Seidman LJ, Goldstein J, Kennedy D (2004) Automatically parcellating the human cerebral cortex. Cereb Cortex 14:11–22

Ganster DC, Rosen CC (2013) Work stress and employee health: A multidisciplinary review. J Manag 39:1085–1122

Joel D (2011) Male or female? Brains are intersex. Front Integr Neurosci 5:57

Joel D, Fausto-Sterling A (2016) Beyond sex differences: new approaches for thinking about variation in brain structure and function. Philos Trans R Soc B Biol Sci 371:20150451

Joel D, McCarthy MM (2017) Incorporating sex as a biological variable in neuropsychiatric research: where are we now and where should we be? Neuropsychopharmacology 42:379

Joel D, Berman Z, Tavor I, Wexler N, Gaber O, Stein Y, Shefi N, Pool J, Urchs S, Margulies DS, Liem F, Hanggi J, Jancke L, Assaf Y (2015) Sex beyond the genitalia: the human brain mosaic. Proc Natl Acad Sci USA 112:15468–15473

Klabunde M, Weems CF, Raman M, Carrion VG (2017) The moderating effects of sex on insula subdivision structure in youth with posttraumatic stress symptoms. Depress Anxiety 34:51–58

Kroes MC, Rugg MD, Whalley MG, Brewin CR (2011) Structural brain abnormalities common to posttraumatic stress disorder and depression. J Psychiatry Neurosci 36:256–265

Li L, Wu M, Liao Y, Ouyang L, Du M, Lei D, Chen L, Yao L, Huang X, Gong Q (2014) Grey matter reduction associated with posttraumatic stress disorder and traumatic stress. Neurosci Biobehav Rev 43:163–172

Maeng LY, Waddell J, Shors TJ (2010) The prefrontal cortex communicates with the amygdala to impair learning after acute stress in females but not in males. J Neurosci 30:16188–16196

McCarthy MM (2016) Multifaceted origins of sex differences in the brain. Philos Trans R Soc Lond B Biol Sci 371:20150106

McLaughlin KJ, Baran SE, Conrad CD (2009) Chronic stress-and sex-specific neuromorphological and functional changes in limbic structures. Mol Neurobiol 40:166–182

Meng L, Jiang J, Jin C, Liu J, Zhao Y, Wang W, Gong Q (2016) Trauma-specific grey matter alterations in PTSD. Sci Rep 6:33748

Pitman RK, Rasmusson AM, Koenen KC, Shin LM, Orr SP, Gilbertson MW, Milad MR, Liberzon I (2012) Biological studies of post-traumatic stress disorder. Nat Rev Neurosci 13:769

Robinson AM (2018) Let's talk about stress: history of stress research. Rev Gen Psychol 22:334–342

Shors TJ (2016) A trip down memory lane about sex differences in the brain. Philos Trans R Soc B Biol Sci 371:20150124

Slavich GM (2016) Life stress and health: a review of conceptual issues and recent findings. Teach Psychol 43:346–355

Stark EA, Parsons C, Van Hartevelt T, Charquero-Ballester M, McManners H, Ehlers A, Stein A, Kringelbach M (2015) Post-traumatic stress influences the brain even in the absence of symptoms: a systematic, quantitative meta-analysis of neuroimaging studies. Neurosci Biobehav Rev 56:207–221

Sussman D, Pang E, Jetly R, Dunkley B, Taylor M (2016) Neuroanatomical features in soldiers with post-traumatic stress disorder. BMC Neurosci 17:13

Tan L, Zhang L, Qi R, Lu G, Li L, Liu J, Li W (2013) Brain structure in post-traumatic stress disorder: a voxel-based morphometry analysis. Neural Regen Res 8:2405–2414

Tavanti M, Battaglini M, Borgogni F, Bossini L, Calossi S, Marino D, Vatti G, Pieraccini F, Federico A, Castrogiovanni P (2012) Evidence of diffuse damage in frontal and occipital cortex in the brain of patients with post-traumatic stress disorder. Neurol Sci 33:59–68

Teicher MH, Samson JA (2016) Annual research review: enduring neurobiological effects of childhood abuse and neglect. J Child Psychol Psychiatry 57:241–266
Acknowledgements
We would like to thank Dr. Talma Hendler from Tel-Aviv University and Sagol Brain Institute, Radiology section, Tel Aviv Sourasky Medical Center, Tel Aviv, Israel, for providing access to the fMRI data of this project. Special thanks to all of the soldiers who volunteered for this study. This work is dedicated to the memory of staff sergeant Yotam Gilboa who volunteered for this study and was later killed during his military service at the age of 21. This work was partly supported by the Israel Science Foundation (grant No. 217/16 to DJ). Dr. Admon was supported by the Israeli Council for Higher Education.
Ethics declarations
Conflict of interest
The authors report no competing interests.
Ethical statement
All procedures were in accordance with the ethical standards of the institutional committee (Tel Aviv Sourasky Medical Center Ethics Committee, 05-262) and with the 1964 Helsinki declaration and its later amendments or comparable ethical standards.
Additional information
Publisher's Note
Springer Nature remains neutral with regard to jurisdictional claims in published maps and institutional affiliations.
Electronic supplementary material
Below is the link to the electronic supplementary material.
About this article
Cite this article
Shalev, G., Admon, R., Berman, Z. et al. A mosaic of sex-related structural changes in the human brain following exposure to real-life stress. Brain Struct Funct 225, 461–466 (2020). https://doi.org/10.1007/s00429-019-01995-6
Received:

Accepted:

Published:

Issue Date:

DOI: https://doi.org/10.1007/s00429-019-01995-6
Keywords
Combat-related stress

Sex differences

Gender differences

MRI