Abstract
Aggressive behavior in violent video games activates the reward system. However, this effect is closely related to game success. Aim of the present study was to investigate whether aggressive behavior has a rewarding value by itself. Functional magnetic resonance imaging (fMRI) was measured in fifteen right-handed males while playing the video game Carmageddon. Neuroimaging data were analyzed based on violent and non-violent success and failure events. Correlations with subjective game experience measured brain-behavior and -affect relationships. Results revealed a differential involvement of the striatal reward system: non-violent success elicited activation of the ventral striatum, whereas violent success activated specifically the dorsal striatum. Subjective game experience correlated with putamen and medial prefrontal cortex activation specifically for violent success. These results emphasize a differential neural processing of violent and non-violent success events in dorsal and ventral striatum. Virtual violence seems to enable selective responses of the reward system and positive in-game experience.
Access options
Buy single article
Instant access to the full article PDF.
US$ 39.95
Tax calculation will be finalised during checkout.
Subscribe to journal
Immediate online access to all issues from 2019. Subscription will auto renew annually.
US$ 119
Tax calculation will be finalised during checkout.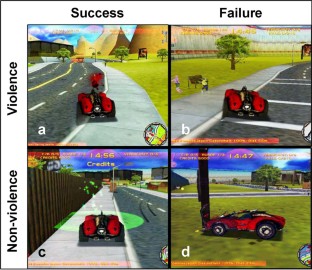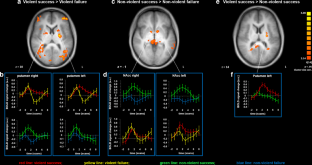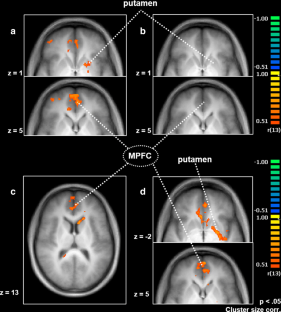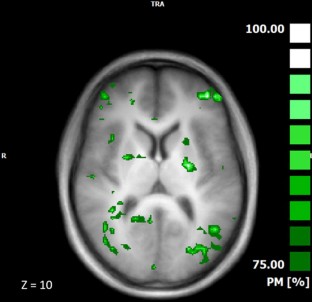 Abbreviations
ACC:

Anterior cingulate cortex

BOLD:

Blood oxygenation level dependent

EPI:

Echo-planar imaging

fMRI:

Functional magnetic resonance imaging

FWHM:

Full width at half maximum

GLM:

General linear model

mOFC:

Medial orbitofrontal cortex

mPFC:

Medial prefrontal cortex

MPRAGE:

Magnetization prepared rapid acquisition gradient

MR:

Magnetic resonance

NAcc:

Nucleus accumbens

TE:

Echo time

TI:

Inversion time

TR:

Repetition time
References
Alexander WH, Brown JW (2011) Medial prefrontal cortex as an action-outcome predictor. Nat Neurosci 14(10):1338–1344. https://doi.org/10.1038/nn.2921

Anderson CA, Bushman BJ (2001) Effects of violent video games on aggressive behavior, aggressive cognition, aggressive affect, physiological arousal, and prosocial behavior: a meta-analytic review of the scientific literature. Psychol Sci 12:353–359

Anderson CA, Bushman BJ (2002) Psychology. The effects of media violence on society. Science 295:2377–2379

Anderson NE, Kiehl KA (2012) The psychopath magnetized: insights from brain imaging. Trends Cogn Sci 16(1):52–60. https://doi.org/10.1016/j.tics.2011.11.008

Berthoz S, Armony JL, Blair RJ, Dolan RJ (2002) An fMRI study of intentional and unintentional (embarrassing) violations of social norms. Brain 125(Pt 8):1696–1708

Blair RJ (2004) The roles of orbital frontal cortex in the modulation of antisocial behavior. Brain Cogn 55(1):198–208. https://doi.org/10.1016/s0278-2626(03)00276-8

Blair RJ, Peschardt KS, Budhani S, Pine DS (2006) Neurobiology of aggression in children. In: Nelson RJ (ed) Biology of aggression. Oxford University Press, Oxford

Boccardi M, Bocchetta M, Aronen HJ, Repo-Tiihonen E, Vaurio O, Thompson PM et al (2013) Atypical nucleus accumbens morphology in psychopathy: another limbic piece in the puzzle. Int J Law Psychiatry 36(2):157–167. https://doi.org/10.1016/j.ijlp.2013.01.008

Breiter HC, Aharon I, Kahneman D, Dale A, Shizgal P (2001) Functional imaging of neural responses to expectancy and experience of monetary gains and losses. Neuron 30(2):619–639

Buckholtz JW, Treadway MT, Cowan RL, Woodward ND, Benning SD, Li R et al (2010) Mesolimbic dopamine reward system hypersensitivity in individuals with psychopathic traits. Nat Neurosci 13(4):419–421

Bufkin JL, Luttrell VR (2005) Neuroimaging studies of aggressive and violent behavior: current findings and implications for criminology and criminal justice. Trauma Violence Abuse 6(2):176–191. https://doi.org/10.1177/1524838005275089

Bushman BJ, Anderson CA (2009) Comfortably numb: desensitizing effects of violent media on helping others. Psychol Sci 20(3):273–277. https://doi.org/10.1111/j.1467-9280.2009.02287.x

Carnagey NL, Anderson CA (2005) The effects of reward and punishment in violent video games on aggressive affect, cognition, and behavior. Psychol Sci 16(11):882–889. https://doi.org/10.1111/j.1467-9280.2005.01632.x

Cheetham M, Pedroni AF, Antley A, Slater M, Jancke L (2009) Virtual milgram: empathic concern or personal distress? Evidence from functional MRI and dispositional measures. Front Hum Neurosci 3:29

Chen PA, Chavez RS, Heatherton TF (2017) Structural integrity between executive control and reward regions of the brain predicts body fat percentage in chronic dieters. Cogn Neurosci 8(3):162–166. https://doi.org/10.1080/17588928.2016.1235556

Cherek DR (1981) Effects of smoking different doses of nicotine on human aggressive behavior. Psychopharmacology 75:339–345

Coccaro EF, Sripada CS, Yanowitch RN, Phan KL (2011) Corticolimbic function in impulsive aggressive behavior. Biol Psychiatry 69(12):1153–1159. https://doi.org/10.1016/j.biopsych.2011.02.032

Cohen MX (2007) Individual differences and the neural representations of reward expectation and reward prediction error. Soc Cogn Affect Neurosci 2(1):20–30. https://doi.org/10.1093/scan/nsl021

Cole SW, Yoo DJ, Knutson B (2012) Interactivity and reward-related neural activation during a serious videogame. PLoS One 7(3):e33909

Couppis MH, Kennedy CH (2008) The rewarding effect of aggression is reduced by nucleus accumbens dopamine receptor antagonism in mice. Psychopharmacology 197(3):449–456. https://doi.org/10.1007/s00213-007-1054-y

da Cunha-Bang S, Fisher PM, Hjordt LV, Perfalk E, Persson Skibsted A, Bock C, Ohlhues Baandrup A, Deen M, Thomsen C, Sestoft DM, Knudsen GM (2017) Violent offenders respond to provocations with high amygdala and striatal reactivity. Soc Cogn Affect Neurosci 12:802–810

de Quervain DJ, Fischbacher U, Treyer V, Schellhammer M, Schnyder U, Buck A, Fehr E (2004) The neural basis of altruistic punishment. Science 305(5688):1254–1258. https://doi.org/10.1126/science.1100735

Delville Y, Newmann ML, Wommack JC, Taravosh-Lahn K, Cervantec C (2006) Development of aggression. In: Nelson RJ (ed) Biology of aggression. Oxford University Press, Oxford

Ena S, de Kerchove d'Exaerde A, Schiffmann SN (2011) Unraveling the differential functions and regulation of striatal neuron sub-populations in motor control, reward, and motivational processes. Front Behav Neurosci 5:47. https://doi.org/10.3389/fnbeh.2011.00047

Fareri DS, Delgado MR (2014) Social rewards and social networks in the human brain. Neuroscientist 20(4):387–402. https://doi.org/10.1177/1073858414521869

Ferguson CJ (2013) Adolescents, crime, and the media: a critical analysis. Springer, New York

Fish EW, De Bold JF, Miczek KA (2002) Aggressive behavior as a reinforcer in mice: activation by allopregnanolone. Psychopharmacology 163(3–4):459–466. https://doi.org/10.1007/s00213-002-1211-2

Fontaine RG (2007) Disentangling the psychology and law of instrumental and reactive subtypes of aggression. Psychol Public Policy Law 13(2):143–165

Garrison J, Erdeniz B, Done J (2013) Prediction error in reinforcement learning: a meta-analysis of neuroimaging studies. Neurosci Biobehav Rev 37(7):1297–1310. https://doi.org/10.1016/j.neubiorev.2013.03.023

Gentile D, Bender P, Anderson C (2016) Violent video game effects on salivary cortisol, arousal, and aggressive thoughts in children. Comput Hum Behav. https://doi.org/10.1016/j.chb.2016.12.045

Grabenhorst F, Rolls ET, Parris BA (2008) From affective value to decision-making in the prefrontal cortex. Eur J Neurosci 28(9):1930–1939. https://doi.org/10.1111/j.1460-9568.2008.06489.x

Grafman J, Schwab K, Warden D, Pridgen A, Brown HR, Salazar AM (1996) Frontal lobe injuries, violence, and aggression: a report of the Vietnam Head Injury Study. Neurology 46(5):1231–1238

Haber SN, Knutson B (2010) The reward circuit: linking primate anatomy and human imaging. Neuropsychopharmacology 35(1):4–26. https://doi.org/10.1038/npp.2009.129

Hart G, Leung BK, Balleine BW (2014) Dorsal and ventral streams: the distinct role of striatal subregions in the acquisition and performance of goal-directed actions. Neurobiol Learn Mem 108:104–118. https://doi.org/10.1016/j.nlm.2013.11.003

Hillman KL (2013) Cost-benefit analysis: the first real rule of fight club? Front Neurosci 7:248. https://doi.org/10.3389/fnins.2013.00248

Hoeft F, Watson CL, Kesler SR, Bettinger KE, Reiss AL (2008) Gender differences in the mesocorticolimbic system during computer game-play. J Psychiatr Res 42(4):253–258. https://doi.org/10.1016/j.jpsychires.2007.11.010

Hoptman MJ (2003) Neuroimaging studies of violence and antisocial behavior. J Psychiatr Pract 9(4):265–278

Ijsselsteijn W, Poels K, De Kort YAW (2008) The game experience questionnaire: development of a self-report measure to assess player experiences of digital games. TU Eindhoven, Eindhoven

Katsyri J, Hari R, Ravaja N, Nummenmaa L (2013a) The opponent matters: elevated FMRI reward responses to winning against a human versus a computer opponent during interactive video game playing. Cereb Cortex 23(12):2829–2839. https://doi.org/10.1093/cercor/bhs259

Katsyri J, Hari R, Ravaja N, Nummenmaa L (2013b) Just watching the game ain't enough: striatal fMRI reward responses to successes and failures in a video game during active and vicarious playing. Front Hum Neurosci 7:278. https://doi.org/10.3389/fnhum.2013.00278

Kennerley SW, Walton ME (2011) Decision making and reward in frontal cortex: complementary evidence from neurophysiological and neuropsychological studies. Behav Neurosci 125(3):297–317. https://doi.org/10.1037/a0023575

Klasen M, Zvyagintsev M, Weber R, Mathiak KA, Mathiak K (2008) Think Aloud during fMRI: neuronal correlates of subjective experience in video games. Lect Notes Comput Sci 5294:132–138

Klasen M, Weber R, Kircher TT, Mathiak KA, Mathiak K (2012) Neural contributions to flow experience during video game playing. Soc Cogn Affect Neurosci 7(4):485–495. https://doi.org/10.1093/scan/nsr021

Klasen M, Zvyagintsev M, Schwenzer M, Mathiak KA, Sarkheil P, Weber R, Mathiak K (2013) Quetiapine modulates functional connectivity in brain aggression networks. Neuroimage 75:20–26. https://doi.org/10.1016/j.neuroimage.2013.02.053

Knutson B, Fong GW, Adams CM, Varner JL, Hommer D (2001) Dissociation of reward anticipation and outcome with event-related fMRI. NeuroReport 12(17):3683–3687

Knutson B, Fong GW, Bennett SM, Adams CM, Hommer D (2003) A region of mesial prefrontal cortex tracks monetarily rewarding outcomes: characterization with rapid event-related fMRI. Neuroimage 18(2):263–272

Ko CH, Liu GC, Hsiao S, Yen JY, Yang MJ, Lin WC et al (2009) Brain activities associated with gaming urge of online gaming addiction. J Psychiatr Res 43(7):739–747. https://doi.org/10.1016/j.jpsychires.2008.09.012

Koepp MJ, Gunn RN, Lawrence AD, Cunningham VJ, Dagher A, Jones T et al (1998) Evidence for striatal dopamine release during a video game. Nature 393(6682):266–268. https://doi.org/10.1038/30498

Kramer UM, Jansma H, Tempelmann C, Munte TF (2007) Tit-for-tat: the neural basis of reactive aggression. Neuroimage 38(1):203–211. https://doi.org/10.1016/j.neuroimage.2007.07.029

Lane RD, Fink GR, Chau PM, Dolan RJ (1997) Neural activation during selective attention to subjective emotional responses. NeuroReport 8(18):3969–3972

Lienert GA, Raatz U (1998) Testaufbau und Testanalyse, 6th edn. Beltz PVU, Weinheim

Lotze M, Veit R, Anders S, Birbaumer N (2007) Evidence for a different role of the ventral and dorsal medial prefrontal cortex for social reactive aggression: an interactive fMRI study. Neuroimage 34(1):470–478. https://doi.org/10.1016/j.neuroimage.2006.09.028

Marsh AA (2013) What can we learn about emotion by studying psychopathy? Front Hum Neurosci 7:181. https://doi.org/10.3389/fnhum.2013.00181

Mathiak K, Weber R (2006) Toward brain correlates of natural behavior: fMRI during violent video games. Hum Brain Mapp 27(12):948–956. https://doi.org/10.1002/hbm.20234

Mathiak KA, Klasen M, Weber R, Ackermann H, Shergill SS, Mathiak K (2011) Reward system and temporal pole contributions to affective evaluation during a first person shooter video game. BMC Neurosci 12:66. https://doi.org/10.1186/1471-2202-12-66

Mathiak KA, Klasen M, Zvyagintsev M, Weber R, Mathiak K (2013) Neural networks underlying affective states in a multimodal virtual environment: contributions to boredom. Front Hum Neurosci 7:820. https://doi.org/10.3389/fnhum.2013.00820

Mattfeld AT, Gluck MA, Stark CE (2011) Functional specialization within the striatum along both the dorsal/ventral and anterior/posterior axes during associative learning via reward and punishment. Learn Mem 18(11):703–711. https://doi.org/10.1101/lm.022889.111

McClure SM, Berns GS, Montague PR (2003) Temporal prediction errors in a passive learning task activate human striatum. Neuron 38(2):339–346

Nummenmaa L, Niemi P (2004) Inducing affective states with success-failure manipulations: a meta-analysis. Emotion 4(2):207–214. https://doi.org/10.1037/1528-3542.4.2.207

Ochsner KN, Ray RD, Cooper JC, Robertson ER, Chopra S, Gabrieli JD, Gross JJ (2004) For better or for worse: neural systems supporting the cognitive down- and up-regulation of negative emotion. Neuroimage 23(2):483–499. https://doi.org/10.1016/j.neuroimage.2004.06.030

Patrick CJ (2008) Psychophysiological correlates of aggression and violence: an integrative review. Philos Trans R Soc Lond B Biol Sci 363(1503):2543–2555. https://doi.org/10.1098/rstb.2008.0028

Paus T (2005) Mapping brain development and aggression. Can Child Adolesc Psychiatr Rev 14(1):10–15

Pellis SM, Castaneda E, McKenna MM, Tran-Nguyen LT, Whishaw IQ (1993) The role of the striatum in organizing sequences of play fighting in neonatally dopamine-depleted rats. Neurosci Lett 158(1):13–15

Preuschoff K, Bossaerts P, Quartz SR (2006) Neural differentiation of expected reward and risk in human subcortical structures. Neuron 51(3):381–390. https://doi.org/10.1016/j.neuron.2006.06.024

Przybylski AK, Rigby CS, Ryan RM (2010) A motivational model of video game engagement. Rev Gen Psychol 14:154–166

Sakaki M, Yoo HJ, Nga L, Lee TH, Thayer JF, Mather M (2016) Heart rate variability is associated with amygdala functional connectivity with MPFC across younger and older adults. Neuroimage 139:44–52

Sambataro F, Dimalta S, Di Giorgio A, Taurisano P, Blasi G, Scarabino T et al (2006) Preferential responses in amygdala and insula during presentation of facial contempt and disgust. Eur J Neurosci 24(8):2355–2362. https://doi.org/10.1111/j.1460-9568.2006.05120.x

Schultz W (2004) Neural coding of basic reward terms of animal learning theory, game theory, microeconomics and behavioural ecology. Curr Opin Neurobiol 14(2):139–147. https://doi.org/10.1016/j.conb.2004.03.017

Sinke CB, Sorger B, Goebel R, de Gelder B (2010) Tease or threat? Judging social interactions from bodily expressions. Neuroimage 49(2):1717–1727. https://doi.org/10.1016/j.neuroimage.2009.09.065

Skibsted AP, Cunha-Bang SD, Carre JM, Hansen AE, Beliveau V, Knudsen GM, Fisher PM (2017) Aggression-related brain function assessed with the Point Subtraction Aggression Paradigm in fMRI. Aggress Behav 43:601–610

Slater M, Antley A, Davison A, Swapp D, Guger C, Barker C et al (2006) A virtual reprise of the Stanley Milgram obedience experiments. PLoS One 1:e39. https://doi.org/10.1371/journal.pone.0000039

Sterzer P, Stadler C (2009) Neuroimaging of aggressive and violent behaviour in children and adolescents. Front Behav Neurosci 3:35. https://doi.org/10.3389/neuro.08.035.2009

Taylor SP (1967) Aggressive behavior and physiological arousal as a function of provocation and the tendency to inhibit aggression. J Pers 35:297–310

Thayer JF, Ahs F, Fredrikson M, Sollers JJ 3rd, Wager TD (2012) A meta-analysis of heart rate variability and neuroimaging studies: implications for heart rate variability as a marker of stress and health. Neurosci Biobehav Rev 36:747–756

Tizabi Y, Massari VJ, Jacobowitz DM (1980) Isolation induced aggression and catecholamine variations in discrete brain areas of the mouse. Brain Res Bull 5(1):81–86

Tobler PN, O'Doherty JP, Dolan RJ, Schultz W (2006) Human neural learning depends on reward prediction errors in the blocking paradigm. J Neurophysiol 95(1):301–310. https://doi.org/10.1152/jn.00762.2005

Weber R, Behr K-M, Tamborini R, Ritterfeld U, Mathiak K (2009) What do we really know about first-person-shooter games? An event-related, high resolution content analysis. J Comput Mediat Commun 14:1016–1037

Yang Y, Raine A (2009) Prefrontal structural and functional brain imaging findings in antisocial, violent, and psychopathic individuals: a meta-analysis. Psychiatry Res 174(2):81–88. https://doi.org/10.1016/j.pscychresns.2009.03.012

Zaki J, Ochsner KN (2012) The neuroscience of empathy: progress, pitfalls and promise. Nat Neurosci 15(5):675–680. https://doi.org/10.1038/nn.3085

Zeki S, Romaya JP (2008) Neural correlates of hate. PLoS One 3(10):e3556. https://doi.org/10.1371/journal.pone.0003556

Zink CF, Tong Y, Chen Q, Bassett DS, Stein JL, Meyer-Lindenberg A (2008) Know your place: neural processing of social hierarchy in humans. Neuron 58(2):273–283. https://doi.org/10.1016/j.neuron.2008.01.025

Zvyagintsev M, Klasen M, Weber R, Sarkheil P, Esposito F, Mathiak KA et al (2016) Violence-related content in video game may lead to functional connectivity changes in brain networks as revealed by fMRI-ICA in young men. Neuroscience 320:247–258. https://doi.org/10.1016/j.neuroscience.2016.01.056
Funding
K.A.M. was supported by a Habilitationsstipendium of the Faculty of Medicine, RWTH Aachen, and by the START-Program of the Faculty of Medicine, RWTH Aachen. K.M. was supported by AstraZeneca GmbH (Study Code D1449L00032), the Interdisciplinary Center for Clinical Research (ICCR) Aachen (N4.2), the German Research Foundation (Deutsche Forschungsgemeinschaft (DFG); IRTG 1328, MA 2631/6-1), and the Federal Ministry of Education and Research (APIC: 01EE1405A, 01EE1405B, 01EE1405C). All other authors (M.K., M.Z., P.S., and R.W.) report no funding. We thank the ICCR Aachen Brain Imaging Facility for technical assistance and support
Ethics declarations
Conflict of interest
All authors (M.K., K.A.M., M.Z., P.S., R.W., K.M.) report no further conflicts of interest.
Ethical approval
All procedures performed in studies involving human participants were in accordance with the ethical standards of the institutional and/or national research committee and with the 1964 Helsinki declaration and its later amendments or comparable ethical standards.
Informed consent
Informed consent was obtained from all individual participants included in the study.
Additional information
Publisher's Note
Springer Nature remains neutral with regard to jurisdictional claims in published maps and institutional affiliations.
About this article
Cite this article
Klasen, M., Mathiak, K.A., Zvyagintsev, M. et al. Selective reward responses to violent success events during video games. Brain Struct Funct 225, 57–69 (2020). https://doi.org/10.1007/s00429-019-01986-7
Received:

Accepted:

Published:

Issue Date:
Keywords
Aggressive behavior

Neuroimaging

Nucleus accumbens

Play fighting

Putamen