Abstract
Maternal care influences child hippocampal development. The hippocampus is functionally organized along an anterior–posterior axis. Little is known with regards to the extent maternal care shapes offspring anterior and posterior hippocampal (aHPC, pHPC) functional networks. This study examined maternal behavior, especially maternal sensitivity, at 6 months postpartum in relation to aHPC and pHPC functional networks of children at age 4 and 6 years. Maternal sensitivity was assessed at 6 months via the "Maternal Behavior Q Sort (MBQS) mini for video". Subsequently, 61 and 76 children underwent resting-state functional magnetic resonance imaging (rs-fMRI), respectively, at 4 and 6 years of age. We found that maternal sensitivity assessed at 6 months postpartum was associated with the right aHPC functional networks in children at both 4 and 6 years of age. At age 4 years, maternal sensitivity was associated positively with the right aHPC's functional connectivity with the sensorimotor network and negatively with the aHPC's functional connectivity with the top–down cognitive control network. At 6 years of age, maternal sensitivity was linked positively with the right aHPC's functional connectivity with the visual-processing network. Our findings suggested that maternal sensitivity in infancy has a long-term impact on the anterior hippocampal functional network in preschool children, implicating a potential role of maternal care in shaping child brain development in early life.
This is a preview of subscription content, log in to check access.
Access options
Buy single article
Instant access to the full article PDF.
US$ 39.95
Price includes VAT for USA
Subscribe to journal
Immediate online access to all issues from 2019. Subscription will auto renew annually.
US$ 199
This is the net price. Taxes to be calculated in checkout.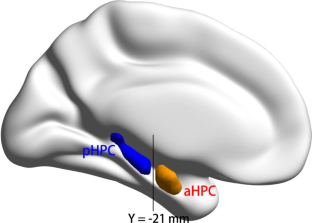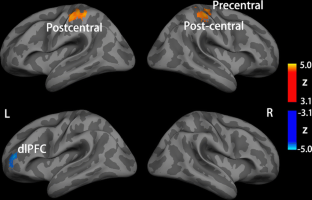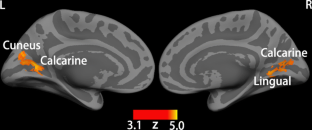 References
Ainsworth MD, Blehar MC, Waters E, Wall S (1978) Patterns of attachment: assessed in the strange situation and at home. Erlbaum, Hillsdale

Bagot RC, Zhang T-Y, Wen X, Nguyen TTT, Nguyen H-B, Diorio J, Wong TP, Meaney MJ (2012) Variations in postnatal maternal care and the epigenetic regulation of metabotropic glutamate receptor 1 expression and hippocampal function in the rat. Proc Natl Acad Sci USA 109(Supplement 2):17200–17207

Bannerman D, Rawlins J, McHugh S, Deacon R, Yee B, Bast T, Zhang W-N, Pothuizen H, Feldon J (2004) Regional dissociations within the hippocampus—memory and anxiety. Neurosci Biobehav Rev 28(3):273–283

Barch D, Pagliaccio D, Belden A, Harms MP, Gaffrey M, Sylvester CM, Tillman R, Luby J (2016) Effect of hippocampal and amygdala connectivity on the relationship between preschool poverty and school-age depression. Am J Psychiatry 173(6):625–634

Bergink V, Kooistra L, Lambregtse-van den Berg MP, Wijnen H, Bunevicius R, van Baar A, Pop V (2011) Validation of the Edinburgh Depression Scale during pregnancy. J Psychosom Res 70(4):385–389

Berman BD, Smucny J, Wylie KP, Shelton E, Kronberg E, Leehey M, Tregellas JR (2016) Levodopa modulates small-world architecture of functional brain networks in Parkinson's disease. Movement Disorders 31(11):1676–1684

Bernier A, Dégeilh F, Leblanc É, Daneault V, Bailey HN, Beauchamp MH (2019) Mother–infant interaction and child brain morphology: a multidimensional approach to maternal sensitivity. Infancy 24(2):120–138

Birn RM, Shackman AJ, Oler JA, Williams LE, McFarlin DR, Rogers GM, Shelton SE, Alexander AL, Pine DS, Slattery MJ (2014) Evolutionarily conserved prefrontal-amygdalar dysfunction in early-life anxiety. Mol Psychiatry 19(8):915–922

Blair C, Granger D, Willoughby M, Kivlighan K (2006) Maternal sensitivity is related to hypothalamic-pituitary-adrenal axis stress reactivity and regulation in response to emotion challenge in 6-month-old infants. Ann N Y Acad Sci 1094(1):263–267

Bremner JD, Randall P, Scott TM, Bronen RA, Seibyl JP, Southwick SM, Delaney RC, McCarthy G, Charney DS, Innis RB (1995) MRI-based measurement of hippocampal volume in patients with combat-related posttraumatic stress disorder. Am J Psychiatry 152(7):973–981

Buss C, Davis EP, Shahbaba B, Pruessner JC, Head K, Sandman CA (2012) Maternal cortisol over the course of pregnancy and subsequent child amygdala and hippocampus volumes and affective problems. Proc Natl Acad Sci USA 109(20):E1312–E1319

Cabeza R, St Jacques P (2007) Functional neuroimaging of autobiographical memory. Trends Cogn Sci 11(5):219–227

Casey B, Tottenham N, Liston C, Durston S (2005) Imaging the developing brain: what have we learned about cognitive development? Trends Cogn Sci 9(3):104–110

Champagne DL, Bagot RC, van Hasselt F, Ramakers G, Meaney MJ, De Kloet ER, Joëls M, Krugers H (2008) Maternal care and hippocampal plasticity: evidence for experience-dependent structural plasticity, altered synaptic functioning, and differential responsiveness to glucocorticoids and stress. J Neurosci 28(23):6037–6045

Desikan RS, Ségonne F, Fischl B, Quinn BT, Dickerson BC, Blacker D, Buckner RL, Dale AM, Maguire RP, Hyman BT (2006) An automated labeling system for subdividing the human cerebral cortex on MRI scans into gyral based regions of interest. Neuroimage 31(3):968–980

Drury SS (2012) Maternal sensitivity and attachment: Softening the impact of early adversity. J Am Acad Child Adolesc Psychiatry 51(7):670–672

Du J, Younes L, Qiu A (2011) Whole brain diffeomorphic metric mapping via integration of sulcal and gyral curves, cortical surfaces, and images. Neuroimage 56(1):162–173. https://doi.org/10.1016/j.neuroimage.2011.01.067

Eklund A, Nichols TE, Knutsson H (2016) Cluster failure: why fMRI inferences for spatial extent have inflated false-positive rates. Proc Natl Acad Sci USA 113(28):7900–7905

Fanselow MS, Dong H-W (2010) Are the dorsal and ventral hippocampus functionally distinct structures? Neuron 65(1):7–19

Faure N, Habersaat S, Harari MM, Müller-Nix C, Borghini A, Ansermet F, Tolsa J-F, Urben S (2017) Maternal sensitivity: a resilience factor against internalizing symptoms in early adolescents born very preterm? J Abnorm Child Psychol 45(4):671–680

Frick MA, Forslund T, Fransson M, Johansson M, Bohlin G, Brocki KC (2018) The role of sustained attention, maternal sensitivity, and infant temperament in the development of early self-regulation. Br J Psychol 109(2):277–298

Gabard-Durnam LJ, Flannery J, Goff B, Gee DG, Humphreys KL, Telzer E, Hare T, Tottenham N (2014) The development of human amygdala functional connectivity at rest from 4 to 23 years: a cross-sectional study. Neuroimage 95:193–207. https://doi.org/10.1016/j.neuroimage.2014.03.038

Gee DG, Gabard-Durnam LJ, Flannery J, Goff B, Humphreys KL, Telzer EH, Hare TA, Bookheimer SY, Tottenham N (2013) Early developmental emergence of human amygdala-prefrontal connectivity after maternal deprivation. Proc Natl Acad Sci USA 110(39):15638–15643. https://doi.org/10.1073/pnas.1307893110

Gianaros PJ, Jennings JR, Sheu LK, Greer PJ, Kuller LH, Matthews KA (2007) Prospective reports of chronic life stress predict decreased grey matter volume in the hippocampus. Neuroimage 35(2):795–803

González HM, Tarraf W, Whitfield KE, Vega WA (2010) The epidemiology of major depression and ethnicity in the United States. J Psychiatr Res 44(15):1043–1051

Hassabis D, Kumaran D, Maguire EA (2007) Using imagination to understand the neural basis of episodic memory. J Neurosci 27(52):14365–14374

Herman JP, Ostrander MM, Mueller NK, Figueiredo H (2005) Limbic system mechanisms of stress regulation: hypothalamo-pituitary-adrenocortical axis. Progr Neuro-Psychopharmacol Biol Psychiatry 29(8):1201–1213

Ispa JM, Su-Russell C, Palermo F, Carlo G (2017) The interplay of maternal sensitivity and toddler engagement of mother in predicting self-regulation. Dev Psychol 53(3):425–435

Killgore WD, Yurgelun-Todd DA (2007) Positive affect modulates activity in the visual cortex to images of high calorie foods. Int J Neurosci 117(5):643–653

Klein I, Paradis A-L, Poline J-B, Kosslyn SM, Le Bihan D (2000) Transient activity in the human calcarine cortex during visual-mental imagery: an event-related fMRI study. J Cogn Neurosci 12(Supplement 2):15–23

Lalli S, Hussain Z, Ayub A, Cracco R, Bodis-Wollner I, Amassian V (2006) Role of the calcarine cortex (V1) in perception of visual cues for saccades. Clin Neurophysiol 117(9):2030–2038

Leerkes EM, Blankson AN, O'Brien M (2009) Differential effects of maternal sensitivity to infant distress and nondistress on social-emotional functioning. Child Dev 80(3):762–775

Liu D, Diorio J, Tannenbaum B, Caldji C, Francis D, Freedman A, Sharma S, Pearson D, Plotsky PM, Meaney MJ (1997) Maternal care, hippocampal glucocorticoid receptors, and hypothalamic-pituitary-adrenal responses to stress. Science 277(5332):1659–1662

Luby J, Belden A, Harms MP, Tillman R, Barch DM (2016a) Preschool is a sensitive period for the influence of maternal support on the trajectory of hippocampal development. Proc Natl Acad Sci USA 113(20):5742–5747. https://doi.org/10.1073/pnas.1601443113

Luby JL, Belden A, Harms MP, Tillman R, Barch DM (2016b) Preschool is a sensitive period for the influence of maternal support on the trajectory of hippocampal development. Proc Natl Acad Sci USA 113(20):5742–5747

Mahar I, Bambico FR, Mechawar N, Nobrega JN (2014) Stress, serotonin, and hippocampal neurogenesis in relation to depression and antidepressant effects. Neurosci Biobehav Rev 38:173–192

Maheu FS, Dozier M, Guyer AE, Mandell D, Peloso E, Poeth K, Jenness J, Lau JY, Ackerman JP, Pine DS (2010) A preliminary study of medial temporal lobe function in youths with a history of caregiver deprivation and emotional neglect. Cogn Affect Behav Neurosci 10(1):34–49

Malhi GS, Lagopoulos J, Owen AM, Ivanovski B, Shnier R, Sachdev P (2007) Reduced activation to implicit affect induction in euthymic bipolar patients: an fMRI study. J Affect Disord 97(1–3):109–122

Migo E, Mitterschiffthaler M, O'Daly O, Dawson G, Dourish C, Craig K, Simmons A, Wilcock G, McCulloch E, Jackson S (2015) Alterations in working memory networks in amnestic mild cognitive impairment. Aging Neuropsychol Cogn 22(1):106–127

Mori S, Oishi K, Jiang H, Jiang L, Li X, Akhter K, Hua K, Faria AV, Mahmood A, Woods R, Toga AW, Pike GB, Neto PR, Evans A, Zhang J, Huang H, Miller MI, van Zijl P, Mazziotta J (2008) Stereotaxic white matter atlas based on diffusion tensor imaging in an ICBM template. Neuroimage 40(2):570–582. https://doi.org/10.1016/j.neuroimage.2007.12.035

Nadel L, Hupbach A, Gomez R, Newman-Smith K (2012) Memory formation, consolidation and transformation. Neurosci Biobehav Rev 36(7):1640–1645

Nguyen H-B, Bagot RC, Diorio J, Wong TP, Meaney MJ (2015) Maternal care differentially affects neuronal excitability and synaptic plasticity in the dorsal and ventral hippocampus. Neuropsychopharmacology 40(7):1590–1599

Paavola L, Kemppinen K, Kumpulainen K, Moilanen I, Ebeling H (2006) Maternal sensitivity, infant co-operation and early linguistic development: Some predictive relations. Eur J Dev Psychol 3(1):13–30

Palmer FB, Graff JC, Jones TL, Murphy LE, Keisling BL, Whitaker TM, Wang L, Tylavsky FA (2018) Socio-demographic, maternal, and child indicators of socioemotional problems in 2-year-old children: a cohort study. Medicine (Baltimore) 97(28):e11468. https://doi.org/10.1097/md.0000000000011468

Park J-Y, Gu B-M, Kang D-H, Shin Y-W, Choi C-H, Lee J-M, Kwon JS (2010) Integration of cross-modal emotional information in the human brain: an fMRI study. Cortex 46(2):161–169

Poppenk J, Evensmoen HR, Moscovitch M, Nadel L (2013) Long-axis specialization of the human hippocampus. Trends Cogn Sci 17(5):230–240

Power JD, Barnes KA, Snyder AZ, Schlaggar BL, Petersen SE (2012) Spurious but systematic correlations in functional connectivity MRI networks arise from subject motion. NeuroImage 59(3):2142–2154

Power JD, Mitra A, Laumann TO, Snyder AZ, Schlaggar BL, Petersen SE (2014) Methods to detect, characterize, and remove motion artifact in resting state fMRI. NeuroImage 84:320–341

Qiu A, Rifkin-Graboi A, Chen H, Chong Y, Kwek K, Gluckman P, Fortier M, Meaney M (2013) Maternal anxiety and infants' hippocampal development: timing matters. Transl Psychiatry 3(9):e306

Rao H, Betancourt L, Giannetta JM, Brodsky NL, Korczykowski M, Avants BB, Gee JC, Wang J, Hurt H, Detre JA (2010) Early parental care is important for hippocampal maturation: evidence from brain morphology in humans. Neuroimage 49(1):1144–1150

Rifkin-Graboi A, Kong L, Sim L, Sanmugam S, Broekman B, Chen H, Wong E, Kwek K, Saw S, Chong Y (2015a) Maternal sensitivity, infant limbic structure volume and functional connectivity: a preliminary study. Transl Psychiatry 5(10):e668

Rifkin-Graboi A, Meaney MJ, Chen H, Bai J, Hameed WBR, Tint MT, Broekman BF, Chong Y-S, Gluckman PD, Fortier MV (2015b) Antenatal maternal anxiety predicts variations in neural structures implicated in anxiety disorders in newborns. J Am Acad Child Adolesc Psychiatry 54(4):313–321

Riggins T, Geng F, Blankenship SL, Redcay E (2016) Hippocampal functional connectivity and episodic memory in early childhood. Dev Cogn Neurosci 19:58–69

Sale A, Berardi N, Maffei L (2009) Enrich the environment to empower the brain. Trends Neurosci 32(4):233–239

Sapolsky RM, Krey LC, McEWEN BS (1985) Prolonged glucocorticoid exposure reduces hippocampal neuron number: implications for aging. J Neurosci 5(5):1222–1227

Satpute AB, Mumford JA, Naliboff BD, Poldrack RA (2012) Human anterior and posterior hippocampus respond distinctly to state and trait anxiety. Emotion 12(1):58–68

Smith SM, Jenkinson M, Woolrich MW, Beckmann CF, Behrens TE, Johansen-Berg H, Bannister PR, De Luca M, Drobnjak I, Flitney DE (2004) Advances in functional and structural MR image analysis and implementation as FSL. Neuroimage 23:S208–S219

Soe NN, Wen DJ, Poh JS, Li Y, Broekman BF, Chen H, Chong YS, Kwek K, Saw SM, Gluckman PD, Meaney MJ, Rifkin-Graboi A, Qiu A (2016) Pre- and Post-Natal Maternal Depressive Symptoms in Relation with Infant Frontal Function, Connectivity, and Behaviors. PLoS One 11(4):e0152991. https://doi.org/10.1371/journal.pone.0152991

Soh SE, Lee SSM, Hoon SW, Tan MY, Goh A, Lee BW, Shek LP-C, Teoh OH, Kwek K, Saw SM, Godfrey K, Chong YS, Gluckman P, van Bever HPS (2012) The methodology of the GUSTO cohort study: a novel approach in studying pediatric allergy. Asia Pac Allergy 2(2):144–148

Tan M, Qiu A (2016) Large deformation multiresolution diffeomorphic metric mapping for multiresolution cortical surfaces: a coarse-to-fine approach. IEEE Trans Image Process 25(9):4061–4074

Tarabulsy GM, Provost MA, Bordeleau S, Trudel-Fitzgerald C, Moran G, Pederson DR, Trabelsi M, Lemelin JP, Pierce T (2009) Validation of a short version of the maternal behavior Q-set applied to a brief video record of mother-infant interaction. Infant Behav Dev 32(1):132–136. https://doi.org/10.1016/j.infbeh.2008.09.006

Treyvaud K, Doyle LW, Lee KJ, Ure A, Inder TE, Hunt RW, Anderson PJ (2016) Parenting behavior at 2 years predicts school-age performance at 7 years in very preterm children. J Child Psychol Psyc 57(7):814–821

van der Werff SJ, Pannekoek JN, Veer IM, van Tol M-J, Aleman A, Veltman DJ, Zitman FG, Rombouts SA, Elzinga BM, van der Wee NJ (2013) Resilience to childhood maltreatment is associated with increased resting-state functional connectivity of the salience network with the lingual gyrus. Child Abuse Neglect 37(11):1021–1029

Van Dijk KR, Sabuncu MR, Buckner RL (2012) The influence of head motion on intrinsic functional connectivity MRI. NeuroImage 59(1):431–438

Veer IM, Beckmann C, Van Tol M-J, Ferrarini L, Milles J, Veltman D, Aleman A, Van Buchem MA, Van Der Wee NJ, Rombouts SA (2010) Whole brain resting-state analysis reveals decreased functional connectivity in major depression. Front Syst Neurosci 4:1–10

Weaver IC, Meaney MJ, Szyf M (2006) Maternal care effects on the hippocampal transcriptome and anxiety-mediated behaviors in the offspring that are reversible in adulthood. Proc Natl Acad Sci USA 103(9):3480–3485

Wee C-Y, Poh JS, Wang Q, Broekman BF, Chong Y-S, Kwek K, Shek LP, Saw S-M, Gluckman PD, Fortier MV (2018) Behavioral heterogeneity in relation with brain functional networks in young children. Cereb Cortex 28(9):3322–3331

Wen DJ, Poh JS, Ni SN, Chong YS, Chen H, Kwek K, Shek LP, Gluckman PD, Fortier MV, Meaney MJ, Qiu A (2017a) Influences of prenatal and postnatal maternal depression on amygdala volume and microstructure in young children. Transl Psychiatry 7(4):e1103. https://doi.org/10.1038/tp.2017.74

Wen DJ, Soe NN, Sim LW, Sanmugam S, Kwek K, Chong YS, Gluckman PD, Meaney MJ, Rifkin-Graboi A, Qiu A (2017b) Infant frontal EEG asymmetry in relation with postnatal maternal depression and parenting behavior. Transl Psychiatry 7(3):e1057. https://doi.org/10.1038/tp.2017.28

Whittle S, Simmons JG, Dennison M, Vijayakumar N, Schwartz O, Yap MB, Sheeber L, Allen NB (2014) Positive parenting predicts the development of adolescent brain structure: a longitudinal study. Dev Cogn Neurosci 8:7–17

Zhang Y, Zhang J, Hsu J, Oishi K, Faria AV, Albert M, Miller MI, Mori S (2014) Evaluation of group-specific, whole-brain atlas generation using Volume-based Template Estimation (VTE): application to normal and Alzheimer's populations. Neuroimage 84:406–419. https://doi.org/10.1016/j.neuroimage.2013.09.011

Zhong J, Phua DY, Qiu A (2010) Quantitative evaluation of LDDMM, FreeSurfer, and CARET for cortical surface mapping. Neuroimage 52(1):131–141
Funding
This research is supported by the Singapore National Research Foundation under its Translational and Clinical Research (TCR) Flagship Programme and administered by the Singapore Ministry of Health's National Medical Research Council (NMRC), Singapore- NMRC/TCR/004-NUS/2008; NMRC/TCR/012-NUHS/2014. Additional funding is provided by the Singapore Institute for Clinical Sciences, Agency for Science Technology and Research (A*STAR), Singapore Ministry of Education (Academic research fund tier 1; NUHSRO/2017/052/T1-SRP-Partnership/01), and NUS Institute of Data Science, Singapore.
Ethics declarations
Conflict of interest
The authors declare that they have no conflict of interest.
Ethnical approval
All procedures performed in studies involving human participants were in accordance with the ethical standards of the institutional and national research committee and with the 1964 Helsinki Declaration and its later amendments or comparable ethical standards.
Informed consent
Informed consent was obtained from all individual participants included in the study.
Additional information
Publisher's Note
Springer Nature remains neutral with regard to jurisdictional claims in published maps and institutional affiliations.
Electronic supplementary material
Below is the link to the electronic supplementary material.
About this article
Cite this article
Wang, Q., Zhang, H., Wee, C. et al. Maternal sensitivity predicts anterior hippocampal functional networks in early childhood. Brain Struct Funct 224, 1885–1895 (2019). https://doi.org/10.1007/s00429-019-01882-0
Received:

Accepted:

Published:

Issue Date:
Keywords
Resting-state fMRI

Maternal sensitivity

Anterior hippocampus

Posterior hippocampus

Functional networks