Abstract
This study aimed at describing the first case of subcortical stimulation of the corticospinal tract leading to selective contraction of the intercostal muscles during surgery for removal of a tumour centred in the right central lobule/supplementary motor area. A 53-year-old male presented with partial motor seizures. Imaging demonstrated a low-grade glioma affecting the posterior aspect of the superior and middle frontal gyri and invading the precentral gyrus. Preoperative motor Transcranial Magnetic Stimulation and advanced diffusion tractography were performed to establish the relationship of the tumour with the motor cortex and corticospinal tract. Intraoperative motor mapping and monitoring were performed with monopolar stimulation ("train of 5" technique). At the posterior margin of resection, subcortical stimulation demonstrated a selective response from intercostal muscles, medial to responses from the lower limb and lateral to responses from the upper limb. PubMed literature search was performed to identify any case reporting similar findings. There were no cases previously reported in the literature. The location of the subcortical response for intercostal muscles confirms the somatotopy of the corticospinal tract. Intercostal muscles are controlled by selective fibres within the corticospinal tract. Damage to these fibres can lead to paralysis of voluntary respiratory muscles. Further studies are needed to define the cortico-subcortical network controlling voluntary respiratory muscles.
This is a preview of subscription content, log in to check access.
Access options
Buy single article
Instant access to the full article PDF.
US$ 39.95
Price includes VAT for USA
Subscribe to journal
Immediate online access to all issues from 2019. Subscription will auto renew annually.
US$ 199
This is the net price. Taxes to be calculated in checkout.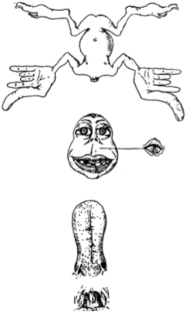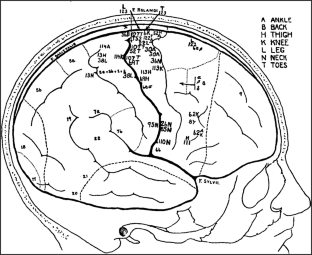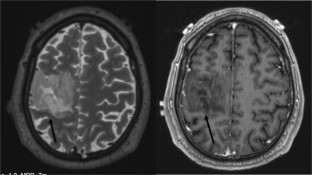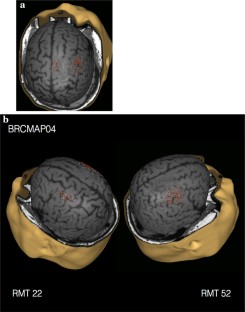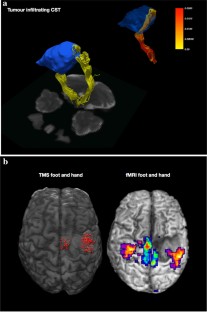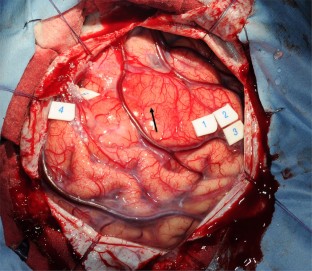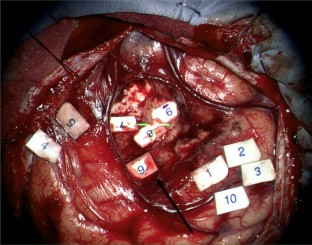 References
Aminoff MJ, Sears TA (1971) Spinal integration of segmental, cortical and breathing inputs to thoracic respiratory motoneurones. J Physiol 215(2):557–575

Bassal M, Bianchi AL (1981) Effets de la stimulation des structures nerveusses centrales sur les activités respiratoires efférentes chez le chat. I. Réponses à la stimulation corticale. J Physiol (Paris) 71:741–757

Bello L, Riva M, Fava E, Ferpozzi V, Castellano A, Raneri F, Pessina F, Bizzi A, Falini A, Cerri G (2014) Tailoring neurophysiological strategies with clinical context enhances resection and safety and expands indications in gliomas involving motor pathways. Neuro Oncol 16(8):1110–1128

Berger MS, Kincaid J, Ojemann GA, Lettich E (1989) Brain mapping techniques to maximize resection, safety, and seizure control in children with brain tumors. Neurosurgery 25:786–792

Catani (2017) A little man of some importance. Brain 140(11):3055–3061

Davenport PW, Shannon R, Mercak A, Reep RL, Lindsey BG (1993) Cerebral cortical evoked potentials elicited by cat intercostal muscle mechanoreceptors. J Appl Physiol 74(2):799–804

de Paleville DGLT, McKay WB, Folz RJ, Ovechkin AV (2011) Respiratory motor control disrupted by spinal cord injury: mechanisms, evaluation, and restoration. Transl Stroke Res 2(4):463–473

Foerster O (1936) The motor cortex in man in the light of Hughlings Jackson's doctrine. Brain 59(2):135–159

Gandevia SC, Plassman BL (1988) Responses in human intercostal and truncal muscles to motor cortical and spinal stimulation. Respir Physiol 73(3):325–337

Gandevia SC, Rothwell JC (1987) Activation of the human diaphragm from the motor cortex. J Physiol 384:109–118

Maskill D, Murphy K, Mier A, Owen M, Guz A (1991) Motor cortical representation of the diaphragm in man. J Physiol 443:105–121

Meyer FB, Bates LM, Goerss SJ, Friedman JA, Windschitl WL et al (2001) Awake craniotomy for aggressive resection of primary gliomas located in eloquent brain. Mayo Clin Proc 76:677–687

Neuloh G, Schramm J (2002) Mapping and monitoring of supratentorial procedures. In: Deletis V, Shills J (eds) Neurophysiology in neurosurgery: a modern intraoperative approach. Academic Press, Sand Diego

Penfield W, Boldrey E (1937) Somatic motor and sensory representation in the cerebral cortex of man as studied by electrical stimulation. Brain 60(4):389–443

Planche D (1972) Effects of cerebral cortex stimulation on the activity of the phrenic nerve. J Physiol (Paris) 64(1):31–56

Sala F, Krzan MJ, Deletis V (2002) Intraoperative neurophysiological monitoring in pediatric neurosurgery: why, when, how? Childs Nervous Syst 18:264–287

Seidel K, Beck J, Stieglitz L, Schucht P, Raabe A (2013) The warning-sign hierarchy between quantitative subcortical motor mapping and continuous motor evoked potential monitoring during resection of supratentorial brain tumors. J Neurosurg 118(2):287–296

Silver JR, Moulton A (1969) The physiological and pathological sequelae of paralysis of the intercostal and abdominal muscles in tetraplegic patients. Paraplegia 7(2):131–141

Similowski T, Catala M, Rancurel G, Derenne JP (1996) Impairment of central motor conduction to the diaphragm in stroke. Am J Respir Crit Care Med 154:436–441

Simon MV (2011) Intraoperative neurophysiologic sensorimotor mapping-a review. J Neurol Neurophysiol. https://doi.org/10.4172/2155-9562.S3-002

Simon MV, Shields DC, Eskandar EN (2009) Functional cortical mapping. In: Simon MV (ed) Intraoperative neurophysiology: a comprehensive guide to monitoring and mapping. Demos Medical Publishing, New York

Szelényi A, Bello L, Duffau H, Fava E, Feigl GC, Galanda M, Neuloh G, Signorelli F, Sala F (2010) Workgroup for intraoperative management in low-grade glioma surgery within the European low-grade glioma network. Intraoperative electrical stimulation in awake craniotomy: methodological aspects of current practice. Neurosurg Focus 28(2):E7. https://doi.org/10.3171/2009.12.FOCUS09237

Zimmer MB, Nantwi K, Goshgarian HG (2007) Effect of spinal cord injury on the respiratory system: basic research and current clinical treatment options. J Spinal Cord Med 30(4):319–330
Acknowledgements
Authors would like to acknowledge the support provided by the Department of Neurosurgery, King's College Hospital and the intraoperative neurophysiology Team at Inomed.
Ethics declarations
Conflict of interest
The authors declare that they have no conflict of interest. No funds were obtained for this study. This paper partly represents independent research on BRCMAP project funded by the NIHR-Wellcome Trust, King's Clinical Research Facility and the National Institute for Health Research (NIHR) Biomedical Research Centre at South London and Maudsley NHS Foundation Trust and King's College London. The views expressed are those of the authors and not necessarily those of the NHS, the NIHR or the Department of Health and Social Care.
Electronic supplementary material
Below is the link to the electronic supplementary material.
Supplementary material 1 (M4V 5094 KB)
About this article
Cite this article
Ghimire, P., Bedussa, N., Giamouriadis, A. et al. Somatotopy of corticospinal tract fibres of the intercostal muscles: report of a case and review of literature. Brain Struct Funct 224, 515–520 (2019). https://doi.org/10.1007/s00429-018-1796-9
Received:

Accepted:

Published:

Issue Date:
Keywords
Corticospinal tract

Intercostal muscle

Motor cortex

Motor mapping

Subcortical stimulation