Abstract
In the present study, we mapped the spatio-temporal dynamics of cortical responses to ipsilateral median nerve stimulation using intracerebral recordings (stereo-EEG) in 38 drug-resistant epileptic patients. Furthermore, we compared the pattern of responsiveness obtained in the same leads across ipsilateral and contralateral stimulations. Ipsilateral responses were found mostly confined to SII and posterior insula, while no activity was found in ipsilateral SI. By examining the temporal profiles of activation, ipsilateral SII showed a prominent tonic pattern, while contralateral SII exhibited both phasic and tonic responses. Beyond the localization of the active cortical nodes, these data contributed to identify the cortico-cortical connections carrying the somatosensory information to the ipsilateral hemisphere, with a major role of transcallosal projections from contralateral SII. In light of previous literature and of its localization, the functional role possibly covered by long lasting discharge in SII and insular cortex is also discussed. Overall, the presence of tonic activities was neglected so far due to the impossibility to identify deep sources along with a resolved description of their time course. The use of stereo-EEG, instead, allows one to achieve a four-dimensional characterization, complementing the classical view about the somatosensory system organization.
This is a preview of subscription content, log in to check access.
Access options
Buy single article
Instant access to the full article PDF.
US$ 39.95
Price includes VAT for USA
Subscribe to journal
Immediate online access to all issues from 2019. Subscription will auto renew annually.
US$ 199
This is the net price. Taxes to be calculated in checkout.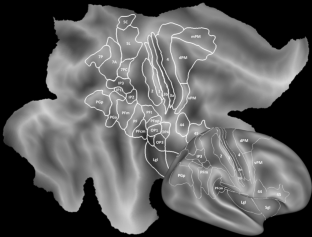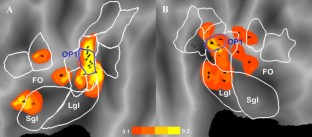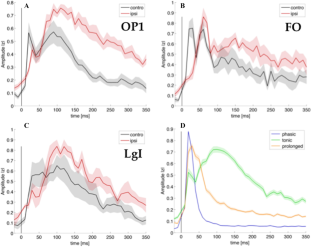 References
Allison TRUETT, McCarthy GREGORY, Wood CC, Darcey TM, Spencer DD, Williamson PD (1989) Human cortical potentials evoked by stimulation of the median nerve. II. Cytoarchitectonic areas generating short-latency activity. J Neurophysiol 62(3):694–710

Amunts K, Schleicher A, Bürgel U, Mohlberg H, Uylings H, Zilles K (1999) Broca's region revisited: cytoarchitecture and intersubject variability. J Comp Neurol 412(2):319–341

Avanzini P, Abdollahi RO, Sartori I, Caruana F, Pelliccia V, Casaceli G, Mai R, Lo Russo G, Rizzolatti G, Orban GA (2016) Four-dimensional maps of the human somatosensory system. Proc Natl Acad Sci 113(13):E1936–E1943

Avanzini P, Pelliccia V, Russo GL, Orban GA, Rizzolatti G (2017) Multiple time courses of somatosensory responses in human cortex. NeuroImage 169:212

Backes WH, Mess WH, van Kranen-Mastenbroek V, Reulen JPH (2000) Somatosensory cortex responses to median nerve stimulation: fMRI effects of current amplitude and selective attention. Clin Neurophysiol 111(10):1738–1744

Barba C, Frot M, Mauguiere F (2002) Early secondary somatosensory area (SII) SEPs. Data from intracerebral recordings in humans. Clin Neurophysiol 113(11):1778–1786

Bashore TR (1981) Vocal and manual reaction time estimates of interhemispheric transmission time. Psychol Bull 89(2):352

Burton H, Sathian K, Dian-hua S (1990) Altered responses to cutaneous stimuli in the second somatosensory cortex following lesions of the postcentral gyrus in infant and juvenile macaques. J Comp Neurol 291(3):395–414

Caruana F, Cantalupo G, Russo GL, Mai R, Sartori I, Avanzini P (2014a) Human cortical activity evoked by gaze shift observation: an intracranial EEG study. Hum Brain Mapp 35(4):1515–1528

Caruana F, Sartori I, Russo GL, Avanzini P (2014b) Sequencing biological and physical events affects specific frequency bands within the human premotor cortex: an intracerebral EEG study. PLoS One 9(1):e86384

Caspers S, Geyer S, Schleicher A, Mohlberg H, Amunts K, Zilles K (2006) The human inferior parietal cortex: cytoarchitectonic parcellation and interindividual variability. Neuroimage 33(2):430–448

Caspers S, Eickhoff SB, Geyer S, Scheperjans F, Mohlberg H, Zilles K, Amunts K (2008) The human inferior parietal lobule in stereotaxic space. Brain Struct Funct 212(6):481–495

Cereda C, Ghika J, Maeder P, Bogousslavsky J (2002) Strokes restricted to the insular cortex. Neurology 59(12):1950–1955

Dale AM, Fischl B, Sereno MI (1999) Cortical surface-based analysis: I. Segmentation and surface reconstruction. Neuroimage 9(2):179–194

Dijkerman HC, De Haan EH (2007) Somatosensory processing subserving perception and action: dissociations, interactions, and integration. Behav Brain Sci 30(2):224–230

Eickhoff SB, Heim S, Zilles K, Amunts K (2006) Testing anatomically specified hypotheses in functional imaging using cytoarchitectonic maps. Neuroimage 32(2):570–582

Fabri M, Polonara G, Quattrini A, Salvolini U, Manzoni T (1997) Lack of somatosensory activation in ipsilateral cerebral cortex of split-brain patients as revealed by fMRI. Soc Neurosci Abstr 389:13

Fabri M, Polonara G, Quattrini A, Salvolini U, Del Pesce M, Manzoni T (1999) Role of the corpus callosum in the somatosensory activation of the ipsilateral cerebral cortex: an fMRI study of callosotomized patients. Eur J Neurosci 11(11):3983–3994

Fedorov A, Beichel R, Kalpathy-Cramer J, Finet J, Fillion-Robin JC, Pujol S, … Buatti J (2012) 3D Slicer as an image computing platform for the Quantitative Imaging Network. Magn Reson Imaging 30(9):1323–1341

Ferretti A, Babiloni C, Arienzo D, Del Gratta C, Rossini PM, Tartaro A, Romani GL (2007) Cortical brain responses during passive nonpainful median nerve stimulation at low frequencies (0.5–4 Hz): an fMRI study. Hum Brain Mapp 28(7):645–653

Friedman DP, Murray EA, O'Neill JB, Mishkin M (1986) Cortical connections of the somatosensory fields of the lateral sulcus of macaques: evidence for a corticolimbic pathway for touch. J Comp Neurol 252(3):323–347

Gao L, Sommerlade L, Coffman B, Zhang T, Stephen JM, Li D, Wang J, Grebogi C, Schelter B (2015) Granger causal time-dependent source connectivity in the somatosensory network. Sci Rep 5:10399

Hari R, Forss N (1999) Magnetoencephalography in the study of human somatosensory cortical processing. Philos Trans R Soc Lond B Biol Sci 354(1387):1145–1154

Hari R, Karhu J, Hämäläinen M, Knuutila J, Salonen O, Sams M, Vilkman V (1993) Functional organization of the human first and second somatosensory cortices: a neuromagnetic study. Eur J Neurosci 5(6):724–734

Hinkley LB, Krubitzer LA, Nagarajan SS, Disbrow EA (2007) Sensorimotor integration in S2, PV, and parietal rostroventral areas of the human sylvian fissure. J Neurophysiol 97(2):1288–1297

Hlushchuk Y, Hari R (2006) Transient suppression of ipsilateral primary somatosensory cortex during tactile finger stimulation. J Neurosci 26(21):5819–5824

Jerbi K, Ossandon T, Hamame CM, Senova S, Dalal SS, Jung J, Minotti L, Bertrand O, Berthoz A, Kahane P, Lachaux JP (2009) Task-related gamma-band dynamics from an intracerebral perspective: review and implications for surface EEG and MEG. Hum Brain Mapp 30(6):1758–1771

Kanno A, Nakasato N, Hatanaka K, Yoshimoto T (2003) Ipsilateral area 3b responses to median nerve somatosensory stimulation. Neuroimage 18(1):169–177

Karnath HO, Baier B (2010) Right insula for our sense of limb ownership and self-awareness of actions. Brain Struct Funct 214(5–6):411–417

Korvenoja A, Wikström H, Huttunen J, Virtanan J, Laine P, Aronen HJ, Seppäläinen AM (1995) Activation of ipsilateral primary sensorimotor cortex by median nerve stimulation. Neuroreport 6(18):2589–2593

Korvenoja A, Huttunen J, Salli E, Pohjonen H, Martinkauppi S, Palva JM, Lauronen L, Virtanen J, Ilmoniemi RJ, Aronen HJ (1999) Activation of multiple cortical areas in response to somatosensory stimulation: combined magnetoencephalographic and functional magnetic resonance imaging. Hum Brain Mapp 8(1):13–27

Lachaux JP, Jung J, Mainy N, Dreher JC, Bertrand O, Baciu M, Minotti L, Hoffmann D, Kahane P (2007) Silence is golden: transient neural deactivation in the prefrontal cortex during attentive reading. Cereb Cortex 18(2):443–450

Lachaux JP, Axmacher N, Mormann F, Halgren E, Crone NE (2012) High-frequency neural activity and human cognition: past, present and possible future of intracranial EEG research. Progress Neurobiol 98(3):279–301

Lin YY, Forss N (2002) Functional characterization of human second somatosensory cortex by magnetoencephalography. Behav Brain Res 135(1):141–145

Lipton ML, Fu KMG, Branch CA, Schroeder CE (2006) Ipsilateral hand input to area 3b revealed by converging hemodynamic and electrophysiological analyses in macaque monkeys. J Neurosci 26(1):180–185

Nihashi T, Naganawa S, Sato C, Kawai H, Nakamura T, Fukatsu H, Aoki I (2005) Contralateral and ipsilateral responses in primary somatosensory cortex following electrical median nerve stimulation—an fMRI study. Clin Neurophysiol 116(4):842–848

Olausson H, Lamarre Y, Backlund H, Morin C, Wallin BG, Starck G, Ekholm S, Strigo I, Worsley K, Vallbo ÅB, Bushnell MC (2002) Unmyelinated tactile afferents signal touch and project to insular cortex. Nat Neurosci 5(9):900–904

Preusser S, Thiel SD, Rook C, Roggenhofer E, Kosatschek A, Draganski B, Blankenburg F, Driver J, Villringer A, Pleger B (2014) The perception of touch and the ventral somatosensory pathway. Brain 138(3):540–548

Romo R, Hernández A, Zainos A, Lemus L, Brody CD (2002) Neuronal correlates of decision-making in secondary somatosensory cortex. Nat Neurosci 5(11):1217–1225

Roper SN, Levesque MF, Sutherling WW, Engel J Jr (1993) Surgical treatment of partial epilepsy arising from the insular cortex: report of two cases. J Neurosurgy 79(2):266–269

Ruben J, Schwiemann J, Deuchert M, Meyer R, Krause T, Curio G, Kurth R, Villringer A (2001) Somatotopic organization of human secondary somatosensory cortex. Cereb Cortex 11(5):463–473

Sathian K (2016) Analysis of haptic information in the cerebral cortex. J Neurophysiol 116(4):1795–1806

Sathian K, Lacey S, Stilla R, Gibson GO, Deshpande G, Hu X, LaConte S, Glielmi C (2011) Dual pathways for haptic and visual perception of spatial and texture information. Neuroimage 57(2):462–475

Simoes C, Hari R (1999) Relationship between responses to contra- and ipsilateral stimuli in the human second somatosensory cortex SII. Neuroimage 10(4):408–416

Tsakiris M, Schütz-Bosbach S, Gallagher S (2007) On agency and body-ownership: phenomenological and neurocognitive reflections. Conscious Cogn 16(3):645–660

Van Essen DC (2012) Cortical cartography and Caret software. Neuroimage 62(2):757–764

Vidal JR, Ossandón T, Jerbi K, Dalal SS, Minotti L, Ryvlin P, Kahane P, Lachaux JP (2010) Category-specific visual responses: an intracranial study comparing gamma, beta, alpha, and ERP response selectivity. Front Hum Neurosci 4:195

Wegner K, Forss N, Salenius S (2000) Characteristics of the human contra- versus ipsilateral SII cortex. Clin Neurophysiol 111(5):894–900
Acknowledgements
MDV was supported a Grant POR-FSE 2014–2020 funded by Regione Emilia Romagna (Italy).
Ethics declarations
Conflict of interest
The authors declare that they have no conflict of interest.
Ethical approval
All procedures performed in studies involving human participants were in accordance with the ethical standards and they were approved by the Ethics Committee of Niguarda Hospital (ID 939-2.12.2013) and all the patients were fully informed regarding the electrode implantation and stereo-EEG recordings.
About this article
Cite this article
Del Vecchio, M., Caruana, F., Sartori, I. et al. Ipsilateral somatosensory responses in humans: the tonic activity of SII and posterior insular cortex. Brain Struct Funct 224, 9–18 (2019). https://doi.org/10.1007/s00429-018-1754-6
Received:

Accepted:

Published:

Issue Date:
Keywords
Stereo-EEG

Cerebral cortex

Touch

Perysilvian region

Median nerve