Abstract
The postpartum period is associated with structural and functional plasticity in brain regions involved in parenting. While one study identified an increase in gray matter volume during the first 4 months among new mothers, little is known regarding the relationship between cortical thickness across postpartum months and perceived adjustment to parenthood. In this study of 39 socioeconomically diverse first-time new mothers, we examined the relations among postpartum months, cortical thickness, and parental self-efficacy. We identified a positive association between postpartum months and cortical thickness in the prefrontal cortex including the superior frontal gyrus extending into the medial frontal and orbitofrontal gyri, in the lateral occipital gyrus extending into the inferior parietal and fusiform gyri, as well as in the caudal middle frontal and precentral gyri. The relationship between cortical thickness and parental self-efficacy was specific to the prefrontal regions. These findings contribute to our understanding of the maternal brain in the first 6 months postpartum and provide evidence of a relationship between brain structure and perceived adjustment to parenthood.
Access options
Buy single article
Instant access to the full article PDF.
US$ 39.95
Tax calculation will be finalised during checkout.
Subscribe to journal
Immediate online access to all issues from 2019. Subscription will auto renew annually.
US$ 119
Tax calculation will be finalised during checkout.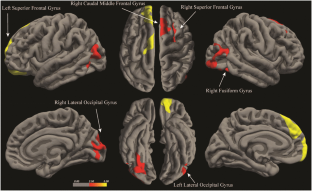 References
Afonso VM, Sison M, Lovic V, Fleming AS (2007) Medial prefrontal cortex lesions in the female rat affect sexual and maternal behavior and their sequential organization. Behav Neurosci 121:515–526

Ahveninen J, Huang S, Belliveau JW, Chang W-T, Hämäläinen M (2013) Dynamic oscillatory processes governing cued orienting and allocation of auditory attention. J Cogn Neurosci 25:1926–1943

Akbari EM, Shams S, Belay HT, Kaiguo M, Razak Z, Kent CF, Westwood T, Sokolowski MB, Fleming AS (2013) The effects of parity and maternal behavior on gene expression in the medial preoptic area and the medial amygdala in postpartum and virgin female rats: a microarray study. Behav Neurosci 127:913–922

Alvarez JA, Emory E (2006) Executive function and the frontal lobes: a meta-analytic review. Neuropsychol Rev 16:17–42

Atzil S, Hendler T, Feldman R (2011) Specifying the neurobiological basis of human attachment: brain, hormones, and behavior in synchronous and intrusive mothers. Neuropsychopharmacology 36:2603–2615

Baird B, Smallwood J, Gorgolewski KJ, Margulies DS (2013) Medial and lateral networks in anterior prefrontal cortex support metacognitive ability for memory and perception. J Neurosci 33:16657–16665

Bandura A (1993) Perceived self-efficacy in cognitive development and functioning. Educ Psychol 28:117–148

Barrett J, Fleming AS (2011) Annual research review: all mothers are not created equal: neural and psychobiological perspectives on mothering and the importance of individual differences. J Child Psychol Psychiatry 52:368–397

Barrett J, Wonch KE, Gonzalez A, Ali N, Steiner M, Hall GB, Fleming AS (2012) Maternal affect and quality of parenting experiences are related to amygdala response to infant faces. Soc Neurosci 7:252–268

Beck AT, Steer RA, Garbin MG (1988) Psychometric properties of the beck depression inventory: twenty-five years of evaluation. Clin Psychol Rev 8(1):77–100

Bornstein MH, 2002. Parenting infants. In: Bornstein MH (ed) Handbook of parenting erlbaum, Mahwah, 1, pp 3–43

Chouinard PA, Paus T (2006) The primary motor and premotor areas of the human cerebral cortex. Neuroscientist 12:143–152

Dale AM, Sereno MI (1993) Improved localization of cortical activity by combining EEG and MEG with MRI cortical surface reconstruction: a linear approach. J Cogn Neurosci 5:162–176

Dale AM, Fischl B, Sereno MI (1999) Cortical surface-based analysis: I. Segmentation and surface reconstruction. Neuroimage 9:179–194

Etkin A, Egner T, Kalisch R (2011) Emotional processing in anterior cingulate and medial prefrontal cortex. Trends Cogn Sci 15:85–93

Febo M, Felix-Ortiz AC, Johnson TR (2010) Inactivation or inhibition of neuronal activity in the medial prefrontal cortex largely reduces pup retrieval and grouping in maternal rats. Brain Res 1325:77–88

Fischl B, Dale AM (2000) Measuring the thickness of the human cerebral cortex from magnetic resonance images. Proc Natl Acad Sci 97:11050–11055

Fleming AS, Korsmit M (1996) Plasticity in the maternal circuit: effects of maternal experience on Fos-Lir in hypothalamic, limbic, and cortical structures in the postpartum rat. Behav Neurosci 110:567

Furuta M, Bridges RS (2005) Gestation-induced cell proliferation in the rat brain. Dev Brain Res 156:61–66

Gauthier I, Tarr MJ, Anderson AW, Skudlarski P, Gore JC (1999) Activation of the middle fusiform 'face area' increases with expertise in recognizing novel objects. Nat Neurosci 2:568–573

Goldin PR, Manber-Ball T, Werner K, Heimberg R, Gross JJ (2009) Neural mechanisms of cognitive reappraisal of negative self-beliefs in social anxiety disorder. Biol Psychiat 66:1091–1099

Gotlib IH, Whiffen VE, Mount JH, Milne K, Cordy NI (1989) Prevalence rates and demographic characteristics associated with depression in pregnancy and the postpartum. J Consult Clin Psychol 57:269

Haxby JV, Ungerleider LG, Horwitz B, Maisog JM, Rapoport SI, Grady CL (1996) Face encoding and recognition in the human brain. Proceedings of the National Academy of Sciences 93, 922–927

Hillerer KM, Jacobs VR, Fischer T, Aigner L, 2014. The maternal brain: an organ with peripartal plasticity. Neural Plast 2014, 574159

Hipwell AE, Guo C, Phillips ML, Swain JE, Moses-Kolko EL (2015) Right frontoinsular cortex and subcortical activity to infant cry is associated with maternal mental state talk. J Neurosci 35:12725–12732

Ho SS, Swain JE (2017) Depression alters maternal extended amygdala response and functional connectivity during distress signals in attachment relationship. Behav Brain Res 325:290–296

Hoekzema E, Barba-Müller E, Pozzobon C, Picado M, Lucco F, García-García D, Soliva JC, Tobeña A, Desco M, Crone EA (2017) Pregnancy leads to long-lasting changes in human brain structure. Nat Neurosci 20:287–296

Hoover WB, Vertes RP (2007) Anatomical analysis of afferent projections to the medial prefrontal cortex in the rat. Brain Struct Funct 212:149–179

Jones TL, Prinz RJ (2005) Potential roles of parental self-efficacy in parent and child adjustment: a review. Clin Psychol Rev 25:341–363

Kim P, Leckman JF, Mayes LC, Feldman R, Wang X, Swain JE (2010) The plasticity of human maternal brain: longitudinal changes in brain anatomy during the early postpartum period. Behav Neurosci 124:695–700

Kim P, Feldman R, Mayes LC, Eicher V, Thompson N, Leckman JF, Swain JE (2011a) Breastfeeding, brain activation to own infant cry, and maternal sensitivity. J Child Psychol Psychiatry 52:907–915

Kim P, Capistrano C, Congleton C (2016) Socioeconomic disadvantages and neural sensitivity to infant cry: role of maternal distress. Soc Cogn Affect Neurosci 11:1597–15607

King JA, Geisler D, Ritschel F, Boehm I, Seidel M, Roschinski B, Soltwedel L, Zwipp J, Pfuhl G, Marxen M (2015) Global cortical thinning in acute anorexia nervosa normalizes following long-term weight restoration. Biol Psychiat 77:624–632

Kinsley CH, Bardi M, Karelina K, Rima B, Christon L, Friedenberg J, Griffin G (2008) Motherhood induces and maintains behavioral and neural plasticity across the lifespan in the rat. Arch Sex Behav 37:43–56

Kopel H, Schechtman E, Groysman M, Mizrahi A (2012) Enhanced synaptic integration of adult-born neurons in the olfactory bulb of lactating mothers. The Journal of Neuroscience 32:7519–7527

Laurent HK, Ablow JC (2011) A cry in the dark: depressed mothers show reduced neural activation to their own infant's cry. Soc Cogn Affect Neurosci 7:125–134

Leerkes EM, Crockenberg SC (2002) The development of maternal self-efficacy and its impact on maternal behavior. Infancy 3:227–247

Leuner B, Gould E (2010) Dendritic growth in medial prefrontal cortex and cognitive flexibility are enhanced during the postpartum period. J Neurosci 30:13499–13503

Leuner B, Sabihi S, 2016. The birth of new neurons in the maternal brain: hormonal regulation and functional implications. Frontiers in Neuroendocrinology

Leuner B, Glasper ER, Gould E (2010) Parenting and plasticity. Trends Neurosci 33:465–473

Lonstein JS, Lévy F, Fleming AS (2015) Common and divergent psychobiological mechanisms underlying maternal behaviors in non-human and human mammals. Horm Behav 73:156–185

Lövdén M, Wenger E, Mårtensson J, Lindenberger U, Bäckman L (2013) Structural brain plasticity in adult learning and development. Neurosci Biobehav Rev 37:2296–2310

Maxwell SE, Cole DA (2007) Bias in cross-sectional analyses of longitudinal mediation. Psychol Methods 12:23–44

Maxwell SE, Cole DA, Mitchell MA (2011) Bias in cross-sectional analyses of longitudinal mediation: partial and complete mediation under an autoregressive model. Multivar Behav Res 46:816–841

McLaughlin KA, Sheridan MA, Winter W, Fox NA, Zeanah CH, Nelson CA (2014) Widespread reductions in cortical thickness following severe early-life deprivation: a neurodevelopmental pathway to attention-deficit/hyperactivity disorder. Biol Psychiat 76:629–638

Moses-Kolko EL, Perlman SB, Wisner KL, James J, Saul AT, Phillips ML (2010) Abnormally reduced dorsomedial prefrontal cortical activity and effective connectivity with amygdala in response to negative emotional faces in postpartum depression. Am J Psychiatry 167:1373–1380

Musser ED, Kaiser-Laurent H, Ablow JC (2012) The neural correlates of maternal sensitivity: an fMRI study. Dev Cogn Neurosci 2:428–436

Nishitani S, Kuwamoto S, Takahira A, Miyamura T, Shinohara K (2014) Maternal prefrontal cortex activation by newborn infant odors. Chem Senses 39:195–202

Nitschke JB, Nelson EE, Rusch BD, Fox AS, Oakes TR, Davidson RJ (2004) Orbitofrontal cortex tracks positive mood in mothers viewing pictures of their newborn infants. Neuroimage 21:583–592

Nystrom K, Ohrling K (2004) Parenthood experiences during the child's first year: literature review. J Adv Nurs 46:319–330

O'Doherty JP (2004) Reward representations and reward-related learning in the human brain: insights from neuroimaging. Curr Opin Neurobiol 14:769–776

O'Donnell S, Noseworthy MD, Levine B, Dennis M (2005) Cortical thickness of the frontopolar area in typically developing children and adolescents. Neuroimage 24:948–954

O'hara MW, Swain AM (1996) Rates and risk of postpartum depression-a meta-analysis. International review of psychiatry 8:37–54

O'Hara MW, Neunaber DJ, Zekoski EM (1984) Prospective study of postpartum depression: prevalence, course, and predictive factors. J Abnorm Psychol 93:158–171

Oatridge A, Holdcroft A, Saeed N, Hajnal JV, Puri BK, Fusi L, Bydder GM (2002) Change in brain size during and after pregnancy: study in healthy women and women with preeclampsia. Am J Neuroradiol 23:19–26

Pawluski JL, Lambert KG, Kinsley CH (2016) Neuroplasticity in the maternal hippocampus: relation to cognition and effects of repeated stress. Horm Behav 77:86–97

Reece SM, Harkless G (1998) Self-efficacy, stress, and parental adaptation: applications to the care of childbearing families. J Fam Nurs 4:198–215

Rizzolatti G, Fadiga L, Gallese V, Fogassi L (1996) Premotor cortex and the recognition of motor actions. Cognitive brain research 3:131–141

Robinson ME, Lindemer ER, Fonda JR, Milberg WP, McGlinchey RE, Salat DH (2015) Close-range blast exposure is associated with altered functional connectivity in Veterans independent of concussion symptoms at time of exposure. Hum Brain Mapp 36:911–922

Rosenblatt J (1994) Psychobiology of maternal behavior: contribution to the clinical understanding of maternal behavior among humans. Acta Paediatr 83:3–8

Rosenblatt JS (2002) Hormonal bases of parenting in mammals. Handbook of parenting 2:31–60

Rutherford HJV, Wallace NS, Laurent HK, Mayes LC (2015) Emotion regulation in parenthood. Dev Rev 36:1–14

Schneewind KA, Pfeiffer P, 1995. Impact of family processes on control beliefs. Self-efficacy in changing societies, pp 114–148

Schneider CE, White T, Hass J, Geisler D, Wallace SR, Roessner V, Holt DJ, Calhoun VD, Gollub RL, Ehrlich S (2014) Smoking status as a potential confounder in the study of brain structure in schizophrenia. J Psychiatr Res 50:84–91

Shingo T, Gregg C, Enwere E, Fujikawa H, Hassam R, Geary C, Cross JC, Weiss S (2003) Pregnancy-stimulated neurogenesis in the adult female forebrain mediated by prolactin. Science 299:117–120

Sneve MH, Grydeland H, Nyberg L, Bowles B, Amlien IK, Langnes E, Walhovd KB, Fjell AM (2015) Mechanisms underlying encoding of short-lived versus durable episodic memories. J Neurosci 35:5202–5212

Stallings J, Fleming AS, Corter C, Worthman C, Steiner M (2001) The effects of infant cries and odors on sympathy, cortisol, and autonomic responses in new mothers and nonpostpartum women. Parenting 1:71–100

Strathearn L, Li J, Fonagy P, Montague PR (2008) What's in a smile? Maternal brain responses to infant facial cues. Pediatrics 122:40–51

Swain JE, Tasgin E, Mayes LC, Feldman R, Constable RT, Leckman JF (2008) Maternal brain response to own baby-cry is affected by cesarean section delivery. J Child Psychol Psychiatry 49:1042–1052

Swain JE, Ho SS, Rosenblum KL, Morelen D, Dayton CJ, Muzik M (2017) Parent-child intervention decreases stress and increases maternal brain activity and connectivity during own baby-cry: An exploratory study. Dev Psychopathol 29:535–553

Takaya S, Liu H, Greve DN, Tanaka N, Leveroni C, Cole AJ, Stufflebeam SM (2016) Altered anterior posterior connectivity through the arcuate fasciculus in temporal lobe epilepsy. Hum Brain Mapp 37:4425–4438

Tchistiakova E, Anderson ND, Greenwood CE, MacIntosh BJ (2014) Combined effects of type 2 diabetes and hypertension associated with cortical thinning and impaired cerebrovascular reactivity relative to hypertension alone in older adults. NeuroImage: Clin 5:36–41

Teti DM, Gelfand DM (1991) Behavioral competence among mothers of infants in the first year: the mediational role of maternal self-efficacy. Child Dev 62:918–929

Thomas C, Baker CI (2013) Teaching an adult brain new tricks: a critical review of evidence for training-dependent structural plasticity in humans. Neuroimage 73:225–236

Thompson-Booth C, Viding E, Mayes LC, Rutherford HJ, Hodsoll S, McCrory E, 2014. I can't take my eyes off of you: attentional allocation to Infant, child, adolescent and adult faces in mothers and non-mothers. PLoS One 9, e109362

Troutman B, Moran TE, Arndt S, Johnson RF, Chmielewski M (2012) Development of parenting self-efficacy in mothers and infants with high negative emotionality. Infant Mental Health J 33:45–54

Wager TD, Davidson ML, Hughes BL, Lindquist MA, Ochsner KN (2008) Prefrontal-subcortical pathways mediating successful emotion regulation. Neuron 59:1037–1050

Wiesenfeld AR, Malatesta CZ (1982) Infant distress: Variables affecting responses of caregivers and others. Its causes and consequences, Parenting, pp 123–139

Winkler AM, Kochunov P, Blangero J, Almasy L, Zilles K, Fox PT, Duggirala R, Glahn DC (2010) Cortical thickness or grey matter volume? The importance of selecting the phenotype for imaging genetics studies. Neuroimage 53:1135–1146

Xerri C, Stern JM, Merzenich MM (1994) Alterations of the cortical representation of the rat ventrum induced by nursing behavior. J Neurosci 14:1710–1721

Zorlu N, Cropley VL, Zorlu PK, Delibas DH, Adibelli ZH, Baskin EP, Esen ÖS, Bora E, Pantelis C (2017) Effects of cigarette smoking on cortical thickness in major depressive disorder. J Psychiatr Res 84:1–8
Acknowledgements
This work was supported by the National Institute of Child Health and Human Development [R01HD090068; R21HD078797]; the Professional Research Opportunity for Faculty (PROF) and Faculty Research Fund (FRF), University of Denver; and the Victoria S. Levin Award For Early Career Success in Young Children's Mental Health Research, Society for Research in Child Development (SRCD). The authors declare that they have no conflicts of interest in the research. The authors thank families who participate in the study and individuals who support recruitment. The authors also wish to acknowledge Amy Anderson, Lindsay Blanton, Christian Capistrano, Christina Congleton, Tanisha Crosby-Attipoe, Andrew Erhart, Victoria Everts, Rachel Gray, Claire Jeske, Laura Jeske, Daniel Mason, and Nanxi Xu for research assistance.
Electronic supplementary material
Below is the link to the electronic supplementary material.
About this article
Cite this article
Kim, P., Dufford, A.J. & Tribble, R.C. Cortical thickness variation of the maternal brain in the first 6 months postpartum: associations with parental self-efficacy. Brain Struct Funct 223, 3267–3277 (2018). https://doi.org/10.1007/s00429-018-1688-z
Received:

Accepted:

Published:

Issue Date:
Keywords
Maternal brain

Cortical thickness

Parental self-efficacy

Postpartum period