Abstract
Often, during daily experiences, hearing peers' actions can activate motor regions of the CNS. This activation is termed auditory–motor resonance (AMR) and is thought to represent an internal simulation of one's motor memories. Currently, AMR is demonstrated at the neuronal level in the Macaque and songbird, in conjunction with evidence on a systems level in humans. Here, we review evidence of AMR development from a motor control perspective. In the context of internal modelling, we consider data that demonstrates sensory-guided motor learning and action maintenance, particularly the notion of sensory comparison seen during songbird vocalisation. We suggest that these comparisons generate accurate sensory-to-motor inverse mappings. Furthermore, given reports of mapping decay after songbird learning, we highlight the proposal that the maintenance of these sensorimotor maps potentially explains why frontoparietal regions are activated upon hearing known sounds (i.e., AMR). In addition, we also recommend that activation of these types of internal models outside of action execution may provide an ecological advantage when encountering known stimuli in ambiguous conditions.
Access options
Buy single article
Instant access to the full article PDF.
USD 39.95
Price excludes VAT (USA)
Tax calculation will be finalised during checkout.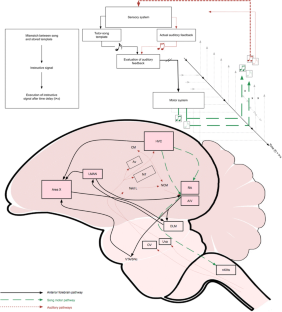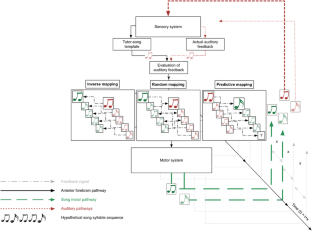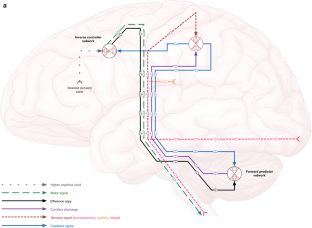 References
Achiro JM, Bottjer SW (2013) Neural representation of a target auditory memory in a cortico-basal ganglia pathway. J Neurosci 33(36):14475–14488

Adams RA, Aponte E, Marshall L, Friston KJ (2015) Active inference and oculomotor pursuit: the dynamic causal modelling of eye movements. J Neurosci Methods 242:1–14

Adret P (2004) In search of the song template. Ann N Y Acad Sci 1016:303–324

Aglioti SM, Pazzaglia M (2010) Representing actions through their sound. Exp Brain Res 206(2):141–151

Agnew ZK, Bhakoo KK, Puri BK (2007) The human mirror system: a motor resonance theory of mind-reading. Brain Res Rev 54(2):286–293

Alaerts K, Swinnen SP, Wenderoth N (2009) Interaction of sound and sight during action perception: evidence for shared modality-dependent action representations. Neuropsychologia 47(12):2593–2599

Andalman AS, Fee MS (2009) A basal ganglia-forebrain circuit in the songbird biases motor output to avoid vocal errors. Proc Natl Acad Sci USA 106(30):12518–12523

Aravena P, Delevoye-Turrell Y, Deprez V, Cheylus A, Paulignan Y, Frak V, Nazir T (2012) Grip force reveals the context sensitivity of language-induced motor activity during "action words" processing: evidence from sentential negation. PLoS ONE 7(12):eCollection 2012

Aravena P, Courson M, Frak V, Cheylus A, Paulignan Y, Deprez V, Nazir T (2014) Action relevance in linguistic context drives word-induced motor activity. Front Hum Neurosci 8(163):eCollection 2014

Aronov D, Andalman AS, Fee MS (2008) A specialized forebrain circuit for vocal babbling in the juvenile songbird. Science 320(5876):630–634

Aziz-Zadeh L, Iacoboni M, Zaidel E, Wilson S, Mazziotta J (2004) Left hemisphere motor facilitation in response to manual action sounds. Eur J Neurosci 19(9):2609–2612

Badets A, Koch I, Philipp AM (2016) A review of ideomotor approaches to perception, cognition, action, and language: advancing a cultural recycling hypothesis. Psychol Res 80(1):1–15

Badino L, D'Ausilio A, Fadiga L, Metta G (2014) Computational validation of the motor contribution to speech perception. Top Cognit Sci 6(3):461–475

Bailey JA, Zatorre RJ, Penhune VB (2014) Early musical training is linked to gray matter structure in the ventral premotor cortex and auditory–motor rhythm synchronization performance. J Cognit Neurosci 26(4):755–767

Bangert M, Altenmüller EO (2003) Mapping perception to action in piano practice: a longitudinal DC-EEG study. BMC Neurosci 4:26

Bangert M, Schlaug G (2006) Specialization of the specialized in features of external human brain morphology. Eur J Neurosci 24(6):1832–1834

Bangert M, Peschel T, Schlaug G, Rotte M, Drescher D, Hinrichs H, Heinze HJ, Altenmüller E (2006) Shared networks for auditory and motor processing in professional pianists: evidence from fMRI conjunction. NeuroImage 30(3):917–926

Bartoli E, D'Ausilio A, Berry J, Badino L, Bever T, Fadiga L (2015) Listener-speaker perceived distance predicts the degree of motor contribution to speech perception. Cereb Cortex 25(2):281–288

Barton RA (2012) Embodied cognitive evolution and the cerebellum. Philos Trans R Soc B Biol Sci 367(1599):2097–2107

Bass AH, McKibben JR (2003) Neural mechanisms and behaviors for acoustic communication in teleost fish. Prog Neurobiol 69(1):1–26

Bäß P, Jacobsen T, Schröger E (2008) Suppression of the auditory N1 event-related potential component with unpredictable self-initiated tones: evidence for internal forward models with dynamic stimulation. Int J Psychophysiol 70(2):137–143

Baumann S, Koeneke S, Schmidt CF, Meyer M, Lutz K, Jancke L (2007) A network for audio-motor coordination in skilled pianists and non-musicians. Brain Res 1161(1):65–78

Bays PM, Wolpert DM (2007) Computational principles of sensorimotor control that minimize uncertainty and variability. J Physiol 578(2):387–396

Behroozmand R, Shebek R, Hansen DR, Oya H, Robin DA, Howard Iii MA, Greenlee JDW (2015) Sensory-motor networks involved in speech production and motor control: an fMRI study. NeuroImage 109:418–428

Bell CC (1981) An efference copy which is modified by reafferent input. Science 214(4519):450–453

Bertram R, Daou A, Hyson RL, Johnson F, Wu W (2014) Two neural streams, one voice: pathways for theme and variation in the songbird brain. Neuroscience 277:806–817

Blakemore SJ, Wolpert D, Frith C (2000) Why can't you tickle yourself? NeuroReport 11(11):R11–R16

Blakemore SJ, Frith CD, Wolpert DM (2001) The cerebellum is involved in predicting the sensory consequences of action. NeuroReport 12(9):1879–1884

Bleyenheuft Y, Lefèvre P, Thonnard JL (2009) Predictive mechanisms control grip force after impact in self-triggered perturbations. J Mot Behav 41(5):411–417

Bolhuis JJ, Moorman S (2015) Birdsong memory and the brain: in search of the template. Neurosci Bio Rev 50(2015):41–55

Bolhuis JJ, Okanoya K, Scharff C (2010) Twitter evolution: converging mechanisms in birdsong and human speech. Nat Rev Neurosci 11(11):747–759

Bonaiuto J, Arbib MA (2010) Extending the mirror neuron system model, II: what did i just do? A new role for mirror neurons. Biol Cybern 102(4):341–359

Bonaiuto J, Rosta E, Arbib M (2007) Extending the mirror neuron system model, I. Audible actions and invisible grasps. Biol Cybern 96(1):9–38

Bottjer SW, Miesner EA, Arnold AP (1984) Forebrain lesions disrupt development but not maintenance of song in passerine birds. Science 224(4651):901–903

Braadbaart L, Williams JHG, Waiter GD (2013) Do mirror neuron areas mediate mu rhythm suppression during imitation and action observation? Int J Psychophysiol 89(1):99–105

Brainard MS, Doupe AJ (2000) Auditory feedback in learning and maintenance of vocal behaviour. Nat Rev Neurosci 1(1):31–40

Brainard MS, Doupe AJ (2001) Postlearning consolidation of birdsong: stabilizing effects of age and anterior forebrain lesions. J Neurosci 21(7):2501–2517

Brainard MS, Doupe AJ (2002) What songbirds teach us about learning. Nature 417(6886):351–358

Brainard MS, Doupe AJ (2013) Translating birdsong: songbirds as a model for basic and applied medical research. Annu Rev Neurosci 36(1):489–517

Brass M, Muhle-Karbe PS (2014) More than associations: an ideomotor perspective on mirror neurons. Behav Brain Sci 37(2):195–196

Brown E, Brüne M (2012) The role of prediction in social neuroscience. Front Hum Neurosci 6(147):eCollection 2012

Brown H, Adams R, Parees I, Edwards M, Friston K (2013) Active inference, sensory attenuation and illusions. Cogn Process 14(4):411–427

Bruderer AG, Kyle Danielson D, Kandhadai P, Werker JF (2015) Sensorimotor influences on speech perception in infancy. Proc Natl Acad Sci USA 112(44):13531–13536

Buccino G, Riggio L, Melli G, Binkofski F, Gallese V, Rizzolatti G (2005) Listening to action-related sentences modulates the activity of the motor system: a combined TMS and behavioral study. Cogn Brain Res 24(3):355–363

Butler AJ, James KH (2013) Active learning of novel sound-producing objects: motor reactivation and enhancement of visuo-motor connectivity. J Cogn Neurosci 25(2):203–218

Butler AJ, James TW, James KH (2011) Enhanced multisensory integration and motor reactivation after active motor learning of audiovisual associations. J Cogn Neurosci 23(11):3515–3528

Caetano G, Jousmäki V, Hari R (2007) Actor's and observer's primary motor cortices stabilize similarly after seen or heard motor actions. Proc Natl Acad Sci USA 104(21):9058–9062

Caligiore D, Pezzulo G, Miall RC, Baldassarre G (2013) The contribution of brain sub-cortical loops in the expression and acquisition of action understanding abilities. Neurosci Biobehav Rev 37(10):2504–2515

Casile A (2013) Mirror neurons (and beyond) in the macaque brain: an overview of 20 years of research. Neurosci Lett 540:3–14

Catmur C (2013) Sensorimotor learning and the ontogeny of the mirror neuron system. Neurosci Lett 540:21–27

Catmur C, Press C, Heyes C (2015) Mirror neurons from associative learning. In: The Wiley handbook on the cognitive neuroscience of learning, pp 515–537

Chagnaud BP, Bass AH (2013) Vocal corollary discharge communicates call duration to vertebrate auditory system. J Neurosci 33(48):18775–18780

Charlesworth JD, Tumer EC, Warren TL, Brainard MS (2011) Learning the microstructure of successful behavior. Nat Neurosci 14(3):373–380

Chen X, Striano T, Rakoczy H (2004) Auditory-oral matching behavior in newborns. Dev Sci 7(1):42–47

Chen JL, Penhune VB, Zatorre RJ (2008) Listening to musical rhythms recruits motor regions of the brain. Cereb Cortex 18(12):2844–2854

Chen CMA, Mathalon DH, Roach BJ, Cavus I, Spencer DD, Ford JM (2011) The corollary discharge in humans is related to synchronous neural oscillations. J Cogn Neurosci 23(10):2892–2904

Cheung C, Hamiton LS, Johnson K, Chang EF (2016) The auditory representation of speech sounds in human motor cortex. eLife 5(e12577):eCollection 2016

Cogan GB, Thesen T, Carlson C, Doyle W, Devinsky O, Pesaran B (2014) Sensory-motor transformations for speech occur bilaterally. Nature 507(7490):94–98

Coll MP, Bird G, Catmur C, Press C (2015) Cross-modal repetition effects in the mu rhythm indicate tactile mirroring during action observation. Cortex 63:121–131

Cook R (2012) The ontogenetic origins of mirror neurons: evidence from 'tool-use' and 'audiovisual' mirror neurons. Biol Lett 8(5):856–859

Cook R, Bird G, Catmur C, Press C, Heyes C (2014) Mirror neurons: from origin to function. Behav Brain Sci 37(2):177–192

Correia JM, Jansma BMB, Bonte M (2015) Decoding articulatory features from fMRI responses in dorsal speech regions. J Neurosci 35(45):15015–15025

Crapse TB, Sommer MA (2008) Corollary discharge across the animal kingdom. Nat Rev Neurosci 9(8):587–600

Creutzfeldt O, Ojemann G, Lettich E (1989) Neuronal activity in the human lateral temporal lobe. II. Responses to the subjects own voice. Exp Brain Res 77(3):476–489

D'Ausilio A, Altenmüller E, Olivetti Belardinelli M, Lotze M (2006) Cross-modal plasticity of the motor cortex while listening to a rehearsed musical piece. Eur J Neurosci 24(3):955–958

D'Ausilio A, Maffongelli L, Bartoli E, Campanella M, Ferrari E, Berry J, Fadiga L (2014) Listening to speech recruits specific tongue motor synergies as revealed by transcranial magnetic stimulation and tissue-Doppler ultrasound imaging. Philos Trans R Soc B Biol Sci 369(1644):20130418

De Groof G, Verhoye M, Poirier C, Leemans A, Eens M, Darras VM, Van Der Linden A (2009) Structural changes between seasons in the songbird auditory forebrain. J Neurosci 29(43):13557–13565

Del Giudice M, Manera V, Keysers C (2009) Programmed to learn? The ontogeny of mirror neurons. Dev Sci 12(2):350–363

Deshpande M, Pirlepesov F, Lints T (2014) Rapid encoding of an internal model for imitative learning. Proc R Soc B Biol Sci 281(1781):eCollection 2014

Desmurget M, Grafton S (2000) Forward modeling allows feedback control for fast reaching movements. Trends Cogn Sci 4(11):423–431

Di Pellegrino G, Fadiga L, Fogassi L, Gallese V, Rizzolatti G (1992) Understanding motor events: a neurophysiological study. Exp Brain Res 91(1):176–180

Donaldson IML (2000) The functions of the proprioceptors of the eye muscles. Philos Trans R Soc B Biol Sci 355(1404):1685–1754

Du Y, Buchsbaum BR, Grady CL, Alain C (2014) Noise differentially impacts phoneme representations in the auditory and speech motor systems. Proc Natl Acad Sci USA 111(19):7126–7131

Eenshuistra RM, Weidema MA, Hommel B (2004) Development of the acquisition and control of action–effect associations. Acta Psychol (Amst) 115(2–3):185–209

Ego C, Yüksel D, Orban de Xivry JJ, Lefèvre P (2015) Development of internal models and predictive abilities for visual tracking during childhood. J Neurophysiol 115(1):301–309

Eliades SJ, Wang X (2003) Sensory-motor interaction in the primate auditory cortex during self-initiated vocalizations. J Neurophys 89:2194–2207

Eliades SJ, Wang X (2005) Dynamics of auditory-vocal interaction in monkey auditory cortex. Cerebral Cortex 15:1510–1523

Elsner B, Hommel B (2001) Effect anticipation and action control. J Exp Psychol Hum Percept Perform 27(1):229–240

Elsner B, Hommel B (2004) Contiguity and contingency in action–effect learning. Psychol Res 68(2–3):138–154

Emberson LL, Richards JE, Aslin RN (2015) Top-down modulation in the infant brain: learning-induced expectations rapidly affect the sensory cortex at 6 months. Proc Natl Acad Sci USA 112(31):9585–9590

Emberson LL, Boldin AM, Riccio JE, Guillet R, Aslin RN (2017) Deficits in top-down sensory prediction in infants at risk due to premature birth. Curr Biol 27(3):431–436

Engel LR, Frum C, Puce A, Walker NA, Lewis JW (2009) Different categories of living and non-living sound-sources activate distinct cortical networks. NeuroImage 47(4):1778–1791

Enticott PG, Kennedy HA, Bradshaw JL, Rinehart NJ, Fitzgerald PB (2011) Motor corticospinal excitability during the observation of interactive hand gestures. Brain Res Bull 85(3–4):89–95

Fadiga L, Craighero L, Buccino G, Rizzolatti G (2002) Speech listening specifically modulates the excitability of tongue muscles: a TMS study. Eur J Neurosci 15(2):399–402

Faisal AA, Selen LPJ, Wolpert DM (2008) Noise in the nervous system. Nat Rev Neurosci 9(4):292–303

Farrant M, Nusser Z (2005) Variations on an inhibitory theme: phasic and tonic activation of GABA A receptors. Nat Rev Neurosci 6(3):215–229

Fecteau S, Carmant L, Tremblay C, Robert M, Bouthillier A, Théoret H (2004) A motor resonance mechanism in children? Evidence from subdural electrodes in a 36-month-old child. NeuroReport 15(17):2625–2627

Ferrera VP, Barborica A (2010) Internally generated error signals in monkey frontal eye field during an inferred motion task. J Neurosci 30(35):11612–11623

Fiete IR, Fee MS, Seung HS (2007) Model of birdsong learning based on gradient estimation by dynamic perturbation of neural conductances. J Neurophysiol 98(4):2038–2057

Fogassi L, Ferrari PF, Gesierich B, Rozzi S, Chersi F, Rizzolotti G (2005) Neuroscience: parietal lobe: From action organization to intention understanding. Science 308(5722):662–667

Folstein JR, Van Petten C (2008) Influence of cognitive control and mismatch on the N2 component of the ERP: a review. Psychophysiology 45(1):152–170

Forbes JG, Morris HD, Wang K (2006) Multimodal imaging of the sonic organ of Porichthys notatus, the singing midshipman fish. Mag Res Imag 24:321–331

Ford JM, Roach BJ, Mathalon DH (2010) Assessing corollary discharge in humans using noninvasive neurophysiological methods. Nat Protoc 5(6):1160–1168

Franklin David W, Wolpert Daniel M (2011) Computational mechanisms of sensorimotor control. Neuron 72(3):425–442

Frenkel-Toledo S, Bentin S, Perry A, Liebermann DG, Soroker N (2014) Mirror-neuron system recruitment by action observation: effects of focal brain damage on mu suppression. NeuroImage 87:127–137

Friston K (2011) What is optimal about motor control? Neuron 72(3):488–498

Friston KJ, Frith CD (2015) Active inference, communication and hermeneutics. Cortex 68:129–143

Friston K, Mattout J, Kilner J (2011) Action understanding and active inference. Biol Cybern 104(1–2):137–160

Friston K, Rigoli F, Ognibene D, Mathys C, Fitzgerald T, Pezzulo G (2015) Active inference and epistemic value. Cogn Neurosci 6(4):187–214

Fukushima M, Margoliash D (2015) The effects of delayed auditory feedback revealed by bone conduction microphone in adult zebra finches. Sci Rep 5:8800

Gallese V, Fadiga L, Fogassi L, Rizzolatti G (1996) Action recognition in the premotor cortex. Brain 119(2):593–609

Gallese V, Gernsbacher MA, Heyes C, Hickok G, Iacoboni M, Glenberg AM (2011) Mirror neuron forum. Perspect Psychol Sci 6(4):369–407

Gallistel CR, Matzel LD (2013) The neuroscience of learning: beyond the Hebbian synapse. Annu Rev Psychol. doi:10.1146/annurev-psych-113011-143807

Gaser C, Schlaug G (2003) Brain structures differ between musicians and non-musicians. J Neurosci 23(27):9240–9245

Gauvin HS, De Baene W, Brass M, Hartsuiker RJ (2016) Conflict monitoring in speech processing: an fMRI study of error detection in speech production and perception. NeuroImage 126:96–105

Gaveau V, Pisella L, Priot A-E, Fukui T, Rossetti Y, Pélisson D, Prablanc C (2014) Automatic online control of motor adjustments in reaching and grasping. Neuropsychologia 55:25–40

Gazzola V, Aziz-Zadeh L, Keysers C (2006) Empathy and the somatotopic auditory mirror system in humans. Curr Biol 16(18):1824–1829

Gebel B, Braun C, Kaza E, Altenmüller E, Lotze M (2013) Instrument specific brain activation in sensorimotor and auditory representation in musicians. NeuroImage 74:37–44

Gerson SA, Bekkering H, Hunnius S (2015) Short-term motor training, but not observational training, alters neurocognitive mechanisms of action processing in infancy. J Cogn Neurosci 27(6):1207–1214

Giret N, Kornfeld J, Ganguli S, Hahnloser RHR (2014) Evidence for a causal inverse model in an avian cortico-basal ganglia circuit. Proc Biol Sci 111(16):6063–6068

Glenberg AM, Sato M, Cattaneo L (2008) Use-induced motor plasticity affects the processing of abstract and concrete language. Curr Biol 18(7):R290–R291

Grush R (2004) The emulation theory of representation: motor control, imagery, and perception. Behav Brain Sci 27(3):377–396

Hamaguchi K, Tschida KA, Yoon I, Donald BR, Mooney R (2014) Auditory synapses to song premotor neurons are gated off during vocalization in zebra finches. eLife 3:eCollection 2014

Hamilton AFDC (2015) The neurocognitive mechanisms of imitation. Curr Opin Behav Sci 3:63–67

Hanuschkin A, Ganguli S, Hahnloser RHR (2013) A Hebbian learning rule gives rise to mirror neurons and links them to control theoretic inverse models. Front Neural Circuits 7(106):eCollection 2013

Hashimoto Y, Sakai KL (2003) Brain activations during conscious self-monitoring of speech production with delayed auditory feedback: an fMRI study. Hum Brain Mapp 20(1):22–28

Haueisen J, Knösche TR (2001) Involuntary motor activity in pianists evoked by music perception. J Cogn Neurosci 13(6):786–792

Hauk O, Shtyrov Y, Pulvermüller F (2006) The sound of actions as reflected by mismatch negativity: rapid activation of cortical sensory-motor networks by sounds associated with finger and tongue movements. Eur J Neurosci 23(3):811–821

Hauk O, Shtyrov Y, Pulvermüller F (2008) The time course of action and action-word comprehension in the human brain as revealed by neurophysiology. J Physiol Paris 102(1–3):50–58

Hebb D (1949) The organization of behavior: a neuropsychological theory. Wiley, New York

Heyes C (2013) A new approach to mirror neurons: developmental history, system-level theory and intervention experiments. Cortex 49(10):2946–2948

Hickok G (2012) Computational neuroanatomy of speech production. Nat Rev Neurosci 13(2):135–145

Hickok G, Costanzo M, Capasso R, Miceli G (2011a) The role of Broca's area in speech perception: evidence from aphasia revisited. Brain Lang 119(3):214–220

Hickok G, Houde J, Rong F (2011b) Sensorimotor integration in speech processing: computational basis and neural organization. Neuron 69(3):407–422

Hobson HM, Bishop DVM (2016) Mu suppression—a good measure of the human mirror neuron system? Cortex 82:290–310

Hoffmann J, Lenhard A, Sebald A, Pfister R (2009) Movements or targets: what makes an action in action–effect learning? Q J Exp Psychol 62(12):2433–2449

Hommel B, Musseler J, Aschersleben G, Prinz W (2001) The theory of event coding (TEC): a framework for perception and action planning. Behav Brain Sci 24(5):849–878 (discussion 878-937)

Hyde KL, Lerch J, Norton A, Forgeard M, Winner E, Evans AC, Schlaug G (2009) The effects of musical training on structural brain development: a longitudinal study. Ann N Y Acad Sci. doi:10.1111/j.1749-6632.2009.04852.x

James LS, Sakata JT (2014) Vocal motor changes beyond the sensitive period for song plasticity. J Neurophysiol 112(9):2040–2052

Jordan MI, Rumelhart DE (1992) Forward models: supervised learning with a distal teacher. Cogn Sci 16(3):307–354

Kaplan JT, Iacoboni M (2007) Multimodal action representation in human left ventral premotor cortex. Cogn Process 8(2):103–113

Katz LC, Gurney ME (1981) Auditory responses in the zebra finch's motor system for song. Brain Res 221(1):192–197

Kawato M, Furukawa K, Suzuki R (1987) A hierarchical neural-network model for control and learning of voluntary movement. Biol Cybern 57(3):169–185

Kawato M, Kuroda T, Imamizu H, Nakano E, Miyauchi S, Yoshioka T (2003) Internal forward models in the cerebellum: fMRI study on grip force and load force coupling. Prog Brain Res 142:171–188

Keysers C, Gazzola V (2014) Hebbian learning and predictive mirror neurons for actions, sensations and emotions. Philos Trans R Soc B Biol Sci 369(1644):20130175

Keysers C, Perrett DI (2004) Demystifying social cognition: a Hebbian perspective. Trends Cogn Sci 8(11):501–507

Keysers C, Kohler E, Umiltà MA, Nanetti L, Fogassi L, Gallese V (2003) Audiovisual mirror neurons and action recognition. Exp Brain Res 153(4):628–636

Kilner JM, Friston KJ, Frith CD (2007a) The mirror-neuron system: a Bayesian perspective. NeuroReport 18(6):619–623

Kilner JM, Friston KJ, Frith CD (2007b) Predictive coding: an account of the mirror neuron system. Cogn Process 8(3):159–166

Kim AJ, Fenk LM, Lyu C, Maimon G (2017) Quantitative predictions orchestrate visual signaling in Drosophila. Cell 168(1–2):280–294

Knolle F, Schröger E, Baess P, Kotz SA (2012) The cerebellum generates motor-to-auditory predictions: ERP lesion evidence. J Cogn Neurosci 24(3):698–706

Kohler E, Keysers C, Umilta MA, Fogassi L et al (2002) Hearing sounds, understanding actions: action representation in mirror neurons. Science 297(5582):846–848

Konishi M (1965) The role of auditory feedback in the control of vocalization in the white-crowned sparrow 1. Z Tierpsychol 22(7):770–783

Körding KP, Wolpert DM (2006) Bayesian decision theory in sensorimotor control. Trends Cogn Sci 10(7):319–326

Kort NS, Nagarajan SS, Houde JF (2014) A bilateral cortical network responds to pitch perturbations in speech feedback. NeuroImage 86:525–535

Kozhevnikov AA, Fee MS (2007) Singing-related activity of identified HVC neurons in the zebra finch. J Neurophysiol 97(6):4271–4283

Kuebrich BD, Sober SJ (2015) Variations on a theme: songbirds, variability, and sensorimotor error correction. Neuroscience 296:48–54

Kunde W (2003) Temporal response-effect compatibility. Psychol Res 67(3):153–159

Lahav A, Saltzman E, Schlaug G (2007) Action representation of sound: audiomotor recognition network while listening to newly acquired actions. J Neurosci 27(2):308–314

Lappe C, Herholz SC, Trainor LJ, Pantev C (2008) Cortical plasticity induced by short-term unimodal and multimodal musical training. J Neurosci 28(39):9632–9639

Leonardo A (2004) Experimental test of the birdsong error-correction model. Proc Natl Acad Sci USA 101(48):16935–16940

Leonardo A, Konishi M (1999) Decrystallization of adult birdsong by perturbation of auditory feedback. Nature 399(6735):466–470

Lewandowski B, Vyssotski A, Hahnloser RHR, Schmidt M (2013) At the interface of the auditory and vocal motor systems: NIf and its role in vocal processing, production and learning. J Physiol Paris 107(3):178–192

Lewis JW, Brefczynski JA, Phinney RE, Janik JJ, DeYoe EA (2005) Distinct cortical pathways for processing tool versus animal sounds. J Neurosci 25(21):5148–5158

Liberman AM, Mattingly IG (1985) The motor theory of speech perception revised. Cognition 21(1):1–36

Liberman AM, Cooper FS, Shankweiler DP, Studdert-Kennedy M (1967) Perception of the speech code. Psychol Rev 74(6):431–461

Lombardino AJ, Nottebohm F (2000) Age at deafening affects the stability of learned song in adult male zebra finches. J Neurosci 20(13):5054–5064

Maeda K, Ishida H, Nakajima K, Inase M, Murata A (2015) Functional properties of parietal hand manipulation-related neurons and mirror neurons responding to vision of own hand action. J Cogn Neurosci 27(3):560–572

Maes PJ, Leman M, Palmer C, Wanderley MM (2014) Action-based effects on music perception. Front Psychol 4(1008):eCollection 2014

Magrassi L, Aromataris G, Cabrini A, Annovazzi-Lodi V, Moro A (2015) Sound representation in higher language areas during language generation. Proc Natl Acad Sci USA 112(6):1868–1873

Maieron M, Marin D, Fabbro F, Skrap M (2013) Seeking a bridge between language and motor cortices: A PPI study. Front Hum Neurosci 7(249):eCollection 2013

Mandelblat-Cerf Y, Las L, Denissenko N, Fee M (2014) A role for descending auditory cortical projections in songbird vocal learning. eLife 2014(3):e02152

Mathias B, Palmer C, Perrin F, Tillmann B (2014) Sensorimotor learning enhances expectations during auditory perception. Cereb Cortex 25(8):2238–2254

Mathias B, Tillmann B, Palmer C (2016) Sensory, cognitive, and sensorimotor learning effects in recognition memory for music. J Cogn Neurosc 28(8):1111–1126

McCasland JS, Konishi M (1981) Interaction between auditory and motor activities in an avian song control nucleus. Proc Natl Acad Sci USA 78(12):7815–7819

McCloskey DI (2011) Corollary discharges: motor commands and perception. In: comprehensive physiology 2011, supplement 2: handbook of physiology, the neverous system, motor control: 1415–1447. Wiley, New York

Meister IG, Wilson SM, Deblieck C, Wu AD, Iacoboni M (2007) The essential role of premotor cortex in speech perception. Curr Biol 17(19):1692–1696

Meyer M, Braukmann R, Stapel JC, Bekkering H, Hunnius S (2016) Monitoring others' errors: the role of the motor system in early childhood and adulthood. Br J Dev Psychol 34(1):66–85

Miall RC (2003) Connecting mirror neurons and forward models. NeuroReport 14(17):2135–2137

Miall RC, Wolpert DM (1995) The cerebellum as a predictive model of the motor system: a Smith predictor hypothesis. In: Ferrell W, Proske U (eds) Neural control of movement. Springer, New York, pp 215–223

Miall RC, Wolpert DM (1996) Forward models for physiological motor control. Neural Netw 9(8):1265–1279

Miall RC, Weir DJ, Wolpert DM, Stein JF (1993) Is the cerebellum a smith predictor? J Mot Behav 25(3):203–216

Molnar-Szakacs I, Overy K (2006) Music and mirror neurons: from motion to 'e'motion. Soc Cogn Affect Neurosci 1(3):235–241

Mooney R (2014) Auditory-vocal mirroring in songbirds. Philos Trans R Soc B Biol Sci 369(1644):20130179

Moorman S, Mello CV, Bolhuis JJ (2011) From songs to synapses: molecular mechanisms of birdsong memory. BioEssays 33(5):377–385

Morrison RG, Nottebohm F (1993) Role of a telencephalic nucleus in the delayed song learning of socially isolated zebra finches. J Neurobiol 24(8):1045–1064

Moseley R, Carota F, Hauk O, Mohr B, Pulvermüller F (2012) A role for the motor system in binding abstract emotional meaning. Cereb Cortex 22(7):1634–1647

Möttönen R, Watkins KE (2009) Motor representations of articulators contribute to categorical perception of speech sounds. J Neurosci 29(31):9819–9825

Möttönen R, Rogers J, Watkins KE (2014) Stimulating the lip motor cortex with transcranial magnetic stimulation. J Vis Exp 88(2014):51665

Moulin-Frier C, Arbib MA (2013) Recognizing speech in a novel accent: the motor theory of speech perception reframed. Biol Cybern 107(4):421–447

Moulin-Frier C, Laurent R, Bessière P, Schwartz JL, Diard J (2012) Adverse conditions improve distinguish ability of auditory, motor, and perceptuo-motor theories of speech perception: an exploratory Bayesian modelling study. Lang Cogn Process 27(7–8):1240–1263

Mueller-Preuss P, Ploog D (1981) Inhibition of auditory cortical neurons during phonation. Brain Res 215(1–2):61–76

Mukamel R, Ekstrom AD, Kaplan J, Iacoboni M, Fried I (2010) Single-neuron responses in humans during execution and observation of actions. Curr Biol 20(8):750–756

Mutschler I, Schulze-Bonhage A, Glauche V, Demandt E, Speck O, Ball T (2007) A rapid sound-action association effect in human insular cortex. PLoS ONE 2(2):e259

Naatanen R, Picton T (1987) The N1 wave of the human electric and magnetic response to sound: a review and an analysis of the component structure. Psychophysiology 24(4):375–425

Nelson A, Schneider DM, Takatoh J, Sakurai K, Wang F, Mooney R (2013) A circuit for motor cortical modulation of auditory cortical activity. J Neurosci 33(36):14342–14353

Nick TA (2014) Models of vocal learning in the songbird: historical frameworks and the stabilizing critic. Dev Neurobiol 75(10):1091–1113

Nick TA, Konishi M (2005) Neural auditory selectivity develops in parallel with song. J Neurobiol 62(4):469–481

Nordeen KW, Nordeen EJ (1992) Auditory feedback is necessary for the maintenance of stereotyped song in adult zebra finches. Behav Neural Biol 57(1):58–66

Nottebohm F, Stokes TM, Leonard CM (1976) Central control of song in the canary, Serinus canarius. J Comp Neurol 165(4):457–486

Nuttall HE, Kennedy-Higgins D, Hogan J, Devlin JT, Adank P (2016) The effect of speech distortion on the excitability of articulatory motor cortex. NeuroImage 128:218–226

Oliveri M, Finocchiaro C, Shapiro K, Gangitano M, Caramazza A, Pascual-Leone A (2004) All talk and no action: a transcranial magnetic stimulation study of motor cortex activation during action word production. J Cogn Neurosci 16(3):374–381

Osmanski MS, Dooling RJ (2009) The effect of altered auditory feedback on control of vocal production in budgerigars (Melopsittacus undulatus). J Acoust Soc Am 126(2):911–919

Oztop E, Kawato M, Arbib MA (2013) Mirror neurons: functions, mechanisms and models. Neurosci Lett 540:43–55

Pantev C, Herholz SC (2011) Plasticity of the human auditory cortex related to musical training. Neurosci Biobehav Rev 35(10):2140–2154

Papeo L, Pascual-Leone A, Caramazza A (2013) Disrupting the brain to validate hypotheses on the neurobiology of language. Front Hum Neurosci 7(148):eCollection 2013

Paulus M, Hunnius S, Van Elk M, Bekkering H (2012) How learning to shake a rattle affects 8-month-old infants' perception of the rattle's sound: electrophysiological evidence for action–effect binding in infancy. Dev Cogn Neurosci 2(1):90–96

Peng Z, Zeng S, Liu Y, Dong Y, Zhang H, Zhang X, Zuo M (2012a) Comparative study on song behavior, and ultra-structural, electrophysiological and immunoreactive properties in RA among deafened, untutored and normal-hearing Bengalese finches. Brain Res 1458:40–55

Peng Z, Zhang X, Xi C, Zeng S, Liu N, Zuo M, Zhang X (2012b) Changes in ultra-structures and electrophysiological properties in HVC of untutored and deafened Bengalese finches relation to normally reared birds: implications for song learning. Brain Res Bull 89(5–6):211–222

Peterburs J, Gajda K, Koch B, Schwarz M, Hoffmann KP, Daum I, Bellebaum C (2012) Cerebellar lesions alter performance monitoring on the antisaccade task—an event-related potentials study. Neuropsychologia 50(3):379–389

Pfister R, Kiesel A, Hoffmann J (2011) Learning at any rate: action–effect learning for stimulus-based actions. Psychol Res 75(1):61–65

Pickering MJ, Clark A (2014) Getting ahead: forward models and their place in cognitive architecture. Trends Cogn Sci 18(9):451–456

Pickering MJ, Garrod S (2013) An integrated theory of language production and comprehension. Behav Brain Sci 36(04):329–347

Pineda JA, Grichanik M, Williams V, Trieu M, Chang H, Keysers C (2013) EEG sensorimotor correlates of translating sounds into actions. Front Neurosci 7(203):eCollection 2013

Porrill J, Dean P, Anderson SR (2013) Adaptive filters and internal models: multilevel description of cerebellar function. Neural Netw 47:134–149

Poulet JFA (2005) Corollary discharge inhibition and audition in the stridulating cricket. J Comp Physiol A Neuroethol Sens Neural Behav Physiol 191(11):979–986

Poulet JFA, Hedwig B (2002) A corollary discharge maintains auditory sensitivity during sound production. Nature 418(6900):872–876

Prather JF (2013) Auditory signal processing in communication: perception and performance of vocal sounds. Hear Res 305(1):144–155

Prather JF, Peters S, Nowicki S, Mooney R (2008) Precise auditory-vocal mirroring in neurons for learned vocal communication. Nature 451(7176):305–310

Prather JF, Nowicki S, Anderson RC, Peters S, Mooney R (2009) Neural correlates of categorical perception in learned vocal communication. Nat Neurosci 12(2):221–228

Prather J, Okanoya K, Bolhuis JJ (2017) Brains for birds and babies: neural parallels between birdsong and speech acquisition. Neurosci Biobehav Rev. doi:10.1016/j.neubiorev.2016.12.035

Price PH (1979) Developmental determinants of structure in zebra finch song. J Comp Physiol Psychol 93(2):260–277

Proverbio AM, Calbi M, Manfredi M, Zani A (2014) Audio-visuomotor processing in the Musician's brain: an ERP study on professional violinists and clarinetists. Sci Rep 4(29):eCollection 2104

Pulvermüller F (2005) Brain mechanisms linking language and action. Nat Rev Neurosci 6(7):576–582

Pulvermüller F, Huss M, Kherif F, Del Prado Martin FM, Hauk O, Shtyrov Y (2006) Motor cortex maps articulatory features of speech sounds. Proc Natl Acad Sci USA 103(20):7865–7870

Ramaswami M (2014) Network plasticity in adaptive filtering and behavioral habituation. Neuron 82(6):1216–1229

Reilly J, Harnish S, Garcia A, Hung J, Rodriguez AD, Crosson B (2014) Lesion symptom mapping of manipulable object naming in nonfluent aphasia: can a brain be both embodied and disembodied? Cogn Neuropsychol 31(4):287–312

Repetto C, Colombo B, Cipresso P, Riva G (2013) The effects of rTMS over the primary motor cortex: the link between action and language. Neuropsychologia 51(1):8–13

Requarth T, Sawtell NB (2014) Plastic corollary discharge predicts sensory consequences of movements in a cerebellum-like circuit. Neuron 82(4):896–907

Rizzolatti G, Fogassi L (2014) The mirror mechanism: recent findings and perspectives. Philos Trans R Soc B Biol Sci 369(1644):20130420

Rizzolatti G, Fadiga L, Gallese V, Fogassi L (1996) Premotor cortex and the recognition of motor actions. Cogn Brain Res 3(2):131–141

Rizzolatti G, Cattaneo L, Fabbri-Destro M, Rozzi S (2014) Cortical mechanisms underlying the organization of goal-directed actions and mirror neuron-based action understanding. Physiol Rev 94(2):655–706

Roberts TF, Mooney R (2013) Motor circuits help encode auditory memories of vocal models used to guide vocal learning. Hear Res 303:48–57

Rogalsky C, Love T, Driscoll D, Anderson SW, Hickok G (2011) Are mirror neurons the basis of speech perception? Evidence from five cases with damage to the purported human mirror system. Neurocase (Psychology Press) 17(2):178–187

Rogalsky C, Raphel K, Tomkovicz V, O'Grady L, Damasio H, Bellugi U, Hickok G (2013) Neural basis of action understanding: evidence from sign language aphasia. Aphasiology 27(9):1147–1158

Roy AC, Craighero L, Fabbri-Destro M, Fadiga L (2008) Phonological and lexical motor facilitation during speech listening: a transcranial magnetic stimulation study. J Physiol Paris 102(1–3):101–105

Sakata JT, Brainard MS (2006) Real-time contributions of auditory feedback to avian vocal motor control. J Neurosci 26(38):9619–9628

Sakata JT, Brainard MS (2008) Online contributions of auditory feedback to neural activity in avian song control circuitry. J Neurosci 28(44):11378–11390

Sato M, Mengarelli M, Riggio L, Gallese V, Buccino G (2008) Task related modulation of the motor system during language processing. Brain Lang 105(2):83–90

Sawtell NB (2017) Neural mechanisms for predicting the sensory consequences of behavior: insights from electrosensory systems. Annu Rev Physiol. doi:10.1146/annurev-physiol-021115-105003

Schneider DM, Mooney R (2015) Motor-related signals in the auditory system for listening and learning. Curr Opin Neurobiol 33:78–84

Schneider DM, Nelson A, Mooney R (2014) A synaptic and circuit basis for corollary discharge in the auditory cortex. Nature 513(7517):189–194

Schomers MR, Pulvermüller F (2016) Is the sensorimotor cortex relevant for speech perception and understanding? An integrative review. Front Hum Neurosci 10(435):eCollection 2016

Schomers MR, Kirilina E, Weigand A, Bajbouj M, Pulvermüller F (2015) Causal influence of articulatory motor cortex on comprehending single spoken words: TMS evidence. Cereb Cortex 25(10):3894–3902

Scorolli C, Jacquet PO, Binkofski F, Nicoletti R, Tessari A, Borghi AM (2012) Abstract and concrete phrases processing differentially modulates cortico-spinal excitability. Brain Res 1488:60–71

Scott LL, Nordeen EJ, Nordeen KW (2007) LMAN lesions prevent song degradation after deafening without reducing HVC neuron addition. Dev Neurobiol 67(11):1407–1418

Scott SK, McGettigan C, Eisner F (2009) A little more conversation, a little less action—candidate roles for the motor cortex in speech perception. Nat Rev Neurosci 10(4):295–302

Shadmehr R, Smith MA, Krakauer JW (2010) Error correction, sensory prediction, and adaptation in motor control. Annu Rev Neurosci 33:89–108

Shebani Z, Pulvermüller F (2013) Moving the hands and feet specifically impairs working memory for arm- and leg-related action words. Cortex 49(1):222–231

Sherwin J, Sajda P (2013) Musical experts recruit action-related neural structures in harmonic anomaly detection: Evidence for embodied cognition in expertise. Brain Cogn 83(2):190–202

Shin YK, Proctor RW, Capaldi EJ (2010) A review of contemporary ideomotor theory. Psychol Bull 136(6):943–974

Singla S, Dempsey C, Warren R, Enikolopov AG, Sawtell NB (2017) A cerebellum-like circuit in the auditory system cancels responses to self-generated sounds. Nat Neurosci 20(7):943–950

Slater J, Kraus N (2016) The role of rhythm in perceiving speech in noise: a comparison of percussionists, vocalists and non-musicians. Cogn Process 17(1):79–87

Smalle EHM, Rogers J, Möttönen R (2015) Dissociating contributions of the motor cortex to speech perception and response bias by using transcranial magnetic stimulation. Cereb Cortex 25(10):3690–3698

Sober SJ, Brainard MS (2009) Adult birdsong is actively maintained by error correction. Nat Neurosci 12(7):927–931

Sommer MA, Wurtz RH (2002) A pathway in primate brain for internal monitoring of movements. Science 296(5572):1480–1482

Sperry RW (1950) Neural basis of the spontaneous optokinetic response produced by visual inversion. J Comp Physiol Psychol 43(6):482–489

Stasenko A, Garcea FE, Mahon BZ (2013) What happens to the motor theory of perception when the motor system is damaged? Lang Cogn 5(2–3):225–238

Stasenko A, Bonn C, Teghipco A, Garcea FE, Sweet C, Dombovy M, McDonough J, Mahon BZ (2015) A causal test of the motor theory of speech perception: a case of impaired speech production and spared speech perception. Cogn Neuropsychol 32(2):38–57

Stupacher J, Hove MJ, Novembre G, Schütz-Bosbach S, Keller PE (2013) Musical groove modulates motor cortex excitability: a TMS investigation. Brain Cogn 82(2):127–136

Summerfield C, De Lange FP (2014) Expectation in perceptual decision making: neural and computational mechanisms. Nat Rev Neurosci 15(11):745–756

Tchernichovski O, Lints T, Mitra PP, Nottebohm F (1999) Vocal imitation in zebra finches is inversely related to model abundance. Proc Natl Acad Sci USA 96(22):12901–12904

Tian X, Poeppel D (2012) Mental imagery of speech: linking motor and perceptual systems through internal simulation and estimation. Front Hum Neurosci 6(314):eCollection 2012

Tian X, Poeppel D (2014) Dynamics of self-monitoring and error detection in speech production: evidence from mental imagery and MEG. J Cogn Neurosci 27(2):352–364

Tian X, Zarate JM, Poeppel D (2016) Mental imagery of speech implicates two mechanisms of perceptual reactivation. Cortex 77:1–12

Ticini LF, Schütz-Bosbach S, Weiss C, Casile A, Waszak F (2012) When sounds become actions: higher-order representation of newly learned action sounds in the human motor system. J Cogn Neurosci 24(2):464–474

Todorov E (2004) Optimality principles in sensorimotor control. Nat Neurosci 7(9):907–915

Tomasino B, Weiss PH, Fink GR (2010) To move or not to move: imperatives modulate action-related verb processing in the motor system. Neuroscience 169(1):246–258

Tourville JA, Reilly KJ, Guenther FH (2008) Neural mechanisms underlying auditory feedback control of speech. NeuroImage 39(3):1429–1443

Tremblay P, Sato M, Small SL (2012) TMS-induced modulation of action sentence priming in the ventral premotor cortex. Neuropsychologia 50(2):319–326

Troyer TW, Doupe AJ (2000) An associational model of birdsong sensorimotor learning I. Efference copy and the learning of song syllables. J Neurophysiol 84(3):1204–1223

Tumer EC, Brainard MS (2007) Performance variability enables adaptive plasticity of 'crystallized' adult birdsong. Nature 450(7173):1240–1244

Umiltà MA, Kohler E, Gallese V, Fogassi L, Fadiga L, Keysers C, Rizzolatti G (2001) I know what you are doing: a neurophysiological study. Neuron 31(1):155–165

Umiltà MA, Escola L, Intskirveli I, Grammont F, Rochat M, Caruana F, Jezzini A, Gallese V, Rizzolatti G (2008) When pliers become fingers in the monkey motor system. Proc Natl Acad Sci 105(6):2209–2213

van Dam WO, Rueschemeyer SA, Bekkering H (2010) How specifically are action verbs represented in the neural motor system: an fMRI study. NeuroImage 53(4):1318–1325

Van Elk M, Salomon R, Kannape O, Blanke O (2014) Suppression of the N1 auditory evoked potential for sounds generated by the upper and lower limbs. Biol Psychol 102(1):108–117

Vaquero L, Hartmann K, Ripollés P, Rojo N, Sierpowska J, François C, Càmara E, van Vugt FT, Mohammadi B, Samii A, Münte TF, Rodríguez-Fornells A, Altenmüller E (2016) Structural neuroplasticity in expert pianists depends on the age of musical training onset. NeuroImage 126:106–119

Verschoor SA, Eenshuistra RM, Kray J, Biro S, Hommel B (2012) Explicit learning of arbitrary and non-arbitrary action–effect relations in adults and 4-year-olds. Front Psychol 2(354):eCollection 2012

von Helmholtz H (1924) Mechanism of accommodation. In: Southall JPC (ed) Helmholtz's treatise on physiological optics, vol 1 (trans from the 3rd German edn). Optical Society of America, Rochester, pp 143–172

von Holst E (1954) Relations between the central nervous system and the peripheral organs. Br J Anim Behav 2(3):89–94

von Holst E, Mittelstaedt H (1950) Das reafferenzprinzip—wechselwirkungen zwischen zentralnervensystem und peripherie. Die Naturwissenschaften 37(20):464–476

Vyssotski AL, Stepien AE, Keller GB, Hahnloser RHR (2016) A neural code that is isometric to vocal output and correlates with its sensory consequences. PLoS Biol 14(10):eCollection 2016

Wang J, Mathalon DH, Roach BJ, Reilly J, Keedy SK, Sweeney JA, Ford JM (2014) Action planning and predictive coding when speaking. Neuroimage 91(2014):91–98

Watkins KE, Strafella AP, Paus T (2003) Seeing and hearing speech excites the motor system involved in speech production. Neuropsychologia 41(8):989–994

Webb B (2004) Neural mechanisms for prediction: do insects have forward models? Trends Neurosci 27(5):278–282

Weeg MS, Land BR, Bass AH (2005) Vocal pathways modulate efferent neurons to the inner ear and lateral line. J Neurosci 25(25):5967–5974

Weiss C, Herwig A, Schütz-Bosbach S (2011) The self in action effects: selective attenuation of self-generated sounds. Cognition 121(2):207–218

Wilson SM, Saygin AP, Sereno MI, Iacoboni M (2004) Listening to speech activates motor areas involved in speech production. Nat Neurosci 7(7):701–702

Wittenbach JD, Bouchard KE, Brainard MS, Jin DZ (2015) An adapting auditory–motor feedback loop can contribute to generating vocal repetition. PLoS Comput Biol 11(10):eCollection 2015

Wolpert DM (1997) Computational approaches to motor control. Trends Cogn Sci 1(6):209–216

Wolpert DM, Kawato M (1998) Multiple paired forward and inverse models for motor control. Neural Netw 11(7–8):1317–1329

Wolpert DM, Ghahramani Z, Jordan MI (1995) An internal model for sensorimotor integration. Science 269(5232):1880–1882

Wolpert DM, Miall RC, Kawato M (1998) Internal models in the cerebellum. Trends Cogn Sci 2(9):338–347

Wolpert DM, Doya K, Kawato M (2003) A unifying computational framework for motor control and social interaction. Philos Trans R Soc B Biol Sci 358(1431):593–602

Wolpert DM, Diedrichsen J, Flanagan JR (2011) Principles of sensorimotor learning. Nat Rev Neurosci 12(12):X739–751

Woolley SMN, Rubel EW (1997) Bengalese finches Lonchura striata domestica depend upon auditory feedback for the maintenance of adult song. J Neurosci 17(16):6380–6390

Wu ZM, Chen ML, Wu XH, Li L (2014) Interaction between auditory and motor systems in speech perception. Neurosci Bull 30(3):490–496

Yeung HH, Werker JF (2013) Lip movements affect infants' audiovisual speech perception. Psychol Sci 24(5):603–612

Zatorre RJ, Salimpoor VN (2013) From perception to pleasure: music and its neural substrates. Proc Natl Acad Sci 110(Supplement 2):10430–10437

Zatorre RJ, Chen JL, Penhune VB (2007) When the brain plays music: auditory–motor interactions in music perception and production. Nat Rev Neurosci 8(7):547–558
Acknowledgements
JH is funded by The Australian Research Council grants: FT100100322 and DP160102770.
About this article
Cite this article
Burgess, J.D., Lum, J.A.G., Hohwy, J. et al. Echoes on the motor network: how internal motor control structures afford sensory experience. Brain Struct Funct 222, 3865–3888 (2017). https://doi.org/10.1007/s00429-017-1484-1
Received:

Accepted:

Published:

Issue Date:

DOI: https://doi.org/10.1007/s00429-017-1484-1
Keywords