Abstract
It has long been held that the rise of neurons as a specialized cell type also marked the onset of the grand evolutionary journey for chemical synapses. Research over recent decades has shown, however, that the most dynamic chapters of synaptic history have been 'written' out of the context of neurobiology and neuronal evolution, dating back to the early metazoa and unicellular living forms. Here, I consider and discuss emerging evidence suggesting the exaptive origin of chemical synapses, via tinkering and neo-functionalization of already existent junctional morphologies and constituents of primeval paracrine signalling. Through combination and collateral use of long-established structures and functions, a remarkable enrichment of regulatory and control mechanisms of complex living organisms was achieved, without large-scale reorganization of the genome, with tremendous impact on the evolution and life on our planet.
Access options
Buy single article
Instant access to the full article PDF.
US$ 39.95
Tax calculation will be finalised during checkout.
Subscribe to journal
Immediate online access to all issues from 2019. Subscription will auto renew annually.
US$ 119
Tax calculation will be finalised during checkout.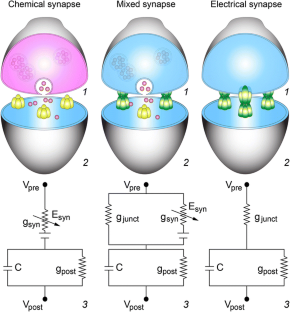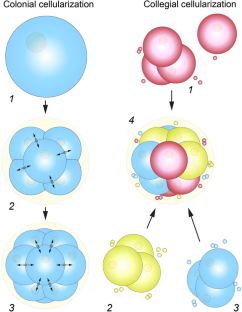 References
Abascal F, Zardoya R (2013) Evolutionary analyses of gap junction protein families. Biochim Et Biophys Acta Biomembr 1828:4–14

Bennett MV (1972) Electrical versus chemical neurotransmission. Res Publ Assoc Res Nerv Mental Dis 50:58–90

Bennett MV (2000) Electrical synapses, a personal perspective (or history). Brain Res Brain Res Rev 32(1):16–28

Bennett MV, Zukin RS (2004) Electrical coupling and neuronal synchronization in the Mammalian brain. Neuron 41:495–511

Bittman K, Owens DF, Kriegstein AR, LoTurco JJ (1997) Cell coupling and uncoupling in the ventricular zone of developing neocortex. J Neurosci 17:7037–7044

Bonner J (2000) First signal: the evolution of multicellular development. Princeton University Press, Oxford

Buhl DL, Buzsaki G (2005) Developmental emergence of hippocampal fast-field "ripple" oscillations in the behaving rat pups. Neuroscience 134:1423–1430

Cohen-Cory S (2002) The developing synapse: construction and modulation of synaptic structures and circuits. Science 298:770–776

Cowan W, Kandel E (2001) A brief history of synapse and synaptic transmission. The John Hopkins University Press, Baltimore

Darwin C (1859) On the origin of species by means of natural selection. J. Murray, London

Darwin C (1862) On the various contrivances by which British and foreign Orchids are fertilised by Insects, and on the good effects of intercrossing. John Murray, London

Eccles JC (1964) The physiology of synapses. Springer, Berlin

Emes RD, Grant SG (2012) Evolution of synapse complexity and diversity. Annu Rev Neurosci 35:111–131

Gould S (2002) The structure of evolutionary theory. Belknap Press of Harvard University Press, Cambridge

Gould S, Vrba E (1982) Exaptation—a missing term in the science of form. Paleobiology 8:4–15

Grant SG (2009) A general basis for cognition in the evolution of synapse signaling complexes. Cold Spring Harb Symp Quant Biol 74:249–257

Grosberg RK, Strathmann RR (2007) The evolution of multicellularity: a minor major transition? Annu Rev Ecol Evol Syst 38:621–654

Hormuzdi SG, Filippov MA, Mitropoulou G, Monyer H, Bruzzone R (2004) Electrical synapses: a dynamic signaling system that shapes the activity of neuronal networks. Biochim Biophys Acta 1662:113–137

Kloepper TH, Kienle CN, Fasshauer D (2007) An elaborate classification of SNARE proteins sheds light on the conservation of the eukaryotic endomembrane system. Mol Biol Cell 18:3463–3471

Kosik KS (2009) Exploring the early origins of the synapse by comparative genomics. Biol Lett 5:108–111

Lalli C, Parson T (2006) Biological oceanography: an introduction. Elsevier, Amsterdam

Lane N (2015) The vital question: why is life the way it is?. W.W. Notron & Company, Inc., New York

Moroz LL, Kohn AB (2016) Independent origins of neurons and synapses: insights from ctenophores. Philos Trans R Soc Lond B Biol Sci 371:20150041

Niculescu D, Lohmann C (2014) Gap junctions in developing thalamic and neocortical neuronal networks. Cereb Cortex 24:3097–3106

Ovsepian SV, Dolly JO (2011) Dendritic SNAREs add a new twist to the old neuron theory. Proc Natl Acad Sci USA 108:19113–19120

Ovsepian SV, Vesselkin NP (2014) Wiring prior to firing: the evolutionary rise of electrical and chemical modes of synaptic transmission. Rev Neurosci 25:821–832

Pereda AE (2014) Electrical synapses and their functional interactions with chemical synapses. Nat Rev Neurosci 15:250–263

Rash JE, Dillman RK, Bilhartz BL, Duffy HS, Whalen LR, Yasumura T (1996) Mixed synapses discovered and mapped throughout mammalian spinal cord. Proc Natl Acad Sci USA 93:4235–4239

Ryan TJ, Grant SG (2009) The origin and evolution of synapses. Nat Rev Neurosci 10:701–712

Sakarya O, Armstrong KA, Adamska M, Adamski M, Wang IF, Tidor B, Degnan BM, Oakley TH, Kosik KS (2007) A post-synaptic scaffold at the origin of the animal kingdom. PLoS One 2:e506

Shepherd GM (1988) Neurobiology, 2nd edn. Oxford University Press, New York

Shestopalov VI, Panchin Y (2008) Pannexins and gap junction protein diversity. Cell Mol Life Sci 65:376–394

Spitzer NC (2006) Electrical activity in early neuronal development. Nature 444:707–712

Szabo TM, Faber DS, Zoran MJ (2004) Transient electrical coupling delays the onset of chemical neurotransmission at developing synapses. J Neurosci 24:112–120

Todd KL, Kristan WB Jr, French KA (2010) Gap junction expression is required for normal chemical synapse formation. J Neurosci 30:15277–15285

Westfall IA (1996) Ultrastructure of synapses in the first-evolved nervous systems. J Neurocytol 25:735–746

Yuste R, Nelson DA, Rubin WW, Katz LC (1995) Neuronal domains in developing neocortex: mechanisms of coactivation. Neuron 14:7–17
Acknowledgements
The author thanks Dr. Tomas Ryan and Dr. Valerie B. O'Leary for reading and commenting on this manuscript.
About this article
Cite this article
Ovsepian, S.V. The birth of the synapse. Brain Struct Funct 222, 3369–3374 (2017). https://doi.org/10.1007/s00429-017-1459-2
Received:

Accepted:

Published:

Issue Date:
Keywords
Synaptic evolution

Chemical synapse

Exaptation

Gap junctions