Abstract
Limbs may fail to grow properly during fetal development, but the extent to which such growth alters the nervous system has not been extensively explored. Here we describe the organization of the somatosensory system in a 6-year-old monkey (Macaca radiata) born with a deformed left foot in comparison to the results from a normal monkey (Macaca fascicularis). Toes 1, 3, and 5 were missing, but the proximal parts of toes 2 and 4 were present. We used anatomical tracers to characterize the patterns of peripheral input to the spinal cord and brainstem, as well as between thalamus and cortex. We also determined the somatotopic organization of primary somatosensory area 3b of both hemispheres using multiunit electrophysiological recording. Tracers were subcutaneously injected into matching locations of each foot to reveal their representations within the lumbar spinal cord, and the gracile nucleus (GrN) of the brainstem. Tracers injected into the representations of the toes and plantar pads of cortical area 3b labeled neurons in the ventroposterior lateral nucleus (VPL) of the thalamus. Contrary to the orderly arrangement of the foot representation throughout the lemniscal pathway in the normal monkey, the plantar representation of the deformed foot was significantly expanded and intruded into the expected representations of toes in the spinal cord, GrN, VPL, and area 3b. We also observed abnormal representation of the intact foot in the ipsilateral spinal cord and contralateral area 3b. Thus, congenital malformation influences the somatotopic representation of the deformed as well as the intact foot.
Access options
Buy single article
Instant access to the full article PDF.
USD 39.95
Price includes VAT (USA)
Tax calculation will be finalised during checkout.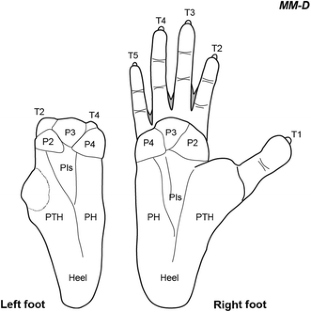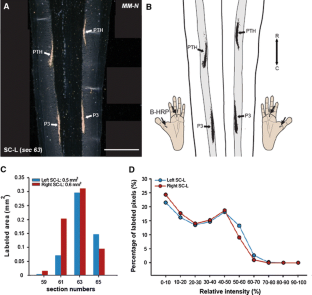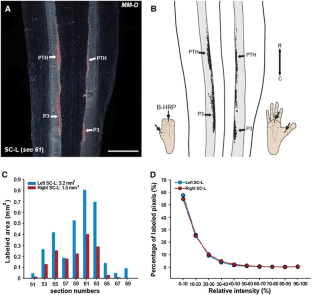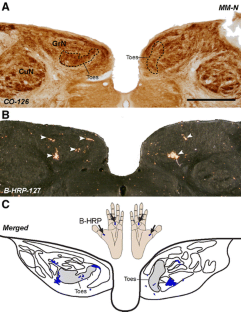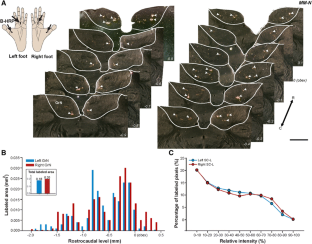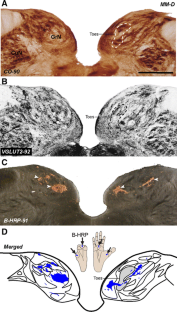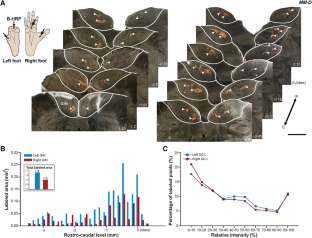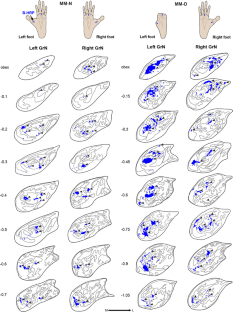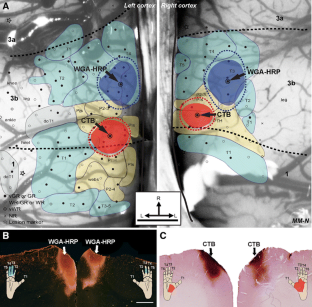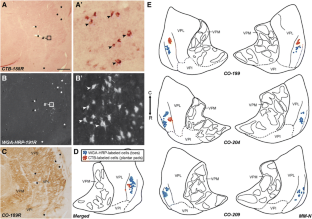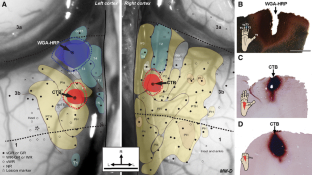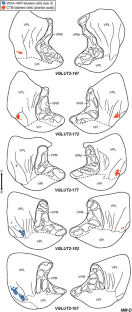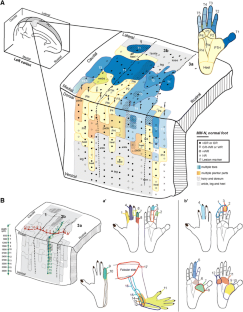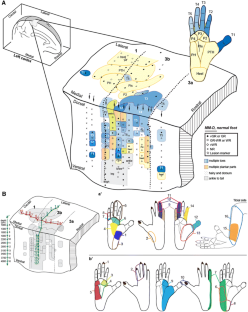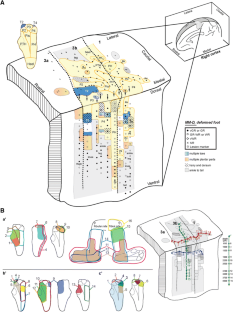 References
Abraira VE, Ginty DD (2013) The sensory neurons of touch. Neuron 79(4):618–639. doi:10.1016/j.neuron.2013.07.051

Angelucci A, Clasca F, Sur M (1996) Anterograde axonal tracing with the subunit B of cholera toxin: a highly sensitive immunohistochemical protocol for revealing fine axonal morphology in adult and neonatal brains. J Neurosci Methods 65(1):101–112

Balaram P, Hackett TA, Kaas JH (2013) Differential expression of vesicular glutamate transporters 1 and 2 may identify distinct modes of glutamatergic transmission in the macaque visual system. J Chem Neuroanat 50–51:21–38. doi:10.1016/j.jchemneu.2013.02.007

Beck PD, Kaas JH (1994) Interhemispheric connections in neonatal owl monkeys (Aotus trivirgatus) and galagos (Galago crassicaudatus). Brain Res 651(1–2):57–75

Blake DT, Byl NN, Merzenich MM (2002) Representation of the hand in the cerebral cortex. Behav Brain Res 135(1–2):179–184

Bowes C, Massey JM, Burish M, Cerkevich CM, Kaas JH (2012) Chondroitinase ABC promotes selective reactivation of somatosensory cortex in squirrel monkeys after a cervical dorsal column lesion. Proc Natl Acad Sci USA 109(7):2595–2600. doi:10.1073/pnas.1121604109

Bowes C, Burish M, Cerkevich C, Kaas J (2013) Patterns of cortical reorganization in the adult marmoset after a cervical spinal cord injury. J Comp Neurol 521(15):3451–3463. doi:10.1002/cne.23360

Brown PB, Fuchs JL (1975) Somatotopic representation of hindlimb skin in cat dorsal horn. J Neurophysiol 38(1):1–9

Buonomano DV, Merzenich MM (1998) Net interaction between different forms of short-term synaptic plasticity and slow-IPSPs in the hippocampus and auditory cortex. J Neurophysiol 80(4):1765–1774

Calford MB, Tweedale R (1990) Interhemispheric transfer of plasticity in the cerebral cortex. Science 249(4970):805–807

Chalupa LM, Killackey HP (1989) Process elimination underlies ontogenetic change in the distribution of callosal projection neurons in the postcentral gyrus of the fetal rhesus monkey. Proc Natl Acad Sci USA 86(3):1076–1079

Constantine-Paton M, Law MI (1982) The development of maps and stripes in the brain. Sci Am 247(6):62–70

Darian-Smith C (2004) Primary afferent terminal sprouting after a cervical dorsal rootlet section in the macaque monkey. J Comp Neurol 470(2):134–150. doi:10.1002/cne.11030

Darian-Smith C, Ciferri M (2006) Cuneate nucleus reorganization following cervical dorsal rhizotomy in the macaque monkey: its role in the recovery of manual dexterity. J Comp Neurol 498(4):552–565. doi:10.1002/cne.21088

Darian-Smith C, Gilbert CD (1994) Axonal sprouting accompanies functional reorganization in adult cat striate cortex. Nature 368(6473):737–740. doi:10.1038/368737a0

Dy CJ, Swarup I, Daluiski A (2014) Embryology, diagnosis, and evaluation of congenital hand anomalies. Curr Rev Musculoskelet Med. doi:10.1007/s12178-014-9201-7

Elbert T, Sterr A, Flor H, Rockstroh B, Knecht S, Pantev C, Wienbruch C, Taub E (1997) Input-increase and input-decrease types of cortical reorganization after upper extremity amputation in humans. Exp Brain Res 117(1):161–164

Flor H, Elbert T, Knecht S, Wienbruch C, Pantev C, Birbaumer N, Larbig W, Taub E (1995) Phantom-limb pain as a perceptual correlate of cortical reorganization following arm amputation. Nature 375(6531):482–484. doi:10.1038/375482a0

Flor H, Elbert T, Muhlnickel W, Pantev C, Wienbruch C, Taub E (1998) Cortical reorganization and phantom phenomena in congenital and traumatic upper-extremity amputees. Exp Brain Res 119(2):205–212

Florence SL, Kaas JH (1995) Large-scale reorganization at multiple levels of the somatosensory pathway follows therapeutic amputation of the hand in monkeys. J Neurosci 15(12):8083–8095

Florence SL, Wall JT, Kaas JH (1988) The somatotopic pattern of afferent projections from the digits to the spinal cord and cuneate nucleus in macaque monkeys. Brain Res 452(1–2):388–392

Florence SL, Jain N, Pospichal MW, Beck PD, Sly DL, Kaas JH (1996) Central reorganization of sensory pathways following peripheral nerve regeneration in fetal monkeys. Nature 381(6577):69–71. doi:10.1038/381069a0

Florence SL, Hackett TA, Strata F (2000) Thalamic and cortical contributions to neural plasticity after limb amputation. J Neurophysiol 83(5):3154–3159

Gabos PG (2006) Modified technique for the surgical treatment of congenital constriction bands of the arms and legs of infants and children. Orthopedics 29(5):401–404

Garraghty PE, Kaas JH (1991) Large-scale functional reorganization in adult monkey cortex after peripheral nerve injury. Proc Natl Acad Sci USA 88(16):6976–6980

Gibson AR, Hansma DI, Houk JC, Robinson FR (1984) A sensitive low artifact TMB procedure for the demonstration of WGA-HRP in the CNS. Brain Res 298(2):235–241

Gierer A, Muller CM (1995) Development of layers, maps and modules. Curr Opin Neurobiol 5(1):91–97

Goldman AS (1980) Critical periods of prenatal toxic insults. In: Schwarz RH (ed) Drug and chemical risks to the fetus and newborn. Wiley Liss, New York, pp 9–31

Hendrickx AG, Prahalada S (1986) Teratology and embryogenesis. In: Dukelow RW (ed) Comparative primate biology, vol V. Alan R. Liss Inc, New York, pp 333–362

Hickmott PW, Steen PA (2005) Large-scale changes in dendritic structure during reorganization of adult somatosensory cortex. Nat Neurosci 8(2):140–142. doi:10.1038/nn1384

Hubel DH, Wiesel TN (1970) The period of susceptibility to the physiological effects of unilateral eye closure in kittens. J Physiol 206(2):419–436

Jain N, Catania KC, Kaas JH (1997) Deactivation and reactivation of somatosensory cortex after dorsal spinal cord injury. Nature 386(6624):495–498. doi:10.1038/386495a0

Jain N, Florence SL, Qi HX, Kaas JH (2000) Growth of new brainstem connections in adult monkeys with massive sensory loss. Proc Natl Acad Sci USA 97(10):5546–5550. doi:10.1073/pnas.090572597

Jain N, Qi HX, Collins CE, Kaas JH (2008) Large-scale reorganization in the somatosensory cortex and thalamus after sensory loss in macaque monkeys. J Neurosci 28(43):11042–11060. doi:10.1523/JNEUROSCI.2334-08.2008

Jones EG (2000) Cortical and subcortical contributions to activity-dependent plasticity in primate somatosensory cortex. Annu Rev Neurosci 23:1–37. doi:10.1146/annurev.neuro.23.1.1

Jones EG (2007) The ventral nuclei. In: Jones EG (ed) The thalamus, vol 2, 2nd edn. Cambridge, New York, pp 775–795

Jones EG, Friedman DP (1982) Projection pattern of functional components of thalamic ventrobasal complex on monkey somatosensory cortex. J Neurophysiol 48(2):521–544

Jones EG, Pons TP (1998) Thalamic and brainstem contributions to large-scale plasticity of primate somatosensory cortex. Science 282(5391):1121–1125

Jones EG, Wise SP, Coulter JD (1979) Differential thalamic relationships of sensory-motor and parietal cortical fields in monkeys. J Comp Neurol 183(4):833–881. doi:10.1002/cne.901830410

Kaas JH, Catania KC (2002) How do features of sensory representations develop? BioEssays 24(4):334–343. doi:10.1002/bies.10076

Kaas JH, Nelson RJ, Sur M, Dykes RW, Merzenich MM (1984) The somatotopic organization of the ventroposterior thalamus of the squirrel monkey, Saimiri sciureus. J Comp Neurol 226(1):111–140. doi:10.1002/cne.902260109

Kaas JH, Qi HX, Burish MJ, Gharbawie OA, Onifer SM, Massey JM (2008) Cortical and subcortical plasticity in the brains of humans, primates, and rats after damage to sensory afferents in the dorsal columns of the spinal cord. Exp Neurol 209(2):407–416. doi:10.1016/j.expneurol.2007.06.014

Kievit J, Kuypers HG (1975) Subcortical afferents to the frontal lobe in the rhesus monkey studied by means of retrograde horseradish peroxidase transport. Brain Res 85(2):261–266. doi:10.1016/0006-8993(75)90079-7

Killackey HP, Chalupa LM (1986) Ontogenetic change in the distribution of callosal projection neurons in the postcentral gyrus of the fetal rhesus monkey. J Comp Neurol 244(3):331–348. doi:10.1002/cne.902440306

Killackey HP, Gould HJ 3rd, Cusick CG, Pons TP, Kaas JH (1983) The relation of corpus callosum connections to architectonic fields and body surface maps in sensorimotor cortex of new and old world monkeys. J Comp Neurol 219(4):384–419. doi:10.1002/cne.902190403

Killackey HP, Rhoades RW, Bennett-Clarke CA (1995) The formation of a cortical somatotopic map. Trends Neurosci 18(9):402–407

Koerber HR, Hobbs G, Brown PB (1993) Precision and variability of hindlimb representation in cat dorsal horn and implications for tactile localization. J Neurophysiol 70(6):2489–2501

Krubitzer L, Dooley JC (2013) Cortical plasticity within and across lifetimes: how can development inform us about phenotypic transformations? Front Hum Neurosci 7:620. doi:10.3389/fnhum.2013.00620

Liao CC, Gharbawie OA, Qi H, Kaas JH (2013) Cortical connections to single digit representations in area 3b of somatosensory cortex in squirrel monkeys and prosimian galagos. J Comp Neurol 521(16):3768–3790. doi:10.1002/cne.23377

Lin CS, Merzenich MM, Sur M, Kaas JH (1979) Connections of areas 3b and 1 of the parietal somatosensory strip with the ventroposterior nucleus in the owl monkey (Aotus trivirgatus). J Comp Neurol 185(2):355–371. doi:10.1002/cne.901850209

Loe PR, Whitsel BL, Dreyer DA, Metz CB (1977) Body representation in ventrobasal thalamus of macaque: a single-unit analysis. J Neurophysiol 40(6):1339–1355

Lokmane L, Proville R, Narboux-Neme N, Gyory I, Keita M, Mailhes C, Lena C, Gaspar P, Grosschedl R, Garel S (2013) Sensory map transfer to the neocortex relies on pretarget ordering of thalamic axons. Curr Biol 23(9):810–816. doi:10.1016/j.cub.2013.03.062

Luo L, Flanagan JG (2007) Development of continuous and discrete neural maps. Neuron 56(2):284–300. doi:10.1016/j.neuron.2007.10.014

Mayner L, Kaas JH (1986) Thalamic projections from electrophysiologically defined sites of body surface representations in areas 3b and 1 of somatosensory cortex of Cebus monkeys. Somatosens Res 4(1):13–29

Merzenich MM, Nelson RJ, Stryker MP, Cynader MS, Schoppmann A, Zook JM (1984) Somatosensory cortical map changes following digit amputation in adult monkeys. J Comp Neurol 224(4):591–605. doi:10.1002/cne.902240408

Montoya P, Ritter K, Huse E, Larbig W, Braun C, Topfner S, Lutzenberger W, Grodd W, Flor H, Birbaumer N (1998) The cortical somatotopic map and phantom phenomena in subjects with congenital limb atrophy and traumatic amputees with phantom limb pain. Eur J Neurosci 10(3):1095–1102

Mountcastle VB, Henneman E (1952) The representation of tactile sensibility in the thalamus of the monkey. J Comp Neurol 97(3):409–439

Nelson RJ, Kaas JH (1981) Connections of the ventroposterior nucleus of the thalamus with the body surface representations in cortical areas 3b and 1 of the cynomolgus macaque, (Macaca fascicularis). J Comp Neurol 199(1):29–64. doi:10.1002/cne.901990104

Nelson RJ, Sur M, Felleman DJ, Kaas JH (1980) Representations of the body surface in postcentral parietal cortex of Macaca fascicularis. J Comp Neurol 192(4):611–643. doi:10.1002/cne.901920402

Ogino T (2007) Clinical features and teratogenic mechanisms of congenital absence of digits. Dev Growth Differ 49(6):523–531. doi:10.1111/j.1440-169X.2007.00939.x

Padberg J, Krubitzer L (2006) Thalamocortical connections of anterior and posterior parietal cortical areas in New World titi monkeys. J Comp Neurol 497(3):416–435. doi:10.1002/cne.21005

Petko M, Veress G, Vereb G, Storm-Mathisen J, Antal M (2004) Commissural propriospinal connections between the lateral aspects of laminae III–IV in the lumbar spinal cord of rats. J Comp Neurol 480(4):364–377. doi:10.1002/cne.20356

Poggio GF, Mountcastle VB (1963) The functional properties of ventrobasal thalamic neuronsstudied in unanesthetized monkeys. J Neurophysiol 26:775–806

Pons TP, Kaas JH (1986) Corticocortical connections of area 2 of somatosensory cortex in macaque monkeys: a correlative anatomical and electrophysiological study. J Comp Neurol 248(3):313–335. doi:10.1002/cne.902480303

Pons TP, Garraghty PE, Ommaya AK, Kaas JH, Taub E, Mishkin M (1991) Massive cortical reorganization after sensory deafferentation in adult macaques. Science 252(5014):1857–1860

Pubols BH Jr (1968) Retrograde degeneration study of somatic sensory thalamocortical connections in brain of Virginia opossum. Brain Res 7(2):232–251

Qi HX, Kaas JH (2006) Organization of primary afferent projections to the gracile nucleus of the dorsal column system of primates. J Comp Neurol 499(2):183–217. doi:10.1002/cne.21061

Qi HX, Chen LM, Kaas JH (2011a) Reorganization of somatosensory cortical areas 3b and 1 after unilateral section of dorsal columns of the spinal cord in squirrel monkeys. J Neurosci 31(38):13662–13675. doi:10.1523/JNEUROSCI.2366-11.2011

Qi HX, Gharbawie OA, Wong P, Kaas JH (2011b) Cell-poor septa separate representations of digits in the ventroposterior nucleus of the thalamus in monkeys and prosimian galagos. J Comp Neurol 519(4):738–758. doi:10.1002/cne.22545

Qi HX, Gharbawie OA, Wynne KW, Kaas JH (2013) Impairment and recovery of hand use after unilateral section of the dorsal columns of the spinal cord in squirrel monkeys. Behav Brain Res 252:363–376. doi:10.1016/j.bbr.2013.05.058

Qi HX, Kaas JH, Reed JL (2014a) The reactivation of somatosensory cortex and behavioral recovery after sensory loss in mature primates. Front Syst Neurosci 8:84. doi:10.3389/fnsys.2014.00084

Qi HX, Reed JL, Gharbawie OA, Burish MJ, Kaas JH (2014b) Cortical neuron response properties are related to lesion extent and behavioral recovery after sensory loss from spinal cord injury in monkeys. J Neurosci 34(12):4345–4363. doi:10.1523/JNEUROSCI.4954-13.2014

Rausell E, Bickford L, Manger PR, Woods TM, Jones EG (1998) Extensive divergence and convergence in the thalamocortical projection to monkey somatosensory cortex. J Neurosci 18(11):4216–4232

Reed JL, Qi HX, Kaas JH (2011) Spatiotemporal properties of neuron response suppression in owl monkey primary somatosensory cortex when stimuli are presented to both hands. J Neurosci 31(10):3589–3601. doi:10.1523/JNEUROSCI.4310-10.2011

Schultz W, Wiesendanger R, Hess B, Ruffieux A, Wiesendanger M (1981) The somatotopy of the gracile nucleus in cats with agenesis of a hindfoot. Exp Brain Res 43(3–4):413–418

Sperry RW (1963) Chemoaffinity in the orderly growth of nerve fiber patterns and connections. Proc Natl Acad Sci USA 50:703–710

Stoeckel MC, Jorgens S, Witte OW, Seitz RJ (2005a) Reduced somatosensory hand representation in thalidomide-induced dysmelia as revealed by fMRI. Eur J Neurosci 21(2):556–562. doi:10.1111/j.1460-9568.2005.03866.x

Stoeckel MC, Pollok B, Witte OW, Seitz RJ, Schnitzler A (2005b) Shrinkage of somatosensory hand area in subjects with upper extremity dysmelia revealed by magnetoencephalography. J Neurophysiol 93(2):813–818. doi:10.1152/jn.00749.2004

van der Loos H, Dorfl J (1978) Does the skin tell the somatosensory cortex how to construct a map of the periphery? Neurosci Lett 7(1):23–30

Wall LB, Ezaki M, Oishi SN (2013) Management of congenital radial longitudinal deficiency: controversies and current concepts. Plast Reconstr Surg 132(1):122–128. doi:10.1097/PRS.0b013e318290fca5

Whitsel BL, Rustioni A, Dreyer DA, Loe PR, Allen EE, Metz CB (1978) Thalamic projections to S-I in macaque monkey. J Comp Neurol 178(3):385–409. doi:10.1002/cne.901780302

Willis WD Jr (2008) Physiological characteristics of sedon order somatosensory circuits in spinal cord and brainstem. In: Basbaum AI, Kaneko A, Shepherd GG (eds) The senses: a comprehensive reference, vol 6. Elsevier, UK, pp 87–110

Wong-Riley M (1979) Changes in the visual system of monocularly sutured or enucleated cats demonstrable with cytochrome oxidase histochemistry. Brain Res 171(1):11–28

Wu CW, Kaas JH (2002) The effects of long-standing limb loss on anatomical reorganization of the somatosensory afferents in the brainstem and spinal cord. Somatosens Mot Res 19(2):153–163. doi:10.1080/08990220220133261
Acknowledgments
This study is supported by National Institutes of Health Grant NS16446 to Jon H. Kaas and National Institutes of Health Grant NS067017 to Hui-Xin Qi. We are grateful to Laura Trice for help with histological procedures and Mary Feurtado for surgical assistance.
Conflict of interest
The authors declare that the research was conducted in the absence of any commercial or financial relationships that could be construed as a potential conflict of interest.
About this article
Cite this article
Liao, CC., Qi, HX., Reed, J.L. et al. Congenital foot deformation alters the topographic organization in the primate somatosensory system. Brain Struct Funct 221, 383–406 (2016). https://doi.org/10.1007/s00429-014-0913-7
Received:

Accepted:

Published:

Issue Date:
Keywords
Congenital limb deficiency

Macaque

Somatotopy

Plasticity

Reorganization