Abstract
Endoscopic ultrasound-guided fine-needle aspiration has become the common procedure for the diagnosis of pancreatic mass, and cytological examination is usually the first approach. Solid pseudopapillary neoplasm (SPN) cytologically represents papillary structures of branching capillaries surrounded by discohesive neoplastic cells. However, it may present various degrees of tissue degeneration, causing diagnostic challenges. Here, we report a 21-year-old female who had a 2-cm-sized mass in the pancreas head. Cytological examination revealed clumps of small round/oval cells that represented microcystic configurations with mucus, mimicking adenoid cystic carcinoma or mucinous adenocarcinoma. Cercariform cells, nuclear grooves/folding, and cytoplasmic vacuoles were not observed. Histopathological examination revealed confluent small glandular structures containing acidic mucus. The tumor cells were positively stained for β-catenin, CD10, and CD56, and negative for chromogranin A and E-cadherin, suggesting SPN, micropseudocystic variant. This variant has been scarcely described, but we should recognize it for accurate cytological triage of pancreatic tumors.
This is a preview of subscription content,
to check access.
Access this article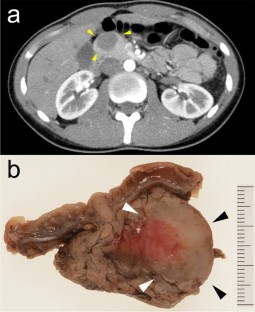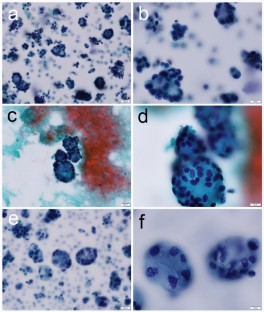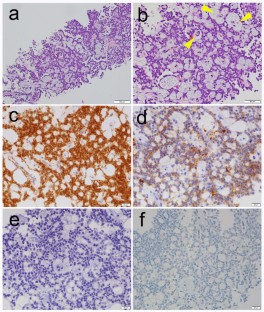 References
Rosa SL, Bongiovanni M (2020) Pancreatic solid pseudopapillary neoplasm. Arch Pathol Lab Med 144:829–837

Nishihara K, Nagoshi M, Tsuneyoshi M, Yamaguchi K, Hayashi I (1993) Papillary cystic tumors of the pancreas. Assess Malignant Potential Cancer 71(1):82–92

Vollmer CM Jr, Dixon E, Grant DR (2003) Management of a solid pseudopapillary tumor of the pancreas with liver metastases. HPB (Oxford) 5(4):264–267

Tipton SG, Smyrk TC, Sarr MG, Thompson GB (2006) Malignant potential of solid pseudopapillary neoplasm of the pancreas. Br J Surg 93(6):733–737

Klӧppel G, Basturk O, Kimstra DS, Lam AK, Notohara K (2019) Solid pseudopapillary neoplasm of the pancreas. In: the WHO Classification of Tumours Editorial Board (ed) WHO classification of tumours. Digestive system tumours, 5th edn. IARC Press, Lyon, 340−341

Ebbing J, Blind C, Stein H, Miller K, Loddenkemper C (2009) Metastasizing pleomorphic adenoma presenting as an asymptomatic kidney tumor twenty-nine years after parotidectomy - urological viewpoint and overview of the literature to date. Rare Tumors 1(2):e54

Soteldo J, Aranaga N (2017) Metastasizing pleomorphic adenoma of the parotid gland. Ecancermedicalscience 11:758

Koyama M, Terauchi T, Koizumi M, Tanaka H, Sato Y (2018) Metastasizing pleomorphic adenoma in the multiple organs: a case report on FDG-PET/CT imaging. Medicine 97(23):e11077

Falk GA, El-Hayek K, Morris-Stiff G, Tuthill RJ, Winans CG (2011) Adenoid cystic carcinoma of the base of the tongue: late metastasis to the pancreas. Int J Surg Case Rep 2(1):1–3

Wang BG, Mani H, Wang ZQ, Li W (2022) Cytological diagnosis of pancreatic solid-pseudopapillary neoplasm: a single-institution community practice experience. Diagnostics 12:449

Kakihara T, Fukuda T, Nemoto K, Ohnishi Y, Kusama K (1991) Unusual pancreatic tumor resembling solid and cystic tumor, with somatostatin production and aberrant crystalloid structures. Acta Pathol Jpn 41(8):629–635

Abe A, Ohishi Y, Miyazaki T, Ozono K, Mochidome N, Saeki K, Nakamura M, Oda Y (2018) 'Microcystic pattern' should be recognised as part of the morphological spectrum of solid-pseudopapillary neoplasm of the pancreas. Histopathology 72(2):216–226

Din NU, Rahim S, Abdul-Ghafar J, Ahmed A, Ahmad Z (2020) Clinicopathological and immunohistochemical study of 29 cases of solid-pseudopapillary neoplasms of the pancreas in patients under 20 years of age along with detailed review of literature. Diagn Pathol 15(1):139

Kim MJ, Jang SJ, Yu E (2008) Loss of E-cadherin and cytoplasmic-nuclear expression of beta-catenin are the most useful immunoprofiles in the diagnosis of solid-pseudopapillary neoplasm of the pancreas. Hum Pathol 39(2):251–258

Chetty R, Serra S (2009) Loss of expression of E-cadherin in solid pseudopapillary tumors of the pancreas. Pancreas 38(3):338
Ethics declarations
Ethics approval
This study was approved by the Ethics Committee of Ota Memorial Hospital (OR23011).
Consent to participate
The patient signed and agreed to the general patient consent according to ethical standards of Ota Memorial Hospital, allowing to use all images in this report.
Consent for publication
The patient signed and agreed to the general patient consent according to ethical standards of Ota Memorial Hospital, allowing to use all clinical information and images in this report.
Conflict of interest
The authors declare no competing interests.
Additional information
Publisher's note
Springer Nature remains neutral with regard to jurisdictional claims in published maps and institutional affiliations.
Supplementary Information
Below is the link to the electronic supplementary material.
About this article
Cite this article
Higuchi, Y., Kurihara, E., Kato, T. et al. An unusual cytological presentation of solid pseudopapillary neoplasm of the pancreas mimicking adenoid cystic carcinoma: a case report and literature review. Virchows Arch (2023). https://doi.org/10.1007/s00428-023-03569-8
Received:

Revised:

Accepted:

Published:

DOI: https://doi.org/10.1007/s00428-023-03569-8
Keywords