Abstract
Anaplastic thyroid carcinoma (ATC) is an aggressive malignant tumor composed of undifferentiated thyroid follicular cells. Pathological diagnosis of ATC can be challenging as the tumor may show morphological overlap with other neoplasms with anaplastic morphology. Immunohistochemical demonstration of thyroid origin facilitates the diagnosis of ATC. Previous studies using the polyclonal anti-PAX8 antibody 10336-1-AP suggested that PAX8 was the most sensitive marker, expressed in up to 80% of ATC. According to a 2018 NordiQC report, the monoclonal anti-PAX8 antibody MRQ-50 has become the most commonly used anti-PAX8 antibody worldwide. However, validation of this antibody in ATC is lacking. In this study, we recruited 182 ATC cases from seven institutions. Pathology slides were subjected to histology review. PAX8 immunohistochemistry using the MRQ-50 antibody was performed in whole tissue slides (n = 147) or tissue microarray sections (n = 35). We found PAX8 expression in 54.4% of the cases, which was significantly lower than those reported in prior studies with the polyclonal antibody. PAX8 expression was positively correlated with the presence of an epithelial pattern (63.6% vs 37.5%, p = 0.0008) and a coexisting differentiated thyroid carcinoma component (71.6% vs 44.3%, p = 0.0004), but was not associated with age, gender, specimen type, or presence of giant cell and sarcomatoid patterns. In conclusion, we demonstrated PAX8 expression using the monoclonal antibody MRQ-50 in only half of the cases in a large ATC series. Pathologists should be aware that PAX8 expression in ATC is less than those reported in early studies to avoid misdiagnosis.
Access options
Buy single article
Instant access to the full article PDF.
US$ 39.95
Tax calculation will be finalised during checkout.
Subscribe to journal
Immediate online access to all issues from 2019. Subscription will auto renew annually.
US$ 119
Tax calculation will be finalised during checkout.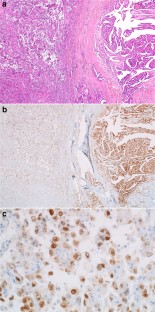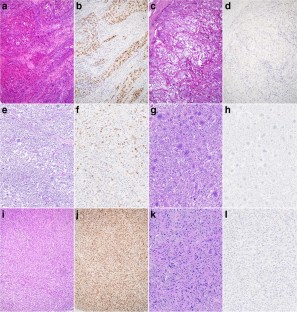 References
1.

Molinaro E, Romei C, Biagini A, Sabini E, Agate L, Mazzeo S, Materazzi G, Sellari-Franceschini S, Ribechini A, Torregrossa L, Basolo F, Vitti P, Elisei R (2017) Anaplastic thyroid carcinoma: from clinicopathology to genetics and advanced therapies. Nat Rev Endocrinol 13:644–660. https://doi.org/10.1038/nrendo.2017.76

2.

Toner M, Banville N, Timon CI (2014) Laryngotracheal presentation of anaplastic thyroid carcinoma with squamous differentiation: seven cases demonstrating an under-recognized diagnostic pitfall. Histopathology 65:501–507. https://doi.org/10.1111/his.12408

3.

Ragazzi M, Ciarrocchi A, Sancisi V, Gandolfi G, Bisagni A, Piana S (2014) Update on anaplastic thyroid carcinoma: morphological, molecular, and genetic features of the most aggressive thyroid cancer. Int J Endocrinol. https://doi.org/10.1155/2014/790834

4.

Bishop JA, Sharma R, Westra WH (2011) PAX8 immunostaining of anaplastic thyroid carcinoma: a reliable means of discerning thyroid origin for undifferentiated tumors of the head and neck. Hum Pathol 42:1873–1877. https://doi.org/10.1016/j.humpath.2011.02.004

5.

Rosai J, Kuhn E, Carcangiu ML (2006) Pitfalls in thyroid tumour pathology. Histopathology 49:107–120. https://doi.org/10.1111/j.1365-2559.2006.02451.x

6.

Nonaka D, Tang Y, Chiriboga L, Rivera M, Ghossein R (2007) Diagnostic utility of thyroid transcription factors Pax8 and TTF-2 (FoxE1) in thyroid epithelial neoplasms. Mod Pathol 21:192–200. https://doi.org/10.1038/modpathol.3801002

7.

Ordonez NG, El-Naggar AK, Hickey RC, Samaan NA (1991) Anaplastic thyroid carcinoma. Immunocytochemical study of 32 cases. Am J Clin Pathol 96:15–24

8.

Higgins SE, Barletta JA (2018) Applications of immunohistochemistry to endocrine pathology. Adv Anat Pathol 25:413–429. https://doi.org/10.1097/pap.0000000000000209

9.

Laury AR, Perets R, Piao H, Krane JF, Barletta JA, French C, Chirieac LR, Lis R, Loda M, Hornick JL, Drapkin R, Hirsch MS (2011) A comprehensive analysis of PAX8 expression in human epithelial tumors. Am J Surg Pathol 35:816–826. https://doi.org/10.1097/PAS.0b013e318216c112

10.

Becker N, Chernock RD, Nussenbaum B, Lewis JSJ (2014) Prognostic significance of β-Human chorionic gonadotropin and PAX8 expression in anaplastic thyroid carcinoma. Thyroid 24:319–326. https://doi.org/10.1089/thy.2013.0117

11.

Suzuki A, Hirokawa M, Takada N, Higuchi M, Yamao N, Kuma S, Daa T, Miyauchi A (2015) Diagnostic significance of PAX8 in thyroid squamous cell carcinoma. Endocr J 62:991–995. https://doi.org/10.1507/endocrj.EJ15-0226

12.

Moretti L, Medeiros LJ, Kunkalla K, Williams MD, Singh RR, Vega F (2011) N-terminal PAX8 polyclonal antibody shows cross-reactivity with N-terminal region of PAX5 and is responsible for reports of PAX8 positivity in malignant lymphomas. Mod Pathol 25:231–236. https://doi.org/10.1038/modpathol.2011.162

13.

Roge R, Nielsen O, Bzorek M, Nielsen S, Vyberg M (2018) NordiQC assessments of PAX8 immunoassays. Appl Immunohistochem Mol Morphol 26:221–224. https://doi.org/10.1097/pai.0000000000000651

14.

Kuhn E, Ragazzi M, Ciarrocchi A, Torricelli F, de Biase D, Zanetti E, Bisagni A, Corrado S, Uccella S, La Rosa S, Bongiovanni M, Losito S, Piana S (2019) Angiosarcoma and anaplastic carcinoma of the thyroid are two distinct entities: a morphologic, immunohistochemical, and genetic study. Mod Pathol 32:787–798. https://doi.org/10.1038/s41379-018-0199-z

15.

Bychkov A, Kakudo K, Hong S (2017) Current practices of thyroid fine-needle aspiration in Asia: a missing voice. J Pathol Transl Med 51:517–520. https://doi.org/10.4132/jptm.2017.09.27

16.

Lloyd RV, Osamura RY, Klöppel G, Rosai J (2017) WHO classification of tumours of endocrine organs, 4th edn. International Agency for Research on Cancer, Lyon

17.

Kakudo K, Wakasa T, Ohta Y, Yane K, Ito Y, Yamashita H (2015) Prognostic classification of thyroid follicular cell tumors using Ki-67 labeling index: risk stratification of thyroid follicular cell carcinomas. Endocr J 62:1–12. https://doi.org/10.1507/endocrj.EJ14-0293

18.

Chernock RD (2016) Immunohistochemistry of thyroid gland carcinomas: clinical utility and diagnostic pitfalls. Diagn Histopathol (Oxf) 22:184–190. https://doi.org/10.1016/j.mpdhp.2016.04.008

19.

Nikiforov YE, Biddinger PW, Thompson LD (2012) Diagnostic pathology and molecular genetics of the thyroid: a comprehensive guide for practicing thyroid pathology. Lippincott Williams & Wilkins, Philadelphia

20.

Ozcan A, Liles N, Coffey D, Shen SS, Truong LD (2011) PAX2 and PAX8 expression in primary and metastatic Müllerian epithelial tumors: a comprehensive comparison. Am J Surg Pathol 35:1837–1847. https://doi.org/10.1097/PAS.0b013e31822d787c

21.

Ozcan A, Shen SS, Hamilton C, Anjana K, Coffey D, Krishnan B, Truong LD (2011) PAX8 expression in non-neoplastic tissues, primary tumors, and metastatic tumors: a comprehensive immunohistochemical study. Mod Pathol 24:751–764. https://doi.org/10.1038/modpathol.2011.3

22.

Deeken-Draisey A, Yang G-Y, Gao J, Alexiev BA (2018) Anaplastic thyroid carcinoma: an epidemiologic, histologic, immunohistochemical, and molecular single-institution study. Hum Pathol 82:140–148. https://doi.org/10.1016/j.humpath.2018.07.027

23.

Liau J-Y, Tsai J-H, Jeng Y-M, Kuo K-T, Huang H-Y, Liang C-W, Yang C-Y (2016) The diagnostic utility of PAX8 for neuroendocrine tumors: an immunohistochemical reappraisal. Appl Immunohistochem Mol Morphol 24:57–63. https://doi.org/10.1097/pai.0000000000000149

24.

Conant JL, DeSarno M, Ambaye AB, Bryant R, Zenali M (2016) PAX stains in hematologic malignancies, a diagnostic pitfall: a comparative study evaluating monoclonal PAX8s, polyclonal PAX2, and PAX5. J Hematop 9:53–58. https://doi.org/10.1007/s12308-016-0266-7

25.

Hubbard EW, Nodit L, Van Meter S (2016) Undifferentiated malignant neoplasm involving parotid and thyroid: sampling and PAX8 cross-reactivity can obscure the diagnosis of lymphoma. Case Rep Pathol 5. https://doi.org/10.1155/2016/3291549
Contributions
A. Bychkov and J. Hang designed the study. W. Lai, J. Hang, C. Liu, Y. Bai, Z. Liu, H. Gu, S. Hong, J. Pyo, C. Jung, and A. Bychkov reviewed the slides and collected the data. W. Lai and J. Hang analyzed the data and performed the study. W. Lai, J. Hang, and A. Bychkov wrote the paper. K. Kakudo supervised the study and provided critical revision.
Funding
This study was supported by the research grant from Taipei Veterans General Hospital, Taipei, Taiwan (Grant No.: V108B-011).
Ethics declarations
This study was approved by the institutional review boards of the participating centers.
Conflict of interest
The authors declare that they have no conflict of interest.
Additional information
Publisher's note
Springer Nature remains neutral with regard to jurisdictional claims in published maps and institutional affiliations.
About this article
Cite this article
Lai, WA., Hang, JF., Liu, CY. et al. PAX8 expression in anaplastic thyroid carcinoma is less than those reported in early studies: a multi-institutional study of 182 cases using the monoclonal antibody MRQ-50. Virchows Arch 476, 431–437 (2020). https://doi.org/10.1007/s00428-019-02708-4
Received:

Revised:

Accepted:

Published:

Issue Date:
Keywords
Paired box gene 8 (PAX8)

Anaplastic thyroid carcinoma (ATC)

Undifferentiated thyroid carcinoma

Immunohistochemistry

MRQ-50