Abstract
Breast cancer is a highly heterogeneous disease. The efficacy of tailored therapeutic strategies relies on the precise detection of diagnostic biomarkers by immunohistochemistry (IHC). Therefore, considering the increasing incidence of breast cancer cases, a concomitantly time-efficient and accurate diagnosis is clinically highly relevant. Microfluidics is a promising innovative technology in the field of tissue diagnostic, enabling for rapid, reliable, and automated immunostaining. We previously reported the microfluidic-based HER2 (human epidermal growth factor receptor 2) detection in breast carcinomas to greatly correlate with the HER2 gene amplification level. Here, we aimed to develop a panel of microfluidic-based IHC protocols for prognostic and therapeutic markers routinely assessed for breast cancer diagnosis, namely HER2, estrogen/progesterone receptor (ER/PR), and Ki67 proliferation factor. The microfluidic IHC protocol for each marker was optimized to reach high staining quality comparable to the standard procedure, while concomitantly shortening the staining time to 16 min—excluding deparaffinization and antigen retrieval step—with a turnaround time reduction up to 7 folds. Comparison of the diagnostic score on 50 formaldehyde-fixed paraffin-embedded breast tumor resections by microfluidic versus standard staining showed high concordance (overall agreement: HER2 94%, ER 95.9%, PR 93.6%, Ki67 93.7%) and strong correlation (ρ coefficient: ER 0.89, PR 0.88, Ki67 0.87; p < 0.0001) for all the analyzed markers. Importantly, HER2 genetic reflex test for all discordant cases confirmed the scores obtained by the microfluidic technique. Overall, the microfluidic-based IHC represents a clinically validated equivalent approach to the standard chromogenic staining for rapid, accurate, and automated breast cancer diagnosis.
Access options
Buy single article
Instant access to the full article PDF.
USD 39.95
Price excludes VAT (USA)
Tax calculation will be finalised during checkout.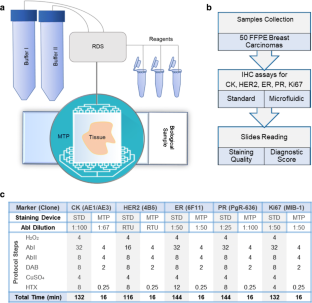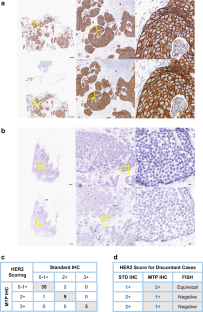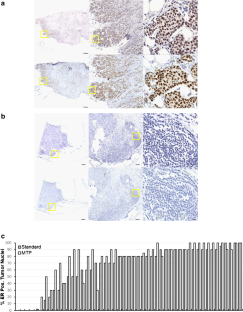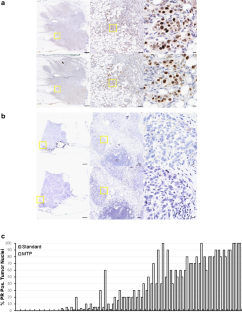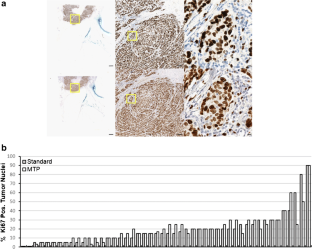 References
McGuire A, Brown J, Malone C, McLaughlin R, Kerin M (2015) Effects of age on the detection and management of breast cancer. Cancers (Basel) 7(2):908–929

Ferlay J, Soerjomataram I, Dikshit R, Eser S, Mathers C, Rebelo M, Parkin DM, Forman D, Bray F (2015) Cancer incidence and mortality worldwide: sources, methods and major patterns in GLOBOCAN 2012. Int J Cancer 136(5):E359–E386

Banin Hirata BK, Oda JM, Losi Guembarovski R, Ariza CB, de Oliveira CE, Watanabe MA (2014) Molecular markers for breast cancer: prediction on tumor behavior. Dis Markers 2014:513158

Zaha DC (2014) Significance of immunohistochemistry in breast cancer. World J Clin Oncol 5(3):382–392

Bandyopadhyay S, Bluth MH, Ali-Fehmi R (2018) Breast carcinoma: updates in molecular profiling 2018. Clin Lab Med 38(2):401–420

Ciftlik AT, Lehr H-A, Gijs MAM (2013) Microfluidic processor allows rapid HER2 immunohistochemistry of breast carcinomas and significantly reduces ambiguous (2+) read-outs. Proc Natl Acad Sci 110(14):5363–5368

Dupouy DG et al (2016) Continuous quantification of HER2 expression by microfluidic precision immunofluorescence estimates HER2 gene amplification in breast cancer. Sci Rep 6

Brajkovic S, Dupouy DG, De Leval L, Gijs MAM (2017) Microfluidics for rapid cytokeratin immunohistochemical staining in frozen sections. Lab Investig 97(8):983–991

Hammond MEH et al (2010) American Society of Clinical Oncology/College of American Pathologists guideline recommendations for immunohistochemical testing of estrogen and progesterone receptors in breast cancer. J Clin Oncol 28(16):2784–2795

Wolff AC, Hammond ME, Hicks DG, Dowsett M, McShane L, Allison KH, Allred DC, Bartlett JM, Bilous M, Fitzgibbons P, Hanna W, Jenkins RB, Mangu PB, Paik S, Perez EA, Press MF, Spears PA, Vance GH, Viale G, Hayes DF, American Society of Clinical Oncology, College of American Pathologists (2013) Recommendations for human epidermal growth factor receptor 2 testing in breast cancer: American Society of Clinical Oncology/College of American Pathologists clinical practice guideline update. TL - 31. J Clin Oncol 31(31):3997–4013

Coates AS et al (2015) Tailoring therapies-improving the management of early breast cancer: St Gallen International Expert Consensus on the Primary Therapy of Early Breast Cancer 2015. Ann Oncol

Nguyen HT, Trouillon R, Matsuoka S, Fiche M, de Leval L, Bisig B, Gijs MA (2017) Microfluidics-assisted fluorescence in situ hybridization for advantageous human epidermal growth factor receptor 2 assessment in breast cancer. Lab Investig 97(1):93–103

Troxell ML, Long T, Hornick JL, Ambaye AB, Jensen KC (2017) Comparison of estrogen and progesterone receptor antibody reagents using proficiency testing data. Arch Pathol Lab Med 141(10):1402–1412

Calhoun BC, Mosteller B, Warren D, Smith M, Jordi Rowe J, Lanigan CP, Mrazeck KC, Walker E, Newell AH, Jones R (2018) Analytical and clinical performance of progesterone receptor antibodies in breast cancer. Ann Diagn Pathol 35:21–26

Roepman P, Horlings HM, Krijgsman O, Kok M, Bueno-de-Mesquita JM, Bender R, Linn SC, Glas AM, van de Vijver M (2009) Microarray-based determination of estrogen receptor, progesterone receptor, and HER2 receptor status in breast cancer. Clin Cancer Res 15(22):7003–7011

Prat A et al (2013) Prognostic significance of progesterone receptor-positive tumor cells within immunohistochemically defined luminal a breast cancer. J Clin Oncol

Goldhirsch A, Winer EP, Coates AS, Gelber RD, Piccart-Gebhart M, Thürlimann B, Senn HJ, Albain KS, André F, Bergh J, Bonnefoi H, Bretel-Morales D, Burstein H, Cardoso F, Castiglione-Gertsch M, Coates AS, Colleoni M, Costa A, Curigliano G, Davidson NE, di Leo A, Ejlertsen B, Forbes JF, Gelber RD, Gnant M, Goldhirsch A, Goodwin P, Goss PE, Harris JR, Hayes DF, Hudis CA, Ingle JN, Jassem J, Jiang Z, Karlsson P, Loibl S, Morrow M, Namer M, Kent Osborne C, Partridge AH, Penault-Llorca F, Perou CM, Piccart-Gebhart MJ, Pritchard KI, Rutgers EJT, Sedlmayer F, Semiglazov V, Shao ZM, Smith I, Thürlimann B, Toi M, Tutt A, Untch M, Viale G, Watanabe T, Wilcken N, Winer EP, Wood WC (2013) Personalizing the treatment of women with early breast cancer: highlights of the St Gallen International Expert Consensus on the Primary Therapy of Early Breast Cancer 2013. Ann Oncol 24:2206–2223
Acknowledgments
The authors thank Noguet Véronique and Prod'Hom Nicole for performing BenchMark stainings, Cloé Bregnard and Monica Esteves for performing FISH analysis, and Jean-Daniel Roman for the support provided with digital imaging.
Ethics declarations
Conflict of interest
At the submission of the paper, DGD and SB are employed by Lunaphore Technologies SA, which is commercializing a microfluidic-based staining device. DGD and MAMG have equity interest in Lunaphore Technologies SA. The other authors declare no conflict of interest.
Ethical approval
A total of 50 FFPE breast cancer tissue specimens were retrieved from the Pathology Institute of the University Hospital of Lausanne (CHUV) between January 2016 and April 2017 with the ethical committee approval (protocol number 511-12).
Additional information
Publisher's note
Springer Nature remains neutral with regard to jurisdictional claims in published maps and institutional affiliations.
This article is part of the Topical Collection on Quality in Pathology
About this article
Cite this article
Aimi, F., Procopio, MG., Alvarez Flores, M.T. et al. Microfluidic-based immunohistochemistry for breast cancer diagnosis: a comparative clinical study. Virchows Arch 475, 313–323 (2019). https://doi.org/10.1007/s00428-019-02616-7
Received:

Revised:

Accepted:

Published:

Issue Date:

DOI: https://doi.org/10.1007/s00428-019-02616-7
Keywords