Abstract
Rab family protein Rab14 has been implicated in the development of human cancers. To date, its expression pattern, biological function, and potential mechanism in pancreatic cancer have not been explored. In this study, we analyzed Rab14 expression in 103 cases of pancreatic cancer tissues using immunohistochemistry (IHC) and found that Rab14 was overexpressed in 41/103 cases (39.8%). Rab14 overexpression correlated with the advanced stage. Moreover, elevated Rab14 levels indicated poor prognosis of patients with pancreatic cancers. We used BxPC-3 and Capan-2 respectively for plasmid and siRNA transfection. MTT and colony formation assays showed that Rab14 transfection increased cell proliferation and colony formation in BxPC-3 cells. Rab14 siRNA knockdown inhibits proliferation and colony formation ability in Capan-2 cell line. Cell cycle analysis showed that Rab14 facilitated cell cycle progression. Matrigel invasion assay showed that Rab14 promoted BxPC-3 cell invasion while its depletion inhibited Capan-2 cell invasion. In addition, MTT and AnnexinV/PI analysis demonstrated that overexpression of Rab14 reduced gemcitabine sensitivity which conversely was increased by Rab14 knockdown. We also demonstrated that Rab14 upregulated mitochondrial membrane potential (MMP) while its depletion downregulated MMP during gemcitabine treatment. In addition, western blotting revealed that Rab14 overexpression upregulated cyclin D1, cyclin A, cyclin E, p-Rb, and Bcl-2 and downregulated p21. Rab14 also downregulated caspase3, PARP cleavage, and cytochrome c release. In conclusion, our data indicated that Rab14 was overexpressed in pancreatic cancer and promotes growth and gemcitabine resistance, possibly through regulation of mitochondrial function and Bcl-2.
This is a preview of subscription content, log in to check access.
Access options
Buy single article
Instant access to the full article PDF.
US$ 39.95
Price includes VAT for USA
Subscribe to journal
Immediate online access to all issues from 2019. Subscription will auto renew annually.
US$ 199
This is the net price. Taxes to be calculated in checkout.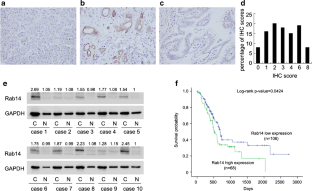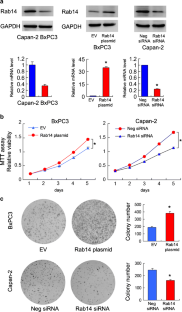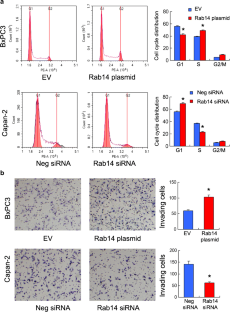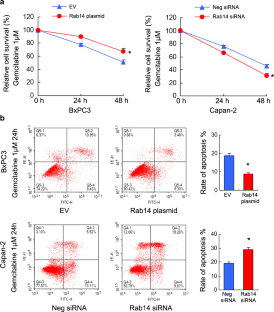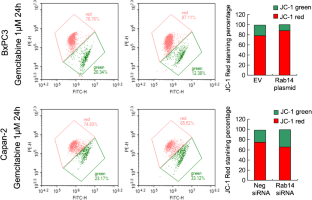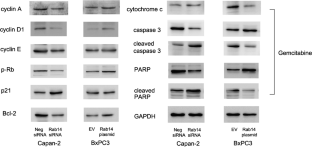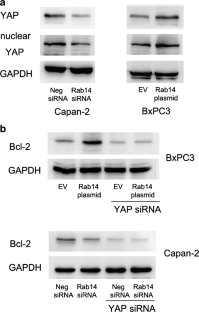 References
1.

Ilic M, Ilic I (2016) Epidemiology of pancreatic cancer. World J Gastroenterol 22:9694–9705

2.

Ferlay J, Soerjomataram I, Dikshit R, Eser S, Mathers C, Rebelo M, Parkin DM, Forman D, Bray F (2015) Cancer incidence and mortality worldwide: sources, methods and major patterns in GLOBOCAN 2012. Int J Cancer 136:E359–E386

3.

Koay EJ, Truty MJ, Cristini V, Thomas RM, Chen R, Chatterjee D, Kang Y', Bhosale PR, Tamm EP, Crane CH, Javle M, Katz MH, Gottumukkala VN, Rozner MA, Shen H, Lee JE, Wang H, Chen Y, Plunkett W, Abbruzzese JL, Wolff RA, Varadhachary GR, Ferrari M, Fleming JB (2014) Transport properties of pancreatic cancer describe gemcitabine delivery and response. J Clin Invest 124:1525–1536

4.

Takai Y, Sasaki T, Matozaki T (2001) Small GTP-binding proteins. Physiol Rev 81:153–208

5.

Wang R, Wang ZX, Yang JS, Pan X, De W, Chen LB (2011) MicroRNA-451 functions as a tumor suppressor in human non-small cell lung cancer by targeting ras-related protein 14 (RAB14). Oncogene 30:2644–2658

6.

Hou R, Jiang L, Yang Z, Wang S, Liu Q (2016) Rab14 is overexpressed in ovarian cancers and promotes ovarian cancer proliferation through Wnt pathway. Tumour Biol 37:16005

7.

Guo B, Wang W, Zhao Z, Li Q, Zhou K, Zhao L, Wang L, Yang J, Huang C (2017) Rab14 Act as oncogene and induce proliferation of gastric cancer Cells via AKT signaling pathway. PLoS One 12:e0170620

8.

Lian Q, Ma DM, Chen MG, Chen K, Li XJ (2017) Silencing Rab14 represses the proliferation and migration of oral squamous cell carcinoma, and enhances cisplatin sensitivity. Am J Transl Res 9:4195–4205

9.

Deer EL, Gonzalez-Hernandez J, Coursen JD et al (2010) Phenotype and genotype of pancreatic cancer cell lines. Pancreas 39:425–435

10.

Tzeng HT, Wang YC (2016) Rab-mediated vesicle trafficking in cancer. J Biomed Sci 23:70

11.

Kornmann M, Ishiwata T, Itakura J, Tangvoranuntakul P, Beger HG, Korc M (1998) Increased cyclin D1 in human pancreatic cancer is associated with decreased postoperative survival. Oncology 55:363–369

12.

Skalicky DA, Kench JG, Segara D, Coleman MJ, Sutherland RL, Henshall SM, Musgrove EA, Biankin AV (2006) Cyclin E expression and outcome in pancreatic ductal adenocarcinoma. Cancer Epidemiol Biomarkers Prev 15:1941–1947

13.

Yeo D, He H, Baldwin GS, Nikfarjam M (2015) The role of p21-activated kinases in pancreatic cancer. Pancreas 44:363–369

14.

Abbas T, Dutta A (2009) p21 in cancer: intricate networks and multiple activities. Nat Rev Cancer 9:400–414

15.

Engel BE, Cress WD, Santiago-Cardona PG (2015) The retinoblastoma protein: a master tumor suppressor acts as a link between cell cycle and cell adhesion. Cell Health Cytoskelet 7:1–10

16.

Chen X, Wong JY, Wong P, Radany EH (2011) Low-dose valproic acid enhances radiosensitivity of prostate cancer through acetylated p53-dependent modulation of mitochondrial membrane potential and apoptosis. Mol Cancer Res 9:448–461

17.

Dispersyn G, Nuydens R, Connors R, Borgers M, Geerts H (1999) Bcl-2 protects against FCCP-induced apoptosis and mitochondrial membrane potential depolarization in PC12 cells. Biochim Biophys Acta 1428:357–371

18.

Boehrer S, Chow KU, Beske F et al (2002) In lymphatic cells par-4 sensitizes to apoptosis by down-regulating bcl-2 and promoting disruption of mitochondrial membrane potential and caspase activation. Cancer Res 62:1768–1775

19.

Chen X, Gu W, Wang Q et al (2018) C-MYC and BCL-2 mediate YAP-regulated tumorigenesis in OSCC. Oncotarget 9:668–679

20.

Song Y, Fu J, Zhou M, Xiao L, Feng X, Chen H, Huang W (2016) Activated Hippo/yes-associated protein pathway promotes cell proliferation and anti-apoptosis in endometrial stromal cells of endometriosis. J Clin Endocrinol Metab 101:1552–1561

21.

Gundry C, Marco S, Rainero E, Miller B, Dornier E, Mitchell L, Caswell PT, Campbell AD, Hogeweg A, Sansom OJ, Morton JP, Norman JC (2017) Phosphorylation of Rab-coupling protein by LMTK3 controls Rab14-dependent EphA2 trafficking to promote cell:cell repulsion. Nat Commun 8:14646
Ethics declarations
This study was carried out according to the recommendations of the ethics committee of the First affiliated hospital of China Medical University.
The study was performed according to the standards set in the Declaration of Helsinki 1975.
Conflict of interest
The authors declare that they have no conflict of interest.
Electronic supplementary material
About this article
Cite this article
Ge, J., Ge, C. Rab14 overexpression regulates gemcitabine sensitivity through regulation of Bcl-2 and mitochondrial function in pancreatic cancer. Virchows Arch 474, 59–69 (2019). https://doi.org/10.1007/s00428-018-2455-5
Received:

Revised:

Accepted:

Published:

Issue Date:
Keywords
Rab14

pancreatic cancer

Bcl-2

proliferation

gemcitabine resistance