Abstract
Diagnostic pathology activities are largely based on fixation of tissues in 4% formaldehyde, which has recently been re-classified as a carcinogenic compound and banned in several countries. Hospitals that do not have in-house pathology services need to send surgical and biopsy specimens to referral centers. These are generally transferred in liquid containers, under suboptimal safety conditions, as accidental spillage of potentially dangerous substances may occur. A safe, innovative, two-step procedure for pathology sample transportation is presented. Formalin-fixed material from ten surgical cases was dissected (including surrogate biopsies) and preserved in liquid-free plastic bags under vacuum for up to 30 days and subsequently processed for conventional histology, several immunohistochemical markers, and molecular tests (e.g., RAS mutation). The data were compared with the corresponding routine analyses. Formalin-fixed specimens after up to 30 days under vacuum storage gave equivalent results compared to standard histopathological slides and molecular tests, regarding both hematoxylin-eosin, immuno-stained slides and also nucleic acid extracted for molecular tests. The proposal of under-vacuum sealing pathology specimens that were previously formalin fixed can be adopted to transfer liquid-free biopsy and surgical specimens to referral pathology services. In fact, it is easy to perform, less expensive (both plastic bags and domestic-type vacuum chamber machines are at affordable costs), and above all is fully safe and adequate in the pre-analytical processing of pathology specimens.
This is a preview of subscription content, log in to check access.
Access options
Buy single article
Instant access to the full article PDF.
US$ 39.95
Price includes VAT for USA
Subscribe to journal
Immediate online access to all issues from 2019. Subscription will auto renew annually.
US$ 199
This is the net price. Taxes to be calculated in checkout.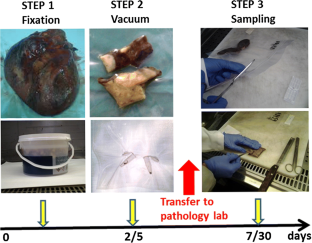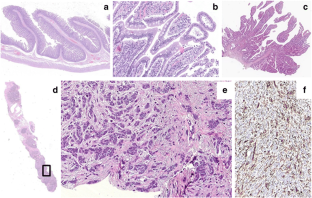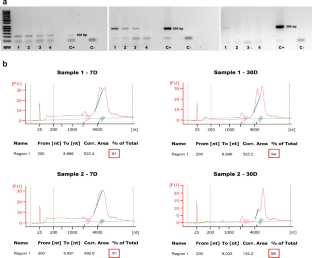 References
1.

Hewitt SM, Lewis FA, Cao Y, Conrad RC, Cronin M, Danenberg KD, Goralski TJ, Langmore JP, Raja RG, Williams PM, Palma JF, Warrington JA (2008) Tissue handling and specimen preparation in surgical pathology: issues concerning the recovery of nucleic acids from formalin-fixed, paraffin-embedded tissue. Arch Pathol Lab Med 132:1929–1935. https://doi.org/10.1043/1543-2165-132.12.1929

2.

Khoury T, Sait S, Hwang H, Chandrasekhar R, Wilding G, Tan D, Kulkarni S (2009) Delay to formalin fixation effect on breast biomarkers. Mod Pathol 22:1457–1467. https://doi.org/10.1038/modpathol.2009.117

3.

Adesina A, Chumba D, Nelson AM, Orem J, Roberts DJ, Wabinga H, Wilson M, Rebbeck TR (2013) Improvement of pathology in sub-Saharan Africa. Lancet Oncol 14:e152–e157. https://doi.org/10.1016/S1470-2045(12)70598-3

4.

Fox CH, Johnson FB, Whiting J, Roller PP (1985) Formaldehyde fixation. J Histochem Cytochem 33:845–853. https://doi.org/10.1177/33.8.3894502

5.

Cheng J, Zhang L, Tang Y, Li Z (2016) The toxicity of continuous long-term low-dose formaldehyde inhalation in mice. Immunopharmacol Immunotoxicol 38:495–501. https://doi.org/10.1080/08923973.2016.1248844

6.

Han RT, Back SK, Lee H, Lee J, Kim HY, Kim HJ, Na HS (2016) Formaldehyde-induced aggravation of pruritus and dermatitis is associated with the elevated expression of Th1 cytokines in a rat model of atopic dermatitis. PLoS One 11:e0168466. https://doi.org/10.1371/journal.pone.0168466

7.

European Parliament and Council of European Union (2008) Regulation (EC) No 1272/2008 on classification, labelling and packaging of substances and mixtures, amending and repealing Directives 67/548/EEC and 1999/45/EC, and amending Regulation (EC) No 1907/2006. Off J Eur Union L 353:1–1355

8.

International Agency for Research and Cancer, IARC (2012) Monographs on the evaluation of carcinogenic risks to humans. Chemical Agents and Related Occupations 100F:401–430 Lyon

9.

Bussolati G, Annaratone L, Berrino E, Miglio U, Panero M, Cupo M, Gugliotta P, Venesio T, Sapino A, Marchio C (2017) Acid-free glyoxal as a substitute of formalin for structural and molecular preservation in tissue samples. PLoS One 12:e0182965. https://doi.org/10.1371/journal.pone.0182965

10.

Bussolati G, Chiusa L, Cimino A, D'Armento G (2008) Tissue transfer to pathology labs: under vacuum is the safe alternative to formalin. Virchows Arch 452:229–231. https://doi.org/10.1007/s00428-007-0529-x

11.

Fischer AH, Jacobson KA, Rose J, Zeller R (2008) Hematoxylin and eosin staining of tissue and cell sections. CSH Protoc. pdb.prot4986. doi: https://doi.org/10.1101/pdb.prot4986

12.

Sapino A, Marchiò C, Senetta R, Castellano I, Macrì L, Cassoni P, Ghisolfi G, Cerrato M, D'Ambrosio E, Bussolati G (2006) Routine assessment of prognostic factors in breast cancer using a multicore tissue microarray procedure. Virchows Arch 449:288–296 doi.org/10.1007/s00428-006-0233-2

13.

Marchiò C, Lambros MB, Gugliotta P, Di Cantogno LV, Botta C, Pasini B, Tan DS, Mackay A, Fenwick K, Tamber N, Bussolati G, Ashworth A, Reis-Filho JS, Sapino A (2009) J Pathol 219:16–24. doi: https://doi.org/10.1002/path.2574, Does chromosome 17 centromere copy number predict polysomy in breast cancer? A fluorescence in situ hybridization and microarray-based CGH analysis

14.

van Beers EH, Joosse SA, Ligtenberg MJ, Fles R, Hogervorst FB, Verhoef S, Nederlof PM (2006) A multiplex PCR predictor for a CGH success of FFPE samples. Br J Cancer 94:333–337

15.

Illumina (2014) Expression analysis of FFPE samples. Illumina Technical Note: RNA Sequencing

16.

Mariani S, Bertero L, Osella-Abate S, Di Bello C, Francia di Celle P, Coppola V, Sapino A, Cassoni P, Marchiò C (2017) Extreme assay sensitivity in molecular diagnostics further unveils intratumour heterogeneity in metastatic colorectal cancer as well as artifactual low-frequency mutations in the KRAS gene. Br J Cancer 117:358–366. https://doi.org/10.1038/bjc.2017.170

17.

Berg D, Malinowsky K, Reischauer B, Wolff C, Becker KF (2011) Use of formalin-fixed and paraffin-embedded tissues for diagnosis and therapy in routine clinical settings. Methods Mol Biol 785:109–122. https://doi.org/10.1007/978-1-61779-286-1_8

18.

Denoux Y, Blanc-Vincent MP, Simony-Lafontaine J, Verriele-Beurrier V, Briffod M, Voigt JJ (2002) Standards, options and recommendations: good practice for the management and shipment of histological and cytopathological cancer specimens. Bull Cancer 89:401–409

19.

van der Loos CM (2007) A focus on fixation. Biotech Histochem 82:141–154. https://doi.org/10.1080/10520290701375302

20.

Zarbo RJ (2015) Histologic validation of vacuum sealed, formalin-free tissue preservation, and transport system. Recent Results Cancer Res 199:15–26. https://doi.org/10.1007/978-3-319-13957-9_2

21.

Adeyi OA (2011) Pathology services in developing countries: the West African experience. Arch Pathol Lab Med 135:183–186. https://doi.org/10.1043/2008-0432-CCR.1

22.

Gopal S, Krysiak R, Liomba G (2013) Building a pathology laboratory in Malawi. Lancet Oncol 14:291–292. https://doi.org/10.1016/S1470-2045(13)70109-8

23.

Duong A, Steinmaus C, McHale CM, Vaughan CP, Zhang L (2011) Reproductive and developmental toxicity of formaldehyde: a systematic review. Mutat Res 728:118–138. https://doi.org/10.1016/j.mrrev.2011.07.003

24.

Zhang L, Tang X, Rothman N, Vermeulen R, Ji Z, Shen M, Qiu C, Guo W, Liu S, Reiss B, Freeman LB, Ge Y, Hubbard AE, Hua M, Blair A, Galvan N, Ruan X, Alter BP, Xin KX, Li S, Moore LE, Kim S, Xie Y, Hayes RB, Azuma M, Hauptmann M, Xiong J, Stewart P, Li L, Rappaport SM, Huang H, Fraumeni JF, Smith MT, Lan Q (2010) Occupational exposure to formaldehyde, hematotoxicity, and leukemia-specific chromosome changes in cultured myeloid progenitor cells. Cancer Epidemiol Biomark Prev 19:80–88. https://doi.org/10.1158/1055-9965.EPI-09-0762

25.

Di Novi C, Minniti D, Barbaro S, Zampirolo MG, Cimino A, Bussolati G (2010) Vacuum-based preservation of surgical specimens: an environmentally-safe step towards a formalin-free hospital. Sci Total Environ 408:3092–3095. https://doi.org/10.1016/j.scitotenv.2010.04.022
Ethics declarations
Conflict of interest
The authors declare that they have no conflict of interest.
About this article
Cite this article
Metovic, J., Bertero, L., Musuraca, C. et al. Safe transportation of formalin-fixed liquid-free pathology specimens. Virchows Arch 473, 105–113 (2018). https://doi.org/10.1007/s00428-018-2383-4
Received:

Revised:

Accepted:

Published:

Issue Date:
Keywords
Pathology

Formalin

Specimen

Transportation

Safety

Vacuum storage