Abstract
The histopathological characteristics of colorectal submucosal invasive carcinoma arising in sessile serrated adenoma/polyp (SSA/P), a rare malignant tumour, have not yet been fully elucidated. To investigate the features of such, we retrospectively analysed 40 submucosal invasive carcinomas with SSA/P (CA-SSA/P) and compared them to 129 cases of submucosal invasive carcinoma with conventional tubular adenoma (CA-AD). We additionally performed hMLH1 immunostaining. CA-SSA/Ps were significantly smaller than CA-ADs (P < 0.001). Histologically, well to moderately differentiated adenocarcinoma was predominant in both CA-SSA/Ps and CA-ADs. No significant differences in depth of invasion were found between the two groups. However, lymphatic invasion was more often found in CA-SSA/Ps (30%) than in CA-ADs (13%; P = 0.028), as was lymph node metastasis (CA-SSA/Ps, 28%; CA-ADs, 7%; P = 0.011). Furthermore, mucinous component and serrated architecture were significantly more frequent in CA-SSA/Ps (30 and 63%) than in CA-ADs (5 and 18%; P < 0.001, respectively). Tumour-infiltrating lymphocytes and Crohn-like inflammatory reaction were also more frequently found in CA-SSA/Ps (70 and 30%) than in CA-ADs (31 and 9%; P ≤ 0.001, respectively), whereas the opposite was true of desmoplastic reaction (CA-SSA/Ps, 35%; CA-ADs, 67%; P < 0.001). Loss of hMLH1 expression was more frequent in CA-SSA/P cases (93%) than in CA-AD cases (5%; P < 0.001). In conclusion, CA-SSA/P lesions exhibit a higher potential for lymphatic invasion and lymph node metastasis and have distinct histopathological features, including mucinous component, serrated architecture, tumour-infiltrating lymphocytes, Crohn-like inflammatory reaction, and absence of desmoplastic reaction, compared to their conventional counterparts.
Access options
Buy single article
Instant access to the full article PDF.
USD 39.95
Price excludes VAT (USA)
Tax calculation will be finalised during checkout.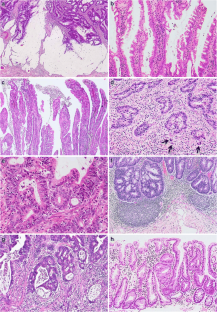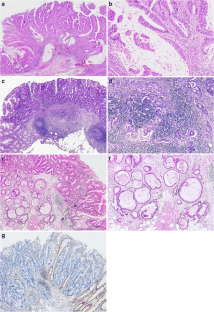 References
Torlakovic E, Skovlund E, Snover DC, Torlakovic G, Nesland JM (2003) Morphologic reappraisal of serrated colorectal polyps. Am J Surg Pathol 27:65–81

Kambara T, Simms LA, Whitehall VL et al (2004) BRAF mutation is associated with DNA methylation in serrated polyps and cancers of the colorectum. Gut 53:1137–1144

O'Brien MJ, Yang S, Mack C et al (2006) Comparison of microsatellite instability, CpG island methylation phenotype, BRAF and KRAS status in serrated polyps and traditional adenomas indicates separate pathways to distinct colorectal carcinoma end points. Am J Surg Pathol 30:1491–1501

Patil DT, Shadrach BL, Rybicki LA, Leach BH, Pai RK (2012) Proximal colon cancers and the serrated pathway: a systematic analysis of precursor histology and BRAF mutation status. Mod Pathol 25:1423–1431

Fearon ER, Vogelstein B (1990) A genetic model for colorectal tumorigenesis. Cell 61:759–767

Jass JR, Baker K, Zlobec I et al (2006) Advanced colorectal polyps with the molecular and morphological features of serrated polyps and adenomas: concept of a 'fusion' pathway to colorectal cancer. Histopathology 49:121–131

Spring KJ, Zhao ZZ, Karamatic R et al (2006) High prevalence of sessile serrated adenomas with BRAF mutations: a prospective study of patients undergoing colonoscopy. Gastroenterology 131:1400–1407

Kim YH, Kakar S, Cun L, Deng G, Kim YS (2008) Distinct CpG island methylation profiles and BRAF mutation status in serrated and adenomatous colorectal polyps. Int J Cancer 123:2587–2593

Sandmeier D, Benhattar J, Martin P, Bouzourene H (2009) Serrated polyps of the large intestine: a molecular study comparing sessile serrated adenomas and hyperplastic polyps. Histopathology 55:206–213

Carr NJ, Mahajan H, Tan KL, Hawkins NJ, Ward RL (2009) Serrated and non-serrated polyps of the colorectum: their prevalence in an unselected case series and correlation of BRAF mutation analysis with the diagnosis of sessile serrated adenoma. J Clin Pathol 62:516–518

Yachida S, Mudali S, Martin SA, Montgomery EA, Iacobuzio-Donahue CA (2009) Beta-catenin nuclear labeling is a common feature of sessile serrated adenomas and correlates with early neoplastic progression after BRAF activation. Am J Surg Pathol 33:1823–1832

Kim KM, Lee EJ, Ha S et al (2011) Molecular features of colorectal hyperplastic polyps and sessile serrated adenoma/polyps from Korea. Am J Surg Pathol 35:1274–1286

Dhir M, Yachida S, Van Neste L et al (2011) Sessile serrated adenomas and classical adenomas: an epigenetic perspective on premalignant neoplastic lesions of the gastrointestinal tract. Int J Cancer 129:1889–1898

Fujita K, Yamamoto H, Matsumoto T et al (2011) Sessile serrated adenoma with early neoplastic progression: a clinicopathologic and molecular study. Am J Surg Pathol 35:295–304

Alexander J, Watanabe T, Wu TT, Rashid A, Li S, Hamilton SR (2001) Histopathological identification of colon cancer with microsatellite instability. Am J Pathol 158:527–535

Sheridan TB, Fenton H, Lewin MR et al (2006) Sessile serrated adenomas with low- and high-grade dysplasia and early carcinomas: an immunohistochemical study of serrated lesions "caught in the act.". Am J Clin Pathol 126:564–571

Lash RH, Genta RM, Schuler CM (2010) Sessile serrated adenomas: prevalence of dysplasia and carcinoma in 2139 patients. J Clin Pathol 63:681–686

Wada R, Morimoto T, Inayoshi T (2014) Pathological features of the sessile serrated adenoma/polyp with special references of its carcinogenesis. Med Mol Morphol 47:123–129

Ban S, Mitomi H, Horiguchi H, Sato H, Shimizu M (2014) Adenocarcinoma arising in small sessile serrated adenoma/polyp (SSA/P) of the colon: clinicopathological study of eight lesions. Pathol Int 64:123–132

Chino A, Yamamoto N, Kato Y et al (2016) The frequency of early colorectal cancer derived from sessile serrated adenoma/polyps among 1858 serrated polyps from a single institution. Int J Color Dis 31:343–349

Bettington M, Walker N, Rosty C et al (2017) Clinicopathological and molecular features of sessile serrated adenomas with dysplasia or carcinoma. Gut 66:97–106

Murakami T, Mitomi H, Saito T et al (2015) Distinct WNT/β-catenin signaling activation in the serrated neoplasia pathway and the adenoma-carcinoma sequence of the colorectum. Mod Pathol 28:146–158

Watanabe T, Itabashi M, Shimada Y et al (2012) Japanese Society for Cancer of the Colon and Rectum (JSCCR) guidelines 2010 for the treatment of colorectal cancer. Int J Clin Oncol 17:1–29

Roxburgh CS, McMillan DC, Richards CH et al (2014) The clinical utility of the combination of T stage and venous invasion to predict survival in patients undergoing surgery for colorectal cancer. Ann Surg 259:1156–1165

Goldstein NS (2006) Small colonic microsatellite unstable adenocarcinomas and high-grade epithelial dysplasias in sessile serrated adenoma polypectomy specimens: a study of eight cases. Am J Clin Pathol 125:132–145

García-Solano J, Conesa-Zamora P, Trujillo-Santos J, Mäkinen MJ, Pérez-Guillermo M (2011) Tumour budding and other prognostic pathological features at invasive margins in serrated colorectal adenocarcinoma: a comparative study with conventional carcinoma. Histopathology 59:1046–1056

Loy TS, Kaplan PA (2004) Villous adenocarcinoma of the colon and rectum: a clinicopathologic study of 36 cases. Am J Surg Pathol 28:1460–1465

Kawachi H, Eishi Y, Ueno H et al (2015) A three-tier classification system based on the depth of submucosal invasion and budding/sprouting can improve the treatment strategy for T1 colorectal cancer: a retrospective multicenter study. Mod Pathol 28:872–879

Jenkins MA, Hayashi S, O'Shea AM et al (2007) Pathology features in Bethesda guidelines predict colorectal cancer microsatellite instability: a population-based study. Gastroenterology 133:48–56

Ueno H, Hashiguchi Y, Shimazaki H et al (2013) Objective criteria for crohn-like lymphoid reaction in colorectal cancer. Am J Clin Pathol 139:434–441

Kimura R, Fujimori T, Ichikawa K et al (2012) Desmoplastic reaction in biopsy specimens of early colorectal cancer: a Japanese prospective multicenter study. Pathol Int 62:525–531

Burgess NG, Pellise M, Nanda KS et al (2016) Clinical and endoscopic predictors of cytological dysplasia or cancer in a prospective multicentre study of large sessile serrated adenomas/polyps. Gut 65:437–446

Bouwens MW, van Herwaarden YJ, Winkens B et al (2014) Endoscopic characterization of sessile serrated adenomas/polyps with and without dysplasia. Endoscopy 46:225–235

Murakami T, Sakamoto N, Ritsuno H et al (2017) Distinct endoscopic characteristics of sessile serrated adenoma/polyp with and without dysplasia/carcinoma. Gastrointest Endosc 85:590–600

Saitoh Y, Waxman I, West AB et al (2001) Prevalence and distinctive biologic features of flat colorectal adenomas in a North American population. Gastroenterology 120:1657–1665

Aldridge AJ, Simson JN (2001) Histological assessment of colorectal adenomas by size. Are polyps less than 10 mm in size clinically important? Eur J Surg 167:777–781

Tanaka S, Haruma K, Teixeira CR et al (1995) Endoscopic treatment of submucosal invasive colorectal carcinoma with special reference to risk factors for lymph node metastasis. J Gastroenterol 30:710–717

Kobayashi H, Mochizuki H, Morita T et al (2011) Characteristics of recurrence after curative resection for T1 colorectal cancer: Japanese multicenter study. J Gastroenterol 46:203–211

Dong SM, Lee EJ, Jeon ES, Park CK, Kim KM (2005) Progressive methylation during the serrated neoplasia pathway of the colorectum. Mod Pathol 18:170–178

Tuppurainen K, Mäkinen JM, Junttila O et al (2005) Morphology and microsatellite instability in sporadic serrated and non-serrated colorectal cancer. J Pathol 207:285–294

Gafà R, Maestri I, Matteuzzi M et al (2000) Sporadic colorectal adenocarcinomas with high-frequency microsatellite instability. Cancer 89:2025–2037

Greenson JK, Huang SC, Herron C et al (2009) Pathologic predictors of microsatellite instability in colorectal cancer. Am J Surg Pathol 33:126–133

Hyde A, Fontaine D, Stuckless S et al (2010) A histology-based model for predicting microsatellite instability in colorectal cancers. Am J Surg Pathol 34:1820–1829

Wright CL, Stewart ID (2003) Histopathology and mismatch repair status of 458 consecutive colorectal carcinomas. J Surg Pathol 27:1393–1406

Sis B, Sarioglu S, Sokmen S, Sakar M, Kupelioglu A, Fuzun M (2005) Desmoplasia measured by computer assisted image analysis: an independent prognostic marker in colorectal carcinoma. J Clin Pathol 58:32–38

Stefanius K, Ylitalo L, Tuomisto A et al (2011) Frequent mutations of KRAS in addition to BRAF in colorectal serrated adenocarcinoma. Histopathology 58:679–692

Tamaru Y, Oka S, Tanaka S et al (2017) Long-term outcomes after treatment for T1 colorectal carcinoma: a multicenter retrospective cohort study of Hiroshima GI Endoscopy Research Group. J Gastroenterol. https://doi.org/10.1007/s00535-017-1318-1

Pai RK, Jayachandran P, Koong AC et al (2012) BRAF-mutated, microsatellite-stable adenocarcinoma of the proximal colon: an aggressive adenocarcinoma with poor survival, mucinous differentiation, and adverse morphologic features. Am J Surg Pathol 36:744–752

Samowitz WS, Sweeney C, Herrick J et al (2005) Poor survival associated with the BRAF V600E mutation in microsatellite-stable colon cancers. Cancer Res 65:6063–6069

Pritchard CC, Grady WM (2011) Colorectal cancer molecular biology moves into clinical practice. Gut 60:116–129
Acknowledgments
The authors thank Mrs. Keiko Mitani for her assistance with histology. The work was supported in part by a Grant-in-Aid from the Japan Society for the Promotion of Science (#24590429 to H. Mitomi and #15K19059 to T. Murakami).
Funding
This work was supported in part by a Grant-in-Aid from the Japan Society for the Promotion of Science (#24590429 to H. Mitomi and #15K19059 to T. Murakami).
Ethics declarations
Conflict of interest
The authors declare that they have no conflict of interest.
Ethics approval
This study was approved by the Institutional Review Board and the ethical committee of our hospital (registration #2012015). For this retrospective study, no informed consent was required.
About this article
Cite this article
Murakami, T., Mitomi, H., Yao, T. et al. Distinct histopathological characteristics in colorectal submucosal invasive carcinoma arising in sessile serrated adenoma/polyp and conventional tubular adenoma. Virchows Arch 472, 383–393 (2018). https://doi.org/10.1007/s00428-017-2234-8
Received:

Revised:

Accepted:

Published:

Issue Date:

DOI: https://doi.org/10.1007/s00428-017-2234-8
Keywords