Abstract
The raid evolution in molecular pathology resulting in an increasing complexity requires careful reporting. The need for standardisation is clearer than ever. While synoptic reporting was first used for reporting hereditary genetic diseases, it is becoming more frequent in pathology, especially molecular pathology reports too. The narrative approach is no longer feasible with the growing amount of essential data present on the report, although narrative components are still necessary for interpretation in molecular pathology. On the way towards standardisation of reports, guidelines can be a helpful tool. There are several guidelines that focus on reporting in the field of hereditary diseases, but it is not always feasible to extrapolate these to the reporting of somatic variants in molecular pathology. The rise of multi-gene testing causes challenges for the laboratories. In order to provide a continuous optimisation of the laboratory testing process, including reporting, external quality assessment is essential and has already proven to improve the quality of reports. In general, a clear and concise report for molecular pathology can be created by including elements deemed important by different guidelines, adapting the report to the process flows of the laboratory and integrating the report with the laboratory information management system and the patient record.
Access options
Buy single article
Instant access to the full article PDF.
US$ 39.95
Tax calculation will be finalised during checkout.
Subscribe to journal
Immediate online access to all issues from 2019. Subscription will auto renew annually.
US$ 119
Tax calculation will be finalised during checkout.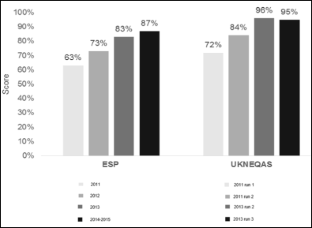 References
1.

Quirke P, Morris E (2007) Reporting colorectal cancer. Histopathology 50(1):103–112. doi:10.1111/j.1365-2559.2006.02543.x

2.

Salto-Tellez M, James JA, Hamilton PW (2014) Molecular pathology—the value of an integrative approach. Mol Oncol 8(7):1163–1168. doi:10.1016/j.molonc.2014.07.021

3.

Pantanowitz L, Tuthill JM, Balis U (2012) Pathology informatics: theory & practice. American Society of Clinical Pathologists

4.

Compton CC (1999) Pathology report in colon cancer: what is prognostically important? Dig Dis 17(2):67–79 doi: 16908

5.

Damodaran S, Berger MF, Roychowdhury S (2015) Clinical tumor sequencing: opportunities and challenges for precision cancer medicine. Am Soc Clin Oncol Educ Book:e175–e182. doi:10.14694/EdBook_AM.2015.35.e175

6.

Cree IA, Deans Z, Ligtenberg MJL, Normanno N, Edsjö A, Rouleau E, Solé F, Thunnissen E, Timens W, Schuuring E, Dequeker E, Murray S, Dietel M, Groenen P, Van Krieken JH, Pathology ftESoPTFoQAiM, Pathologists tRCo (2014) Guidance for laboratories performing molecular pathology for cancer patients. J Clin Pathol 67(11):923–931. doi:10.1136/jclinpath-2014-202404

7.

Breastcancer.org (2016) Your guide to the breast cancer pathology report. Breastcancer.org. Accessed 6 Jan 2017

8.

Ellis DW, Srigley J (2016) Does standardised structured reporting contribute to quality in diagnostic pathology? The importance of evidence-based datasets. Virchows Arch 468(1):51–59. doi:10.1007/s00428-015-1834-4

9.

Srigley JR, McGowan T, Maclean A, Raby M, Ross J, Kramer S, Sawka C (2009) Standardized synoptic cancer pathology reporting: a population-based approach. J Surg Oncol 99(8):517–524. doi:10.1002/jso.21282

10.

Aumann K, Kayser G, Amann D, Bronsert P, Hauschke D, Palade E, Passlick B, Werner M (2013) The format type has impact on the quality of pathology reports of oncological lung resection specimens. Lung Cancer 81(3):382–387. doi:10.1016/j.lungcan.2013.05.017

11.

Dienstmann R, Dong F, Borger D, Dias-Santagata D, Ellisen LW, Le LP, Iafrate AJ (2014) Standardized decision support in next generation sequencing reports of somatic cancer variants. Mol Oncol 8(5):859–873. doi:10.1016/j.molonc.2014.03.021

12.

Mossanen M, True LD, Wright JL, Vakar-Lopez F, Lavallee D, Gore JL (2014) Surgical pathology and the patient: a systematic review evaluating the primary audience of pathology reports. Hum Pathol 45(11):2192–2201. doi:10.1016/j.humpath.2014.07.008

13.

Casati B, Bjugn R (2012) Structured electronic template for histopathology reporting on colorectal carcinoma resections: five-year follow-up shows sustainable long-term quality improvement. Arch Pathol Lab Med 136(6):652–656. doi:10.5858/arpa.2011-0370-OA

14.

Gill AJ, Johns AL, Eckstein R, Samra JS, Kaufman A, Chang DK, Merrett ND, Cosman PH, Smith RC, Biankin AV, Kench JG (2009) Synoptic reporting improves histopathological assessment of pancreatic resection specimens. Pathology 41(2):161–167

15.

Sluijter CE, van Lonkhuijzen LR, van Slooten HJ, Nagtegaal ID, Overbeek LI (2016) The effects of implementing synoptic pathology reporting in cancer diagnosis: a systematic review. Virchows Arch 468(6):639–649. doi:10.1007/s00428-016-1935-8

16.

Lubin IM, Caggana M, Constantin C, Gross SJ, Lyon E, Pagon RA, Trotter TL, Wilson JA, McGovern MM (2008) Ordering molecular genetic tests and reporting results: practices in laboratory and clinical settings. J Mol Diagn 10(5):459–468. doi:10.2353/jmoldx.2008.080050

17.

Lankshear S, Srigley J, McGowan T, Yurcan M, Sawka C (2013) Standardized synoptic cancer pathology reports—so what and who cares? A population-based satisfaction survey of 970 pathologists, surgeons, and oncologists. Arch Pathol Lab Med 137(11):1599–1602. doi:10.5858/arpa.2012-0656-OA

18.

Sung MR, Ellis PM, Verma S, Duncan E, Leighl NB (2016) Approach to biomarker testing: perspectives from various specialties. Curr Oncol 23(3):178–183. doi:10.3747/co.23.3019

19.

Lubin IM, McGovern MM, Gibson Z, Gross SJ, Lyon E, Pagon RA, Pratt VM, Rashid J, Shaw C, Stoddard L, Trotter TL, Williams MS, Amos Wilson J, Pass K (2009) Clinician perspectives about molecular genetic testing for heritable conditions and development of a clinician-friendly laboratory report. J Mol Diagn 11(2):162–171. doi:10.2353/jmoldx.2009.080130

20.

College of American Pathologists. Cancer protocols and checklists. Available at http://www.cap.org/web/home/resources/cancer-reporting-tools/cancer-protocol-templates. Accessed 18 March 2017

21.

Qu Z, Ninan S, Almosa A, Chang KG, Kuruvilla S, Nguyen N (2007) Synoptic reporting in tumor pathology: advantages of a web-based system. Am J Clin Pathol 127(6):898–903. doi:10.1309/6vkcqdc69595kyve

22.

de Baca ME, Arnaout R, Brodsky V, Birdsong GG (2015) Ordo ab Chao: framework for an integrated disease report. Arch Pathol Lab Med 139(2):165–170. doi:10.5858/arpa.2013-0561-CP

23.

Schwaederle M, Parker BA, Schwab RB, Fanta PT, Boles SG, Daniels GA, Bazhenova LA, Subramanian R, Coutinho AC, Ojeda-Fournier H, Datnow B, Webster NJ, Lippman SM, Kurzrock R (2014) Molecular tumor board: the University of California-San Diego Moores Cancer Center experience. Oncologist 19(6):631–636. doi:10.1634/theoncologist.2013-0405

24.

Jalil R, Ahmed M, Green JS, Sevdalis N (2013) Factors that can make an impact on decision-making and decision implementation in cancer multidisciplinary teams: an interview study of the provider perspective. Int J Surg 11(5):389–394. doi:10.1016/j.ijsu.2013.02.026

25.

Gulley ML, Braziel RM, Halling KC, Hsi ED, Kant JA, Nikiforova MN, Nowak JA, Ogino S, Oliveira A, Polesky HF, Silverman L, Tubbs RR, Van Deerlin VM, Vance GH, Versalovic J (2007) Clinical laboratory reports in molecular pathology. Arch Pathol Lab Med 131(6):852–863

26.

Matthijs G, Souche E, Alders M, Corveleyn A, Eck S, Feenstra I, Race V, Sistermans E, Sturm M, Weiss M, Yntema H, Bakker E, Scheffer H, Bauer P (2016) Guidelines for diagnostic next-generation sequencing. Eur J Hum Genet 24(1):2–5. doi:10.1038/ejhg.2015.226

27.

Association for Clinical Genetic Science (ACGS) (2015) General Genetic Laboratory Reporting Recommendations. http://www.acgs.uk.com/media/949852/acgs_general_genetic_laboratory_reporting_recommendations_2015.pdf. Accessed 14 Dec 2016

28.

Organisation for Economic Co-operation and Development (OECD) (2005) Quality assurance and proficiency testing for molecular genetic testing: summary report of a survey of 18 OECD Member Countries

29.

van Krieken JH, Normanno N, Blackhall F, Boone E, Botti G, Carneiro F, Celik I, Ciardiello F, Cree IA, Deans ZC, Edsjo A, Groenen PJ, Kamarainen O, Kreipe HH, Ligtenberg MJ, Marchetti A, Murray S, Opdam FJ, Patterson SD, Patton S, Pinto C, Rouleau E, Schuuring E, Sterck S, Taron M, Tejpar S, Timens W, Thunnissen E, van de Ven PM, Siebers AG, Dequeker E (2013) Guideline on the requirements of external quality assessment programs in molecular pathology. Virchows Arch 462(1):27–37. doi:10.1007/s00428-012-1354-4

30.

International Organization for Standardization (2012) ISO 15189:2012 Medical laboratories - Particular requirements for quality and competence. ISO Geneva, Switzerland

31.

Richards S, Aziz N, Bale S, Bick D, Das S, Gastier-Foster J, Grody WW, Hegde M, Lyon E, Spector E, Voelkerding K, Rehm HL (2015) Standards and guidelines for the interpretation of sequence variants: a joint consensus recommendation of the American College of Medical Genetics and Genomics and the Association for Molecular Pathology. Genet Med 17(5):405–424. doi:10.1038/gim.2015.30

32.

Valenstein PN (2008) Formatting pathology reports: applying four design principles to improve communication and patient safety. Arch Pathol Lab Med 132(1):84–94. doi:10.1043/1543-2165(2008)132[84:fprafd]2.0.co;2

33.

Organisation for Economic C-o, Development (2007) OECD guidelines for quality assurance in molecular genetic testing. OECD Paris, France

34.

Schulmeister L (2008) Patient misidentification in oncology care. Clin J Oncol Nurs 12(3):495–498. doi:10.1188/08.cjon.495-498

35.

Nakhleh RE (2011) Quality in surgical pathology communication and reporting. Arch Pathol Lab Med 135(11):1394–1397. doi:10.5858/arpa.2011-0192-RA

36.

Lee RE, Henricks WH, Sirintrapun SJ (2016) Laboratory information systems in molecular diagnostics: why molecular diagnostics data are different. Adv Anat Pathol 23(2):125–133. doi:10.1097/pap.0000000000000109

37.

Tack V, Deans ZC, Wolstenholme N, Patton S, Dequeker EM (2016) What's in a name? A coordinated approach toward the correct use of a uniform nomenclature to improve patient reports and databases. Hum Mutat 37(6):570–575. doi:10.1002/humu.22975

38.

Hollensead SC, Lockwood WB, Elin RJ (2004) Errors in pathology and laboratory medicine: consequences and prevention. J Surg Oncol 88(3):161–181. doi:10.1002/jso.20125

39.

Snyder SR, Favoretto AM, Derzon JH, Christenson RH, Kahn SE, Shaw CS, Baetz RA, Mass D, Fantz CR, Raab SS, Tanasijevic MJ, Liebow EB (2012) Effectiveness of barcoding for reducing patient specimen and laboratory testing identification errors: a laboratory medicine best practices systematic review and meta-analysis. Clin Biochem 45(13–14):988–998. doi:10.1016/j.clinbiochem.2012.06.019

40.

Tranbaloc P (2005) The clinician and the pathologist: a peculiar, yet not dissociable couple. Gynecol Obstet Fertil 33(12):961–963. doi:10.1016/j.gyobfe.2005.10.015

41.

Dorschner MO, Amendola LM, Shirts BH, Kiedrowski L, Salama J, Gordon AS, Fullerton SM, Tarczy-Hornoch P, Byers PH, Jarvik GP (2014) Refining the structure and content of clinical genomic reports. Am J Med Genet C Semin Med Genet 166c(1):85–92. doi:10.1002/ajmg.c.31395

42.

den Dunnen JT, Dalgleish R, Maglott DR, Hart RK, Greenblatt MS, McGowan-Jordan J, Roux AF, Smith T, Antonarakis SE, Taschner PE (2016) HGVS recommendations for the description of sequence variants: 2016 update. Hum Mut 37(6):564–569. doi:10.1002/humu.22981

43.

Li MM, Datto M, Duncavage EJ, Kulkarni S, Lindeman NI, Roy S, Tsimberidou AM, Vnencak-Jones CL, Wolff DJ, Younes A, Nikiforova MN (2017) Standards and guidelines for the interpretation and reporting of sequence variants in cancer: a joint consensus recommendation of the Association for Molecular Pathology, American Society of Clinical Oncology, and College of American Pathologists. J Mol Diagn 19(1):4–23. doi:10.1016/j.jmoldx.2016.10.002

44.

Hehir-Kwa JY, Claustres M, Hastings RJ, van Ravenswaaij-Arts C, Christenhusz G, Genuardi M (2015) Towards a European consensus for reporting incidental findings during clinical NGS testing. Eur J Hum Genet 23(12):1601–1606. doi:10.1038/ejhg.2015.111

45.

van El CG, Cornel MC, Borry P, Hastings RJ, Fellmann F, Hodgson SV, Howard HC, Cambon-Thomsen A, Knoppers BM, Meijers-Heijboer H, Scheffer H, Tranebjaerg L, Dondorp W, de Wert GM (2013) Whole-genome sequencing in health care: recommendations of the European Society of Human Genetics. Eur J Hum Genet 21(6):580–584. doi:10.1038/ejhg.2013.46

46.

Green RC, Berg JS, Grody WW, Kalia SS, Korf BR, Martin CL, McGuire AL, Nussbaum RL, O'Daniel JM, Ormond KE, Rehm HL, Watson MS, Williams MS, Biesecker LG (2013) ACMG recommendations for reporting of incidental findings in clinical exome and genome sequencing. Genet Med 15(7):565–574. doi:10.1038/gim.2013.73

47.

Jones S, Anagnostou V, Lytle K, Parpart-Li S, Nesselbush M, Riley DR, Shukla M, Chesnick B, Kadan M, Papp E, Galens KG, Murphy D, Zhang T, Kann L, Sausen M, Angiuoli SV, Diaz LA, Velculescu VE (2015) Personalized genomic analyses for cancer mutation discovery and interpretation. Sci Transl Med 7(283):283ra253–283ra253. doi:10.1126/scitranslmed.aaa7161

48.

Raymond VM, Gray SW, Roychowdhury S, Joffe S, Chinnaiyan AM, Parsons DW, Plon SE (2016) Germline findings in tumor-only sequencing: points to consider for clinicians and laboratories. J Natl Cancer Inst 108(4). doi:10.1093/jnci/djv351

49.

Bombard Y, Robson M, Offit K (2013) Revealing the incidentalome when targeting the tumor genome. JAMA 310(8):795–796. doi:10.1001/jama.2013.276573

50.

Perrotta PL, Karcher DS (2016) Validating laboratory results in electronic health records: a College of American Pathologists Q-probes study. Arch Pathol Lab Med 140(9):926–931. doi:10.5858/arpa.2015-0320-CP

51.

Henricks WH (2015) Laboratory information systems. Surg Pathology clin 8(2):101–108. doi:10.1016/j.path.2015.02.016

52.

Paszko C, Pugsley C (2000) Considerations in selecting a laboratory information management system (LIMS). Am Lab 32(18):38–42

53.

Chen Y, Lin Y, Yuan X, Shen B (2016) LIMS and clinical data management. Adv Exp Med Biol 939:225–239. doi:10.1007/978-981-10-1503-8_9

54.

Oral B, Cullen RM, Diaz DL, Hod EA, Kratz A (2015) Downtime procedures for the 21st century: using a fully integrated health record for uninterrupted electronic reporting of laboratory results during laboratory information system downtimes. Am J Clin Pathol 143(1):100–104. doi:10.1309/ajcpm0o7mnvgcevt

55.

Howanitz PJ (2005) Errors in laboratory medicine: practical lessons to improve patient safety. Arch Pathol Lab Med 129(10):1252–1261. doi:10.1043/1543-2165(2005)129[1252:eilmpl]2.0.co;2

56.

Kornstein MJ, Byrne SP (2007) The medicolegal aspect of error in pathology: a search of jury verdicts and settlements. Arch Pathol Lab Med 131(4):615–618. doi:10.1043/1543-2165(2007)131[615:tmaoei]2.0.co;2

57.

Troxel DB (2012) Trends in pathology malpractice claims. Am J Surg Pathol 36(1):e1–e5. doi:10.1097/PAS.0b013e31823836bb

58.

Deans ZC, Bilbe N, O'Sullivan B, Lazarou LP, de Castro DG, Parry S, Dodson A, Taniere P, Clark C, Butler R (2013) Improvement in the quality of molecular analysis of EGFR in non-small-cell lung cancer detected by three rounds of external quality assessment. J Clin Pathol 66(4):319–325. doi:10.1136/jclinpath-2012-201227

59.

Patton S, Normanno N, Blackhall F, Murray S, Kerr KM, Dietel M, Filipits M, Benlloch S, Popat S, Stahel R, Thunnissen E (2014) Assessing standardization of molecular testing for non-small-cell lung cancer: results of a worldwide external quality assessment (EQA) scheme for EGFR mutation testing. Br J Cancer 111(2):413–420. doi:10.1038/bjc.2014.353

60.

Tembuyser L, Ligtenberg MJ, Normanno N, Delen S, van Krieken JH, Dequeker EM (2014) Higher quality of molecular testing, an unfulfilled priority: results from external quality assessment for KRAS mutation testing in colorectal cancer. J Mol Diagn 16(3):371–377. doi:10.1016/j.jmoldx.2014.01.003

61.

Tembuyser L, Tack V, Zwaenepoel K, Pauwels P, Miller K, Bubendorf L, Kerr K, Schuuring E, Thunnissen E, Dequeker EM (2014) The relevance of external quality assessment for molecular testing for ALK positive non-small cell lung cancer: results from two pilot rounds show room for optimization. PLoS One 9(11):e112159. doi:10.1371/journal.pone.0112159

62.

Tack V, Ligtenberg MJ, Tembuyser L, Normanno N, Vander Borght S, Han van Krieken J, Dequeker EM (2015) External quality assessment unravels interlaboratory differences in quality of RAS testing for anti-EGFR therapy in colorectal cancer. Oncologist 20(3):257–262. doi:10.1634/theoncologist.2014-0382

63.

Richman SD, Fairley J, Butler R, Deans ZC (2016) How close are we to standardised extended RAS gene mutation testing? The UK NEQAS evaluation. J Clin Pathol. doi:10.1136/jclinpath-2016-203822

64.

Deans ZC, Fairley JA, den Dunnen JT, Clark C (2016) HGVS nomenclature in practice: an example from the United Kingdom National External Quality Assessment Scheme. Hum Mutat 37(6):576–578. doi:10.1002/humu.22978

65.

Deans ZC, Wallace A, O'Sullivan B, Purvis A, Camus S, Fairley JA, Gonzalez D (2014) External quality assessment of BRAF molecular analysis in melanoma. J Clin Pathol 67(2):120–124. doi:10.1136/jclinpath-2013-201848

66.

Wong NA, Deans ZC, Ramsden SC (2012) The UK NEQAS for molecular genetics scheme for gastrointestinal stromal tumour: findings and recommendations following four rounds of circulation. J Clin Pathol 65(9):786–790. doi:10.1136/jclinpath-2012-200851

67.

Deans ZC, Tull J, Beighton G, Abbs S, Robinson DO, Butler R (2011) Molecular genetics external quality assessment pilot scheme for KRAS analysis in metastatic colorectal cancer. Genet Test Mol Biomarkers 15(11):777–783. doi:10.1089/gtmb.2010.0239
Ethics declarations
Conflict of interest
The authors declare that they have no conflict of interest.
Research involving human participants and/or animals
Not applicable.
Informed consent
Not applicable.
About this article
Cite this article
Tack, V., Dufraing, K., Deans, Z.C. et al. The ins and outs of molecular pathology reporting. Virchows Arch 471, 199–207 (2017). https://doi.org/10.1007/s00428-017-2108-0
Received:

Revised:

Accepted:

Published:

Issue Date:
Keywords
Molecular pathology

Reporting

Guideline

Completeness

External quality assessment