Abstract
IgG4-related disease is a newly defined disease characterized by elevated serum IgG4 levels and infiltration of affected organs by IgG4-positive plasma cells. Recently, increased IgG4 levels were reported to be closely related with malignancy. To assess the relationship between IgG4 and the progression of gastric cancer, we immunohistochemically stained in this study gastric cancer tissue samples for IgG4-positive cells using an anti-IgG4 antibody. In addition, pre- and postoperative serum concentrations of IgG4 were measured, using an enzyme-linked immunosorbent assay. In gastric cancer samples, the number of CD138-positive plasma cells was significantly lower and the number of IgG4-positive cells significantly higher than in non-cancerous gastric mucosa. The number of IgG4-positive cells was significantly correlated with gross tumor appearance, tumor depth, lymph node metastasis, venous invasion, and lymphatic invasion. Prognosis was significantly poorer in patients with a high number of IgG4-positive cells than in those with a low number. Multivariate analysis indicated that both the number of IgG4-positive cells and the depth of tumor invasion were independently prognostic of survival. In conclusion, in gastric cancer, the number of IgG4-positive cells is increased and this is closely associated with gastric cancer progression.
Access options
Buy single article
Instant access to the full article PDF.
US$ 39.95
Tax calculation will be finalised during checkout.
Subscribe to journal
Immediate online access to all issues from 2019. Subscription will auto renew annually.
US$ 119
Tax calculation will be finalised during checkout.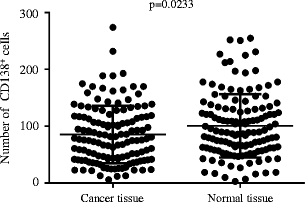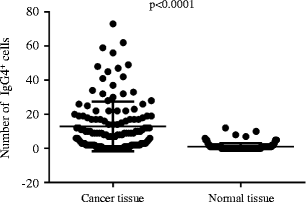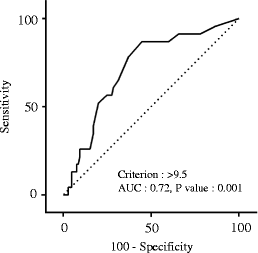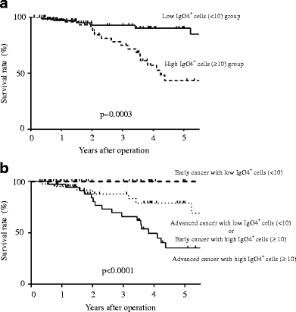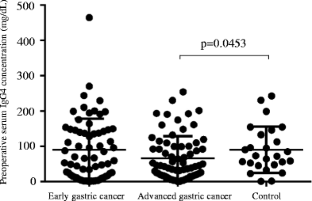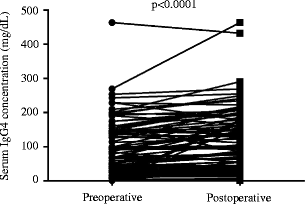 References
1.

Hodi FS, O'Day SJ, McDermott DF, Weber RW, Sosman JA, Haanen JB, Gonzalez R, Robert C, Schadendorf D, Hassel JC, Akerley W, van den Eertwegh AJ, Lutzky J, Lorigan P, Vaubel JM, Linette GP, Hogg D, Ottensmeier CH, Lebbe C, Peschel C, Quirt I, Clark JI, Wolchok JD, Weber JS, Tian J, Yellin MJ, Nichol GM, Hoos A, Urba WJ (2010) Improved survival with ipilimumab in patients with metastatic melanoma. N Engl J Med 363:711–723. doi:10.1056/NEJMoa1003466

2.

Brahmer J, Reckamp KL, Baas P, Crino L, Eberhardt WE, Poddubskaya E, Antonia S, Pluzanski A, Vokes EE, Holgado E, Waterhouse D, Ready N, Gainor J, Aren Frontera O, Havel L, Steins M, Garassino MC, Aerts JG, Domine M, Paz-Ares L, Reck M, Baudelet C, Harbison CT, Lestini B, Spigel DR (2015) Nivolumab versus docetaxel in advanced squamous-cell non-small-cell lung cancer. N Engl J Med 373:123–135. doi:10.1056/NEJMoa1504627

3.

Postow MA, Chesney J, Pavlick AC, Robert C, Grossmann K, McDermott D, Linette GP, Meyer N, Giguere JK, Agarwala SS, Shaheen M, Ernstoff MS, Minor D, Salama AK, Taylor M, Ott PA, Rollin LM, Horak C, Gagnier P, Wolchok JD, Hodi FS (2015) Nivolumab and ipilimumab versus ipilimumab in untreated melanoma. N Engl J Med 372:2006–2017. doi:10.1056/NEJMoa1414428

4.

Urban JL, Schreiber H (1992) Tumor antigens. Annu Rev Immunol 10:617–644. doi:10.1146/annurev.iy.10.040192.003153

5.

Campoli M, Ferrone S (2008) HLA antigen changes in malignant cells: epigenetic mechanisms and biologic significance. Oncogene 27:5869–5885. doi:10.1038/onc.2008.273

6.

Landskron G, De la Fuente M, Thuwajit P, Thuwajit C, Hermoso MA (2014) Chronic inflammation and cytokines in the tumor microenvironment. Journal of Immunology Research 2014:149185. doi:10.1155/2014/149185

7.

Fourcade J, Sun Z, Benallaoua M, Guillaume P, Luescher IF, Sander C, Kirkwood JM, Kuchroo V, Zarour HM (2010) Upregulation of Tim-3 and PD-1 expression is associated with tumor antigen-specific CD8+ T cell dysfunction in melanoma patients. The Journal of Experimental Medicine 207:2175–2186. doi:10.1084/jem.20100637

8.

Matsuzaki J, Gnjatic S, Mhawech-Fauceglia P, Beck A, Miller A, Tsuji T, Eppolito C, Qian F, Lele S, Shrikant P, Old LJ, Odunsi K (2010) Tumor-infiltrating NY-ESO-1-specific CD8+ T cells are negatively regulated by LAG-3 and PD-1 in human ovarian cancer. Proc Natl Acad Sci U S A 107:7875–7880. doi:10.1073/pnas.1003345107

9.

Sakaguchi S, Yamaguchi T, Nomura T, Ono M (2008) Regulatory T cells and immune tolerance. Cell 133:775–787. doi:10.1016/j.cell.2008.05.009

10.

Wing K, Sakaguchi S (2010) Regulatory T cells exert checks and balances on self tolerance and autoimmunity. Nat Immunol 11:7–13. doi:10.1038/ni.1818

11.

Shevach EM (2009) Mechanisms of foxp3+ T regulatory cell-mediated suppression. Immunity 30:636–645. doi:10.1016/j.immuni.2009.04.010

12.

Yamaguchi T, Wing JB, Sakaguchi S (2011) Two modes of immune suppression by Foxp3(+) regulatory T cells under inflammatory or non-inflammatory conditions. Semin Immunol 23:424–430. doi:10.1016/j.smim.2011.10.002

13.

Wing JB, Ise W, Kurosaki T, Sakaguchi S (2014) Regulatory T cells control antigen-specific expansion of Tfh cell number and humoral immune responses via the coreceptor CTLA-4. Immunity 41:1013–1025. doi:10.1016/j.immuni.2014.12.006

14.

Curiel TJ, Coukos G, Zou L, Alvarez X, Cheng P, Mottram P, Evdemon-Hogan M, Conejo-Garcia JR, Zhang L, Burow M, Zhu Y, Wei S, Kryczek I, Daniel B, Gordon A, Myers L, Lackner A, Disis ML, Knutson KL, Chen L, Zou W (2004) Specific recruitment of regulatory T cells in ovarian carcinoma fosters immune privilege and predicts reduced survival. Nat Med 10:942–949. doi:10.1038/nm1093

15.

Perrone G, Ruffini PA, Catalano V, Spino C, Santini D, Muretto P, Spoto C, Zingaretti C, Sisti V, Alessandroni P, Giordani P, Cicetti A, D'Emidio S, Morini S, Ruzzo A, Magnani M, Tonini G, Rabitti C, Graziano F (2008) Intratumoural FOXP3-positive regulatory T cells are associated with adverse prognosis in radically resected gastric cancer. European journal of cancer (Oxford, England: 1990) 44:1875–1882. doi:10.1016/j.ejca.2008.05.017

16.

Bates GJ, Fox SB, Han C, Leek RD, Garcia JF, Harris AL, Banham AH (2006) Quantification of regulatory T cells enables the identification of high-risk breast cancer patients and those at risk of late relapse. J Clin Oncol off J Am Soc Clin Oncol 24:5373–5380. doi:10.1200/jco.2006.05.9584

17.

Karagiannis P, Gilbert AE, Josephs DH, Ali N, Dodev T, Saul L, Correa I, Roberts L, Beddowes E, Koers A, Hobbs C, Ferreira S, Geh JL, Healy C, Harries M, Acland KM, Blower PJ, Mitchell T, Fear DJ, Spicer JF, Lacy KE, Nestle FO, Karagiannis SN (2013) IgG4 subclass antibodies impair antitumor immunity in melanoma. J Clin Invest 123:1457–1474. doi:10.1172/jci65579

18.

Papadea C, Check IJ (1989) Human immunoglobulin G and immunoglobulin G subclasses: biochemical, genetic, and clinical aspects. Crit Rev Clin Lab Sci 27:27–58. doi:10.3109/10408368909106589

19.

Steplewski Z, Sun LK, Shearman CW, Ghrayeb J, Daddona P, Koprowski H (1988) Biological activity of human-mouse IgG1, IgG2, IgG3, and IgG4 chimeric monoclonal antibodies with antitumor specificity. Proc Natl Acad Sci U S A 85:4852–4856

20.

Hamano H, Kawa S, Horiuchi A, Unno H, Furuya N, Akamatsu T, Fukushima M, Nikaido T, Nakayama K, Usuda N, Kiyosawa K (2001) High serum IgG4 concentrations in patients with sclerosing pancreatitis. N Engl J Med 344:732–738. doi:10.1056/nejm200103083441005

21.

Jeannin P, Lecoanet S, Delneste Y, Gauchat JF, Bonnefoy JY (1998) IgE versus IgG4 production can be differentially regulated by IL-10. Journal of immunology (Baltimore, Md.: 1950) 160:3555–3561

22.

Kamisawa T, Funata N, Hayashi Y, Eishi Y, Koike M, Tsuruta K, Okamoto A, Egawa N, Nakajima H (2003) A new clinicopathological entity of IgG4-related autoimmune disease. J Gastroenterol 38:982–984. doi:10.1007/s00535-003-1175-y

23.

Stone JH, Zen Y, Deshpande V (2012) IgG4-related disease. N Engl J Med 366:539–551. doi:10.1056/NEJMra1104650

24.

Umehara H, Okazaki K, Masaki Y, Kawano M, Yamamoto M, Saeki T, Matsui S, Sumida T, Mimori T, Tanaka Y, Tsubota K, Yoshino T, Kawa S, Suzuki R, Takegami T, Tomosugi N, Kurose N, Ishigaki Y, Azumi A, Kojima M, Nakamura S, Inoue D (2012) A novel clinical entity, IgG4-related disease (IgG4RD): general concept and details. Mod Rheumatol 22:1–14. doi:10.1007/s10165-011-0508-6

25.

Harada K, Shimoda S, Kimura Y, Sato Y, Ikeda H, Igarashi S, Ren XS, Sato H, Nakanuma Y (2012) Significance of immunoglobulin G4 (IgG4)-positive cells in extrahepatic cholangiocarcinoma: molecular mechanism of IgG4 reaction in cancer tissue. Hepatology 56:157–164. doi:10.1002/hep.25627

26.

Daveau M, Pavie-Fischer J, Rivat L, Rivat C, Ropartz C, Peter HH, Cesarini JP, Kourilsky FM (1977) IgG4 subclass in malignant melanoma. J Natl Cancer Inst 58:189–192

27.

Karagiannis P, Villanova F, Josephs DH, Correa I, Van Hemelrijck M, Hobbs C, Saul L, Egbuniwe IU, Tosi I, Ilieva KM, Kent E, Calonje E, Harries M, Fentiman I, Taylor-Papadimitriou J, Burchell J, Spicer JF, Lacy KE, Nestle FO, Karagiannis SN (2015) Elevated IgG4 in patient circulation is associated with the risk of disease progression in melanoma. Oncoimmunology 4:e1032492. doi:10.1080/2162402x.2015.1032492

28.

Jemal A, Bray F, Center MM, Ferlay J, Ward E, Forman D (2011) Global cancer statistics. CA Cancer J Clin 61:69–90. doi:10.3322/caac.20107

29.

Inoue H, Mori M, Honda M, Li J, Shibuta K, Mimori K, Ueo H, Akiyoshi T (1995) The expression of tumor-rejection antigen "MAGE" genes in human gastric carcinoma. Gastroenterology 109:1522–1525

30.

Hoshino T, Seki N, Kikuchi M, Kuramoto T, Iwamoto O, Kodama I, Koufuji K, Takeda J, Itoh K (1997) HLA class-I-restricted and tumor-specific CTL in tumor-infiltrating lymphocytes of patients with gastric cancer. International Journal of Cancer Journal International Du Cancer 70:631–638

31.

Frulloni L, Lunardi C, Simone R, Dolcino M, Scattolini C, Falconi M, Benini L, Vantini I, Corrocher R, Puccetti A (2009) Identification of a novel antibody associated with autoimmune pancreatitis. N Engl J Med 361:2135–2142. doi:10.1056/NEJMoa0903068

32.

Guarneri F, Guarneri C, Benvenga S (2005) Helicobacter pylori and autoimmune pancreatitis: role of carbonic anhydrase via molecular mimicry? J Cell Mol Med 9:741–744

33.

Kountouras J, Zavos C, Chatzopoulos D (2005) Autoimmune pancreatitis, helicobacter pylori infection, and apoptosis: a proposed relationship. Pancreas 30:192–193

34.

Shiokawa M, Kodama Y, Yoshimura K, Kawanami C, Mimura J, Yamashita Y, Asada M, Kikuyama M, Okabe Y, Inokuma T, Ohana M, Kokuryu H, Takeda K, Tsuji Y, Minami R, Sakuma Y, Kuriyama K, Ota Y, Tanabe W, Maruno T, Kurita A, Sawai Y, Uza N, Watanabe T, Haga H, Chiba T (2013) Risk of cancer in patients with autoimmune pancreatitis. Am J Gastroenterol 108:610–617. doi:10.1038/ajg.2012.465

35.

Asano J, Watanabe T, Oguchi T, Kanai K, Maruyama M, Ito T, Muraki T, Hamano H, Arakura N, Matsumoto A, Kawa S (2015) Association between immunoglobulin G4-related disease and malignancy within 12 years after diagnosis: an analysis after longterm followup. J Rheumatol 42:2135–2142. doi:10.3899/jrheum.150436

36.

Japanese Gastric Cancer Association (2011) Japanese classification of gastric carcinoma: 3rd English edition. Gastric Cancer: Official Journal of the International Gastric Cancer Association and the Japanese Gastric Cancer Association 14:101–112. doi:10.1007/s10120-011-0041-5

37.

Platts-Mills TA, Woodfolk JA, Erwin EA, Aalberse R (2004) Mechanisms of tolerance to inhalant allergens: the relevance of a modified Th2 response to allergens from domestic animals. Springer Semin Immunopathol 25:271–279. doi:10.1007/s00281-003-0149-8

38.

Satoguina JS, Weyand E, Larbi J, Hoerauf A (2005) T regulatory-1 cells induce IgG4 production by B cells: role of IL-10. Journal of immunology (Baltimore, Md.: 1950) 174:4718–4726

39.

Sakamoto T, Saito H, Tatebe S, Tsujitani S, Ozaki M, Ito H, Ikeguchi M (2006) Interleukin-10 expression significantly correlates with minor CD8+ T-cell infiltration and high microvessel density in patients with gastric cancer. International Journal of Cancer. Journal International Du Cancer 118:1909–1914. doi:10.1002/ijc.21598

40.

Ikeguchi M, Hatada T, Yamamoto M, Miyake T, Matsunaga T, Fukumoto Y, Yamada Y, Fukuda K, Saito H, Tatebe S (2009) Serum interleukin-6 and −10 levels in patients with gastric cancer. Gastric Cancer: Official Journal of the International Gastric Cancer Association and the Japanese Gastric Cancer Association 12:95–100. doi:10.1007/s10120-009-0509-8

41.

Ma GF, Miao Q, Liu YM, Gao H, Lian JJ, Wang YN, Zeng XQ, Luo TC, Ma LL, Shen ZB, Sun YH, Chen SY (2014) High FoxP3 expression in tumour cells predicts better survival in gastric cancer and its role in tumour microenvironment. Br J Cancer 110:1552–1560. doi:10.1038/bjc.2014.47

42.

Zen Y, Liberal R, Nakanuma Y, Heaton N, Portmann B (2013) Possible involvement of CCL1-CCR8 interaction in lymphocytic recruitment in IgG4-related sclerosing cholangitis. J Hepatol 59:1059–1064. doi:10.1016/j.jhep.2013.06.016

43.

Yamaguchi H, Yoshida N, Takanashi M, Ito Y, Fukami K, Yanagihara K, Yashiro M, Sakai R (2014) Stromal fibroblasts mediate extracellular matrix remodeling and invasion of scirrhous gastric carcinoma cells. PLoS one 9:e85485. doi:10.1371/journal.pone.0085485
Ethics declarations
Conflict of interest statement
The authors declare that they have no conflict of interest.
About this article
Cite this article
Miyatani, K., Saito, H., Murakami, Y. et al. A high number of IgG4-positive cells in gastric cancer tissue is associated with tumor progression and poor prognosis. Virchows Arch 468, 549–557 (2016). https://doi.org/10.1007/s00428-016-1914-0
Received:

Revised:

Accepted:

Published:

Issue Date:
Keywords
B cell

Gastric cancer

IgG4

prognosis