Abstract
The aim of the study was to test the hypothesis that oral plasma cell granuloma may represent a mucosal manifestation of immunoglobulin (Ig)G4-related disease (IgG4-RD) in the oral cavity. The study sample comprised two males and four females, aged 54–79 years (median 62 years). The lesions were localized on gingival/alveolar mucosa (four cases), hard palate, and floor of the mouth, measuring 17–40 mm (median 31 mm). The duration of the lesions ranged from 3 months to several years. Information on IgG4 serum levels was available for two patients, and these were increased to 1.85 and 1.65 g/L, respectively. The follow-up period ranged 11–30 months (median 13 months). None of the lesions recurred, and none of the patients developed any manifestation of IgG4-RD. Microscopically, all cases presented as nodular lesions composed of numerous polyclonal plasma cells admixed with lymphocytes, histiocytes, mast cells, and eosinophils, set within collagenized stroma in variable proportions. Obliterative phlebitis was observed in two cases. The number of IgG4-positive plasma cells ranged between 51 and 142 per HPF (median 114), while the IgG4/IgG ratio values ranged between 0.16 and 0.72 (median 0.44) and were above 0.40 in three cases. Based on international criteria, two cases were diagnosed as definite and one as probable IgG4-RD. Oral plasma cell granuloma is a heterogenous group of lesions, and a subset may represent a mucosal manifestation of IgG4-RD in the oral cavity.
Access options
Buy single article
Instant access to the full article PDF.
USD 39.95
Price includes VAT (USA)
Tax calculation will be finalised during checkout.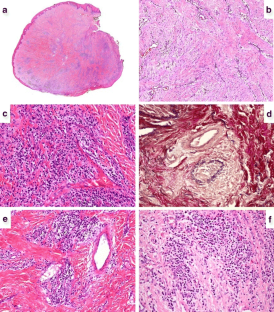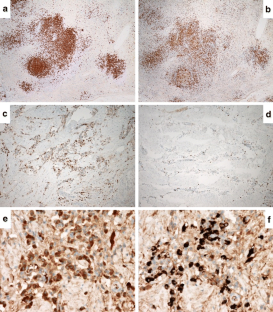 References
1.

Ide F, Shimoyama T, Kato T, Horie N, Kusama K (2000) Inflammatory pseudotumor and related lesions of the oral and maxillofacial region: a critical reappraisal based on recent information. Oral Med Pathol 5:41–47

2.

Fletcher CDM, Bridge JA, Hogendoorn PCW, Mertens F (2013) WHO classification of tumours of soft tissue and bone. IARC, Lyon, pp 83–84

3.

Rosai J (2011) Rosai and Ackerman's surgical pathology. Mosby, p. 251

4.

Ballesteros E, Osborne BM, Matsushima AY (1998) Plasma cell granuloma of the oral cavity: a report of two cases and review of the literature. Mod Pathol 11:60–64

5.

Pandav AB, Gosavi AV, Lanjewar DN, Jagadale RV (2012) Gingival plasma cell granuloma. Dent Res J 9:816–820

6.

Manohar B, Bhuvaneshwari S (2011) Plasma cell granuloma of gingiva. J Indian Soc Periodontol 15:64–66. doi:10.4103/0972-124X.82275

7.

Phadnaik MB, Attar N (2010) Gingival plasma cell granuloma. Indian J Dent Res 21:460–462. doi:10.4103/0970-9290.70788

8.

Laco J (2010) IgG4-related systemic sclerosing disease: a review. Cesk Patol 46:82–85

9.

Hrncir Z, Laco J (2011) Clinical importance of the IgG4-related disease. Cas Lek Cesk 150:438–441

10.

Stone JH, Zen Y, Deshpande V (2012) IgG4-related disease. N Engl J Med 366:539–551. doi:10.1056/NEJMra1104650

11.

Ferry JA, Deshpande V (2012) IgG4-related disease in the head and neck. Sem Diagn Pathol 29:235–244. doi:10.1053/j.semdp.2012.07.008

12.

Bhatti RM, Stelow EB (2013) IgG4-related disease of the head and neck. Adv Anat Pathol 20:10–16. doi:10.1097/PAP.0b013e31827b619e

13.

Agaimy A, Ihrler S (2014) Immunoglobulin G4 (IgG4)-related disease. A review of head and neck manifestations. Pathologe 35:152–159. doi:10.1007/s00292-013-1848-0

14.

Laco J, Ryska A, Celakovsky P, Dolezalova H, Mottl R, Tucek L (2011) Chronic sclerosing sialadenitis as one of the immunoglobulin G4-related diseases: a clinicopathological study of six cases from Central Europe. Histopathology 58:1157–1163. doi:10.1111/j.1365-2559.2011.03833.x

15.

Hrncir Z, Laco J, Slezak R, Rencova E, Drahosova M, Brtkova J (2011) Mikulicz's disease with unilateral exophthalmia—IgG4-related disease. Ces Revmatol 19:125–130

16.

Cameselle-Teijeiro J, Ladra MJ, Abdulkader I, Eloy C, Soares P, Barreiro F et al (2014) Increased lymphangiogenesis in riedel thyroiditis (immunoglobulin G4-related thyroid disease). Virchows Arch 465:359–364. doi:10.1007/s00428-014-1626-2

17.

Li Y, Zhou G, Ozaki T, Nishihara E, Matsuzuka F, Bai Y et al (2012) Distinct histopathological features of Hashimoto's thyroiditis with respect to IgG4-related disease. Mod Pathol 25:1086–1097. doi:10.1038/modpathol.2012.68

18.

Deshpande V, Khosroshahi A, Nielsen GP, Hamilos DL, Stone JH (2011) Eosinophilic angiocentric fibrosis is a form of IgG4-related systemic disease. Am J Surg Pathol 35:701–706. doi:10.1097/PAS.0b013e318213889e

19.

Cheuk W, Tam FKY, Chan ANH, Luk ISC, Yuen APW, Chan WK et al (2010) Idiopathic cervical fibrosis—a new member of IgG4-related sclerosing disease: report of 4 cases, 1 complicated by composite lymphoma. Am J Surg Pathol 34:1678–1685. doi:10.1097/PAS.0b013e3181f12c85

20.

Cheuk W, Chan JKC (2012) Lymphadenopathy of IgG4-related disease: an underdiagnosed and overdiagnosed entity. Semin Diagn Pathol 29:226–234. doi:10.1053/j.semdp.2012.07.001

21.

Ishida M, Hotta M, Kushima R, Shibayama M, Shimizu T, Okabe H (2009) Multiple IgG4-related sclerosing lesions in the maxillary sinus, parotid gland and nasal septum. Pathol Int 59:670–675. doi:10.1111/j.1440-1827.2009.02425.x

22.

Ikeda R, Awataguchi T, Shoji F, Oshima T (2010) A case of paranasal sinus lesions in IgG4-related sclerosing disease. Otolaryngol Head Neck Surg 142:458–459. doi:10.1016/j.otohns.2009.09.019

23.

Pace C, Ward S (2010) A rare case of IgG4-related sclerosing disease of the maxillary sinus associated with bone destruction. J Oral Maxillofac Surg 68:2591–2593. doi:10.1016/j.joms.2009.07.073

24.

Cho HK, Lee YJ, Chung JHC, Koo JW (2011) Otologic manifestation in IgG4-related systemic disease. Clin Exp Otorhinolaryngol 4:52–54. doi:10.3342/ceo.2011.4.1.52

25.

Khurram SA, Fernando M, Smith AT, Hunter KD (2013) IgG4-related sclerosing disease clinically mimicking oral squamous cell carcinoma. Oral Surg Oral Med Oral Pathol Oral Radiol 115:e48–e51. doi:10.1016/j.oooo.2012.04.011

26.

Lindau RH, Su YB, Kobayashi R, Smith RB (2013) Immunoglobulin G4-related sclerosing disease of the paranasal sinus. Head Neck 35:E321–E324. doi:10.1002/hed.23175

27.

Andrew N, Kearney D, Sladden N, Goss A, Selva D (2014) Immunoglobin G4-related disease of the hard palate. J Oral Maxillofac Surg 72:717–723. doi:10.1016/j.joms.2013.08.033

28.

Khoo JF, Batt M, Stimpson P, Safdar A (2014) Supraglottic immunoglobulin-G4 related plasma cell granuloma: case report and literature review. Head Neck 36:E57–E59. doi:10.1002/hed.23519

29.

Laco J, Steiner I, Holubec T, Dominik J, Holubcova Z, Vojacek J (2011) Isolated thoracic aortitis: clinicopathological and immunohistochemical study of 11 cases. Cardiovasc Pathol 20:352–360. doi:10.1016/j.carpath.2010.09.003

30.

Laco J, Podhola M, Kamarádová K, Novák I, Dobeš D, Broďák M et al (2013) Idiopathic vs. secondary retroperitoneal fibrosis: a clinicopathological study of 12 cases, with emphasis to possible relationship to IgG4-related disease. Virchows Arch 463:721–730. doi:10.1007/s00428-013-1480-7

31.

Umehara H, Okazaki K, Masaki Y et al (2012) Comprehensive diagnostic criteria for IgG4-related disease (IgG4-RD), 2011. Mod Rheumatol 22:21–30. doi:10.1007/s10165-011-0571-z

32.

Laco J, Örhalmi J, Bártová J, Zimandlová D (2014) Enterocolic lymphocytic phlebitis as a newly recognized manifestation of IgG4-related disease. Int J Surg Pathol (in press)

33.

Deshpande V, Zen Y, Chan JKC et al. (2012) Consensus statement on the pathology of IgG4-related disease. Mod Pathol 25:1181–1192. doi: 10.1038/modpathol.2012.72

34.

Strehl JD, Hartmann A, Agaimy A (2011) Numerous IgG4-positive plasma cells are ubiquitous in diverse localized non-specific chronic inflammatory conditions and need to be distinguished from IgG4-related disorders. J Clin Pathol 64:237–243. doi:10.1136/jcp.2010.085613

35.

Šteiner I, Krbal L, Rozkoš T, Harrer J, Laco J (2012) Calcific aortic valve stenosis: immunohistochemical analysis of inflammatory infiltrate. Pathol Res Pract 208:231–234. doi:10.1016/j.prp.2012.02.009

36.

Tošovský M, Bradna P, Laco J, Podhola M, Soukup T, Brožík J (2012) ANCA associated glomerulonephritis in combination with IgG4-positive mediastinal mass in a patient with ankylosing spondylitis treated with TNF alpha inhibitors. Acta Med (Hradec Kralove) 55:42–46

37.

Chang SY, Keogh KA, Lewis JE, Ryu JH, Cornell LD, Garrity JA et al (2013) IgG4-positive plasma cells in granulomatosis with polyangiitis (Wegener's): a clinicopathologic and immunohistochemical study on 43 granulomatosis with polyangiitis and 20 control cases. Hum Pathol 44:2432–2437. doi:10.1016/j.humpath.2013.05.023

38.

Tian W, Yakirevich E, Matoso A, Gnepp DR (2012) IgG4(+) plasma cells in sclerosing variant of mucoepidermoid carcinoma. Am J Surg Pathol 36:973–979. doi:10.1097/PAS.0b013e318258f018

39.

Lafzi A, Farahani RM, Shoja MA (2006) Amlodipine-induced gingival hyperplasia. Med Oral Patol Oral Cir Bucal 11:E480–E482

40.

Vishnudas B, Sameer Z, Shriram B, Rekha K (2014) Amlodipine induced plasma cell granuloma of the gingiva: a novel case report. J Nat Sci Biol Med 5:472–476. doi:10.4103/0976-9668.136267

41.

Yamamoto H, Yamaguchi H, Aishima S, Oda Y, Kohashi K, Oshiro Y et al (2009) Inflammatory myofibroblastic tumor versus IgG4-related sclerosing disease and inflammatory pseudotumor: a comparative clinicopathologic study. Am J Surg Pathol 33:1330–1340

42.

Saab ST, Hornick JL, Fletcher CD, Olson SJ, Coffin CM (2011) IgG4 plasma cells in inflammatory myofibroblastic tumor: inflammatory marker or pathogenic link? Mod Pathol 24:606–612. doi:10.1038/modpathol.2010.226
Acknowledgments
The authors thank Mrs. M. Žáková for her excellent technical support, Vratislav Zita, M.D., for providing clinical data in patient no. 5, and Prof. I. Šteiner, M.D., Ph.D. for English language correction. The experiments carried out in this study comply with the current laws of the Czech Republic. This study was supported by the program PRVOUK P37/11 and by the project LM2010004. The funding sources had no involvement on the study design and collection, analysis, and interpretation of data, on the writing of the report, and on the decision to submit the article for publication.
Conflict of interest
The authors declare that they have no conflict of interest.
About this article
Cite this article
Laco, J., Kamarádová, K., Mottl, R. et al. Plasma cell granuloma of the oral cavity—a mucosal manifestation of immunoglobulin G4-related disease or a mimic?. Virchows Arch 466, 255–263 (2015). https://doi.org/10.1007/s00428-014-1711-6
Received:

Revised:

Accepted:

Published:

Issue Date:
Keywords
Oral cavity

Plasma cell granuloma

Plasma cell gingivitis

Inflammatory pseudotumor

IgG4-related disease

IgG4