Abstract
Detecting human papillomavirus (HPV) infection in head and neck squamous cell carcinoma (HNSCC) is clinically relevant, but there is no agreement about the most appropriate methodology. We have studied 64 oropharyngeal carcinomas using p16 immunohistochemistry, HPV DNA in situ hybridisation (ISH) and HPV DNA polymerase chain reaction (PCR) followed by pyrosequencing. We have also evaluated a new assay, RNAscope, designed to detect HPV E6/E7 RNA transcripts. Using a threshold of 70 % labelled tumour cells, 21 cases (32.8 %) were p16 positive. Of these, 19 cases scored positive with at least one HPV detection assay. Sixteen cases were positive by HPV DNA-ISH, and 18 cases were positive using the E6/E7 RNAscope assay. By PCR and pyrosequencing, HPV16 was detected in 15 cases, while one case each harboured HPV33, 35 and 56. All p16-negative cases were negative using these assays. We conclude that p16 expression is a useful surrogate marker for HPV infection in HNSCC with a high negative predictive value and that p16-positive cases should be further evaluated for HPV infection, preferably by PCR followed by type determination. Using RNase digestion experiments, we show that the RNAscope assay is not suitable for the reliable discrimination between E6/E7 RNA transcripts and viral DNA.
This is a preview of subscription content, log in to check access.
Access options
Buy single article
Instant access to the full article PDF.
US$ 39.95
Price includes VAT for USA
Subscribe to journal
Immediate online access to all issues from 2019. Subscription will auto renew annually.
US$ 199
This is the net price. Taxes to be calculated in checkout.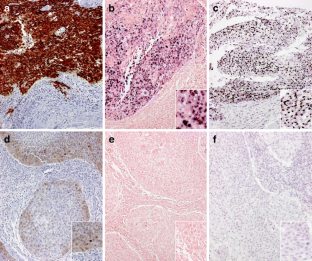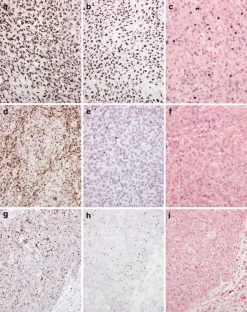 References
1.

Syrjanen KJ, Pyrhonen S, Syrjanen SM, Lamberg MA (1983) Immunohistochemical demonstration of human papilloma virus (HPV) antigens in oral squamous cell lesions. Br J Oral Surg 21(2):147–153

2.

Loning T, Meichsner M, Milde-Langosch K, Hinze H, Orlt I, Hormann K, Sesterhenn K, Becker J, Reichart P (1987) HPV DNA detection in tumours of the head and neck: a comparative light microscopy and DNA hybridization study. ORL J Otorhinolaryngol Relat Spec 49(5):259–269

3.

Niedobitek G, Pitteroff S, Herbst H, Shepherd P, Finn T, Anagnostopoulos I, Stein H (1990) Detection of human papillomavirus type 16 DNA in carcinomas of the palatine tonsil. J Clin Pathol 43(11):918–921

4.

Licitra L, Perrone F, Bossi P, Suardi S, Mariani L, Artusi R, Oggionni M, Rossini C, Cantu G, Squadrelli M, Quattrone P, Locati LD, Bergamini C, Olmi P, Pierotti MA, Pilotti S (2006) High-risk human papillomavirus affects prognosis in patients with surgically treated oropharyngeal squamous cell carcinoma. J Clin Oncol 24(36):5630–5636

5.

Ragin CC, Taioli E (2007) Survival of squamous cell carcinoma of the head and neck in relation to human papillomavirus infection: review and meta-analysis. Int J Cancer 121(8):1813–1820

6.

Fakhry C, Westra WH, Li S, Cmelak A, Ridge JA, Pinto H, Forastiere A, Gillison ML (2008) Improved survival of patients with human papillomavirus-positive head and neck squamous cell carcinoma in a prospective clinical trial. J Natl Cancer Inst 100(4):261–269

7.

Ang KK, Harris J, Wheeler R, Weber R, Rosenthal DI, Nguyen-Tan PF, Westra WH, Chung CH, Jordan RC, Lu C, Kim H, Axelrod R, Silverman CC, Redmond KP, Gillison ML (2010) Human papillomavirus and survival of patients with oropharyngeal cancer. N Engl J Med 363(1):24–35

8.

Schache AG, Liloglou T, Risk JM, Filia A, Jones TM, Sheard J, Woolgar JA, Helliwell TR, Triantafyllou A, Robinson M, Sloan P, Harvey-Woodworth C, Sisson D, Shaw RJ (2011) Evaluation of human papilloma virus diagnostic testing in oropharyngeal squamous cell carcinoma: sensitivity, specificity, and prognostic discrimination. Clin Cancer Res 17(19):6262–6271

9.

Zengel P, Assmann G, Mollenhauer M, Jung A, Sotlar K, Kirchner T, Ihrler S (2012) Cancer of unknown primary originating from oropharyngeal carcinomas are strongly correlated to HPV positivity. Virchows Arch 461(3):283–290

10.

Chaturvedi AK, Engels EA, Pfeiffer RM, Hernandez BY, Xiao W, Kim E, Jiang B, Goodman MT, Sibug-Saber M, Cozen W, Liu L, Lynch CF, Wentzensen N, Jordan RC, Altekruse S, Anderson WF, Rosenberg PS, Gillison ML (2011) Human papillomavirus and rising oropharyngeal cancer incidence in the United States. J Clin Oncol 29(32):4294–4301

11.

Blomberg M, Nielsen A, Munk C, Kjaer SK (2011) Trends in head and neck cancer incidence in Denmark, 1978–2007: focus on human papillomavirus associated sites. Int J Cancer 129(3):733–741

12.

Nygard M, Aagnes B, Bray F, Moller B, Mork J (2012) Population-based evidence of increased survival in human papillomavirus-related head and neck cancer. Eur J Cancer 48(9):1341–1346

13.

Rietbergen MM, Leemans CR, Bloemena E, Heideman DA, Braakhuis BJ, Hesselink AT, Witte BI, de Jong RJ, Meijer CJ, Snijders PJ, Brakenhoff RH (2012) Increasing prevalence rates of HPV attributable oropharyngeal squamous cell carcinomas in the Netherlands as assessed by a validated test algorithm. Int J Cancer 132(7):1565–1571

14.

Gillison ML (2006) Human papillomavirus and prognosis of oropharyngeal squamous cell carcinoma: implications for clinical research in head and neck cancers. J Clin Oncol 24(36):5623–5625

15.

Kreimer AR, Clifford GM, Boyle P, Franceschi S (2005) Human papillomavirus types in head and neck squamous cell carcinomas worldwide: a systematic review. Cancer Epidemiol Biomarkers Prev 14(2):467–475

16.

Jordan RC, Lingen MW, Perez-Ordonez B, He X, Pickard R, Koluder M, Jiang B, Wakely P, Xiao W, Gillison ML (2012) Validation of methods for oropharyngeal cancer HPV status determination in US cooperative group trials. Am J Surg Pathol 36(7):945–954

17.

Munger K, Werness BA, Dyson N, Phelps WC, Harlow E, Howley PM (1989) Complex formation of human papillomavirus E7 proteins with the retinoblastoma tumor suppressor gene product. EMBO J 8(13):4099–4105

18.

Dyson N, Howley PM, Munger K, Harlow E (1989) The human papilloma virus-16 E7 oncoprotein is able to bind to the retinoblastoma gene product. Science 243(4893):934–937

19.

Scheffner M, Werness BA, Huibregtse JM, Levine AJ, Howley PM (1990) The E6 oncoprotein encoded by human papillomavirus types 16 and 18 promotes the degradation of p53. Cell 63(6):1129–1136

20.

Rampias T, Sasaki C, Weinberger P, Psyrri A (2009) E6 and e7 gene silencing and transformed phenotype of human papillomavirus 16-positive oropharyngeal cancer cells. J Natl Cancer Inst 101(6):412–423

21.

Smeets SJ, Hesselink AT, Speel EJ, Haesevoets A, Snijders PJ, Pawlita M, Meijer CJ, Braakhuis BJ, Leemans CR, Brakenhoff RH (2007) A novel algorithm for reliable detection of human papillomavirus in paraffin embedded head and neck cancer specimen. Int J Cancer 121(11):2465–2472

22.

Hoffmann M, Ihloff AS, Gorogh T, Weise JB, Fazel A, Krams M, Rittgen W, Schwarz E, Kahn T (2010) p16(INK4a) overexpression predicts translational active human papillomavirus infection in tonsillar cancer. Int J Cancer 127(7):1595–1602

23.

Liang C, Marsit CJ, McClean MD, Nelson HH, Christensen BC, Haddad RI, Clark JR, Wein RO, Grillone GA, Houseman EA, Halec G, Waterboer T, Pawlita M, Krane JF, Kelsey KT (2012) Biomarkers of HPV in head and neck squamous cell carcinoma. Cancer Res 72(19):5004–5013

24.

Ukpo OC, Flanagan JJ, Ma XJ, Luo Y, Thorstad WL, Lewis JS Jr (2011) High-risk human papillomavirus E6/E7 mRNA detection by a novel in situ hybridization assay strongly correlates with p16 expression and patient outcomes in oropharyngeal squamous cell carcinoma. Am J Surg Pathol 35(9):1343–1350

25.

Klaes R, Friedrich T, Spitkovsky D, Ridder R, Rudy W, Petry U, Dallenbach-Hellweg G, Schmidt D, von Knebel DM (2001) Overexpression of p16(INK4A) as a specific marker for dysplastic and neoplastic epithelial cells of the cervix uteri. Int J Cancer 92(2):276–284

26.

Klussmann JP, Gultekin E, Weissenborn SJ, Wieland U, Dries V, Dienes HP, Eckel HE, Pfister HJ, Fuchs PG (2003) Expression of p16 protein identifies a distinct entity of tonsillar carcinomas associated with human papillomavirus. Am J Pathol 162(3):747–753

27.

Dayyani F, Etzel CJ, Liu M, Ho CH, Lippman SM, Tsao AS (2010) Meta-analysis of the impact of human papillomavirus (HPV) on cancer risk and overall survival in head and neck squamous cell carcinomas (HNSCC). Head Neck Oncol 2:15

28.

Thavaraj S, Stokes A, Guerra E, Bible J, Halligan E, Long A, Okpokam A, Sloan P, Odell E, Robinson M (2011) Evaluation of human papillomavirus testing for squamous cell carcinoma of the tonsil in clinical practice. J Clin Pathol 64(4):308–312

29.

Thomas J, Primeaux T (2012) Is p16 immunohistochemistry a more cost-effective method for identification of human papilloma virus-associated head and neck squamous cell carcinoma? Ann Diagn Pathol 16(2):91–99

30.

Schlecht NF, Brandwein-Gensler M, Nuovo GJ, Li M, Dunne A, Kawachi N, Smith RV, Burk RD, Prystowsky MB (2011) A comparison of clinically utilized human papillomavirus detection methods in head and neck cancer. Mod Pathol 24(10):1295–1305

31.

Lewis JS Jr, Thorstad WL, Chernock RD, Haughey BH, Yip JH, Zhang Q, El-Mofty SK (2010) p16 positive oropharyngeal squamous cell carcinoma:an entity with a favorable prognosis regardless of tumor HPV status. Am J Surg Pathol 34(8):1088–1096

32.

Singhi AD, Westra WH (2010) Comparison of human papillomavirus in situ hybridization and p16 immunohistochemistry in the detection of human papillomavirus-associated head and neck cancer based on a prospective clinical experience. Cancer 116(9):2166–2173

33.

van Monsjou HS, van Velthuysen ML, van den Brekel MW, Jordanova ES, Melief CJ, Balm AJ (2012) Human papillomavirus status in young patients with head and neck squamous cell carcinoma. Int J Cancer 130(8):1806–1812

34.

Hoffmann M, Tribius S, Quabius ES, Henry H, Pfannenschmidt S, Burkhardt C, Gorogh T, Halec G, Hoffmann AS, Kahn T, Rocken C, Haag J, Waterboer T, Schmitt M (2012) HPV DNA, E6(*)I-mRNA expression and p16(INK4A) immunohistochemistry in head and neck cancer—how valid is p16(INK4A) as surrogate marker? Cancer Lett 323(1):88–96

35.

Barnes LEJW, Reichart P, Sidransky D (eds) (2005) World Health Organization classification of tumours. Pathology and genetics of head and neck tumours. IARC Press, Lyon

36.

Begum S, Gillison ML, Ansari-Lari MA, Shah K, Westra WH (2003) Detection of human papillomavirus in cervical lymph nodes: a highly effective strategy for localizing site of tumor origin. Clin Cancer Res 9(17):6469–6475

37.

de Roda Husman AM, Walboomers JM, van den Brule AJ, Meijer CJ, Snijders PJ (1995) The use of general primers GP5 and GP6 elongated at their 3′ ends with adjacent highly conserved sequences improves human papillomavirus detection by PCR. J Gen Virol 76(Pt 4):1057–1062

38.

Evans MF, Adamson CS, Simmons-Arnold L, Cooper K (2005) Touchdown general primer (GP5+/GP6+) PCR and optimized sample DNA concentration support the sensitive detection of human papillomavirus. BMC Clin Pathol 5:10

39.

Gravitt PE, Peyton CL, Alessi TQ, Wheeler CM, Coutlee F, Hildesheim A, Schiffman MH, Scott DR, Apple RJ (2000) Improved amplification of genital human papillomaviruses. J Clin Microbiol 38(1):357–361

40.

Tamura K, Peterson D, Peterson N, Stecher G, Nei M, Kumar S (2011) MEGA5: molecular evolutionary genetics analysis using maximum likelihood, evolutionary distance, and maximum parsimony methods. Mol Biol Evol 28(10):2731–2739

41.

Chaturvedi AK (2012) Epidemiology and clinical aspects of HPV in head and neck cancers. Head Neck Pathol 6(Suppl 1):S16–S24

42.

Chaturvedi AK, Engels EA, Anderson WF, Gillison ML (2008) Incidence trends for human papillomavirus-related and -unrelated oral squamous cell carcinomas in the United States. J Clin Oncol 26(4):612–619

43.

Syrjanen S (2004) HPV infections and tonsillar carcinoma. J Clin Pathol 57(5):449–455

44.

El-Mofty SK, Zhang MQ, Davila RM (2008) Histologic identification of human papillomavirus (HPV)-related squamous cell carcinoma in cervical lymph nodes: a reliable predictor of the site of an occult head and neck primary carcinoma. Head Neck Pathol 2(3):163–168

45.

Chernock RD, El-Mofty SK, Thorstad WL, Parvin CA, Lewis JS Jr (2009) HPV-related nonkeratinizing squamous cell carcinoma of the oropharynx: utility of microscopic features in predicting patient outcome. Head Neck Pathol 3(3):186–194

46.

Soderlund-Strand A, Carlson J, Dillner J (2009) Modified general primer PCR system for sensitive detection of multiple types of oncogenic human papillomavirus. J Clin Microbiol 47(3):541–546

47.

Camargo M, Soto-De Leon S, Sanchez R, Munoz M, Vega E, Beltran M, Perez-Prados A, Patarroyo ME, Patarroyo MA (2011) Detection by PCR of human papillomavirus in Colombia: comparison of GP5+/6+ and MY09/11 primer sets. J Virol Methods 178(1–2):68–74
Acknowledgments
This work was supported by grants from the Berliner Krebsgesellschaft (NIFF 201004) and the Wilhelm Sander Foundation (2012.029.1). Mário Barros is supported by the Alexander von Humboldt Foundation. Michelle Oliveira-Silva was supported by the Deutscher Akademischer Austauschdienst (DAAD).
Conflict of interest
The authors indicate no potential conflicts of interest.
About this article
Cite this article
Dreyer, J.H., Hauck, F., Oliveira-Silva, M. et al. Detection of HPV infection in head and neck squamous cell carcinoma: a practical proposal. Virchows Arch 462, 381–389 (2013). https://doi.org/10.1007/s00428-013-1393-5
Received:

Revised:

Accepted:

Published:

Issue Date:
Keywords
HPV

p16

Squamous cell carcinoma

In situ hybridisation

PCR