Abstract
High microsatellite instability (MSI-H) allows the identification of a subset of colorectal carcinomas associated with good prognosis and a higher incidence of Lynch syndrome. The aim of this work was to assess the interobserver variability and optimize our MSI-H prediction model previously published based on phenotypic features. The validation series collected from five different hospitals included 265 primary colorectal carcinomas from the same number of patients. The eight clinicopathological parameters that integrate our original model were evaluated in the corresponding centers. Homogeneity assessment revealed significant differences between hospitals in the estimation of the growth pattern, presence of Crohn-like reaction, percentage of cribriform structures, and Ki-67 positivity. Despite this observation, our model was globally able to predict MSI-H with a negative predictive value of 97.0%. The optimization studies were carried out with 615 cases and resulted in a new prediction model RERtest8, which includes the presence of tumor infiltrating lymphocytes at the expense of the percentage of cribriform structures. This refined model achieves a negative predictive value of 97.9% that is maintained even when the immunohistochemical parameters are left out, RERtest6. The high negative predictive value achieved by our models allows the reduction of the cases to be tested for MSI to less than 10%. Furthermore, the easy evaluation of the parameters included in the model renders it a useful tool for the routine practice and can reinforce other published models and the current clinical protocols to detect the subset of colorectal cancer patients bearing hereditary nonpolyposis colorectal cancers risk and/or MSI-H phenotype.
Access options
Buy single article
Instant access to the full article PDF.
US$ 39.95
Tax calculation will be finalised during checkout.
Subscribe to journal
Immediate online access to all issues from 2019. Subscription will auto renew annually.
US$ 119
Tax calculation will be finalised during checkout.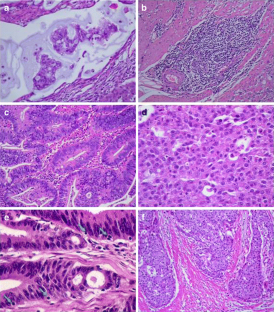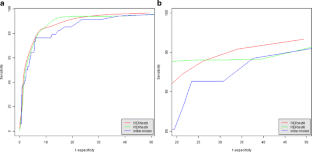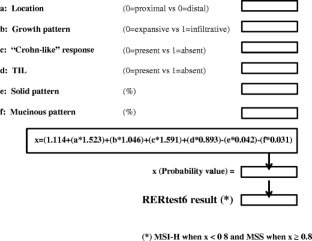 References
1.

Ogino S, Goel A (2008) Molecular classification and correlates in colorectal cancer. J Mol Diagnostics 10:13–27, s.l

2.

Gryfe RH, Kim H, Hsieh ET (2000) Tumor microsatellite instability and clinical outcome in young patients with colorectal cancer. N Engl J Med 342:69–77, s.l

3.

Fearon ER, Volgestein B (1990) A generic model for colorectal tumorigenesis. Cell 61:759–767

4.

Thibodeau SN, Bren G, Schaid D (1993) Microsatellite instability in cancer of proximal colon. Science 260:816–819, s.l

5.

Jass JR, Do KA, Simms LA (1998) Morphology of sporadic colorectal cancer with DNA replication errors. Gut 42:673–679, s.l

6.

Fujiwara T, Stolker JM, Watanabe T et al (1998) Accumulated clonal genetic alterations in familial and sporadic colorectal carcinomas with widespread instability in microsatellite sequences. Am J Pathol 153:1063–1078, s.l

7.

Herman JG, Umar A, Polyak K et al (1998) Incidence and functional consequences of hMLH1 promoter hypermethylation in colorectal carcinoma. Proc Natl Acad Sci 95:6870–6875, s.l

8.

Arnold CN, Goel A, Boland CR (2003) Role of hMLH1 promoter hypermethylation in drug resistance to 5-fluorouracil in colorectal cancer cell lines. Int J Cancer 106:66–73, s.l

9.

Ribic CM, Sargent DJ, Moore MJ et al (2003) Tumor microsatellite-instability status as a predictor of benefit from fluorouracil-based adjuvant chemotherapy for colon cancer. N Engl J Med 349:247–257

10.

Jass JR (2004) HNPCC and sporadic MSI-H colorectal cancer: a review of the morphological similarities and differences. Familial Cancer 3:93–100, s.l

11.

Kakar S, Aksoy S, Burgart LJ, Smyrk TC (2004) Mucinous carcinoma of the colon: correlation of loss of mismatch repair enzymes with clinicopathologic features and survival. Mod Pathol 17:696–700

12.

Ogino S, Brahmandam M, Cantor M et al (2006) Distinct molecular features of colorectal carcinoma with signet ring cell component and colorectal carcinoma with mucinous component. Mod Pathol 19:59–68, s.l

13.

Jenkins MA, Hayashi S, O'Shea et al (2007) Pathology features in Bethesda guidelines predict colorectal cancer microsatellite instability: a population-based study. Gastroenterology 133:48–56

14.

Greenson JK, Huang S, Herron C et al (2009) Pathologic predictors of mirosatellite instability in colorectal cancer. Am J Surg Pathol 33:126–133

15.

Colomer A, Erill N, Vidal A et al (2005) A novel logistic model based on clinicopathological features predicts microsatellite instability in colorectal carcinomas. Diagn Mol Pathol 14:213–223

16.

Michael-Robinson JM, Biemer-Huttmann A, Purdie DM et al (2001) Tumour infiltrating lymphocytes and apoptosis are independent features in colorectal cancer stratified according to microsatellite instability status. Gut 48:360–366

17.

Hamilton SR, Aaltonen LA (2000) Pathology and genetics of tumours of the digestive system. eds World Health Organization Classification of Tumors, IARC Press, Lyon, pp 103–143

18.

Boland CR, Thibodeau SN, Hamilton SR et al (1998) A National Cancer Institute Workshop on microsatellite instability for cancer detection and familial predisposition: development of international criteria for the determination of microsatellite instability in colorectal cancer. Cancer Res 58:5248–5257

19.

Jen J, Kim H, Piantadosi S et al (1994) Allelic loss of chromosome 18q and prognosis in colorectal cancer. N Engl J Med 331:213–221

20.

Jones MH, Nakamura Y (1992) Detection of loss of heterozygosity at the human TP53 locus using a dinucleotide repeat polymorphism. Genes Chromosom Cancer 5:89–90

21.

Friedman J, Hastie T, Tibshirani R (2008) Glmnet: Lasso and elastic-net regularized generalized linear models: http://www-stat.stanford.edu/∼hastie/Papers/glmnet.pdf

22.

Friedman J, Hastie T, Höfling H, Tibshirani R (2007) Pathwise coordinate optimization. Ann Appl Stat 1(2):302–332

23.

R Development Core Team. R (2008) A language and environment for statistical computing. s.l.: R Foundation for Statistical Computing, Vienna, Austria. ISBN 3-900051-07-0, URL http://www.R-project.org

24.

Schwarz G (1978) Estimating the dimension of a model. Ann Stat 6:461–464
Acknowledgment
The authors thank Eva Torija from BIOPAT for her secretarial assistance in data collection.
Conflict of interest statement
We declare that we have no conflict of interest.
About this article
Cite this article
Román, R., Verdú, M., Calvo, M. et al. Microsatellite instability of the colorectal carcinoma can be predicted in the conventional pathologic examination. A prospective multicentric study and the statistical analysis of 615 cases consolidate our previously proposed logistic regression model. Virchows Arch 456, 533–541 (2010). https://doi.org/10.1007/s00428-010-0896-6
Received:

Revised:

Accepted:

Published:

Issue Date:
Keywords
Microsatellite instability

Prediction model

Colorectal cancer

Pathological parameters

Hereditary nonpolyposis colorectal cancer