Abstract
An acute enteritis is commonly followed by intestinal neuromuscular dysfunction, including prolonged hyperexcitability of enteric neurons. Such motility disorders are associated with maintained increases in immune cells adjacent to enteric ganglia and in the mucosa. However, whether the commonly used animal model, trinitrobenzene sulphonate (TNBS)-induced enteritis, causes histological and immune cell changes similar to human enteric neuropathies is not clear. We have made a detailed study of the mucosal damage and repair and immune cell invasion following intralumenal administration of TNBS. Intestines from untreated, sham-operated and TNBS-treated animals were examined at 3 h to 56 days. At 3 h, the mucosal surface was completely ablated, by 6 h an epithelial covering was substantially restored and by 1 day there was full re-epithelialisation. The lumenal epithelium developed from a squamous cell covering to a fully differentiated columnar epithelium with mature villi at about 7 days. Prominent phagocytic activity of enterocytes occurred at 1–7 days. A surge of eosinophils and T lymphocytes associated with the enteric nerve ganglia occurred at 3 h to 3 days. However, elevated immune cell numbers occurred in the lamina propria of the mucosa until 56 days, when eosinophils were still three times normal. We conclude that the disruption of the mucosal surface that causes TNBS-induced ileitis is brief, a little more than 6 h, and causes a transient immune cell surge adjacent to enteric ganglia. This is much briefer than the enteric neuropathy that ensues. Ongoing mucosal inflammatory reaction may contribute to the persistence of enteric neuropathy.
Access options
Buy single article
Instant access to the full article PDF.
USD 39.95
Price excludes VAT (USA)
Tax calculation will be finalised during checkout.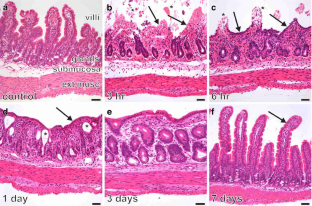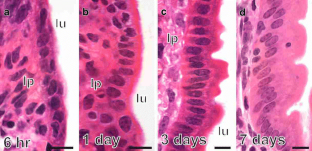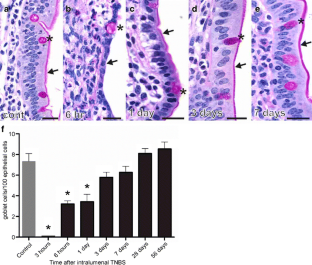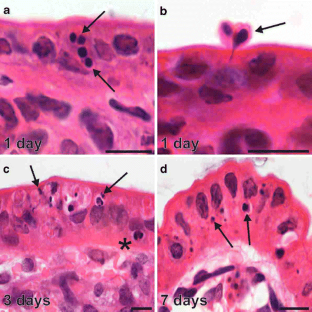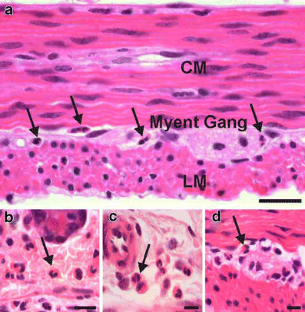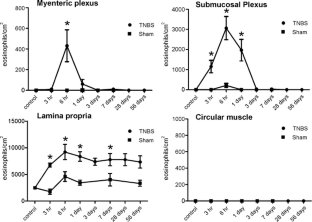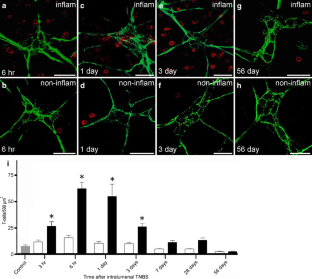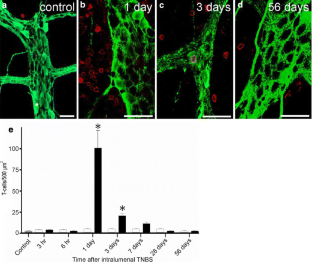 References
Collins SM (1996) The immunomodulation of enteric neuromuscular function: implications for motility and inflammatory disorders. Gastroenterology 111:1683–1699

Sharkey KA, Kroese ABA (2001) Consequences of intestinal inflammation of the enteric nervous system: neuronal activation induced by inflammatory mediators. Anat Rec 262:79–90

De Giorgio R, Guerrini S, Barbara G et al (2004) Inflammatory neuropathies of the enteric nervous system. Gastroenterology 126:1872–1883

Khan WI, Collins SM (2005) Gut motor function: immunological control in enteric infection and inflammation. Clin Exp Immunol 143:389–397

Lomax AE, Linden DR, Mawe GM et al (2006) Effects of gastrointestinal inflammation on enteroendocrine cells and enteric neural reflex circuits. Auton Neurosci 126:250–257

Knowles CH, De Giorgio R, Kapur RP et al (2009) Gastrointestinal neuromuscular pathology: guidelines for histological techniques and reporting on behalf of the Gastro 2009 International Working Group. Acta Neuropathol (in press)

Barbara G, Vallance BA, Collins SM (1997) Persistent intestinal neuromuscular dysfunction after acute nematode infection in mice. Gastroenterology 113:1224–1232

Lomax AE, O'Hara JR, Hyland NP et al (2007) Persistent alterations to enteric neural signaling in the guinea pig colon following the resolution of colitis. Am J Physiol 292:482–491

Jacobson K, McHugh K, Collins SM (1995) Experimental colitis alters myenteric nerve function at inflamed and noninflamed sites in the rat. Gastroenterology 109:718–722

Pérez-Navarro R, Martínez-Augustin O, Ballester I et al (2005) Experimental inflammation of the rat distal colon inhibits ion secretion in the proximal colon by affecting the enteric nervous system. Naunyn Schmiedebergs Arch Pharmacol 371:114–121

De Schepper HU, De Man JG, Van Nassauw L et al (2007) Acute distal colitis impairs gastric emptying in rats via an extrinsic neuronal reflex pathway involving the pelvic nerve. Gut 56:195–202

X-x D, Thacker M, Pontell L et al (2008) Effects of intestinal inflammation on specific subgroups of guinea-pig celiac ganglion neurons. Neurosci Lett 444:231–235

Palmer JM, Wong Riley M, Sharkey KA (1998) Functional alterations in jejunal myenteric neurons during inflammation in nematode-infected guinea pigs. Am J Physiol 275:G922–G935

Linden DR, Sharkey KA, Mawe GM (2003) Enhanced excitability of myenteric AH neurones in the inflamed guinea-pig distal colon. J Physiol (Lond) 547:589–601

Lomax AE, Mawe GM, Sharkey KA (2005) Synaptic facilitation and enhanced neuronal excitability in the submucosal plexus during experimental colitis in guinea-pig. J Physiol (Lond) 564:863–875

Nurgali K, Nguyen TV, Matsuyama H et al (2007) Phenotypic changes of morphologically identified guinea-pig myenteric neurons following intestinal inflammation. J Physiol (Lond) 583:593–609

Krauter EM, Strong DS, Brooks EM et al (2007) Changes in colonic motility and the electrophysiological properties of myenteric neurons persist following recovery from trinitrobenzene sulfonic acid colitis in the guinea pig. Neurogastroenterol Motil 19:990–1000

Törnblom H, Lindberg G, Nyberg B et al (2002) Full-thickness biopsy of the jejunum reveals inflammation and enteric neuropathy in irritable bowel syndrome. Gastroenterology 123:1972–1979

Chadwick VS, Chen W, Shu D et al (2002) Activation of the mucosal immune system in irritable bowel syndrome. Gastroenterology 122:1778–1783

Spiller RC, Jenkins D, Thornley JP et al (2000) Increased rectal mucosal enteroendocrine cells, T lymphocytes, and increased gut permeability following acute Campylobacter enteritis and in post-dysenteric irritable bowel syndrome. Gut 47:804–811

Sexton DW, Blaylock MG, Walsh GM (2001) Human alveolar epithelial cells engulf apoptotic eosinophils by means of integrin- and phosphatidylserine receptor-dependent mechanisms: a process upregulated by dexamethasone. J Allergy Clin Immunol 108:962–969

Elson CO, Sartor RB, Tennyson GS et al (1995) Experimental models of inflammatory bowel disease. Gastroenterology 109:1344–1367

Gaudio E, Taddei G, Vetuschi A et al (1999) Dextran sulfate sodium (DSS) colitis in rats. Dig Dis Sci 44:1458–1475

Argenzio RA, Henrikson CK, Liacos JA (1988) Restitution of barrier and transport function of porcine colon after acute mucosal injury. Am J Physiol 255:G62–G71

Dignass AU (2001) Mechanisms and modulation of intestinal epithelial repair. Inflamm Bowl Dis 7:68–77

Boyer L, Ghoreishi M, Templeman V et al (2005) Myenteric plexus injury and apoptosis in experimental colitis. Auton Neurosci 117:41–53

Poli E, Lazzaretti M, Grandi D et al (2001) Morphological and functional alterations of the myenteric plexus in rats with TNBS-induced colitis. Neurochem Res 26:1085–1093

Monks J, Rosner D, Geske FJ et al (2005) Epithelial cells as phagocytes: apoptotic epithelial cells are engulfed by mammary alveolar epithelial cells and repress inflammatory mediator release. Cell Death Differ 12:107–114

Ichimura T, EJPv A, Humphreys BD et al (2008) Kidney injury molecule-1 is a phosphatidylserine receptor that confers a phagocytic phenotype on epithelial cells. J Clin Invest 118:1657–1668

Morris GP, Harding RK (1979) Phagocytosis of cells in the gastric surface epithelium of the rat. Cell Tissue Res 196:449–454

Feil W, Wenzl E, Vattay P et al (1987) Repair of rabbit duodenal mucosa after acid injury in vivo and in vitro. Gastroenterology 92:1973–1986

Elson CO, Beagley KW, Sharmanov AT et al (1996) Hapten-induced model of murine inflammatory bowel disease. J Immunol 157:2174–2185

Barbara G, De Giorgio R, Stanghellini V et al (2002) A role for inflammation in irritable bowel syndrome. Gut 51:i41–i44

Sanovic S, Lamb DP, Blennerhassett MG (1999) Damage to the enteric nervous system in experimental colitis. Am J Pathol 155:1051–1057

Linden DR, Couvrette JM, Ciolino A et al (2005) Indiscriminate loss of myenteric neurones in the TNBS-inflamed guinea-pig distal colon. Neurogastroenterol Motil 17:751–760

De Giorgio R, Camilleri M (2004) Human enteric neuropathies: morphology and molecular pathology. Neurogastroenterol Motil 16:515–531

Bertrand PP, Kunze WAA, Bornstein JC et al (1997) Analysis of the responses of myenteric neurons in the small intestine to chemical stimulation of the mucosa. Am J Physiol 273:G422–G435

Furness JB, Jones C, Nurgali K et al (2004) Intrinsic primary afferent neurons and nerve circuits within the intestine. Prog Neurobiol 72:143–164

Gwynne RM, Bornstein JC (2007) Local inhibitory reflexes excited by mucosal application of nutrient amino acids in guinea pig jejunum. Am J Physiol 292:G1660–G1670
Acknowledgements
This work was supported by the National Health and Medical Research Council of Australia (NHMRC) grant 400020, a University of Melbourne visiting scholar award and a Fellowship of the Fundação de Amparo à Pesquisa do Estado de São Paulo, number 2008/05718-9 (to PC) and G8 Fellowship to MB. We thank Dr. Trung Nguyen for statistical analysis. Histology facilities were provided by the Australian Phenomics Network Histopathology and Organ Pathology Node.
Conflict of interest
The authors declare that they have no conflict of interest.
About this article
Cite this article
Pontell, L., Castelucci, P., Bagyánszki, M. et al. Structural changes in the epithelium of the small intestine and immune cell infiltration of enteric ganglia following acute mucosal damage and local inflammation. Virchows Arch 455, 55–65 (2009). https://doi.org/10.1007/s00428-009-0795-x
Received:

Revised:

Accepted:

Published:

Issue Date:

DOI: https://doi.org/10.1007/s00428-009-0795-x
Keywords
Enteritis

Mucosal inflammation

Enteric neuropathy

Small intestine

Irritable bowel syndrome

Epithelial repair

Immune cells