Abstract
Background and Aims
Autoimmune pancreatitis seems to be a disease with a heterogeneous appearance. Our intention was to establish key diagnostic criteria, define grades of severity and activity, identify features of potential subtypes and evaluate the diagnostic relevance of biopsy specimens.
Methods
Histopathological criteria and clinical features were recorded in pancreatic resection specimens from 53 patients who were found to have chronic pancreatitis lacking pseudocysts, calculi, irregular duct dilatations, pancreas divisum and/or duodenal wall inflammation. The severity of the chronic inflammation was graded, and the activity of the acute inflammatory component and the granulocytic epithelial lesion (GEL) were determined. Additionally, pancreatic biopsy specimens from 9 patients with suspected AIP were assessed.
Results
Periductal lymphoplasmacytic infiltration was identified in all cases, followed in order of frequency by periductal fibrosis and venulitis. These changes were absent in 147 pancreatic specimens that showed chronic pancreatitis associated with pseudocysts, calculi, pancreas divisum and/or duodenal wall inflammation. In 90% of the cases, these chronic changes were graded as 3 or 4. In 81%, the inflammatory process resided in the head of the pancreas and involved the common bile duct. GELs were present in 42% of the patients, who had a mean age of 40.5 years, an almost equal male–female ratio and a high coincidence of ulcerative colitis or Crohn's disease. Patients without GELs were older (mean age 64 years), showed a male preponderance, commonly had Sjögren's syndrome and often developed recurrent bile-duct stenosis. Diagnostically relevant lesions were present in two of five wedge biopsy specimens and three of four fine-needle specimens.
Conclusions
Periductal lymphoplasmacytic infiltration and fibrosis, preferential occurrence in the pancreatic head and venulitis characterize autoimmune pancreatitis. GELs predominantly occur in a subset of patients who are younger, more commonly have ulcerative colitis and Crohn's disease and seem to have fewer recurrences than patients without GELs. Pancreatic biopsy material proved to be a very helpful adjunct for establishing the diagnosis.
Access options
Buy single article
Instant access to the full article PDF.
US$ 39.95
Tax calculation will be finalised during checkout.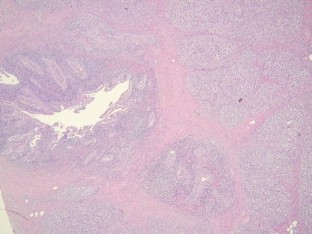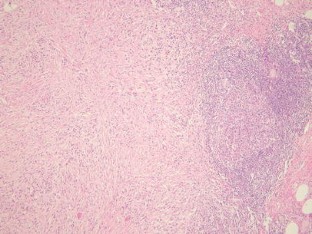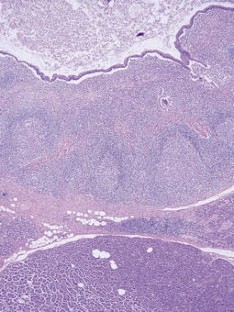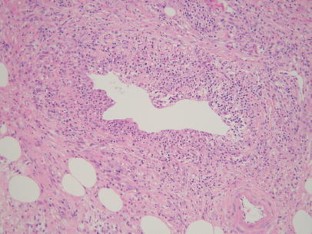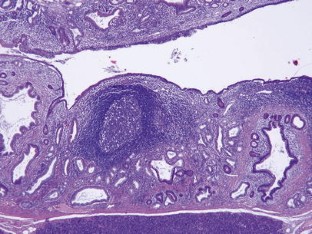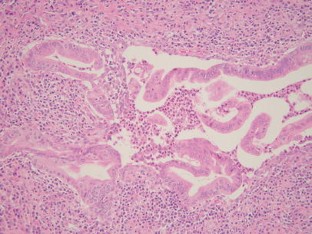 References
1.

Abraham SC, Cruz-Correa M, Argani P, Furth EE, Hruban RH, Boitnott JK (2003) Lymphoplasmacytic chronic cholecystitis and biliary tract disease in patients with lymphoplasmacytic sclerosing pancreatitis. Am J Surg Pathol 27:441–451

2.

Abraham SC, Leach S, Yeo CJ, Cameron JL, Murakata LA, Boitnott JK, Albores-Saavedra J, Hruban RH (2003) Eosinophilic pancreatitis and increased eosinophils in the pancreas. Am J Surg Pathol 27:334–342

3.

Abraham SC, Wilentz RE, Yeo CJ, Sohn TA, Cameron JL, Boitnott JK, Hruban RH (2003) Pancreaticoduodenectomy (Whipple resections) in patients without malignancy. Are they all "chronic pancreatitis"? Am J Surg Pathol 27:110–120

4.

Axon ATR, Ashton MG, Lintott DJ (1979) Chronic pancreatitis and inflammatory bowel disease. Clin Radiol 30:179–182

5.

Ball WP, Baggenstoss AH, Bargen JA (1950) Pancreatic lesions associated with chronic ulcerative colitis. Arch Pathol 50:347–358

6.

Cavallini G, Frulloni L (2001) Autoimmunity and chronic pancreatitis: a concealed relationship. J O P 2:61–68

7.

Chutaputti A, Burrell MI, Boyer JL (1995) Pseudotumor of the pancreas associated with retroperitoneal fibrosis: a dramatic response to corticosteroid therapy. Am J Gastroenterol 90:1155–1158

8.

Clark A, Zeman RK, Choyke PL, White EM, Burrell MI, Grant EG, Jaffe MH (1988) Pancreatic pseudotumors associated with multifocal idiopathic fibrosclerosis. Gastrointest Radiol 13:30–32

9.

Ectors N, Maillet B, Aerts R, Geboes K, Donner A, Borchard F, Lankisch P, Stolte M, Lüttges J, Kremer B, Klöppel G (1997) Non-alcoholic duct destructive chronic pancreatitis. Gut 41:263–268

10.

Esposito I, Bergmann F, Penzel R, di Mola FF, Shrikhande S, Büchler MW, Friess H, Otto HF (2004) Oligoclonal T-cell populations in an inflammatory pseudotumor of the pancreas possibly related to autoimmune pancreatitis: an immunohistochemical and molecular analysis. Virchows Arch 444:119–126

11.

Fukushima N, Suzuki M, Abe T, Fukayama M (1997) A case of inflammatory pseudotumour of the common bile duct. Virchows Arch 431:219–224

12.

Hamano H, Kawa S, Horiuchi A, Unno H, Furuya N, Akamatsu T, Fukushima M, Nikaido T, Nakayama K, Usuda N, Kiyosawa K (2001) High serum IgG4 concentrations in patients with sclerosing pancreatitis. N Engl J Med 344:732–738

13.

Hamano H, Kawa S, Ochi Y, Takayama M, Komatsu K, Muraki T, Kiyosawa K (2004) Recurrent attacks of autoimmune pancreatitis result in pancreatic stone formation. Pancreatology 4:297

14.

Hardacre JM, Iacobuzio-Donahue CA, Sohn TA, Abraham SC, Yeo CJ, Lillemoe KD, Choti MA, Campbell KA, Schulick RD, Hruban RH, Cameron JL, Leach SD (2003) Results of pancreaticoduodenectomy for lymphoplasmacytic sclerosing pancreatitis. Ann Surg 237:853–859

15.

Horiuchi A, Kawa S, Hamano H, Hayama M, Ota H, Kiyosawa K (2002) ERCP features in 27 patients with autoimmune pancreatitis. Gastrointest Endosc 55:494–499

16.

Kamisawa T, Egawa N, Nakajima H, Tsuruta K, Okamoto A, Kamata N (2003) Clinical difficulties in the differentiation of autoimmune pancreatitis and pancreatic carcinoma. Am J Gastroenterol 98:2694–2699

17.

Kamisawa T, Funata N, Hayashi Y, Tsuruta K, Okamoto A, Amemiya K, Egawa N, Nakajima H (2003) Close relationship between autoimmune pancreatitis and multifocal fibrosclerosis. Gut 52:683–687

18.

Kawaguchi K, Koike M, Tsuruta K, Okamoto A, Tabata I, Fujita N (1991) Lymphoplasmacytic sclerosing pancreatitis with cholangitis: variant of primary sclerosing cholangitis extensively involving pancreas. Hum Pathol 22:387–395

19.

Klöppel G, Lüttges J, Löhr M, Zamboni G, Longnecker D (2003) Autoimmune pancreatitis: pathological, clinical, and immunological features. Pancreas 27:14–19

20.

Klöppel G, Detlefsen S, Feyerabend B (2004) Fibrosis of the pancreas: the initial tissue damage and the resulting pattern. Virchows Arch 445:1–8

21.

Kojima E, Kimura K, Noda Y, Kobayashi G, Itoh K, Fujita N (2003) Autoimmune pancreatitis and multiple bile duct strictures treated effectively with steroid. J Gastroenterol 38:603–607

22.

Lindström E, Lindström F, Von Schenck H, Ihse I (1991) Pancreatic ductal morphology and function in primary Sjogren's syndrome. Int J Pancreatol 8:141–149

23.

Lysy J, Goldin E (1992) Pancreatitis in ulcerative colitis. J Clin Gastroenterol 15:336–339

24.

Nonomura A, Minato H, Shimizu K, Kadoya M, Matsui O (1997) Hepatic hilar inflammatory pseudotumor mimicking cholangiocarcinoma with cholangitis and phlebitis—a variant of primary sclerosing cholangitis? Pathol Res Pract 193:519–525

25.

Notohara K, Burgart LJ, Yadav D, Chari S, Smyrk TC (2003) Idiopathic chronic pancreatitis with periductal lymphoplasmacytic infiltration: clinicopathologic features of 35 cases. Am J Surg Pathol 27:1119–1127

26.

Okazaki K, Chiba T (2002) Autoimmune related pancreatitis. Gut 51:1–4

27.

Palazzo JP, Chang CD (1993) Inflammatory pseudotumour of the pancreas. Histopathology 23:475–477

28.

Pearson RK, Longnecker DS, Chari ST, Smyrk TC, Okazaki K, Frulloni L, Cavallini G (2003) Controversies in clinical pancreatology: autoimmune pancreatitis: does it exist? Pancreas 27:1–13

29.

Potamianos S, Koutroubakis IE, Chatzicostas C, Rolles K, Burroughs AK, Kouroumalis EA (2000) Idiopathic fibrosing pancreatitis and Crohn's disease: an interesting association. Eur J Gastroenterol Hepatol 12:1021–1024

30.

Procacci C, Carbonin G, Biasiutti C, Frulloni L, Bicego E, Spoto E, El-Khaldi M, Bassi C, Pagnotta N, Talamini G (2001) Autoimmune pancreatitis: possibilities of CT characterization. Pancreatology 1:246–253

31.

Renner IG, Ponto GC, Savage WT3, Boswell WD (1980) Idiopathic retroperitoneal fibrosis producing common bile duct and pancreatic duct obstruction. Gastroenterology 79:348–351

32.

Sarles H, Sarles JC, Muratore R, Guien C (1961) Chronic inflammatory sclerosis of the pancreas—an autoimmune pancreatic disease? Am J Dig Dis 6:688–698

33.

Scully KA, Li SC, Hebert JC, Trainer TD (2000) The characteristic appearance of non-alcoholic duct destructive chronic pancreatitis. A report of 2 cases. Arch Pathol Lab Med 124:1535–1538

34.

Scully RE, Mark EJ, McNeely BU (1982) Weekly clinicopathological exercises—case 6–1982. N Engl J Med 306:349–358

35.

Seyrig JA, Jian R, Modigliani R, Golfain D, Florent C, Messing B, Bitoun A (1985) Idiopathic pancreatitis associated with inflammatory bowel disease. Dig Dis Sci 30:1121–1126

36.

Sjögren I, Wengle B, Korsgren M (1979) Primary sclerosing cholangitis associated with fibrosis of the submandibular glands and the pancreas. Acta Med Scand 205:139–141

37.

Sood S, Fossard DP, Shorrock K (1995) Chronic sclerosing pancreatitis in Sjögren's syndrome: a case report. Pancreas 10:419–421

38.

Uchida K, Okazaki K, Asada M, Yazumi S, Ohana M, Chiba T (2003) Case of chronic pancreatitis involving an autoimmune mechanism that extended to retroperitoneal fibrosis. Pancreas 26:92–94

39.

Waldram R, Kopelman H, Tsantoulas D, Williams R (1975) Chronic pancreatitis, sclerosing cholangitis, and sicca complex in two siblings. Lancet 550–552

40.

Walsh SV, Evangelista F, Khettry U (1998) Inflammatory myofibroblastic tumor of the pancreaticobiliary region. Morphologic and immunocytochemical study of three cases. Am J Surg Pathol 22:412–418

41.

Weber SM, Cubukcu-Dimopulo O, Palesty JA, Suriawinata A, Klimstra D, Brennan MF, Conlon K (2003) Lymphoplasmacytic sclerosing pancreatitis: inflammatory mimic of pancreatic carcinoma. J Gastrointest Surg 7:129–139

42.

Wreesmann V, van Eijck CHJ, Naus DCWH, van Velthuysen MLF, Jeekel J, Mooi WJ (2001) Inflammatory pseudotumour (inflammatory myofibroblastic tumour) of the pancreas: a report of six cases associated with obliterative phlebitis. Histopathology 38:105–110

43.

Yoshida K, Toki F, Takeuchi T, Watanabe S, Shiratori K, Hayashi N (1995) Chronic pancreatitis caused by an autoimmune abnormality. Proposal of the concept of autoimmune pancreatitis. Dig Dis Sci 40:1561–1568

44.

Youssef N, Petitjean B, Bonte H, Terris B, de Saint Maur PP, Fléjou JF (2004) Non-alcoholic duct destructive chronic pancreatitis: a histological, immunohistochemical and in-situ apoptosis study of 18 cases. Histopathology 44:453–461
Acknowledgements
Sincere thanks are due to the many pathologists who sent in cases for consultation. Specifically, we would like to thank Drs. Anita Goossens and Franz Borchert. We are grateful to M. Pacena and A. Paulus for their excellent technical assistance and K. Dege for editing the manuscript.
About this article
Cite this article
Zamboni, G., Lüttges, J., Capelli, P. et al. Histopathological features of diagnostic and clinical relevance in autoimmune pancreatitis: a study on 53 resection specimens and 9 biopsy specimens. Virchows Arch 445, 552–563 (2004). https://doi.org/10.1007/s00428-004-1140-z
Received:

Accepted:

Published:

Issue Date:
Keywords
Autoimmune pancreatitis

Duct destructive chronic pancreatitis

Histopathology

Grading

Biopsy