Abstract
Lymphoepithelioma-like carcinoma of the bladder is an uncommon neoplasm, of which 49 cases have been described in the English literature, none of which has been studied for p53 protein expression. We studied three muscle-infiltrating cases of this tumor using immunohistochemical, in situ hybridization and polymerase chain reaction (PCR) methods. The three cases were positive for epithelial markers and negative for lymphoid antigens in the tumoral syncytial areas. The intensive infiltrate of small cells was negative for epithelial and positive for lymphoid markers. This population was mainly made up of cytotoxic T-lymphocytes, positive for TIA-1. p53 protein was intensely positive in more than 90% of the epithelial component nuclei, being negative in the lymphoid cells. PCR study did not show mutations on p53. Both lymphocytes and epithelium were negative for Epstein–Barr virus markers, such as the latent membrane protein and EBER (Epstein–Barr-encoded RNA). The prognosis was very good after radiotherapy and chemotherapy treatment, preserving the bladder despite the muscle infiltration. The presence of an intense cytotoxic T-lymphocyte population may be related to this good prognosis. Both aspects, p53 protein status and T-lymphoid population, had never been studied before in bladder lymphoepithelioma-like carcinoma.
Access options
Buy single article
Instant access to the full article PDF.
USD 39.95
Price excludes VAT (USA)
Tax calculation will be finalised during checkout.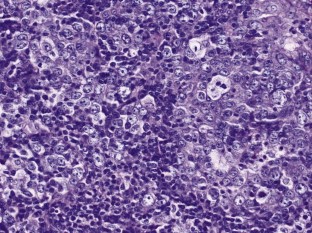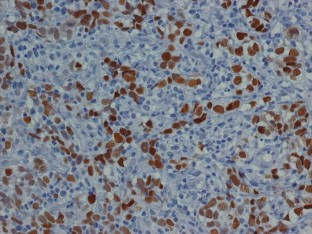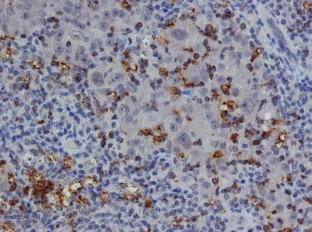 References
Abbas AK, Lichtman AH, Pober JS (1997) Effector mechanisms of T cell-mediated immune reactions. Immunity to tumors. In Abbas AK, Lichtman AH, Pober JS (eds) Cellular and molecular immunology, 3rd edn. Saunders, Philadelphia, PA, pp 278–405

Abdel-Fattah R, Challen C, Griffiths TRL, Robinson MC, Neal DE, Lunec J (1998) Alterations of TP53 in microdissected transitional cell carcinoma of the human urinary bladder: high frequency of TP53 accumulation in the absence of detected mutations is associated with poor prognosis. Br J Cancer 77:2230–2238

Amin MB, Ro JY, Lee KM, Ordońez NG, Dinney CP, Gulley ML, Ayala AG (1994) Lymphoepithelioma-like carcinoma of the urinary bladder. Am J Surg Pathol 18:466–473

Bernardini S, Adessi GL, Billerey C, Chezy E, Carbillert JP, Bittard H (1999) Immunohistochemical detection of p53 protein overexpression versus gene sequencing in urinary bladder carcinomas. J Urol 162:1496–1501

Bianchini E, Lissato L, Rimondi AP, Pergoraro V (1994) Lymphoepithelioma-like carcinoma of the urinary bladder. J Urol Pathol 5:45–49

Bostwick DG, Adalkha K (1994) Lymphoepithelioma-like carcinoma of the prostate. J Urol Pathol 2:319–325

Bostwick DG, Lopez-Beltran A (eds) (1999) Bladder biopsy interpretation. United Pathologist Press, New York, pp 149–172

Burchill SA, Neal DE, Lunec J (1994) Frequency of H-ras mutations in human bladder cancer detected by direct sequencing. Br J Cancer 73:516–521

Cabrero A, Cantu M, García C (1995) Urethral lymphoepithelioma. Report of a case. Rev Med Inst Mexicano Seguro Social 33:567–570

Chen KC, Yeh SD, Fang CL, Chiang HS, Chen YK (2003) Lymphoepithelioma-like carcinoma of the urinary bladder. J Formos Med Assoc 102:722–725

Constantinides C, Giannopoulos A, Kyriakou G, Androulaki A, Ioannou M, Dimopoulos M, Kyroudi A (2001) Lymphoepithelioma-like carcinoma of the bladder. BJU Int 87:121–122

Dinney CPN, Ro JY, Babaian J, Johnson DE (1993) Lymphoepithelioma of the bladder: a clinicopathological study of 3 cases. J Urol 149:840–842

Eble JN, Young RH (1997) Carcinoma of the urinary bladder: a review of its diverse morphology. Semin Diagn Pathol 14:98–108

Esrig D, Spruck III CH, Nichols PW, Chaiwun B, Steven K, Groshen S, Chen S-C, Skinner DG, Jones PA, Cote RJ (1993) p53 nuclear protein accumulation correlates with mutations in the p53 gene, tumor grade and stage in bladder cancer. Am J Pathol 143:1389–1397

Fukunaga M, Ushigome S (1998) Lymphoepithelioma-like carcinoma of the pelvis renal: a case report with immunohistochemical analysis and in situ hybridization for the Epstein–Barr viral genoma. Mod Pathol 11:1252–1256

Gastaud O, Demailly M, Guilbert E, Colombat M, Petit J (2002) Prog Urol 12:318–320

Gulley ML, Amin MB, Nichols JM, Banks PM, Ayala AG, Srigley JR, Eagan PA, Ro JY (1995) Epstein–Barr virus is detected in undifferentiated nasopharyngeal carcinoma, but not in lymphoepithelioma-like carcinoma of the urinary bladder. Hum Pathol 26:1207–1214

Gulley ML, Burton MP, Allred DC, Nicholls JM, Amin MB, Ro JY, Schneider BG (1998) Epstein–Barr virus infection is associated with p53 accumulation in nasopharyngeal carcinoma. Hum Pathol 29:252–259

Ho KY, Kuo WR, Chai CY, Tsai SM, Sheu SH, Wu SC, Juan KH (2001) A prospective study of p53 expression and its correlation with clinical response of radiotherapy in nasopharyngeal carcinoma. Laryngoscope 111:131–136

Holmäng G, Borghede G, Johansson SL (1998) Bladder carcinoma with lymphoepithelioma-like differentiation: a report of 9 cases. J Urol 159:779–782

Iczkowski KA, Shanks JH, Allsbrook WC, Lopez-Beltrán A, Pantazis CG, Collins TR, Wetherington RW, Bostwick DG (1999) Small cell carcinoma of urinary bladder is differentiated from urothelial carcinoma by chromogranin expression, absence of CD44 variant 6 expression, a unique pattern of cytokeratin expression, and more intense γ-enolase expression. Histopathology 35:150–156

Kamb A, Gruis NA, Weaver-Feldhaus J, Liu Q, Harshman K, Tavtigian SV, Stockert E, Day RS III, Johnson BE, Skolnick MH (1994) A cell cycle regulator potentially involved in genesis of many tumor types. Science 264:436–440

Keegan PE, Lunec J, Neal DE (1998) p53 and p53-regulated genes in bladder cancer. Br J Urol 82:710–720

Korabecna M, Ludvikova M, Skalova A (2003) Molecular diagnosis of Epstein–Barr virus in paraffin-embedded tissues of tumors with abundant lymphoid infiltration. Neoplasma 50:8–12

Kruslin B, Stanic G, Belicza M, Cupic H, Begic-Fehir J, Muic B, Markoja I (2000) Carcinoma of the urinary bladder resembling lymphoepithelioma. Lijec Vjesn 122:270–272

Lane DP (1992) P53, guardian of the genome. Nature 358:15–16

Levine AJ, Perry ME, Chang A, Silver A, Dittmer D, Wu M, Welsh D (1994) The 1993 Walter Hebert Lecture: the role of the TP53 tumour-suppressor gene in tumorigenesis. Br J Cancer 69:409–416

Lopez-Beltrán A, Morales C, Reymundo C, Toro M (1989) T-zone histiocytes and recurrence of papillary urothelial bladder carcinoma. Urol Int 44:205–209

Lopez-Beltrán A, Luque RJ, Vicioso L (2001) Lymphoepithelioma-like carcinoma of the urinary bladder: a clinicopathological study of 13 cases. Virchows Arch 438:552–557

Naito Y, Saito K, Shiiba K, Ohuchi A, Saigenji K, Nagura H, Ohtani H (1998) CD8+ T cells infiltrated within cancer cell nests as a prognostic factor in human colorectal cancer. Cancer Res 58:3491–3494

Niemhom S, Kitazawa S, Murao S, Kunachak S, Maeda S (2000) Co-expression of p53 and bcl-2 may correlate to the presence of Epstein–Barr virus genome and the expression of proliferating cell nuclear antigen in nasopharyngeal carcinoma. Cancer Lett 160:199–208

Ortiz MR, Garijo G, Adrados M, Lopez-Bonet E, Acero D, Bernado L (2000) Epstein–Barr virus-associated cholangiocarcinoma with lymphoepithelioma-like component. Int J Surg Pathol 8:347–351

Pagano JS (1999) Epstein–Barr virus: the first human tumor virus and its role in cancer. Proc Assoc Am Physicians 111:573–580

Petit B, Leroy K, Kanavaros P, Boulland ML, Druet-Cabanac M, Haioun C, Bordessoule D, Gaulard P (2001) Expression of p53 protein in T- and natural killer-cell lymphomas is associated with some clinicopathologic entities but rarely related to p53 mutations. Hum Pathol 32:196–204

Porcaro AB, Gilioli E, Migliorini F, Antoniolli SZ, Iannucci A, Comunale L (2003) Primary lymphoepithelioma-like carcinoma of the urinary bladder: report of one case with review and update of the literature after a pooled analysis of 43 patients. Int Urol Nephrol 35:99–106

Rabani F, Cordon-Cardo C (2000) Mutation of cell cycle regulators and their impact on superficial bladder cancer. Urol Clin North Am 27:83–102

Reuter VE (1999) Vejiga: Factores de riesgo y pronósticos. Perspectivas del patólogo. In: Bostwick DG (ed) Anatomía patológica en Urología. Ed Clínicas urológicas de norteamérica. McGraw-Hill Interamericana editores, México, pp 509–521

Roig JM, Amerigo J, Velasco FJ, Gimenez A, Guerrero E, Soler JL (2001) Lymphoepithelioma-like carcinoma of ureter. Histopathology 39:106–107

Saiki Y, Ohtani H, Naito Y, Miyazawa M, Nagura H (1996). Immunophenotypic characterization of Epstein–Barr virus-associated gastric carcinoma: massive infiltration by proliferating CD8+ T-lymphocytes. Lab Invest 75:67–76

Sheu L-F, Chen A, Tseng H-H, Leu F-J, Lin JK, Ho K-C, Meng C-L (1995) Assessment of p53 expression in nasopharyngeal carcinoma. Hum Pathol 26:380–386

Shi W, Pataki I, MacMillan C, Pintille M, Payne D, O'Sullivan B, Cummings BJ, Warde P, Liu F-F (2002) Molecular pathology parameters in human nasopharyngeal carcinoma. Cancer 94:1997–2006

Slaton JW, Benedict WF, Dinney CPN (2001) p53 in bladder cancer: mechanism of action, prognostic value and target for therapy. Urology 57:852–859

Soini Y, Turpeenniemi-Hujanen T, Kamel D, Autio Harmainen H, Risteli J, Risteli L, Nuorva V, Paako P, Vahakangas K (1993) p53 immunohistochemistry in transitional cell carcinoma and dysplasia of the urinary bladder correlate with disease progression. Br J Cancer 68:1029–1035

Szeleky L, Selivanova G, Magnusson KP, Klein G, Wiman KG (1993) EBNA-5, an Epstein–Barr virus encoded nuclear antigen, binds to the retinoblastoma and p53 proteins. Proc Natl Acad Sci U S A 90:5455–5459

Tiguert R, Bianco FJ Jr, Oskanian P, Li Y, Grignon DJ, Wood DP Jr, Pontes JE, Sarkar FH (2001) Structural alteration of p53 protein in patients with muscle invasive bladder transitional cell carcinoma. J Urol 166:2155–2160

Villuendas RE, Piris MA, Algara P, Sanchez-Beato M, Sanchez-Verde L, Martinez JC, Orradre JL, Garcia P, Lopez C, Martinez P (1993) The expression of p53 protein in non-Hodgkin's lymphomas is not always dependent on p53 gene mutations. Blood 82:3151–3156

Villuendas R, Pezzella F, Gatter K, Algara P, Sáchez-Beato M, Martínez P, Martínez JC, Muńoz K, García P, Sánchez L, Kocialkowsky S, Campo E, Orradre JL, Piris MA (1997) p21 WAF1/CIP1 and MDM 2 expression in non-Hodgkin's lymphoma and their relationship to p53 status: a p53+, MDM 2−, p21− immunophenotype associated with missense p53 mutations. J Pathol 181:51–56

Ward JN, Dong WF, Pitts WR (2002) Lymphoepithelioma-like carcinoma of the bladder. J Urol 167:2523–2524

Wright C, Thomas D, Mellon K, Neal DE, Horne CH (1995) Expression of retinoblastoma gene product and p53 protein in bladder carcinoma: correlation with Ki 67 index. Br J Urol 75:173–179

Wu MS, Shun CT, Wu CC, Hsu TY, Lin MT, Chang MC, Wang HP, Lin JT (2000) Epstein–Barr virus-associated gastric carcinomas: relation to H. pylori infection and genetic alterations. Gastroenterology 118:1031–1038

Yakirevich E, Izhak OB, Rennert G, Kovacs ZG, Resnick MB (1999) Cytotoxic phenotype of tumor infiltrating lymphocytes in medullary carcinoma of the breast. Mod Pathol 12:1050–1056

Young RH, Eble JN (1991) Unusual forms of carcinoma of the urinary bladder. Human Pathol 22:948–965

Young RH, Eble JN (1993) Lymphoepithelioma-like carcinoma of the urinary bladder. J Urol Pathol 1:63–67

Zukerberg LR, Harris NL, Young RH (1991) Carcinomas of the urinary bladder simulating malignant lymphomas. Am J Surg Pathol 15:569–576
About this article
Cite this article
Izquierdo-García, F.M., García-Díez, F., Fernández, I. et al. Lymphoepithelioma-like carcinoma of the bladder: three cases with clinicopathological and p53 protein expression study. Virchows Arch 444, 420–425 (2004). https://doi.org/10.1007/s00428-004-1000-x
Received:

Accepted:

Published:

Issue Date:

DOI: https://doi.org/10.1007/s00428-004-1000-x
Keywords
Bladder

Lymphoepithelioma-like carcinoma

p53 protein

Immunohistochemistry

Urothelial carcinoma

Epstein–Barr virus