Abstract
Genes of the iroquois (Iro/Irx) family are highly conserved from Drosophila to mammals and they have been implicated in a number of developmental processes. In flies, the Iro genes participate in patterning events in the early larva and in imaginal disk specification. In vertebrates, the Irx genes regulate developmental events during gastrulation, nervous system regionalization, activation of proneural genes and organ patterning. The Iro genes in Drosophila and the Irx genes of mammals show a clustered organization in the genome. Flies have a single cluster comprising three genes while mammals have two clusters also having three genes each. Moreover, experimental evidence in flies shows that transcriptional regulatory elements are shared among genes within the Iro cluster, suggesting that the same may be true in vertebrates. To date, the genomic organization of the Irx genes in non-mammalian species has not been studied. In this work, we have isolated the irx5b gene from zebrafish, Danio rerio, and have characterized its expression pattern. Furthermore, we have identified the complete set of Irx genes in two fish species, the zebrafish and pufferfish, Takifugu rubripes, and have determined the genomic organization of these genes. Our analysis indicates that early in fish evolutionary history, the Irx gene clusters have been duplicated and that subsequent events have maintained the clustered organization for some of the genes, while others have been lost. In total there are 11 existing Irx genes in zebrafish and 10 in pufferfish. We propose a new nomenclature for the zebrafish Irx genes based on the analysis of their sequences and their genomic relationships.
Access options
Buy single article
Instant access to the full article PDF.
USD 39.95
Price excludes VAT (USA)
Tax calculation will be finalised during checkout.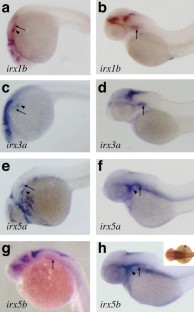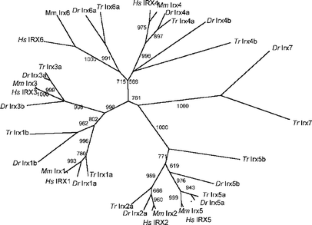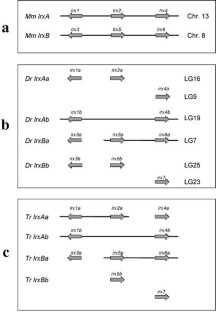 References
Adachi J, Hasegawa M (1996) MOLPHY version 2.3: programs for molecular phylogenetics based on maximum likelihood. Comput Sci Monogr Inst Stat Math 28:1–50

Aparicio S (2000) Vertebrate evolution: recent perspectives from fish. Trends Genet 16:54–56

Bao ZZ, Bruneau BG, Seidman JG, Seidman CE, Cepko CL (1999) Regulation of chamber-specific gene expression in the developing heart by Irx4. Science 283:1161–1164

Bellefroid EJ, Kobbe A, Gruss P, Pieler T, Gurdon JB, Papalopulu N (1998) Xiro3 encodes a Xenopus homolog of the Drosophila Iroquois genes and functions in neural specification. EMBO J 17:191–203

Bosse A, Stoykova A, Nieselt-Struwe K, Chowdhury K, Copeland N, Jenkins NA, Gruss P (2000) Identification of a novel mouse Iroquois homeobox gene, Irx5, chromosomal localization of all members of the mouse Iroquois gene family. Dev Dyn 218:160–174

Briscoe J, Pierani A, Jessell TM, Ericson J (2000) A homeodomain protein code specifies progenitor cell identity and neuronal fate in the ventral neural tube. Cell 101:435–445

Burglin TR (1997) Analysis of TALE superclass homeobox genes (MEIS, PBC, KNOX, Iroquois, TGIF) reveals a novel domain conserved between plants and animals. Nucleic Acids Res 25:4173–4180

Cavodeassi F, Diez del Corral R, Campuzano S, Dominguez M (1999) Compartments and organizing boundaries in the Drosophila eye: the role of the homeodomain Iroquois proteins. Development 126:4833–4942

Cavodeassi F, Modolell J, Gómez-Skarmeta JL (2001) The Iroquois family of genes: from body building to neural patterning. Development 128:2847–2855

Dambly-Chaudière C, Leyns L (1992) The determination of sense organs in Drosophila: a search for interacting genes. Int J Dev Biol 36:85–91

Diez del Corral R, Aroca P, Gómez-Skarmeta JL, Cadoveassi F, Modolell J (1999) The iroquois homeodomain proteins are required to specify body wall identify in Drosophila. Genes Dev 13:1754–1761

Dildrop R, Rüther U (2004) Organization of iroquois genes in fish. Dev Genes Evol DOI 10.1007/s00427-004-0402-8

Duboule D (1998) Vertebrate Hox gene regulation: clustering and/or colinearity? Curr Opin Genet Dev 8:514–518

Felsenstein J (1993) PHYLIP (Phylogeny Inference Package) version 3.5c. Distributed by the author. Department of Genetics, University of Washington, Seattle

Felsenstein J (1996) Inferring phylogenies from protein sequences by parsimony, distance, and likelihood methods. Methods Enzymol 266:418–427

Force A, Lynch M, Pickett FB, Amores A, Yan YL, Postlethwait J (1999) Preservation of duplicate genes by complementary, degenerative mutations. Genetics 151:1531–1545

Funayama N, Sato Y, Matsumoto K, Ogura T, Takahashi Y (1999) Coelom formation: binary decision of the lateral plate mesoderm is controlled by the ectoderm. Development 126:4129–4138

Garriock RJ, Vokes SA, Small EM, Larson R, Krieg PA (2001) Developmental expression of the Xenopus Iroquois-family homeobox genes, Irx4 and Irx5. Dev Genes Evol 211:257–260

Gómez-Skarmeta JL, Modolell J (2002) Iroquois genes: genomic organization and function in vertebrate neural development. Curr Opin Genet Dev 12:403–408

Gómez-Skarmeta JL, Diez del Corral R, de la Calle-Mustienes E, Ferrés-Marcó D, Modolell J (1996) araucan and caupolican, two members of the novel Iroquois complex, encode homeoproteins that control proneural and vein forming genes. Cell 85:95–105

Gómez-Skarmeta JL, Glavic A, de la Calle-Mustienes E, Modollel J, Mayor R (1998) Xiro, a Xenopus homolog of the Drosophila Iroquois complex genes, controls development al the neural plate. EMBO J 17:181–190

Gómez-Skarmeta JL, de la Calle-Mustienes E, Modollel J (2001) The Wnt-activated Xiro1 gene encodes a repressor that is essential for neural development and down regulates BMP4. Development 128:551–560

Goriely A, Diez del Corral R, Storey KG (1999) c-Irx2 expression reveals an early subdivision of the neural plate in the chick embryo. Mech Dev 87:203–206

Houweling AC, Dildrop R, Peters T, Mummenhoff J, Moorman AFM, Rüther U, Christoffels VM (2001) Gene and cluster-specific expression of the Iroquois family members during mouse development. Mech Dev 107:169–174

Itoh M, Kudoh T, Dedekian M, Kim CH, Chitnis AB (2002) A role for iro1 and iro7 in the establishment of an anteroposterior compartment of the ectoderm adjacent to the midbrain-hindbrain boundary. Development 129:2317–2327

Jowett T, Lettice L (1994) Whole-mount in situ hybridizations on zebrafish embryos using a mixture of digoxigenin-and fluorescein-labeled probes. Trends Genet 10:73–74

Kobayashi D, Kobayashi M, Matsumoto K, Ogura T, Nakafuku M, Shimamura K (2002) Early subdivisions in the neural plate define distinct competence for inductive signals. Development 129:83–93

Kudoh T, Dawid IB (2001) Role of the Iroquois3 homeobox gene in organizer formation. Proc Natl Acad Sci USA 98:7852–7857

Kwok C, Korn R, Davis M, Burt D, Paw B, Zon L, Goodfellow P, Schmitt K (1998) Characterization of whole genome radiation hybrid mapping resources for non-mammalian vertebrates. Nucleic Acids Res 26:3562–3566

Lecaudey V, Thisse C, Thisse B, Schneider-Maunoury S (2001) Sequence and expression pattern of ziro7, a novel, divergent zebrafish iroquois homeobox gene. Mech Dev 109:383–388

Leyns L, Gómez-Skarmeta JL, Dambly-Chaudière C (1996) iroquois: a prepattern gene that controls the formation of bristles on the thorax of Drosophila. Mech Dev 59:63–72

McNeil H, Yang CH, Brosky M, Ungos J, Simon MA (1997) mirror encodes a novel PBX-class homeoprotein that functions in the definition of dorso-ventral border of Drosophila eye. Genes Dev 11:1073–1082

Page RD (1996) TreeView: an application to display phylogenetic trees on personal computers. Comput Appl Biosci 12:357–358

Peters T, Dildrop R, Ausmeier K, Ruther U (2000) Organization of the mouse Iroquois homeobox genes in two clusters suggest a conserved regulation and function in vertebrate development. Genome Res 10:1453–1462

Prince VE, Pickett FB (2002) Splitting pairs: the diverging fates of duplicated genes. Nat Rev Genet 3:827–837

Saitou N, Nei M (1987) The neighbor-joining method: a new method for reconstructing phylogenetic trees. Mol Biol Evol 4:406–425

Tan JT, Korzh V, Gong Z (1999) Expression of a zebrafish iroquois homeobox gene, Ziro3, in the midline axial structures and central nervous system. Mech Dev 87:165–168

Taylor JS, Van de Peer Y, Braasch I, Meyer A (2001) Comparative genomics provides evidence for an ancient genome duplication event in fish. Philos Trans R Soc Lond B Biol Sci 356:1661–1679

Taylor JS, Braasch I, Frickey T, Meyer A, Van de Peer Y (2003) Genome duplication, a trait shared by 22,000 species of ray-finned fish. Genome Res 13:382–390

Thompson JD, Gibson TJ, Plewniak F, Jeanmougin F, Higgins DG (1997) The CLUSTAL X windows interface: flexible strategies for multiple sequence alignment aided by its quality analysis tools. Nucleic Acids Res 25:4876–4882

Wang X, Emelyanov A, Sleptsova-Friedrich I, Korzh V, Gong Z (2001) Expression of two novel zebrafish Iroquois homologues (ziro1 and ziro5) during early development of axial structures and central nervous system. Mech Dev 105:191–195

Westerfield M (1995) The zebrafish book. University of Oregon Press, Eugene, Ore.
Acknowledgements
We thank Renate Dildrop and Ulrich Rüther for providing a copy of their manuscript prior to publication. X. Wang kindly provided probes. We are also grateful to Peng Jinrong for clone 012-H09-2. We wish to thank Gabino Sánchez-Pérez for help with phylogenetic analysis. Carolina Achondo and Florencio Espinoza provided technical help. C.G.F. and M.A. were supported by grants from Fondecyt (1031003), the ICM (P02-050) and by a grant from the UNAB (DI 10-03). M.M. and J.L.G.-S. were supported by grants from the Spanish Ministry of Science and Technology (BMC2002-03558 and BMC2001-2122, respectively). In addition, M.A. and J.L.G.-S. were supported by a CONICYT-CSIC collaboration grant (2003CL00021).
Electronic Supplementary Material
About this article
Cite this article
Feijóo, C.G., Manzanares, M., de la Calle-Mustienes, E. et al. The Irx gene family in zebrafish: genomic structure, evolution and initial characterization of irx5b . Dev Genes Evol 214, 277–284 (2004). https://doi.org/10.1007/s00427-004-0401-9
Received:

Accepted:

Published:

Issue Date:

DOI: https://doi.org/10.1007/s00427-004-0401-9
Keywords
Iroquois

Zebrafish

Development

Gene duplication

Teleost