Abstract
Motion perception is complex for the brain to process, involving interacting computations of distance, time, and speed. These computations can be biased by the context and the features of the perceived moving object, giving rise to several types of motion illusions. Recent research has shown that, in addition to object features and context, lifelong priors can bias attributes of perception. In the present work, we investigated if such long acquired expectations can bias speed perception. Using a two-interval forced-choice (2-IFC) task, we asked 160 participants in different experiments to judge which of two vehicles, one archetypically fast (e.g. a motorbike), and one comparatively slower (e.g. a bike), was faster. By varying the objective speeds of the two-vehicle types, and measuring the participants' point of subjective equality, we observed a consistent bias in participants' speed perception. Counterintuitively, in the first three experiments the speed of an archetypically slow vehicle had to be decreased relative to that of an archetypically fast vehicle, for the two to be judged as the same. Similarly, in the next three experiments, an archetypically fast vehicle's speed had to be increased relative to an archetypically slow vehicle's speed, for the two to be perceived as equal. Four additional control experiments replicated our results. We define this newly found bias as the expected-speed violation illusion (ESVI). We believe the ESVI as conceptually very similar to the size-weight illusion, and discuss it within the Bayesian framework of human perception.
This is a preview of subscription content, log in to check access.
Access options
Buy single article
Instant access to the full article PDF.
US$ 39.95
Tax calculation will be finalised during checkout.
Subscribe to journal
Immediate online access to all issues from 2019. Subscription will auto renew annually.
US$ 199
Tax calculation will be finalised during checkout.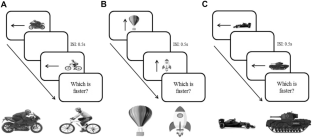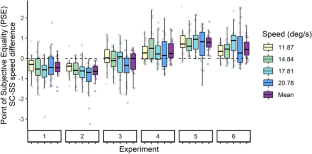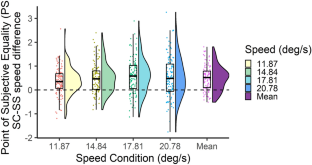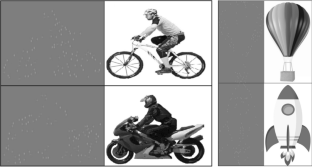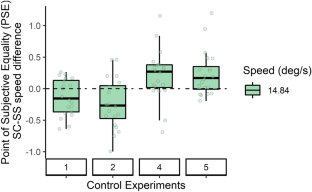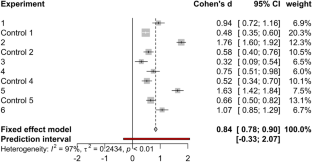 Notes
1.

In prediction-motion tasks, participants typically see a moving target (which is then occluded) and they judge when the target would have reached a specified point on the occluded path or a visible cue that represents the end of the occluded path (Makin, Poliakoff, Chen, & Stewart, 2008).
Funding
The study was supported by a grant from the Italian Ministry of University and Research (MIUR; Grant number Dipartimenti di Eccellenza DM 11/05/2017 n.262), to the Department of General Psychology of the Università degli Studi di Padova.
Ethics declarations
Conflict of interest
Authors declare that they have no conflict of interest.
Ethical approval
All procedures performed in studies involving human participants were in accordance with the ethical standards of the institutional and/or national research committee and with the 1964 Helsinki declaration and its later amendments or comparable ethical standards. The study also received ethical approval from the University of Padova.
Informed consent
All participants gave informed consent according to the declaration of Helsinki.
Additional information
Publisher's Note
Springer Nature remains neutral with regard to jurisdictional claims in published maps and institutional affiliations.
Electronic supplementary material
Below is the link to the electronic supplementary material.
Supplementary file1 (MP4 195 kb)
About this article
Cite this article
Battaglini, L., Mioni, G., Casco, C. et al. Probing the effect of the expected-speed violation illusion. Psychological Research (2020). https://doi.org/10.1007/s00426-020-01426-w
Received:

Accepted:

Published: