Abstract
People's intuitions about mathematical and statistical concepts often include features that are not a part of the formal definitions. We argue that randomness and related concepts (events happening "accidentally", "coincidentally" or "by chance") are typically assumed to occur in a context of small rather than large events. Five experiments were designed to test the hypothesis of an association between perceived randomness and size. In Experiment 1 and 2, statements describing small outcomes as due to chance were judged to be more natural and to make better sense than corresponding statements about large outcomes (or about small outcomes not due to chance). Experiment 3 showed that people imagine that stories about randomness in daily life should preferably start with small events, even when they eventually turn out to be consequential (e.g., stories about an apparently random meeting ending with marriage). Experiment 4 demonstrated that small changes in a graph of a random walk were seen as random, whereas large changes were perceived as potentially nonrandom. Finally, Experiment 5 showed that small animals are believed to display more random behavior than larger ones. This applied also to fictional creatures with nonsense names, where size was implicitly suggested by the names' phonetic qualities. Analogical instances can be found in the history of science, all the way back to Lucretius' doctrine of the tiny "swerves" of atoms. The pervasive association between smallness and randomness might be partly due to real-world observations and partly to cognitive and motivational constraints.
Access options
Buy single article
Instant access to the full article PDF.
USD 39.95
Price excludes VAT (USA)
Tax calculation will be finalised during checkout.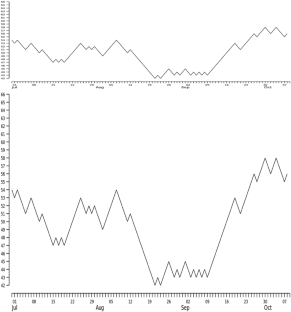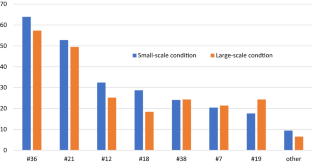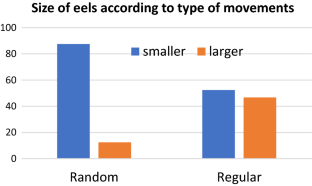 Notes
We included on purpose functions that did not consistently favor small or primitive animals. For instance behavioral flexibility (learning) and finding a mate "by chance" could be advantageous for species at all levels of the evolution.
References
Aaronson, S. (2013). Quantum computing since Democritus. Cambridge: Cambridge University Press.

Ahn, W., & Kalish, C. W. (2000). The role of mechanism beliefs in causal reasoning. In F. C. Keil & R. A. Wilson (Eds.), Explanation and cognition (pp. 199–226). Cambridge: MIT Press.

Andrew, G. (2013). Leucippus and Democritus on like to like and ou mallon. Apeiron, 46(4), 446–468. https://doi.org/10.1515/apeiron-2013-0021.

Bandura, A. (1982). The psychology of chance encounters and life paths. American Psychologist, 37, 747–755. https://doi.org/10.1037/0003-066x.37.7.747.

Bar Hillel, M., & Wagenaar, W. A. (1991). The perception of randomness. Advances in applied mathematics, 12, 428–454. https://doi.org/10.1016/0196-8858(91)90029-I.

Barsalou, L. W. (2008). Grounded cognition. Annual Review of Psychology, 59, 617–645. https://doi.org/10.1146/annurev.psych.59.103006.093639.

Batanero, C., & Serrano, A. (1999). The meaning of randomness for secondary school students. Journal for Research in Mathematics Education, 30(5), 558–567. https://doi.org/10.2307/749774.

Blanco, M. R., & Golik, M. N. (2015). Born under a lucky star? Latin American CEOs' perceptions about their own career development. The International Journal of Human Resource Management, 26(14), 1865–1888. https://doi.org/10.1080/09585192.2014.964285.

Bouchat, A., Licata, L., Rosoux, V., Allesch, C., & Klein, O. (2019). Greedy elites and poor lambs: How young Europeans remember the Great War. Journal of Social and Political Psychology, 7(1), 2–75. https://doi.org/10.5964/jspp.v7i1.781.

Brotherton, R., & French, C. C. (2014). Belief in conspiracy theories and susceptibility to the conjunction fallacy. Applied Cognitive Psychology, 28, 238–248. https://doi.org/10.1002/acp.2995.

Bruckmüller, S., Hegarty, P., Teigen, K. H., Böhm, G., & Luminet, O. (2017). When do past events require explanation? Insights from social psychology. Memory Studies, 10(3), 261–273. https://doi.org/10.1177/1750698017701607.

Cootner, P. H. (1964). The random character of stock market prices. Cambridge: M.I.T Press.

Darwin, C. (1859). On the origin of the species. London: John Murray.

Davis, C. P., Morrow, H. M., & Lupyan, G. (2019). What does a horgous look like? Nonsense words elicit meaningful drawings. psyarxiv.com/uve7d/Preprint https://doi.org/10.31234/osf.io/uve7d.

Davis, R. M., & Pless, B. (2001). Accidents are not unpredictable. British Medical Journal, 322, 1320–1321. https://doi.org/10.1136/bmj.322.7298.1320.

Douglas, K. M., Sutton, R. M., & Cichocka, A. (2017). The psychology of conspiracy theories. Current Directions in Psychological Science, 26(6), 538–542. https://doi.org/10.1177/0963721417718261.

Eagle, A. (2018). Chance versus Randomness. In E. N. Zalta (ed.). The Stanford Encyclopedia of Philosophy. https://plato.stanford.edu/archives/spr2018/entries/chance-randomness/.

Falk, R., & Konold, C. (1997). Making sense of randomness: Implicit encoding as a basis for judgment. Psychological Review, 104(2), 301–318.

Fama, E. F. (1995) Random walks in stock market prices. Financial Analysts Journal, 75–80. https://www.jstor.org/stable/4479810.

Gemelli, A., & Alberoni, F. (1961). Experimental studies of the concept of chance. The Journal of General Psychology, 65, 3–24.

Gilovich, T., Griffin, D., & Kahneman, D. (2002). Heuristics and biases: The psychology of intuitive judgment. Cambridge: Cambridge University Press.

Greenblatt, S. (2013). The swerve: How the world became modern. New York: Norton.

Griffiths, T. L., & Tenenbaum, J. B. (2007). From mere coincidences to meaningful discoveries. Cognition, 103, 180–226. https://doi.org/10.1037/a0024899.

Hagberg, B., & Gustafson, L. (1985). On diagnosis of dementia: Psychometric investigation and clinical psychiatric evaluation in relation to verified diagnosis. Archives of Gerontolology and Geriatrics, 4, 321–332. https://doi.org/10.1016/0167-4943(85)90039-1.

Johansen, M. K., & Osman, M. (2015). Coincidences: A fundamental consequence of rational cognition. New Ideas in Psychology, 39, 34–44. https://doi.org/10.1016/j.newideapsych.2015.07.001.

Johnson, C. (2015). Darwin's dice: The idea of chance in the thought of Charles Darwin. New York: Oxford University Press.

Jolfaee, S., Zazkis, R. R., & Sinclair, N. (2014). "It is very, very random because it doesn't happen very often": Examining learners' discourse on randomness. In E. J. Cernoff & B. Sriraman (Eds.), Probabilistic thinking (pp. 397–416). Dordrecht: Springer. https://doi.org/10.1007/978-94-007-7155-0_21.

Jostmann, N. B., Lakens, D., & Schubert, T. W. (2009). Weight as an embodiment of importance. Psychological Science, 20(9), 1169–1174. https://doi.org/10.1111/j.1467-9280.2009.02426.x.

Kadri, F., Birregah, B., & Châtelelet, E. (2014). The impact of natural disasters on critical infrastructures: A domino effect-based study. Homeland Security & Emergency Management, 11(2), 217–241. https://doi.org/10.1515/jhsem-2012-0077.

Kahneman, D. (2003). A perspective on judgment and choice: Mapping bounded rationality. American Psychologist, 58(9), 697–720. https://doi.org/10.1037/0003-066X.58.9.697.

Kahneman, D., Slovic, P., & Tversky, A. (Eds.). (1982). Judgment under uncertainty: Heuristics and biases. Cambridge: Cambridge University Press.

Kahneman, D., & Tversky, A. (1972). Subjective probability: A judgment of representativeness. Cognitive Psychology, 3, 430–454. https://doi.org/10.1016/0010-0285(72)90016-3.

Kahneman, D., & Tversky, A. (1996). On the reality of cognitive illusions. Psychological Review, 103(3), 582–591. https://doi.org/10.1037/0033-295x.103.3.582.

Keren, G., & Teigen, K. H. (2001). The probability-outcome correspondence principle: A dispositional view of the interpretation of probability statements. Memory & Cognition, 29, 1010–1021. https://doi.org/10.3758/BF03195763.

Keren, G., & Teigen, K. H. (2010). Decisions by coin toss: Inappropriate but fair. Judgment and Decision Making, 5, 83–101.

Krantz, D. L. (1998). Taming chance: Social science and everyday narratives. Psychological Inquiry, 9, 87–94. https://www-jstor-org.ezproxy.uio.no/stable/1449097.

Krumboltz, J. (2009). The happenstance learning theory. Journal of Career Assessment, 17, 135–154. https://doi.org/10.1177/1069072708328861.

Kupor, D., & Laurin, K. (2019). Probable cause: The influence of prior probabilities on forecasts and perceptions of magnitude. Journal of Consumer Research. https://doi.org/10.1093/jcr/ucz025.

Langley, J. D. (1988). The need to discontinue the use of the term "accident" when referring to unintentional injury events. Accident Analysis and Prevention, 20, 1–8. https://doi.org/10.1016/0001-4575(88)90009-7.

LeBoeuf, R. A., & Norton, M. I. (2012). Consequence-cause matching: Looking to the consequences of events to infer their causes. Journal of Consumer Research, 39(1), 128–141. https://doi.org/10.1086/662372.

Loimer, H., & Guarnieri, M. (1996). Accidents and acts of God: A history of the terms. American Journal of Public Health, 86, 101–107.

Lucretius, T. C. (2015). The nature of things (trans. A. E. Stallings). Original work: De rerum naturae. London: Penguin Classics.

Malkiel, B. G. (2003). A random walk down wall street. New York: Norton.

Mill, J. S. (1856). A system of logic. London: Parker.

Nickerson, R. S. (2002). The production and perception of randomness. Psychological Review, 109(2), 330–357. https://doi.org/10.1037//0033-295x.109.2.330.

Nisbett, R., & Ross, L. (1980). Human inference: Strategies and shortcomings of social judgement. Englewood Cliffs: Prentice-Hall.

Nowicki, S., & Strickland, B. R. (1973). A locus of control scale for children. Journal of Consulting and Clinical Psychology, 40, 148–154.

Oestreicher, C. (2007). A history of chaos theory. Dialogues in Clinical Neuroscience, 9(3), 279–289.

Osgood, C. E., Suci, G., & Tannenbaum, P. (1967). The measurement of meaning. Champaign: University of Illinois Press.

Oskarsson, A. T., Van Boven, L., McClelland, G. H., & Hastie, R. (2009). What's next? Judging sequences of binary events. Psychological Bulletin, 135, 262–285.

Piaget, J., & Inhelder, B. (1975). The origin of the idea of chance in children (trans. L. Leake Jr., P. Burrel, & H. D. Fishbein). New York: Norton. (Original work published in 1951).

Poincaré, H. (1963). Chance. In H. Poincaré (Ed.), Mathematics and science: Last essays (trans. J. Bolduc). New York: Dover.

Pratt, D. (1998). The co-ordination of meanings for randomness. For the Learning of Mathematics, 18(3), 2–11. https://www.jstor.org/stable/40248272.

Pratt, D., & Noss, R. (2002). The microevolution of mathematical knowledge: The case of randomness. The Journal of the Learning Sciences, 11(4), 455–488. https://doi.org/10.1207/S15327809JLS1104_2.

Pritchard, D., & Smith, M. (2004). The psychology and philosophy of luck. New Ideas in Psychology, 22, 1–28. https://doi.org/10.1016/j.newideapsych.2004.03.001.

Random walk hypothesis (n.d.). In Wikipedia. Retrieved 1 February 2019 from https://en.wikipedia.org/wiki/Random_walk_hypothesis.

Rosset, E. (2008). It's no accident: Our bias for intentional explanations. Cognition, 108, 771–780. https://doi.org/10.1016/j.cognition.2008.07.001.

Rotter, J. B. (1966). Generalized expectancies for internal versus external control of reinforcement. Psychological Monographs, 80(1), 1–28.

Ruvinsky, A. (2010). Genetics and randomness. Boca Raton: Taylor & Francis.

Salomone, P. R., & Slaney, R. B. (1981). The influence of chance and contingency factors on the vocational choice process of nonprofessional workers. Journal of Vocational Behavior, 19, 25–35. https://doi.org/10.1016/0001-8791(81)90046-4.

Sapir, E. (1929). A study in phonetic symbolism. Journal of Experimental Psychology, 12, 225–239. https://doi.org/10.1037/h0070931.

Scholl, S. G., & Greifeneder, R. (2011). Disentangling the effects of alternation rate and maximum run length on judgments of randomness. Judgment and Decision Making, 6, 531–541.

Shanahan, M. J., & Porfeli, E. J. (2006). Chance events in the life course. Advances in Life Course Research, 11, 97–119. https://doi.org/10.1016/S1040-2608(06)11004-7.

Sunstein, C. R. (2015). How star wars illuminates constitutional law. Michigan Law Review, http://nrs.harvard.edu/urn-3:HUL.InstRepos:16148344.

Taleb, N. N. (2007). The black swan: The impact of the highly improbable. New York: Random House.

Teigen, K. H. (1995). How good is good luck? The role of counterfactual thinking in the perception of lucky and unlucky events. European Journal of Social Psychology, 25, 281–302. https://doi.org/10.1002/(SICI)1099-0992(199912)29:8%3c981:AID-EJSP966%3e3.0.CO;2-Z.

Teigen, K. H. (2005). When a small difference makes a big difference: Counterfactual thinking and luck. In D. R. Mandel, D. J. Hilton, & P. Catellani (Eds.), The psychology of counterfactual thinking (pp. 129–146). London: Routledge.

Teigen, K. H. (2017). Judgments by representativeness. In R. F. Pohl (Ed.), Cognitive illusions: Intriguing phenomena in thinking, judgment, and memory (2nd ed., pp. 204–222). London and New York: Psychology Press.

Teigen, K. H., & Keren, G. (2019). Are random events perceived as rare? On the relationship between perceived randomness and outcome probability. (Manuscript submitted for publication).

Tervo, D. G. R., Proskurin, M., Manakov, M., Kabra, M., Vollmer, A., Branson, K., & Karpova, A. Y. (2014). Behavior variability through stochastic choice and its gating by anterior cingulate cortex. Cell, 159(1), 21–34. https://doi.org/10.1016/j.cell.2014.08.037.

Tversky, A., & Kahneman, D. (1982). Judgments of and by representativeness. In D. Kahneman, P. Slovic, & A. Tversky (Eds.), Judgment under uncertainty: Heuristics and biases (pp. 84–98). Cambridge: Cambridge University Press.

Williams, E. N., Soeprapto, E., Like, K., Touradji, P., Hess, S., & Hill, C. E. (1998). Perceptions of serendipity: Career paths of prominent academic women in counselling psychology. Journal of Counseling Psychology, 45, 379–389. https://doi.org/10.1037/0022-0167.45.4.379.

Yu, R. Q., Gunn, J., Osherson, D., & Zhao, J. (2018). The consistency of the subjective concept of randomness. Quarterly Journal of Experimental Psychology, 71(4), 906–916. https://doi.org/10.1080/17470218.2017.1307428.
Funding
This study did not receive funding from external sources.
Ethics declarations
Conflict of interest
There is no conflict of interest.
Ethical approval
All procedures performed in studies involving human participants were in accordance with the ethical standards of the institutional and/or national research committee and with the 1964 Helsinki declaration and its later amendments or comparable ethical standards.
Additional information
Publisher's Note
Springer Nature remains neutral with regard to jurisdictional claims in published maps and institutional affiliations.
Appendix
Appendix
Approximate weights based on various internet sources (e.g., Wikipedia)
| | |
| --- | --- |
| Insects and birds |   |
| Mosquito | 2.5 mg |
| Bee | 113.3 mg |
| Hummingbird | 3.6 g |
| Sparrow | 32.5 g |
| Parakeet | 35 g |
| Magpie | 177.5 g |
| Crow | 450 g |
| Eagle | 4.4 kg |
| Pelican | 7 kg |
| Swan | 10.3 kg |
| Mammals |   |
| House mouse | 42.5 g |
| Brown Rat | 320 g |
| Guinea pig | 950 g |
| Rabbit | 1.2 kg |
| Domestic cat | 4.5 kg |
| Siberian tiger | 147.2 kg |
| Pony | 192.8 kg |
| Arabian horse | 405 kg |
| Hippo | 1400 kg |
| Indian elephant | 3500 kg |
About this article
Cite this article
Teigen, K.H., Kanten, A.B. Are random events expected to be small?. Psychological Research 85, 133–150 (2021). https://doi.org/10.1007/s00426-019-01252-9
Received:

Accepted:

Published:

Issue Date:

DOI: https://doi.org/10.1007/s00426-019-01252-9