Abstract
The present study explores socio-cultural priming in native-language processing. Caucasian Italian native speakers completed a written lexical decision task. Written stimuli were preceded by either a prime "white" face (ingroup condition) or a prime "black" face (outgroup condition). Face priming effects were observed in three experiments using different stimuli. Participants were slower in categorizing words, but not non-words, when preceded by an outgroup face than by an ingroup face. Several psycholinguistic variables were manipulated to localize the levels of processing that are affected by socio-cultural prime. The lack of effect with non-word items excludes the possibility that the face priming effect arises at perceptual or attentive levels of processing. In addition, we observed that while the face priming effect does not interact with lexical dimensions, it does interact with a semantic dimension such as imageability. The results indicate that social categories extracted from faces may modulate lexico-semantic processing. Interestingly, such a modulation would occur in the context of a quick and automatic process like visual word recognition in a person's native language.
Access options
Buy single article
Instant access to the full article PDF.
USD 39.95
Price excludes VAT (USA)
Tax calculation will be finalised during checkout.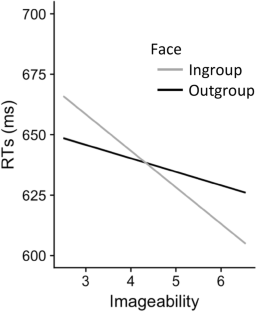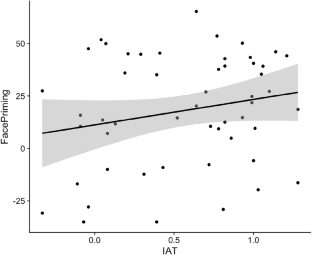 Notes
We are aware that human beings are characterized by somatic differences in a continuum. But, at the same time, social processes do work in terms of categories. For this reason, we address the somatic differences of the stimuli in terms of perceived social categories.
References
Ambady, N., Bernieri, F. J., & Richeson, J. A. (2000). Toward a histology of social behavior: Judgmental accuracy from thin slices of the behavioral stream. Advances in Experimental Social Psychology, 32, 201–271.

Amodio, D. M. (2014). The neuroscience of prejudice and stereotyping. Nature Reviews Neuroscience, 15, 670–682.

Balota, D. A., & Chumbley, J. I. (1984). Are lexical decisions a good measure of lexical access? The role of word frequency in the neglected decision stage. Journal of Experimental Psychology: Human Perception and Performance, 10, 340.

Barca, L., Burani, C., & Arduino, L. S. (2002). Word naming times and psycholinguistic norms for Italian nouns. Behavior Research Methods, Instruments, & Computers, 34, 424–434.

Bates, D., Kliegl, R., Vasishth, S., & Baayen, H. (2015). Parsimonious mixed models. arXiv preprint arXiv:1506.04967.

Bates, D., Maechler, M., Bolker, B., Walker, S., Christensen, R. H. B., & Singmann, H. (2015). lme4: Linear mixed-effects models using Eigen and S4, 2014. R package version, 1(4), 1–23.

Burani, C., Arduino, L. S., & Barca, L. (2007). Frequency, not age of acquisition, affects Italian word naming. European Journal of Cognitive Psychology, 19(6), 828–866.

Burani, C., Paizi, D., & Sulpizio, S. (2014). Stress assignment in reading Italian: Friendship outweighs dominance. Memory & Cognition, 42, 662–675.

Cassidy, B. S., Krendl, A. C., Stanko, K. A., Rydell, R. J., Young, S. G., & Hugenberg, K. (2017). Configural face processing impacts race disparities in humanization and trust. Journal of Experimental Social Psychology, 73, 111–124.

Castelli, L., Zogmaister, C., & Tomelleri, S. (2009). The transmission of racial attitudes within the family. Developmental Psychology, 45, 586–591.

Costa, A., Foucart, A., Hayakawa, S., Aparici, M., Apesteguia, J., Heafner, J., & Keysar, B. (2014). Your morals depend on language. PLoS One, 9, e94842.

Costa, A., & Sebastián-Gallés, N. (2014). How does the bilingual experience sculpt the brain? Nature Reviews Neuroscience, 15(5), 336–345.

Crepaldi, D., Keuleers, E., Mandera, P., & Brysbaert, M. (2013). SUBTLEX-IT. http://crr.ugent.be/subtlex-it/.

Della Rosa, P. A., Catricalà, E., Vigliocco, G., & Cappa, S. F. (2010). Beyond the abstract-concrete dichotomy: Mode of acquisition, concreteness, imageability, familiarity, age of acquisition, context availability, and abstractness norms for a set of 417 Italian words. Behavior Research Methods, 42, 1042–1048.

Dellantonio, S., & Job, R. (2017). The concreteness of the body. A revision of the classical perspective on concrete and abstract terms. Sistemi intelligenti, 29, 9–32.

Fazio, R. H., Jackson, J. R., Dunton, B. C., & Williams, C. J. (1995). Variability in automatic activation as an unobtrusive measure of racial attitudes: A bona fide pipeline? Journal of Personality and Social Psychology, 69, 1013.

Freeman, J. B., & Ambady, N. (2011). A dynamic interactive theory of personal construal. Psycholological Review, 118, 247–279.

Garrod, S., & Pickering, M. J. (2004). Why is conversation so easy? Trends in Cognitive Sciences, 8, 8–11.

Gollan, T. H., Montoya, R. I., Cera, C., & Sandoval, T. C. (2008). More use almost always means a smaller frequency effect: Aging, bilingualism, and the weaker links hypothesis. Journal of Memory and Language, 58(3), 787–814.

Grainger, J., Declerck, M., & Marzouki, Y. (2017). On national flags and language tags: Effects of flag-language congruency in bilingual word recognition. Acta Psychologica, 178, 12–17.

Greenwald, A. G., McGhee, D. E., & Schwartz, J. L. (1998). Measuring individual differences in implicit cognition: the implicit association test. Journal of Personality and Social Psychology, 74, 1464–1480.

Greenwald, A. G., Nosek, B. A., & Banaji, M. R. (2003). Understanding and using the implicit association test: I. An improved scoring algorithm. Journal of Personality and Social Psychology, 85, 197–216.

Hutchings, P. B., & Haddock, G. (2008). Look Black in anger: The role of implicit prejudice in the categorization and perceived emotional intensity of racially ambiguous faces. Journal of Experimental Social Psychology, 44, 1418–1420.

Izura, C., & Ellis, A. W. (2004). Age of acquisition effects in translation judgement tasks. Journal of Memory and Language, 50(2), 165–181.

Jared, D., Poh, R. P. Y., & Paivio, A. (2013). L1 and L2 picture naming in Mandarin-English bilinguals: A test of bilingual dual coding theory. Bilingualism: Language and Cognition, 16, 383–396.

Keysar, B., Hayakawa, S. L., & An, S. G. (2012). The foreign-language effect: Thinking in a foreign tongue reduces decision biases. Psychological Science, 23, 661–668.

Kubota, J. T., Banaji, M. R., & Phelps, E. A. (2012). The neuroscience of race. Nature Neuroscience, 15, 940–948.

Kuperman, V., Estes, Z., Brysbaert, M., & Warriner, A. B. (2014). Emotion and language: valence and arousal affect word recognition. Journal of Experimental Psychology: General, 143, 1065–1081.

Li, Y., Yang, J., Scherf, K. S., & Li, P. (2013). Two faces, two languages: An fMRI study of bilingual picture naming. Brain and Language, 127, 452–462.

McGurk, H., & MacDonald, J. (1976). Hearing lips and seeing voices. Nature, 264, 746–748.

Meissner, C. A., & Brigham, J. C. (2001). Thirty years of investigating the own-race bias in memory for faces: A meta-analytic review. Psychology, Public Policy and Law, 7, 3–35.

Michel, C., Corneille, O., & Rossion, B. (2007). Race categorization modulates holistic face encoding. Cognitive Science, 31(5), 911–924.

Minear, M., & Park, D. C. (2004). A lifespan database of adult facial stimuli. Behavior Research Methods, Instruments, & Computers, 36, 630–633.

Molnar, M., Ibáñez-Molina, A., & Carreiras, M. (2015). Interlocutor identity affects language activation in bilinguals. Journal of Memory and Language, 81, 91–104.

Munhall, K. G., Jones, J. A., Callan, D. E., Kuratate, T., & Vatikiotis-Bateson, E. (2004). Visual prosody and speech intelligibility: Head movement improves auditory speech perception. Psychological Science, 15(2), 133–137.

Perea, M., Rosa, E., & Gómez, C. (2005). The frequency effect for pseudowords in the lexical decision task. Attention, Perception, & Psychophysics, 67, 301–314.

Sulpizio, S., Toti, M., Del Maschio, N., Costa, A., Fedeli, D., Job, R., & Abutalebi, J. (2019). Are you really cursing? Neural processing of taboo words in native and foreign language. Brain and Language, 194, 84–92.

Sumner, M., Kim, S. K., & King, K. B. M. (2013). The socially weighted encoding of spoken words: a dual-route approach to speech perception. Frontiers in psychology, 4, 1015.

Tajfel, H. (1979). Individuals and groups in social psychology. British Journal of Clinical Psychology, 18, 183–190.

R Core Team (2016). R: A language and environment for statistical computing. R Foundation for Statistical Computing, Vienna. https://www.R-project.org/.

Van Selst, M., & Jolicoeur, P. (1994). A solution to the effect of sample size on outlier elimination. The Quarterly Journal of Experimental Psychology, 47, 631–650.

Vigliocco, G., Meteyards, L., Andrews, M., & Kousta, S. (2009). Toward a theory of semantic representation. Language and Cognition, 1–2, 219–247.

Wheeler, M. E., & Fiske, S. T. (2005). Controlling racial prejudice: Social-cognitive goals affect amygdala and stereotype activation. Psychological Science, 16, 56–63.

Woumans, E., Martin, C. D., Vanden Bulcke, C., Van Assche, E., Costa, A., Hartsuiker, R. J., & Duyck, W. (2015). Can faces prime a language? Psychological Science, 26, 1343–1352.

Zhang, S., Morris, M. W., Cheng, C. Y., & Yap, A. J. (2013). Heritage-culture images disrupt immigrants' second-language processing through triggering first-language interference. Proceedings of the National Academy of Sciences, 110, 11272–11277.
Acknowledgements
We thank Giorgia Giovanardi and Daniela di Menza for their help in data collection and Caterina Suitner for her helpful comments on a previous version of the manuscript.
Ethics declarations
Conflict of interest
The authors declare that there is no conflict of interest.
Ethical approval
All procedures performed in studies involving human participants were in accordance with the ethical standards of the institutional and national research committee and with the 1964 Helsinki declaration and its later amendments or comparable ethical standards. This article does not contain clinical studies or patient data. This article does not contain any studies with animals performed by any of the authors.
Informed consent
Informed consent was obtained from all individual participants included in the study.
Additional information
Publisher's Note
Springer Nature remains neutral with regard to jurisdictional claims in published maps and institutional affiliations.
About this article
Cite this article
Sulpizio, S., Navarrete, E. Outgroup faces hamper word recognition. Psychological Research 84, 2300–2310 (2020). https://doi.org/10.1007/s00426-019-01226-x
Received:

Accepted:

Published:

Issue Date:

DOI: https://doi.org/10.1007/s00426-019-01226-x