Abstract
Subitizing is a fast and accurate process of enumerating small quantities. Whether subitizing carried out in the tactile modality is under debate. We previously found a moderately increasing RT slope from one to four stimuli and a large decrease in RT for five stimuli when using one hand. Yet, a high error rate was observed, making it difficult to determine if the RT pattern found was indeed subitizing. To increase accuracy, we carried out training of the tactile enumeration task using one hand for 6 days. We compared performance in the trained and additional non-trained tasks between two groups—the 6-day training group (6DT) and the non-trained controls (C)—after three periods (1 week, 1 and 6 months after the training of the 6DT group ended). Results showed an increase in accuracy rates for both groups but a decrease in RT for the 6DT group only for the trained task. This RT improvement was present even after 6 months. Importantly, the RT slope of one-hand enumeration did not change after training, showing a moderately increased slope up to four stimuli and a decrease for five stimuli. Our study shows the training long-term effect on tactile enumeration and emphasizes the embodiment of finger counting on enumeration. Two possible enumeration processes are discussed—accelerated counting and subitizing—both based on spatial cues and pattern recognition of familiarized finger-counting patterns.
Access options
Buy single article
Instant access to the full article PDF.
USD 39.95
Price excludes VAT (USA)
Tax calculation will be finalised during checkout.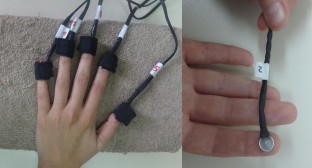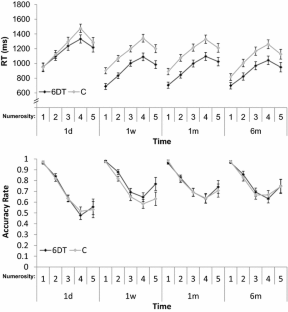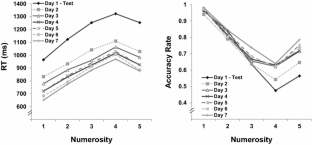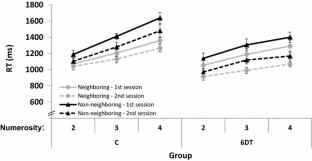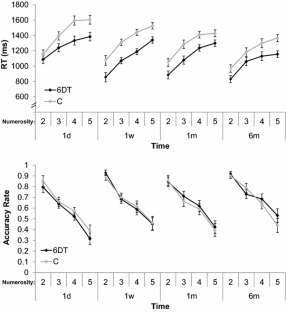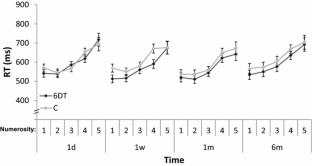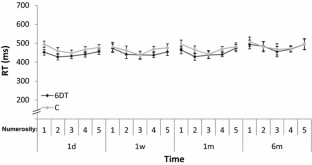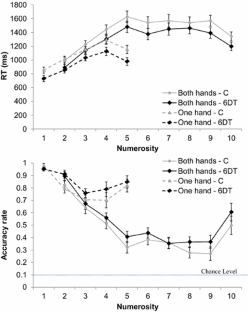 Notes
Note that enumerating five stimuli using one hand was faster and more accurate than four stimuli. Yet, it was not included within the suggested subitizing range although it fits the definition of subitizing. It was addressed as an "embodied end effect" because of methodological constraints; there was only one variation of stimulating five fingertips so that the efficient response could have been a result of more repetitions in comparison to the other numerosities. Moreover, the enumeration process was bounded by the end of the range effect (five stimuli out of five) and end of the input surface (whole hand).

This task was conducted only once, in the retest that took place one month after training.

Note that this task is different from the task used by Cohen and Henik (2016), where only stimuli that were presented to both hands were used.

We had nine females but one female participant dropped out during the first retest and her data was excluded from the analysis.

Numerosity 1 was excluded from the analysis because it was only applied on one hand.

Due to the high accuracy rate and low variance, we could not conduct accuracy rate analysis in this task and in the numbers-reading task.

Data from two participants in the C group and one participant in the 6DT group were not included in the analysis. Their responses were not recorded due to technical problems that occurred.

Note that this task was conducted only once (in the retest 1m after training) so it did not have test results to compare it with.
References
An, Q., Matsuoka, Y., & Stepp, C. E. (2011). Multi-day training with vibrotactile feedback for virtual object manipulation. IEEE International Conference on Rehabilitation Robotics, 2011, 5975337. doi:10.1109/ICORR.2011.5975337.

Atkinson, J., Campbell, F., & Francis, M. (1976). The magic number 4 ± 0: A new look at visual numerosity judgements. Perception, 3, 327–334. doi:10.1068/p050327.

Büchel, C., Price, C., Frackowiak, R., & Friston, K. (1998). Different activation patterns in the visual cortex of late and congenitally blind subjects. Brain, 121(3), 409–419. doi:10.1093/brain/121.3.409.

Camos, V., & Tillmann, B. (2008). Discontinuity in the enumeration of sequentially presented auditory and visual stimuli. Cognition, 107(3), 1135–1143. doi:10.1016/j.cognition.2007.11.002.

Cohen, L., Celnik, P., Pascual-Leone, A., Corwell, B., Falz, L., Dambrosia, J., & Hallett, M. (1997). Functional relevance of cross-modal plasticity in blind humans. Nature, 389(6647), 180–183. doi:10.1038/38278.

Cohen, Z. Z., & Henik, A. (2016). Effects of numerosity range on tactile and visual enumeration. Perception, 45(1–2), 83–98. doi:10.1177/0301006615614662.

Cohen, Z. Z., Naparstek, S., & Henik, A. (2014). Tactile enumeration of small quantities using one hand. Acta Psychologica, 150, 26–34. doi:10.1016/j.actpsy.2014.03.011.

Domahs, F., Moeller, K., Huber, S., Willmes, K., & Nuerk, H. (2010). Embodied numerosity: Implicit hand-based representations influence symbolic number processing across cultures. Cognition, 116(2), 251–266. doi:10.1016/j.cognition.2010.05.007.

Elbert, T., Pantev, C., Wienbruch, C., Rockstroh, B., & Taub, E. (1995). Increased cortical representation of the fingers of the left hand in string players. Science, 270(5234), 305–307. doi:10.1126/science.270.5234.305.

Ferrand, L., Riggs, K. J., & Castronovo, J. (2010). Subitizing in congenitally blind adults. Psychonomic Bulletin and Review, 17(6), 840–845. doi:10.3758/PBR.17.6.840.

Fischer, M. H., & Brugger, P. (2011). When digits help digits: Spatial–numerical associations point to finger counting as prime example of embodied cognition. Frontiers in Psychology, 2(October), 41–47. doi:10.3389/fpsyg.2011.00260.

Gallace, A., Tan, H., & Spence, C. (2006). Numerosity judgments for tactile stimuli distributed over the body surface. Perception, 35(2), 247–266. doi:10.1068/p5380.

Gallace, A., Tan, H., & Spence, C. (2008). Can tactile stimuli be subitised? An unresolved controversy within the literature on numerosity judgments. Perception, 37(5), 782–800. doi:10.1068/p5767.

Gebuis, T., & Reynvoet, B. (2011). Generating nonsymbolic number stimuli. Behavior Research Methods, 43(4), 981–986. doi:10.3758/s13428-011-0097-5.

Grant, A. C., Thiagarajah, M. C., & Sathian, K. (2000). Tactile perception in blind Braille readers: A psychophysical study of acuity and hyperacuity using gratings and dot patterns. Perception and Psychophysics, 62(2), 301–312. doi:10.3758/BF03205550.

Harris, J. A., Harris, I. M., & Diamond, M. E. (2001). The topography of tactile learning in humans. The Journal of Neuroscience, 21(3), 1056–1061.

Imbo, I., Vandierendonck, A., & Fias, W. (2011). Passive hand movements disrupt adults' counting strategies. Frontiers in Psychology, 2, 201. doi:10.3389/fpsyg.2011.00201.

Kaufman, E. L., Lord, M. W., Reese, T. W., & Volkmann, J. (1949). The discrimination of visual number. The American Journal of Psychology, 62(4), 498–525. doi:10.2307/1418556.

Lambertz, N., Gizewski, E. R., de Greiff, A., & Forsting, M. (2005). Cross-modal plasticity in deaf subjects dependent on the extent of hearing loss. Brain Research Cognitive Brain Research, 25(3), 884–890. doi:10.1016/j.cogbrainres.2005.09.010.

Levänen, S., & Hamdorf, D. (2001). Feeling vibrations: Enhanced tactile sensitivity in congenitally deaf humans. Neuroscience Letters, 301(1), 75–77. doi:10.1016/S0304-3940(01)01597-X.

Levänen, S., Jousmäki, V., & Hari, R. (1998). Vibration-induced auditory-cortex activation in a congenitally deaf adult. Current Biology, 8(15), 869–872. doi:10.1016/S0960-9822(07)00348-X.

Mandler, G., & Shebo, B. J. (1982). Subitizing: An analysis of its component processes. Journal of Experimental Psychology General, 111(1), 1–22. doi:10.1037/0096-3445.111.1.1.

Mathôt, S., Schreij, D., & Theeuwes, J. (2012). OpenSesame: An open-source, graphical experiment builder for the social sciences. Behavior Research Methods, 44(2), 314–324. doi:10.3758/s13428-011-0168-7.

Oldfield, R. (1971). The assessment and analysis of handedness: The Edinburgh inventory. Neuropsychologia, 9(1), 97–113. doi:10.1016/0028-3932(71)90067-4.

Pascual-Leone, A., & Torres, F. (1993). Plasticity of the sensorimotor cortex representation of the reading finger in Braille readers. Brain, 116(1), 39–52. doi:10.1093/brain/116.1.39.

Plaisier, M. A., & Smeets, J. B. J. (2011). Haptic subitizing across the fingers. Attention Perception and Psychophysics, 73(5), 1579–1585. doi:10.3758/s13414-011-0124-8.

Plaisier, M. A., Tiest, W. M. B., & Kappers, A. M. L. (2009). One, two, three, many—subitizing in active touch. Acta Psychologica, 131(2), 163–170. doi:10.1016/j.actpsy.2009.04.003.

Plaisier, M. A., Tiest, W. M. B., & Kappers, A. M. L. (2010). Range dependent processing of visual numerosity: Similarities across vision and haptics. Experimental Brain Research, 204(4), 525–537. doi:10.1007/s00221-010-2319-y.

Ptito, M., Moesgaard, S. M., Gjedde, A., & Kupers, R. (2005). Cross-modal plasticity revealed by electrotactile stimulation of the tongue in the congenitally blind. Brain A Journal of Neurology, 128(3), 606–614. doi:10.1093/brain/awh380.

Rauschecker, J. (1995). Compensatory plasticity and sensory substitution in the cerebral cortex. Trends in Neurosciences, 18(1), 36–43. doi:10.1016/0166-2236(95)93948-W.

Recanzone, G. H., Jenkins, W. M., Hradek, G. T., & Merzenich, M. M. (1992). Progressive improvement in discriminative abilities in adult owl monkeys performing a tactile frequency discrimination task. Journal of Neurophysiology, 67(5), 1015–1030.

Riggs, K. J., Ferrand, L., Lancelin, D., Fryziel, L., Dumur, G., & Simpson, A. (2006). Subitizing in tactile perception. Psychological Science, 17(4), 271–272. doi:10.1111/j.1467-9280.2006.01696.x.

Sadato, N., Pascual-Leone, A., & Grafman, J. (1996). Activation of the primary visual cortex by Braille reading in blind subjects. Nature, 380(6574), 526–528. doi:10.1038/380526a0.

Sathian, K. (2000). Practice makes perfect: Sharper tactile perception in the blind. Neurology, 54(12), 2203–2204. doi:10.1212/WNL.54.12.2203.

Sathian, K., & Zangaladze, A. (1997). Tactile learning is task specific but transfers between fingers. Perception and Psychophysics, 59(1), 119–128. doi:10.3758/BF03206854.

Schmauss, D., Megerle, K., Weinzierl, A., Agua, K., Cerny, M., Schmauss, V., & Erne, H. (2015). Microsurgeons do better—tactile training might prevent the age-dependent decline of the sensibility of the hand. Journal of the Peripheral Nervous System, 20(4), 392–396. doi:10.1111/jns.12144.

Starkey, P., & Cooper, R. G. (1995). The development of subitizing in young children. British Journal of Developmental Psychology, 13(4), 399–420. doi:10.1111/j.2044-835X.1995.tb00688.x.

Sterr, A., Müller, M. M., Elbert, T., Rockstroh, B., Pantev, C., & Taub, E. (1998). Perceptual correlates of changes in cortical representation of fingers in blind multifinger Braille readers. The Journal of Neuroscience, 18(11), 4417–4423.

Trick, L. M., & Pylyshyn, Z. W. (1993). What enumeration studies can show us about spatial attention: Evidence for limited capacity preattentive processing. Journal of Experimental Psychology Human Perception and Performance, 19(2), 331–351. doi:10.1037/0096-1523.19.2.331.

Tschentscher, N., Hauk, O., Fischer, M. H., & Pulvermüller, F. (2012). You can count on the motor cortex: Finger counting habits modulate motor cortex activation evoked by numbers. NeuroImage, 59(4), 3139–3148. doi:10.1016/j.neuroimage.2011.11.037.

Van Boven, R. W., Hamilton, R. H., Kauffman, T., Keenan, J. P., & Pascual-Leone, A. (2000). Tactile spatial resolution in blind braille readers. Neurology, 54, 2230–2246. doi:10.1212/WNL.55.10.1597.

Wong, M., Gnanakumaran, V., & Goldreich, D. (2011). Tactile spatial acuity enhancement in blindness: Evidence for experience-dependent mechanisms. The Journal of Neuroscience, 31(19), 7028–7037. doi:10.1523/JNEUROSCI.6461-10.2011.
Acknowledgements
This work was conducted as part of the research in the Center for the Study of the Neurocognitive Basis of Numerical Cognition, supported by the Israel Science Foundation (Grant 1799/12) in the framework of their Centers of Excellence. We wish to thank the leading research assistants (in alphabetical order): Shachar Hochman, Michal Krimolowsky, Yaara Mannes, Adi Soria, Sol Yaakobovich, and Meital Zvi. Special thanks are given to Desiree Meloul for her tremendous help along the way.
Ethics declarations
Conflict of interest
All authors have no conflict of interests that might be interpreted as influencing the research.
Ethical approval
All procedures performed in studies involving human participants were in accordance with the ethical standards of the institutional and national research committee and with the 1964 Helsinki declaration and its later amendments or comparable ethical standards.
Informed consent
Informed consent was obtained from all individual participants included in the study.
About this article
Cite this article
Cohen, Z.Z., Aisenberg, D. & Henik, A. The effects of training on tactile enumeration. Psychological Research 82, 468–487 (2018). https://doi.org/10.1007/s00426-016-0835-5
Received:

Accepted:

Published:

Issue Date:

DOI: https://doi.org/10.1007/s00426-016-0835-5