Abstract
Classic findings on conformity and obedience document a strong and automatic drive of human agents to follow any type of rule or social norm. At the same time, most individuals tend to violate rules on occasion, and such deliberate rule violations have recently been shown to yield cognitive conflict for the rule-breaker. These findings indicate persistent difficulty to suppress the rule representation, even though rule violations were studied in a controlled experimental setting with neither gains nor possible sanctions for violators. In the current study, we validate these findings by showing that convicted criminals, i.e., individuals with a history of habitual and severe forms of rule violations, can free themselves from such cognitive conflict in a similarly controlled laboratory task. These findings support an emerging view that aims at understanding rule violations from the perspective of the violating agent rather than from the perspective of outside observer.
Access options
Buy single article
Instant access to the full article PDF.
USD 39.95
Price excludes VAT (USA)
Tax calculation will be finalised during checkout.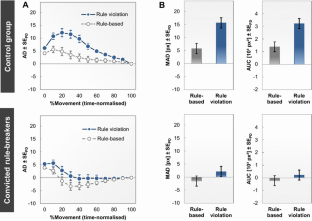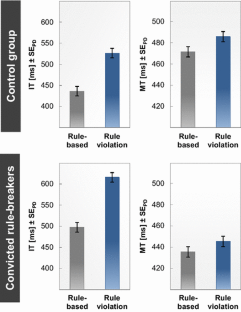 References
Asch, S. E. (1956). Studies of independence and conformity: I. A minority of one against a unanimous majority. Psychological Monographs: General and Applied, 70(9), 1–70.

Berns, G. S., Chappelow, J., Zink, C. F., Pagnoni, G., Martin-Skurski, M. E., & Richards, J. (2005). Neurobiological correlates of social conformity and independence during mental rotation. Biological Psychiatry, 58(3), 245–253.

Cheung, F. M., Leung, K., Zhang, J. X., Sun, H. F., Gan, Y. Q., Song, W. Z., & Xie, D. (2001). Indigenous Chinese personality constructs: Is the five-factor model complete?. Journal of Cross-Cultural Psychology, 32(4), 407–433.

de Waal, F. (2013). Animal conformists. Science, 340, 437–438.

de Waal, F., & Ferrari, P. F. (2010). Towards a bottom-up perspective on animal and human cognition. Trends in Cognitive Sciences, 14(5), 201–207.

Debey, E., De Houwer, J., & Verschuere, B. (2014). Lying relies on the truth. Cognition, 132(3), 324–334.

Disney, E. R., Elkins, I. J., McGue, M., & Iacono, W. G. (1999). Effects of ADHD, conduct disorder, and gender on substance use and abuse in adolescence. American Journal of Psychiatry, 156, 1515–1521.

Dmytro, D., Lo, J., O'Leary, J., Fu, G., Lee, K., & Cameron, C. A. (2014). Development of cultural perspectives on verbal deception in competitive contexts. Journal of Cross-Cultural Psychology, 45(8), 1196–1214.

Dommes, A., Granié, M.-A., Cloutier, M.-S., Coquelet, C., & Huguenin-Richard, F. (2015). Red light violations by adult pedestrians and other safety-related behaviors at signalized crosswalks. Accident Analysis and Prevention, 80, 67–75.

Fehr, E., & Fischbacher, U. (2004). Social norms and human cooperation. Trends in Cognitive Sciences, 8, 185–190.

Fehr, E., & Rockenbach, B. (2004). Human altruism: economic, neural, and evolutionary perspectives. Current Opinion in Neurobiology, 14, 784–790.

Foerster, A., Wirth, R., Kunde, W., & Pfister, R. (2016). The dishonest mind set in sequence. Psychological Research. doi:10.1007/s00426-016-0780-3 (In press).

Frick, P. J., & Dickens, C. (2006). Current perspectives on conduct disorder. Current Psychiatry Reports, 8(1), 59–72.

Frick, P. J., & Loney, B. R. (1999). Outcomes of children and adolescents with oppositional defiant disorder and conduct disorder. In H. C. Quay & A. E. Hogan (Eds.), Handbook of disruptive behavior disorders (pp. 507–524). Heidelberg: Springer.

Fu, G., Lee, K., Cameron, C. A., & Xu, F. (2001). Chinese and Canadian adults' categorization and evaluation of lie- and truth-telling about prosocial and antisocial behaviors. Journal of Cross-Cultural Psychology, 32(6), 720–727.

Kilduff, G., Galinksy, A., Gallo, E., & Reade, J. (2015). Whatever it takes to win: Rivalry increases unethical behavior. Academy of Management Journal,. doi:10.5465/amj.2014.0545.

Kim, D., & Hommel, B. (2015). An event-based account of conformity. Psychological Science, 26, 484–489.

Kimbrough, E. O., & Vostroknutov, A. (2016). Journal of the European Economic Association. doi:10.1111/jeea.12152 (In press).

Klucharev, V., Munneke, M. A., Smidts, A., & Fernández, G. (2011). Downregulation of the posterior medial frontal cortex prevents social conformity. The Journal of Neuroscience, 31, 11934–11940.

Kool, W., McGuire, J. T., Rosen, Z. B., & Botvinick, M. M. (2010). Decision making and the avoidance of cognitive demand. Journal of Experimental Psychology: General, 139(4), 665–682.

Milgram, S. (1963). Behavioral study of obedience. The Journal of Abnormal and Social Psychology, 67, 371–378.

Milgram, S. (1974). Obedience to authority: An experimental view. New York: Harper & Row.

Moffitt, T. E. (1993). Adolescence-limited and life-course-persistent antisocial behavior: A developmental taxonomy. Psychological Review, 100(4), 674–701.

Moffitt, T. E. (2003). Life-course-persistent and adolescence-limited antisocial behavior: a 10-year research review and a research agenda. In B. B. Lahey, T. E. Moffitt, & A. Caspi (Eds.), Causes of conduct disorder and juvenile delinquency (pp. 49–75). New York: Guilford Press.

Moffitt, T. E., Caspi, A., Harrington, H., & Milne, B. J. (2002). Males on the life-course-persistent and adolescence-limited antisocial pathways: Follow-up at age 26 years. Development and Psychopathology, 14(1), 179–207.

Moore, C., & Gino, F. (2015). Approach, ability, aftermath: A psychological process framework of unethical behavior at work. The Academy of Management Annals, 9(1), 235–289.

Paulhus, D. L., & Williams, K. M. (2002). The dark triad of personality: Narcissism, Machiavellianism, and psychopathy. Journal of Research in Personality, 36(6), 556–563.

Pfister, R. (2013). Breaking the rules: Cognitive conflict during deliberate rule violations. Berlin: Logos.

Pfister, R., & Janczyk, M. (2013). Confidence intervals for two sample means: Calculation, interpretation, and a few simple rules. Advances in Cognitive Psychology, 9, 74–80.

Pfister, R., Wirth, R., Schwarz, K., Steinhauser, M., & Kunde, W. (2016). Burdens of non-conformity: Motor execution reveals cognitive conflict during rule violation. Cognition, 147, 93–99.

Reason, J. (1990). Human error. New York: Cambridge University Press.

Reason, J. (1995). Understanding adverse events: Human factors. Quality in Health Care, 4, 80–89.

Sampson, R. J., & Laub, J. H. (1992). Crime and deviance in the life course. Annual Review of Sociology, 18, 63–84.

Seiter, J. S., & Bruschke, J. (2007). Deception and emotion: The effects of motivation, relationship type, and sex on expected feelings of guilt and shame following acts of deception in United States and Chinese samples. Communication Studies, 58(1), 1–16.

Serota, K. B., & Levine, T. R. (2015). A few prolific liars: Variation in the prevalence of lying. Journal of Language and Social Psychology, 34(2), 138–157.

van de Waal, E., Borgeaud, C., & Whiten, A. (2013). Potent social learning and conformity shape a wild primate's foraging decisions. Science, 340, 483–485.

Verbruggen, F., & Logan, G. D. (2008). Response inhibition in the stop-signal paradigm. Trends in Cognitive Sciences, 12(11), 418–424.

Vu, K.-P. L. (2007). Influences on the Simon effect of prior practice with spatially incompatible mappings: Transfer within and between horizontal and vertical dimensions. Memory & Cognition, 35(6), 1463–1471.

Vu, K.-P. L., Proctor, R. W., & Urcuioli, P. (2003). Transfer effects of incompatible location-relevant mappings on a subsequent visual or auditory Simon task. Memory & Cognition, 31, 1146–1152.

Walczyk, J. J., Roper, K. S., Seemann, E., & Humphrey, A. M. (2003). Cognitive mechanisms underlying lying to questions: Response time as a cue to deception. Applied Cognitive Psychology, 17(7), 755–774.

Wirth, R., Foerster, A., Rendel, H., Kunde, W., & Pfister, R. (2016a). Looking for trouble, then looking for cops: Rule violations sensitize towards authority-related stimuli (Manuscript under review).

Wirth, R., Pfister, R., Foerster, A., Huestegge, L., & Kunde, W. (2016b). Pushing the rules: Effects and aftereffects of deliberate rule violations. Psychological Research, 80(5), 838–852.

Yap, A. J., Wazlawek, A. S., Lucas, B. J., Cuddy, A. J. C., & Carney, D. R. (2013). The ergonomics of dishonesty: The effect of incidental posture on stealing, cheating, and traffic violations. Psychological Science, 24(11), 2281–2289.

Zhou, L., & Lutterbie, S. (2005). Deception across cultures: Bottom-up and top-down approaches. In P. Kantor, et al. (Eds.), Intelligence and security informatics (pp. 465–470). Berlin: Springer.
Acknowledgments
We are grateful to Ryan Dutton for language editing and inspiring discussions. We thank Sandra Christian and Katharina Louis for the support in data collection.
Ethics declarations
Funding
This research was funded by the Promotion of Junior Researchers Program at the University of Tübingen and the LEAD Graduate School [GSC1028], a project of the Excellence Initiative of the German Federal and State Governments.
Conflict of interest
The authors declare that there is no conflict of interest.
Ethical approval
All procedures were in accordance with the ethical standards of the institutional research committee and with the 1964 Helsinki declaration and its later amendments.
Informed consent
Informed consent was obtained from all individual participants included in the study.
Additional information
A. Jusyte and R. Pfister contributed equally.
About this article
Cite this article
Jusyte, A., Pfister, R., Mayer, S.V. et al. Smooth criminal: convicted rule-breakers show reduced cognitive conflict during deliberate rule violations. Psychological Research 81, 939–946 (2017). https://doi.org/10.1007/s00426-016-0798-6
Received:

Accepted:

Published:

Issue Date:

DOI: https://doi.org/10.1007/s00426-016-0798-6
Keywords
Target Stimulus

Control Participant

Movement Trajectory

Antisocial Personality Disorder

Criminal History